Qiantang River Waterkeeper Grabs Media Spotlight on Chinese TV
Dec. 02, 2012 02:32PM EST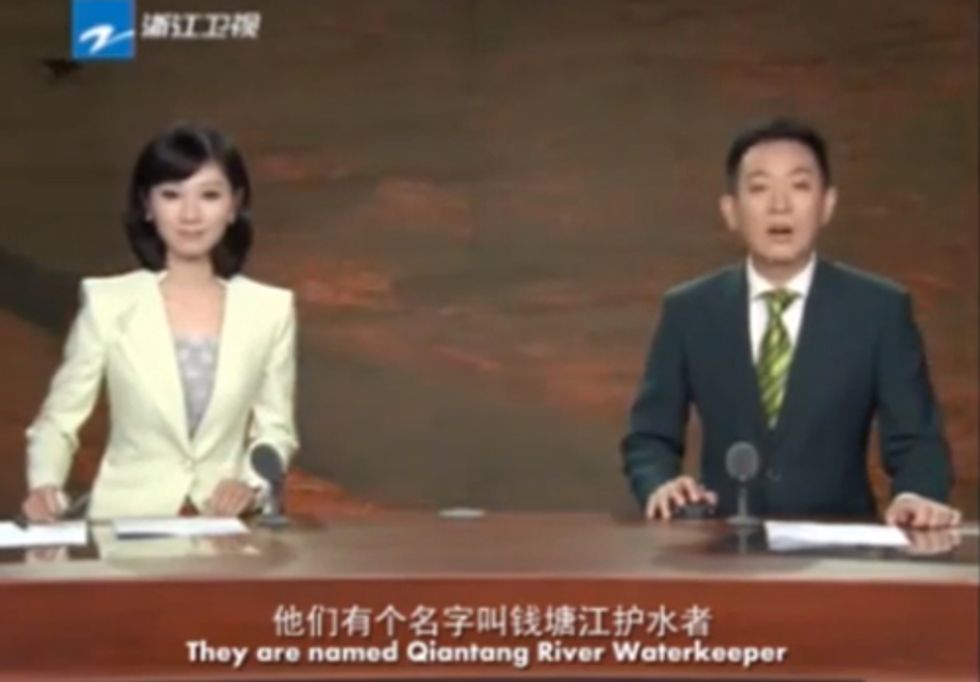 The Qiantang River Waterkeeper, Xin Hao, and his team were recently featured on Zhejiang Satellite Television in a three-part report on their Waterkeeper activities on the Qiantang River and its tributaries. Zhejiang province is located on the east coast of China, just below Shanghai.
Xin Hao welcomed the media attention, especially from government officials. Developing relationships with officials and gaining their respect is a key concern for Chinese Waterkeepers—it allows them to work more closely with government environmental agencies and have more influence when fighting polluters.
The news program was widely viewed live and also streamed online. It received positive feedback from viewers, including support from important provincial and local officials. On Weibo, the Chinese equivalent of Twitter, the Zhejiang Provincial Governor, Zheng Jiwei, posted:
"Please follow Green Zhejiang and the Qiantang River Waterkeeper!
The mayor of Huzhou City sent Waterkeeper Xin Hao an SMS saying:
"Xin Hao, please keep in touch! You've done a great job!"
Many other officials, including the vice director of Zhejiang Provincial Environmental Bureau and the director of the Qiantang River Administration, sent congratulatory messages.
The TV series also allowed Qiantang River Waterkeeper to show the public how hard it has been working to protect the province's largest and most important river—the Qiantang. On Tudou, a web service similar to YouTube, a viewer commented:
"I just watched the 10 p.m. re-broadcast. Xin Hao, I will join your organization and become a volunteer!"
"We will not only protect our mother river, Qiantang River, but also broaden our horizons nationally and worldwide. Letting more and more people join the environmental movement is our dream," said Qiantang River Waterkeeper Xin Hao.
Visit EcoWatch's WATER page for more related news on this topic.
EcoWatch Daily Newsletter