Put One Million Americans Back to Work
Jan. 24, 2012 09:01AM EST
Energy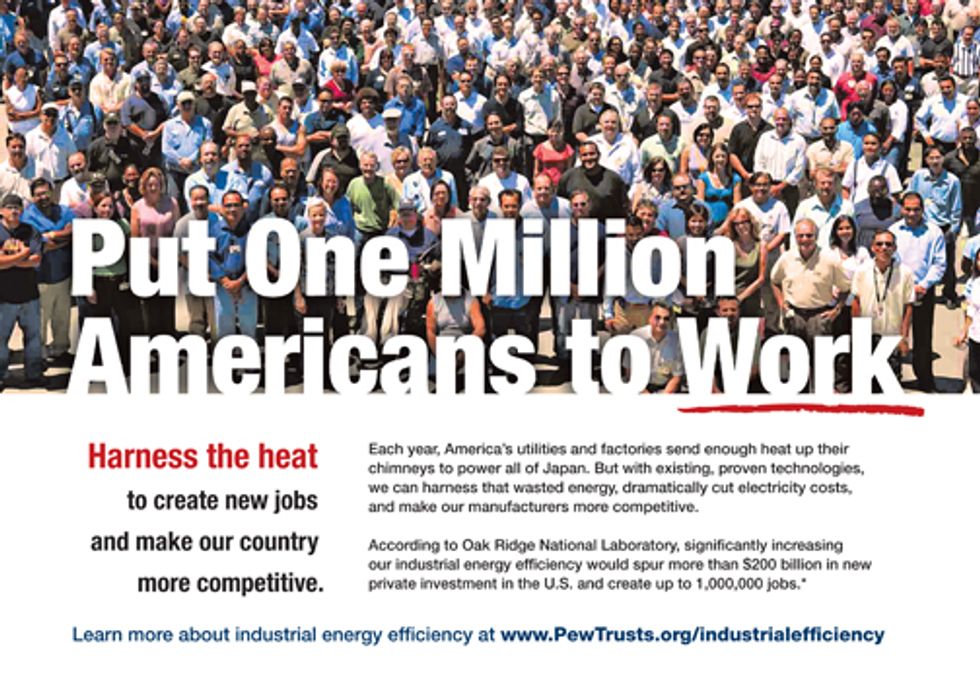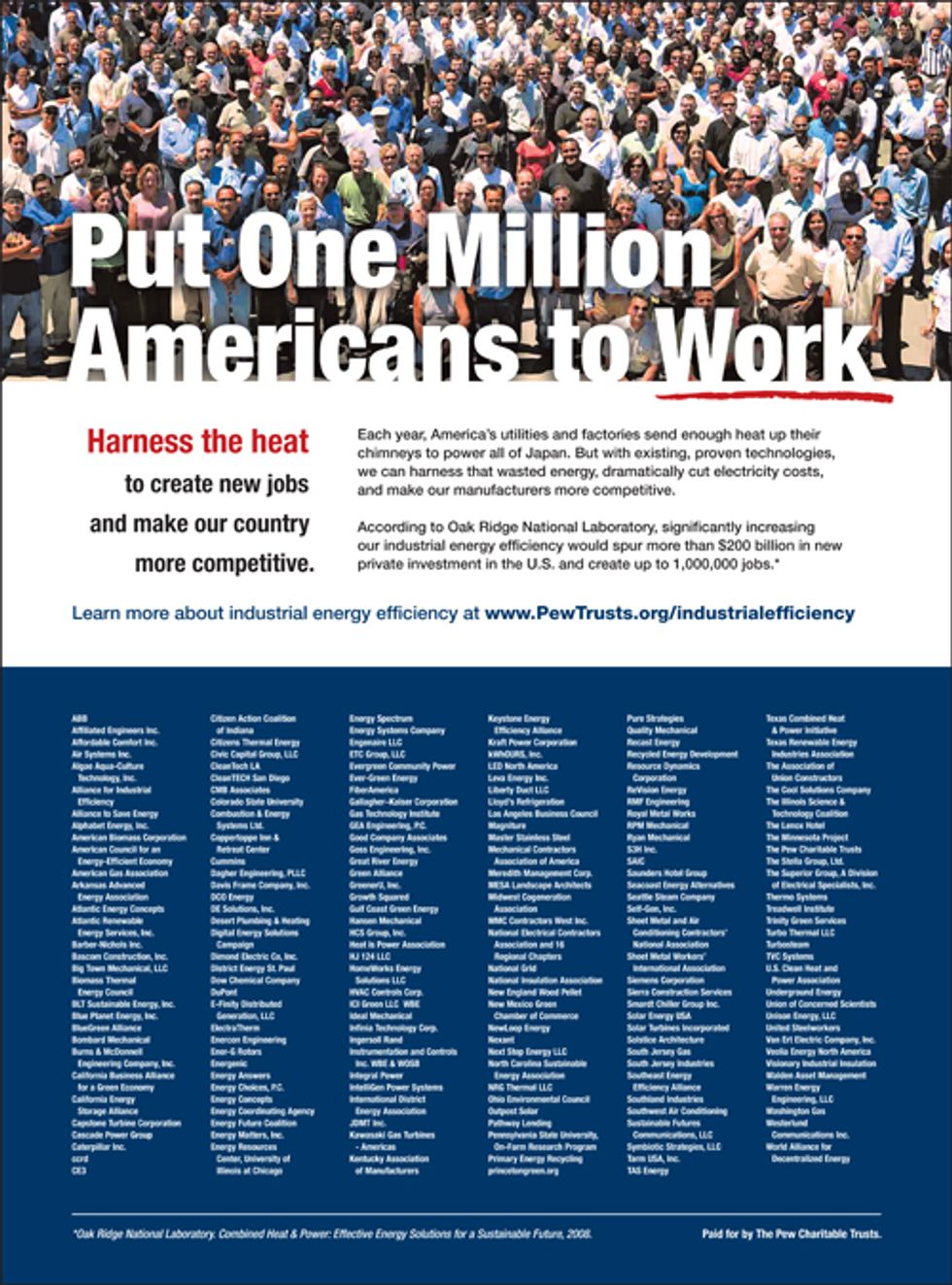 As energy is expected to play prominently in the State of the Union address, the Pew Clean Energy Program and more than 200 businesses and trade groups are touting the economic benefits of increasing industrial efficiency in a full-page advertisement Tuesday, Jan. 24, in the Hill, Politico, and Roll Call. Signers include Caterpillar, DuPont, Dow Chemical Co., Siemens Corp., American Biomass Corp., American Council for an Energy-Efficient Economy, Master Stainless Steel, Los Angeles Business Council, Texas Combined Heat and Power Initiative, and the U.S. Clean Heat and Power Association. The ad reads:
"Each year, America's utilities and factories send enough heat up their chimneys to power all of Japan. But with existing, proven technologies, we can harness that wasted energy, dramatically cut electricity costs, and make our manufacturers more competitive.
"According to Oak Ridge National Laboratory, significantly increasing our industrial energy efficiency would spur more than $200 billion in new private investment in the U.S. and create up to 1,000,000 jobs. Harness the heat to create new jobs and make our country more competitive."
To see the full size ad, click here.
Many manufacturers, hotels, campuses, and utilities across the country already recycle their waste heat—a process known as cogeneration, or combined heat and power (CHP). But much more can be done. The Oak Ridge lab estimates that the U.S. has the potential to double industrial energy efficiency, providing impressive economic benefits. Rising energy prices affect companies large and small. Using wasted heat and recycling energy can dramatically reduce costs and give businesses the flexibility to invest those savings elsewhere. Click here for more information.
Three bipartisan bills in the U.S. House deal with industrial energy efficiency, and a bill authored by Rep. Charles F. Bass (R-NH), which seeks to double CHP, has been drafted. A Senate bill authored by Jeanne Shaheen (D-NH) and Rob Portman (R-OH) on efficiency includes a CHP provision. Sens. Jeff Bingaman (D-NM) and Olympia Snowe (R-ME) are expected to submit a bill soon that also will address industrial efficiency.
And Capitol Hill will soon have its own CHP project. The Capitol Power Plant is developing a design for producing 18 MW of electricity through improved energy-efficiency processes to heat congressional buildings. The improvements will help Congress reduce energy use by up to 30 percent.
Although installation requires an initial investment, companies recoup their costs and start to see savings within a few years. For example:
The Penn England Farm employs CHP to produce electricity for its dairy operations.
The Cox Interior Inc. manufacturing plant in Campbellsville, Ky., operates a 5-MW system that saves the company $4.5 million a year. It also produces more electricity than the company needs, so Cox Interior sells about $50,000 worth of power back to the local utility.
The Sierra Nevada Brewing Co. in Chico, Nevada, installed a 1-MW system that will save the company $400,000 a year and pay for itself within five years of operation.
Lorin Industries in Michigan has recycled its wasted heat since 1943 and expanded capacity in 1990. The system saves the company $540,000 a year, and the newest addition paid for itself in just four years—largely due to the significant decrease in the company's need to purchase more costly peak electricity.
For more information, click here.
EcoWatch Daily Newsletter