This website uses cookies to ensure you get the best experience while browsing it. By clicking 'Got It' you're accepting these terms.
Public Outcry Intensifies to Stop Cove Point LNG Export Facility
Jun. 18, 2014 09:57AM EST
Energy
Monday marked the end of a contested 30-day public comment period on the Federal Energy Regulatory Commission's (FERC) draft Environmental Assessment for the controversial $3.8 billion plan, proposed by Virginia-based Dominion Resources, to export liquefied natural gas (LNG) from Cove Point, MD. Dominion's plan is to convert an existing import facility into an export facility and to pipe fracked gas from the Marcellus shale to southern Maryland, liquefy it and export it to be burned in Japan and India.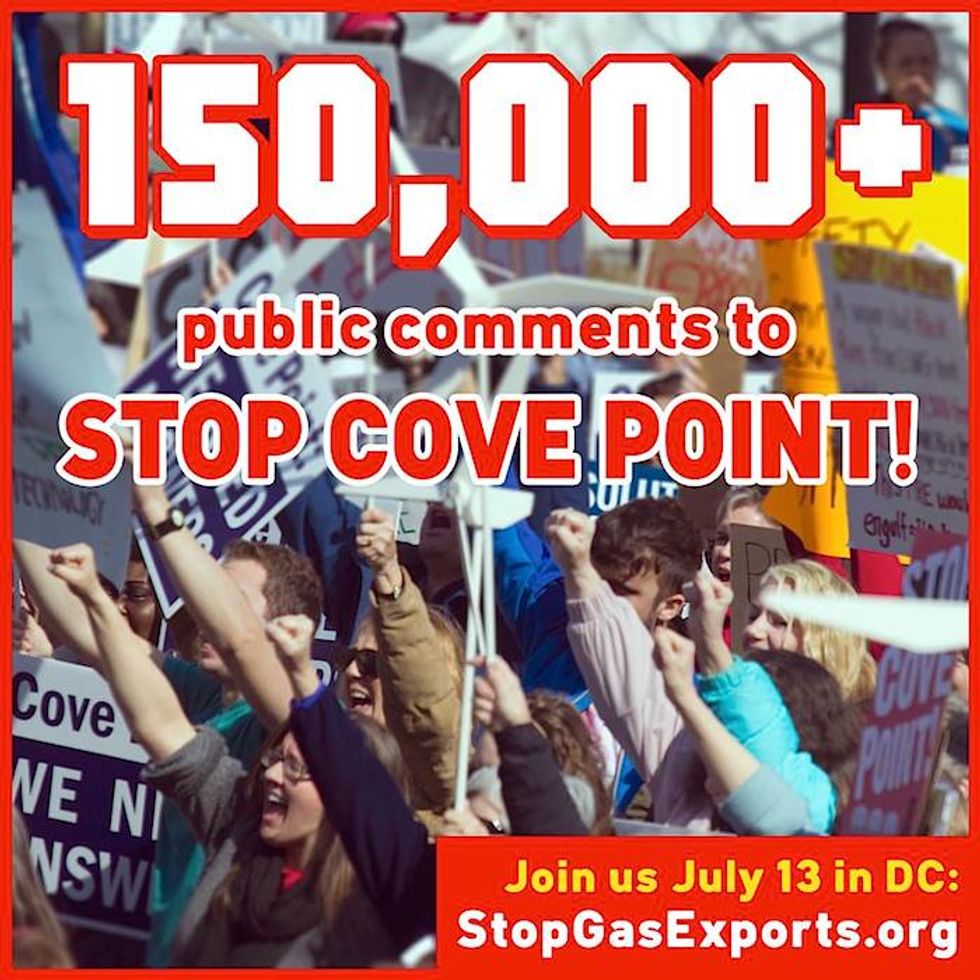 Chesapeake Climate Action Network
Facebook page
FERC's environmental assessment has been widely criticized for failing to address the project's role in speeding fracking across Appalachia, worsening the climate crisis and threatening the safety of nearby residents in Calvert County with potential explosion and fire catastrophes. The facility, located next to a residential community, is only three miles from a nuclear power plant and 50 miles from Washington, D.C.
More than 150,000 comments flooded FERC, arguing that it is clear that without analyzing the foreseeable cumulative impacts this project would have on the environment throughout the 64,000 square mile Chesapeake Bay watershed, FERC's determination of a "Finding of No Significant Impact" is arbitrary and capricious and violates the National Environmental Policy Act.
The U.S. Environment Protection Agency's (EPA) says that FERC should weigh gas production stimulus effect of the Cove Point export facility. In its comments filed on Monday, the EPA states "Both FERC and DOE [U.S. Department of Energy] have recognized that an increase in natural gas exports will result in increased production." But somehow FERC concludes, "it is not feasible to more specifically evaluate localized environmental impacts."
Upstream Impacts
It is clear that the Cove Point export facility will drive expansion of fracking for natural gas across the entire Chesapeake region in Pennsylvania, Virginia, West Virginia and in Maryland, where no drilling has yet occurred. The export valve will open and the race to frack will explode. In many states, fracking has resulted in drinking water contamination, air pollution, fish kills, illness, forest fragmentation and even earthquakes. In addition, each fracked well requires millions of gallons of water, often depleting local waterways, and produces millions of gallons of toxic and radioactive wastewater. 
This project will mean more landscapes and communities will be transformed with fracking wells, pipelines, compressor stations and new roads carrying thousands of trucks, turning once rural and pristine areas—including farms, public parks and forests—into industrial sacrifice zones so energy companies can ship our natural gas elsewhere. Further, the nation's largest estuary, the Chesapeake Bay, would be highway for thousand-foot long tankers to transport the liquefied gas, exposing the treasured Bay to invasive species and worsening the "dead zone" in the Bay through dumping of polluted ballast water.
FERC has shown it rubber stamps projects and is beholden to the gas industry by already approving a new compressor station in rural Myersville, MD, despite intense community opposition. This 16,000-horsepower compressor station that Dominion wants to construct, will be located just a mile from an elementary school. Next up would be an expanded compressor station in northern Virginia.
A major Pennsylvania fracking company—Cabot Oil & Gas—has already committed to pipe gas to Cove Point for export. Dominion's plan includes connecting to the interstate natural gas transmission systems of Transcontinental Gas Pipeline Company, Columbia Gas Transmission and DTI, which would pipe gas to Cove Point from a wide range of regions in the U.S. Pipelines, which are also under FERC's jurisdiction, are being proposed throughout the Susquehanna River basin, and across the Gunpowder River watershed—which includes the drinking water source for the city of Baltimore—all to pipe natural gas to Cove Point. These pipelines, which inevitably leak and rupture causing dangerous explosions and fires, would snake through our waterways, drinking water sources, backyards and farms. Yet, the environmental assesment fails to analyze impacts of natural gas development, despite information about where Dominion's customers will source the gas and plans for new pipelines designed to shuttle gas to Cove Point.
The fact that FERC did not relate the facility at Cove Point to the "fracking process" and analyze the consequences is a fundamental flaw, making the analysis meaningless. The more than 150,000 comments that were sent to FERC on Monday say loud and clear that they don't buy FERC's meaningless assessment.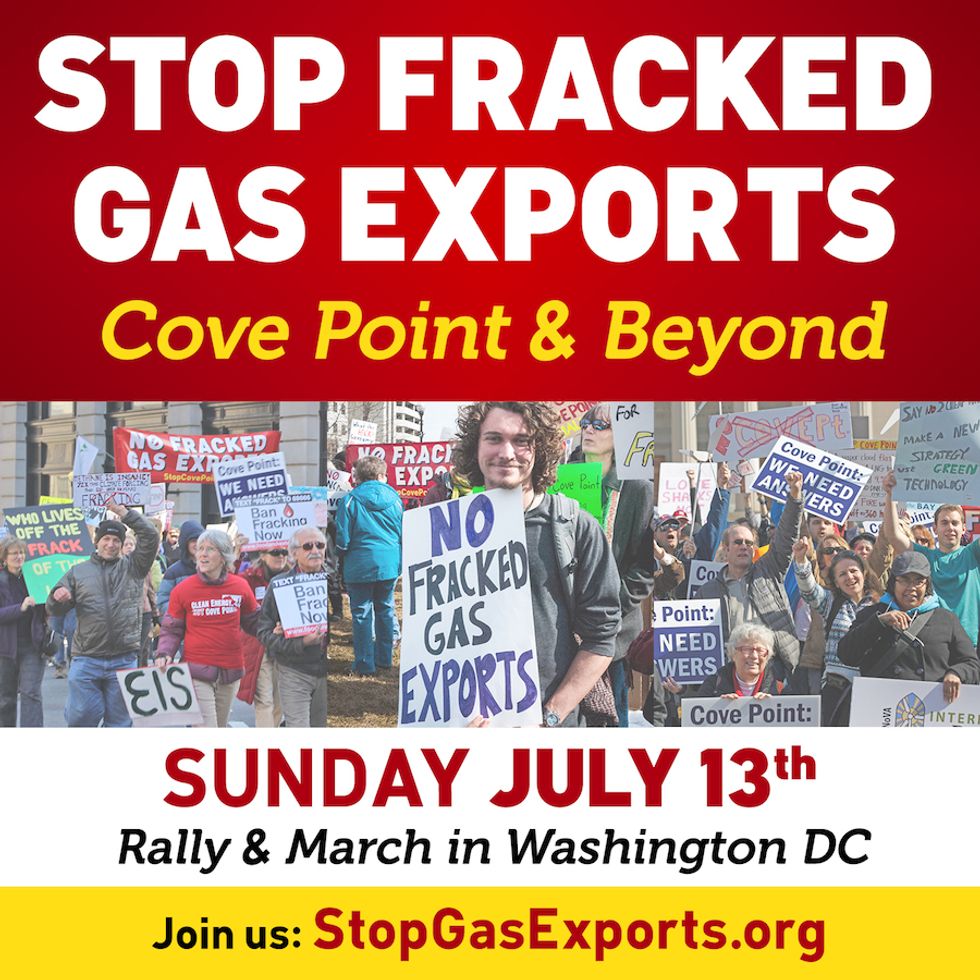 What You Can Do 
The fight against this fracked gas export facility has been long, but it's not over. This week, several organizations and individuals are participating in a blogathon to reach out across the Chesapeake Bay region and the nation to decry the unchecked march to export our natural gas at the expense of our rivers, streams, bays, forests, farms and communities.
Next week, hundreds of people will join a week-long picket line at FERC to protest the rubber stamping of this project. On July 13, thousands of people will gather in Washington, D.C. to rally and march against fracked gas exports at Cove Point and beyond.
EcoWatch Daily Newsletter
The CDC has emphasized that washing hands with soap and water is one of the most effective ways to prevent the spread of COVID-19. Guido Mieth / Moment / Getty Images
The Centers for Disease Control has emphasized that washing hands with soap and water is one of the most effective measures we can take in preventing the spread of COVID-19. However, millions of Americans in some of the most vulnerable communities face the prospect of having their water shut off during the lockdowns, according to The Guardian.
A California newt (Taricha torosa) from Napa County, California, USA. Connor Long /
CC BY-SA 3.0
Aerial photos of the Sierra Nevada — the long mountain range stretching down the spine of California — showed rust-colored swathes following the state's record-breaking five-year drought that ended in 2016. The 100 million dead trees were one of the most visible examples of the ecological toll the drought had wrought.
Now, a few years later, we're starting to learn about how smaller, less noticeable species were affected.
Disinfectants and cleaners claiming to sanitize against the novel coronavirus have started to flood the market.
Natthawat / Moment / Getty Images
Disinfectants and cleaners claiming to sanitize against the novel coronavirus have started to flood the market, raising concerns for the U.S. Environmental Protection Agency (EPA), which threatened legal recourse against retailers selling unregistered products, according to The New York Times.
A customer packs groceries in reusable bags at a NYC supermarket on March 1, 2020. Eduardo Munoz Alvarez/Getty Images
The global coronavirus pandemic has thrown our daily routine into disarray. Billions are housebound, social contact is off-limits and an invisible virus makes up look at the outside world with suspicion. No surprise, then, that sustainability and the climate movement aren't exactly a priority for many these days.
Ingredients are displayed for the Old School Pinto Beans from the Decolonize Your Diet cookbook by Luz Calvo and Catriona Rueda Esquibel. Melissa Renwick / Toronto Star via Getty Images
By Molly Matthews Multedo
Livestock farming contributes to global warming, so eating less meat can be better for the climate.