This website uses cookies to ensure you get the best experience while browsing it. By clicking 'Got It' you're accepting these terms.
Public Outcry Intensifies to Stop Cove Point LNG Export Facility
Jun. 18, 2014 08:57AM EST
Energy
Monday marked the end of a contested 30-day public comment period on the Federal Energy Regulatory Commission's (FERC) draft Environmental Assessment for the controversial $3.8 billion plan, proposed by Virginia-based Dominion Resources, to export liquefied natural gas (LNG) from Cove Point, MD. Dominion's plan is to convert an existing import facility into an export facility and to pipe fracked gas from the Marcellus shale to southern Maryland, liquefy it and export it to be burned in Japan and India.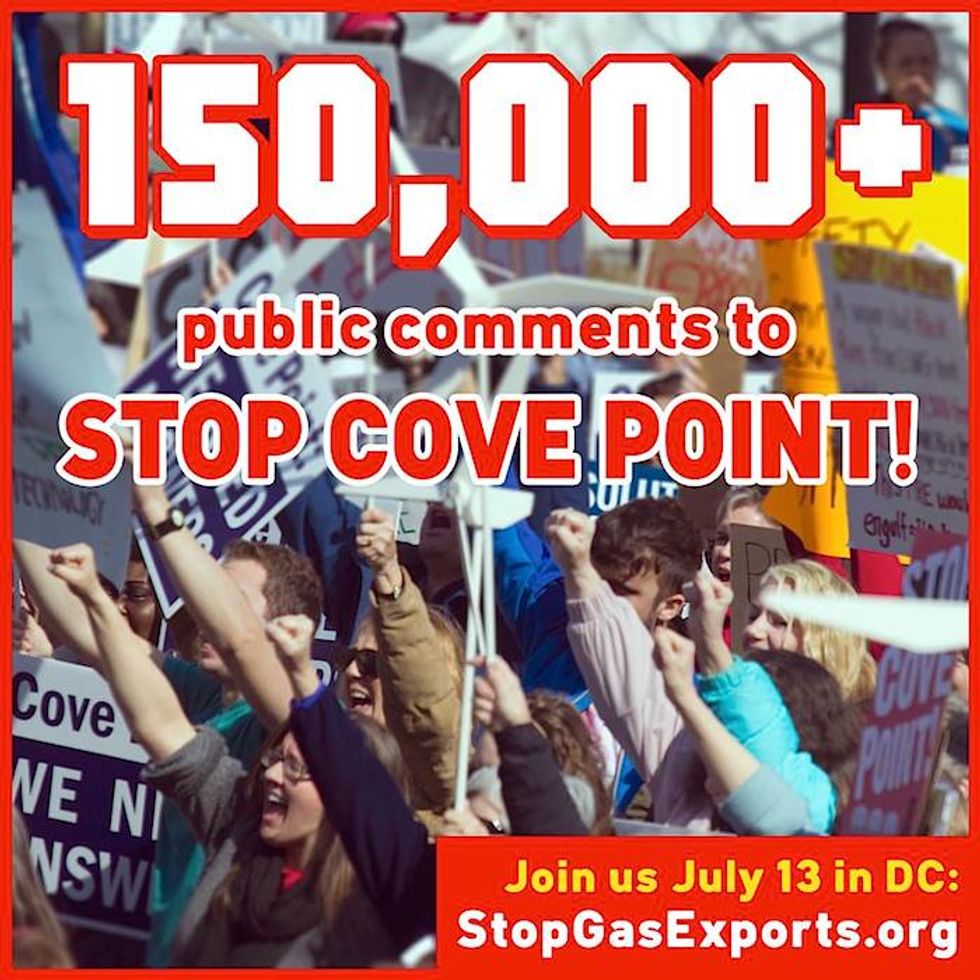 Chesapeake Climate Action Network
Facebook page
FERC's environmental assessment has been widely criticized for failing to address the project's role in speeding fracking across Appalachia, worsening the climate crisis and threatening the safety of nearby residents in Calvert County with potential explosion and fire catastrophes. The facility, located next to a residential community, is only three miles from a nuclear power plant and 50 miles from Washington, D.C.
More than 150,000 comments flooded FERC, arguing that it is clear that without analyzing the foreseeable cumulative impacts this project would have on the environment throughout the 64,000 square mile Chesapeake Bay watershed, FERC's determination of a "Finding of No Significant Impact" is arbitrary and capricious and violates the National Environmental Policy Act.
The U.S. Environment Protection Agency's (EPA) says that FERC should weigh gas production stimulus effect of the Cove Point export facility. In its comments filed on Monday, the EPA states "Both FERC and DOE [U.S. Department of Energy] have recognized that an increase in natural gas exports will result in increased production." But somehow FERC concludes, "it is not feasible to more specifically evaluate localized environmental impacts."
Upstream Impacts
It is clear that the Cove Point export facility will drive expansion of fracking for natural gas across the entire Chesapeake region in Pennsylvania, Virginia, West Virginia and in Maryland, where no drilling has yet occurred. The export valve will open and the race to frack will explode. In many states, fracking has resulted in drinking water contamination, air pollution, fish kills, illness, forest fragmentation and even earthquakes. In addition, each fracked well requires millions of gallons of water, often depleting local waterways, and produces millions of gallons of toxic and radioactive wastewater. 
This project will mean more landscapes and communities will be transformed with fracking wells, pipelines, compressor stations and new roads carrying thousands of trucks, turning once rural and pristine areas—including farms, public parks and forests—into industrial sacrifice zones so energy companies can ship our natural gas elsewhere. Further, the nation's largest estuary, the Chesapeake Bay, would be highway for thousand-foot long tankers to transport the liquefied gas, exposing the treasured Bay to invasive species and worsening the "dead zone" in the Bay through dumping of polluted ballast water.
FERC has shown it rubber stamps projects and is beholden to the gas industry by already approving a new compressor station in rural Myersville, MD, despite intense community opposition. This 16,000-horsepower compressor station that Dominion wants to construct, will be located just a mile from an elementary school. Next up would be an expanded compressor station in northern Virginia.
A major Pennsylvania fracking company—Cabot Oil & Gas—has already committed to pipe gas to Cove Point for export. Dominion's plan includes connecting to the interstate natural gas transmission systems of Transcontinental Gas Pipeline Company, Columbia Gas Transmission and DTI, which would pipe gas to Cove Point from a wide range of regions in the U.S. Pipelines, which are also under FERC's jurisdiction, are being proposed throughout the Susquehanna River basin, and across the Gunpowder River watershed—which includes the drinking water source for the city of Baltimore—all to pipe natural gas to Cove Point. These pipelines, which inevitably leak and rupture causing dangerous explosions and fires, would snake through our waterways, drinking water sources, backyards and farms. Yet, the environmental assesment fails to analyze impacts of natural gas development, despite information about where Dominion's customers will source the gas and plans for new pipelines designed to shuttle gas to Cove Point.
The fact that FERC did not relate the facility at Cove Point to the "fracking process" and analyze the consequences is a fundamental flaw, making the analysis meaningless. The more than 150,000 comments that were sent to FERC on Monday say loud and clear that they don't buy FERC's meaningless assessment.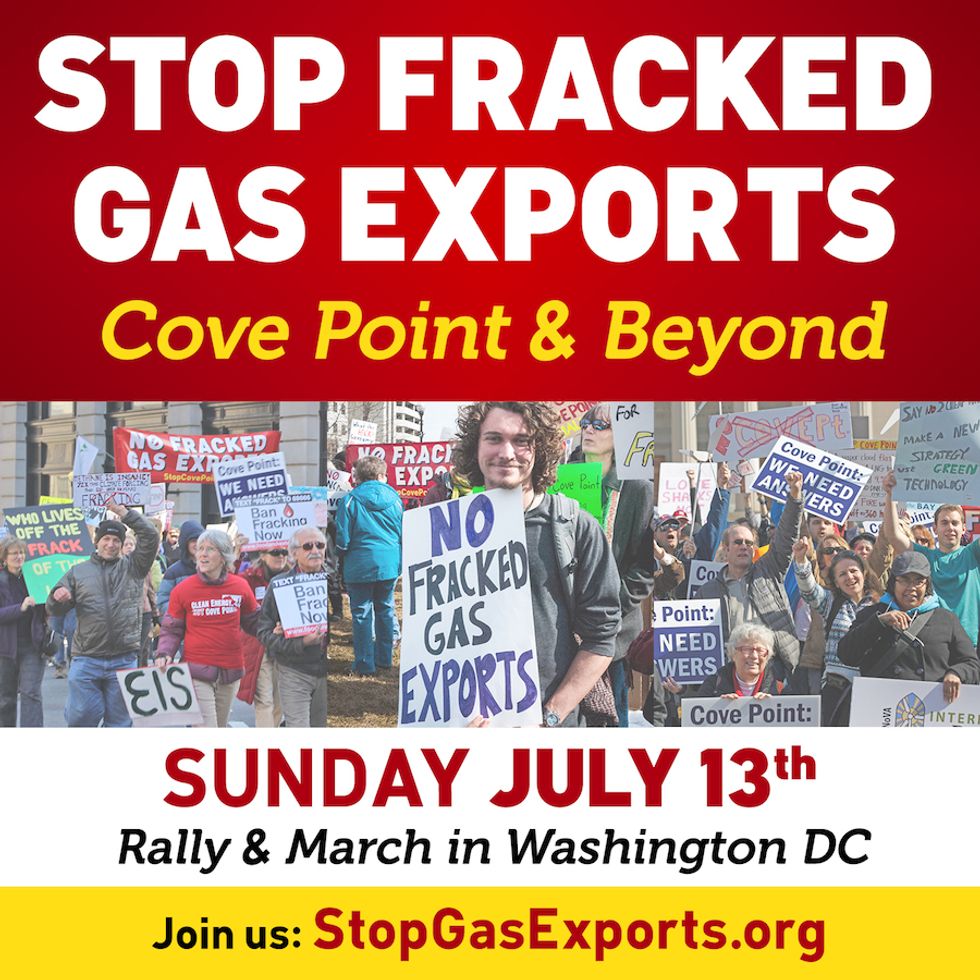 What You Can Do 
The fight against this fracked gas export facility has been long, but it's not over. This week, several organizations and individuals are participating in a blogathon to reach out across the Chesapeake Bay region and the nation to decry the unchecked march to export our natural gas at the expense of our rivers, streams, bays, forests, farms and communities.
Next week, hundreds of people will join a week-long picket line at FERC to protest the rubber stamping of this project. On July 13, thousands of people will gather in Washington, D.C. to rally and march against fracked gas exports at Cove Point and beyond.
EcoWatch Daily Newsletter
Protesters holding signs in solidarity with the Wet'suwet'en Nation outside the Canadian Consulate in NYC. The Indigenous Peoples Day NYC Committee (IPDNYC), a coalition of 13 Indigenous Peoples and indigenous-led organizations gathered outside the Canadian Consulate and Permanent Mission to the UN to support the Wet'suwet'en Nation in their opposition to a Coastal GasLink pipeline scheduled to enter their traditional territory in British Columbia, Canada. Erik McGregor / LightRocket / Getty Images
Tensions are continuing to rise in Canada over a controversial pipeline project as protesters enter their 12th day blockading railways, demonstrating on streets and highways, and paralyzing the nation's rail system
Horseshoe Bend (seen above) is a horseshoe-shaped meander of the Colorado River in Page, Arizona.
didier.camus
/ Flickr /
public domain
Millions of people rely on the Colorado River, but the climate crisis is causing the river to dry up, putting many at risk of "severe water shortages," according to new research, as The Guardian reported.
An alarming sign of an impending drought is the decreased snowpack in the Sierra Nevada Mountain range, as seen here in Christmas Valley, South Lake Tahoe, California on Feb. 15, 2020.
jcookfisher
/
CC BY 2.0
California is headed toward drought conditions as February, typically the state's wettest month, passes without a drop of rain. The lack of rainfall could lead to early fire conditions. With no rain predicted for the next week, it looks as if this month will be only the second time in 170 years that San Francisco has not had a drop of rain in February, according to The Weather Channel.
New and recent books explore how we can effectively respond to climate change while enhancing our health and happiness. Kei Uesugi / DigitalVision / Getty Images
A warm day in winter used to be a rare and uplifting relief.

Now such days are routine reminders of climate change – all the more foreboding when they coincide with news stories about unprecedented wildfires, record-breaking "rain bombs," or the accelerated melting of polar ice sheets.
Where, then, can one turn for hope in these dark months of the year?