PSA Urges Americans to Demand an End to Keystone XL
Oct. 17, 2012 09:45PM EST
Energy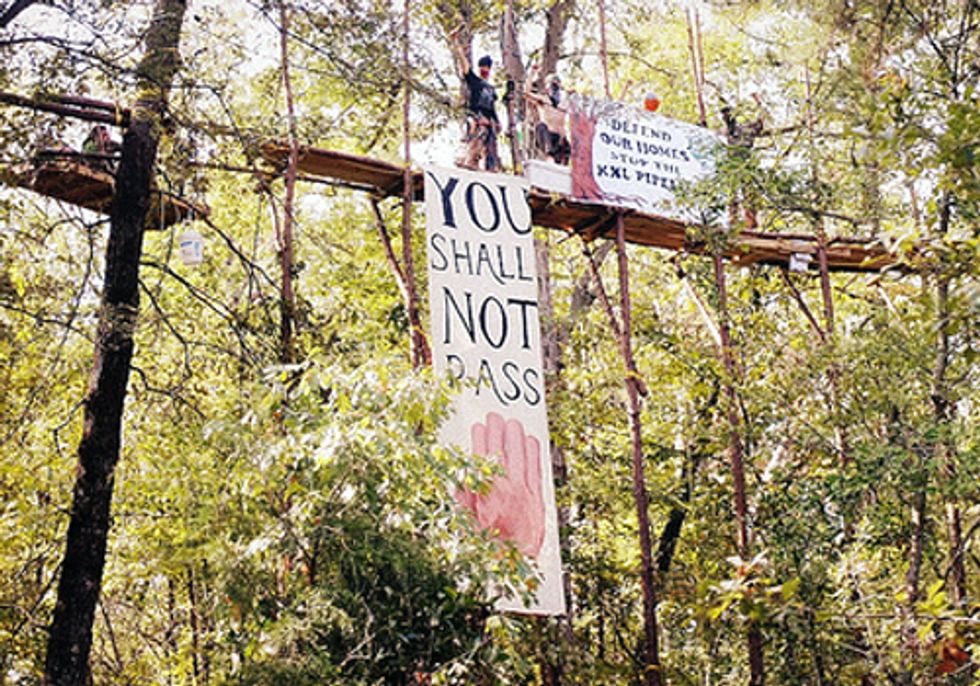 The day after the second presidential debate, where both presidential candidates reiterated their support for TransCanada's Keystone XL pipeline, the "Defend America, Stop Keystone Tour" released a PSA (Planetary Service Announcement) urging all Americans to sign and deliver an "Open Letter" to Obama and Romney campaign offices nationwide and to support the Keystone XL Tar Sands Blockade.
Both candidates doubled down on their support for Keystone XL during Tuesday night's presidential debate, with Governor Romney saying, "We're going to bring that pipeline in from Canada." President Obama responded by saying, "We've built enough pipeline to wrap around the Earth once. So I'm all for pipelines."
The open letter, which calls on President Obama and Governor Romney to withdraw their support for TransCanada's Keystone XL tar sands pipeline, has been signed by numerous affected landowners and prominent Americans, including actress and activist Daryl Hannah, who was recently arrested defending great-grandmother Eleanor Fairchild's Texas farm against TransCanada.
Following her release from the Wood County jail after being arrested for halting the construction of the Keystone XL tar sands pipeline on Fairchild's east Texas farm, Hannah stated, "There's no bottom line for corporations and governments that have an agenda. In the U.S., we have a long history of non-violent civil disobedience, one of the primary tools used by citizens to stand up against injustice. When a law is unjust, sometimes as a last resort, the only option is to break it."
Fairchild, whose land has been seized by TransCanada through eminent domain, said, "I don't think there is an even playing field for the American landowners and this Canadian tar sands pipeline company, TransCanada. Most people can't fight these bullies. They push people around. They intimidate, threaten and scare people and they take what they want. It's not right."
"Failure to confront this transnational corporation is a failure to defend America," said Renewable Rider Tom Weis, president of Climate Crisis Solutions. "We call on both candidates to immediately withdraw their support for this pipeline in light of overwhelming evidence that Keystone XL poses an imminent economic, public health and national security threat. The American people need to stand united against the corporate thuggery that is taking place in Texas."
"TransCanada's Keystone XL pipeline serves no legitimate public interest," said signatory Ron Seifert, a spokesperson for the Tar Sands Blockade, a separate but complimentary effort underway in Texas to nonviolently halt the pipeline's construction. "The way rural Texas families are being treated as collateral damage by both major presidential candidates is sickening."
Other prominent signatories of the letter include Mariel Hemingway, Dr. James Hansen, Ed Begley, Jr., Bonnie Raitt, Lester Brown, Julia Butterfly Hill, Bill McKibben and race car driver LeiLani Münter. Principal sponsors include: AllEarth Renewables, Inc., patagonia and EcoWatch.
Visit EcoWatch's KEYSTONE XL page for more related news on this topic.
EcoWatch Daily Newsletter