This website uses cookies to ensure you get the best experience while browsing it. By clicking 'Got It' you're accepting these terms.


The best of EcoWatch, right in your inbox. Sign up for our email newsletter!
Protestors Shine Light on Trans-Pacific Partnership's Secret Corporate Coup
Nov. 26, 2013 11:38AM EST
Climate
When negotiators from the 12 countries in the Trans-Pacific Partnership gathered last week in Salt Lake City, UT, they were met by the TPP Welcoming Committee, a coalition of environmental, social justice and labor groups who did their best to show that there is opposition to the deal in the U.S.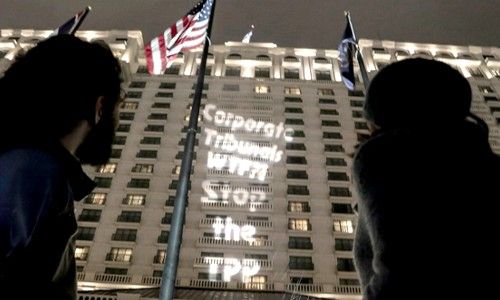 The Trans-Pacific Partnership (TPP) would affect laws and regulations involved in fields including agriculture, media and medicine, and would cover about 40 percent of global GDP. While the leadership of both mainstream political parties in the U.S. supports the deal, advocates of environmental and social justice, as well as some elected representatives, have criticized it.
The Sierra Club has said the TPP would result in an "explosion of fracking." Public Citizen called it a "corporate power tool of the one percent." And, in a letter signed by more than 130 Democratic members of Congress, Rep. DeLauro (D-CT) and Rep. Miller (D-CA) described the TPP as "weakening ... buy America provisions, providing extraordinary investor-state privileges, and restricting access to lifesaving medicines in developing nations."
One of the goals of this week's protests was to raise the profile of the deal. The text of the TPP remains secret to everyone except the national negotiating teams and more than 600 corporate "advisors."
That secrecy was dealt a blow last week, when Wikileaks published the TPP's chapter on intellectual property. The 95 pages of leaked documents revealed that the U.S.' negotiators are pushing for a number of policies opposed by most or all of the others—on issues such as the patenting of plants and animals, harsher fines for those accused of copyright violations, and the ability to prosecute individuals who use or share copyrighted content by accident.
As the Washington Post showed in a detailed infographic, the leaked text seems to demonstrate that the U.S. has become isolated in the TPP talks.
Interactions in Salt Lake City last week between protestors and negotiators from other countries gave the same impression.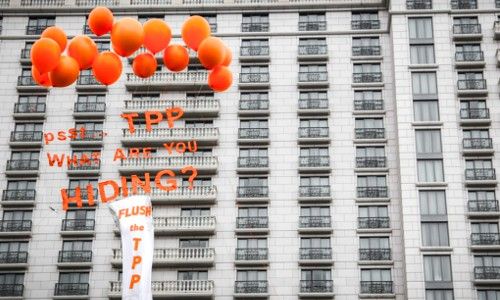 Bill Moyer, the executive director of the Backbone Campaign, one of the organizations that participated in the actions, says that when some of those foreign delegates stepped outside of the hotel to view or photograph anti-TPP slogans that activists had projected on the hotel wall, they thanked the protestors for their work.
Then, at another point in the evening, Moyer shouted, "Don't allow yourself to be bullied by the U.S." to a group of negotiators from Latin American and Asian countries, and they responded by saying, "We're doing our best!"
Organizers used a variety of inventive tactics to express their feelings about the deal throughout the week. On Wednesday and Thursday nights, they used light cannons to project messages onto the walls of the Grand America Hotel, where the negotiations were being held. On Wednesday, they suspended a 75-foot-tall banner outside the hotel using weather balloons, and about 30 people marched to the hotel's entrance while banging pots and pans.
"We completely undermined their attempts to keep the TPP invisible in the U.S. and elsewhere," said Moyer. "We overcame the barriers of short notice and geography to show the country, the world and the international delegates that resistance to the TPP is growing in the U.S."
Jesse Fruhwirth, a volunteer with the Salt Lake City-based climate justice group Peaceful Uprising, said the TPP is relevant to climate politics, too. The agreement is likely to make the permitting process for oil and gas drilling easier—bad news for those working to stop or mitigate climate change.
The issue of extraction is especially sensitive in Utah, which possesses valuable gas deposits as well as tar sands.
On Tuesday, as the local Bureau of Land Management auctioned off 44,000 acres of public land for oil and gas leases, TPP opponents joined members of Peaceful Uprising and Utah Tar Sands Resistance in a rally at the auction site.
James Trimarco wrote this article for YES! Magazine, a national, nonprofit media organization that fuses powerful ideas with practical actions. James is web editor at YES! and you can follow him@JamesTrimarco.
Visit EcoWatch's ENERGY and CLIMATE CHANGE  pages for more related news on this topic.

EcoWatch Daily Newsletter
jenifoto / iStock / Getty Images
Many people consider granola bars a convenient and healthy snack and enjoy their flavor and versatility.
A common green darners (Anax junius). Judy Gallagher / Flickr
By Jason Bittel
It's that time of year again: Right now, monarch butterflies are taking wing in the mountains of northwestern Mexico and starting to flap their way across the United States.
fstop123 / iStock / Getty Images Plus
At EcoWatch, our team knows that changing personal habits and taking actions that contribute to a better planet is an ongoing journey. Earth Day, happening on April 22, is a great reminder for all of us to learn more about the environmental costs of our behaviors like food waste or fast fashion.
To offer readers some inspiration this Earth Day, our team rounded up their top picks for films to watch. So, sit back and take in one of these documentary films this Earth Day. Maybe it will spark a small change you can make in your own life.
Denali national park. Domen Jakus / Flickr / CC BY-NC 2.0
By Stephanie Gagnon
Happy National Parks Week! This year, between April 20 and 28, escape to the beautiful national parks — either in person or in your imagination — and celebrate the amazing wildlife that calls these spaces home.
Sesame, three months old, at Seal Rescue Irleand.
Screenshot / Seal Rescue Ireland Instagram
On Friday, Seal Rescue Ireland released Sesame the seal into the ocean after five months of rehabilitation at the Seal Rescue Ireland facility. Watch the release on EcoWatch's Facebook.

Beer packs of Guinness will now come in a cardboard box. Diageo

By Jordan Davidson
Guinness is joining the fight against single use plastic. The brewer has seen enough hapless turtles and marine life suffering from the scourge of plastic.
Maskot / Getty Images
People of all ages are spending more of their day looking at their phones, computers and television screens, but parents now have another reason for limiting how much screen time their children get — it could lead to behavioral problems.