Protesting Fracking in Support of Local Farms
Nov. 13, 2012 10:31AM EST
Energy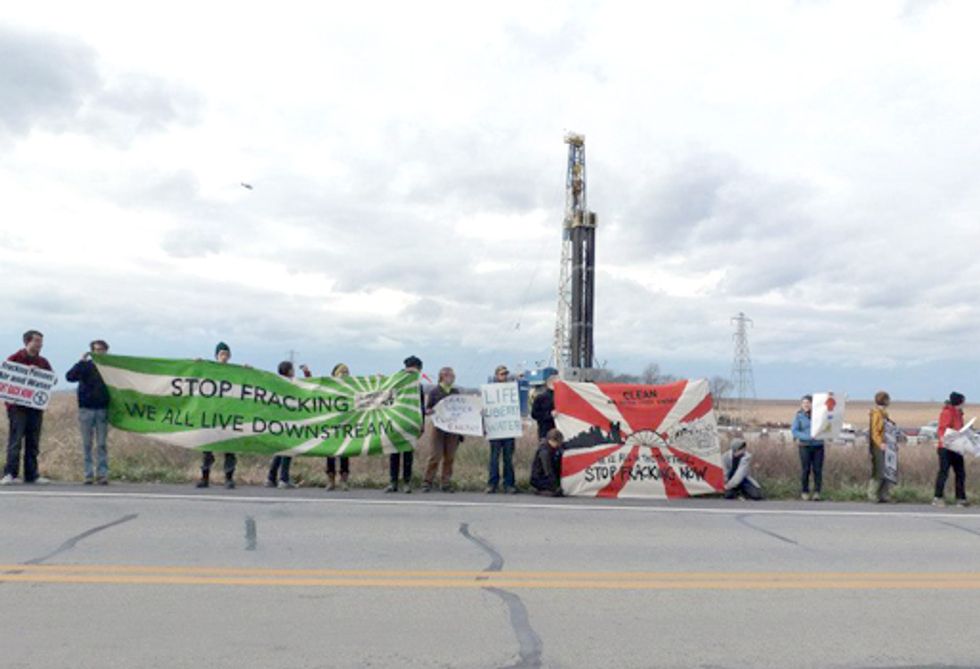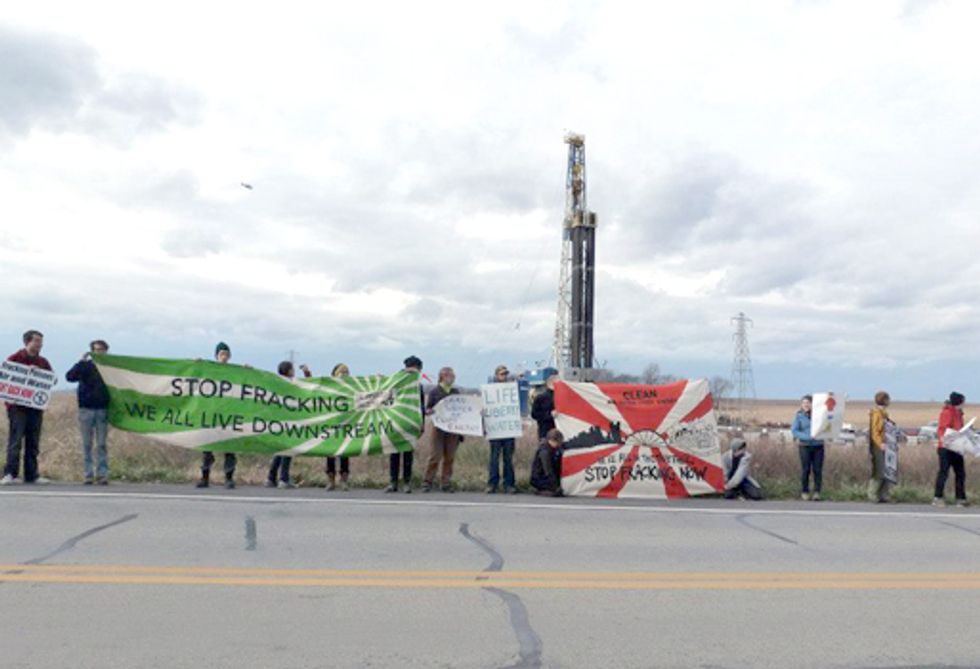 On Nov. 12, more than thirty people gathered in front of a fracking well site operated by Shell Oil to protest the impacts drilling is having on farmers in Pennsylvania. The well pad is 4,000 feet from Maggie Henry's farm near New Castle, Pa.
Henry raises organic eggs, poultry and pork, and she fears that unconventional gas drilling will contaminate her well water and force her out of business. The gas well and the Henry farm lie in an area littered with hundreds of abandoned and unplugged oil wells, which could create a pathway through which gas and fluids from the fracking process can migrate into aquifers.
Those who came out to support Henry's struggle to protect her farm included Butler County residents concerned about the impacts of drilling on their land and the health of their families, as well as Pittsburghers concerned about air and water quality, and the safety of local food, including some who shop at the Strip District market where Maggie sells farm products. People from shale-impacted areas across Pennsylvania and beyond were also present to show solidarity across the region.
Demonstrators arrived at the well site to find a heavy police and private security presence, with state troopers on the well site mingling with workers, blocking the entrance to the site, cruising the nearby roads and parked in a nearby church. A police helicopter also circled the area.
One local family driving past stopped to share their own story of well water contamination that occurred in the last year and eventually led to the hospitalization of the family and eviction from a rental residence. They also reported that other families in the area have recently developed problems with water contamination.
This action comes on the heels of a weekend-long training held on Henry's property. Organized by Pittsburgh-based Shadbush Environmental Justice Collective, the Shalefield Justice Action Camp brought together more than 80 organizers from across the Marcellus and Utica shale regions to share skills and strategies in community organizing and non-violent direct action to combat fracking and other forms of harmful resource extraction. The camp included a strong representation from Butler County and other parts of Southwestern Pennsylvania, as well as Bradford, Tioga, Lancaster, Jefferson, Columbia and Philadelphia counties, and Ohio, New York and West Virginia.
Henry's fear that fracking could put her out of business is elevated by historical records showing her property contains at least ten abandoned oil wells, many of which cannot be located. In other areas, fracking under abandoned gas wells has led to dangerous explosions and fires as underground pressure forced methane through the abandoned wells to the surface. Migrating gas and fluids also threaten groundwater supplies on which Henry and her animals depend on for their drinking water. Henry has challenged Shell's permit with the state Environmental Hearing Board, but was abandoned by her lawyers from the University of Pittsburgh law clinic, who refused to take Shell to court.
Henry feels like she is out of options and she's not alone, as community members across Pennsylvania have not found help through legal or political channels where the oil and gas industry is so pervasive. It is clear that residents are ready to take direct action and stand up to the fossil fuel industry to call attention to the devastating impacts fracking is having on their communities.
Visit EcoWatch's FRACKING page for more related news on this topic.
EcoWatch Daily Newsletter