This website uses cookies to ensure you get the best experience while browsing it. By clicking 'Got It' you're accepting these terms.
Protesters to Biotech Industry: If GE Trees Are Planted, Expect Resistance
May. 15, 2014 09:18AM EST
The U.S. Department of Agriculture (USDA) is currently considering approval of the first genetically engineered (GE) tree for commercial use—a GE eucalyptus tree developed by the biotechnology corporation ArborGen. The tree is designed to withstand colder climates and would primarily be cultivated to provide pulp for paper and wood pellets used for fuel.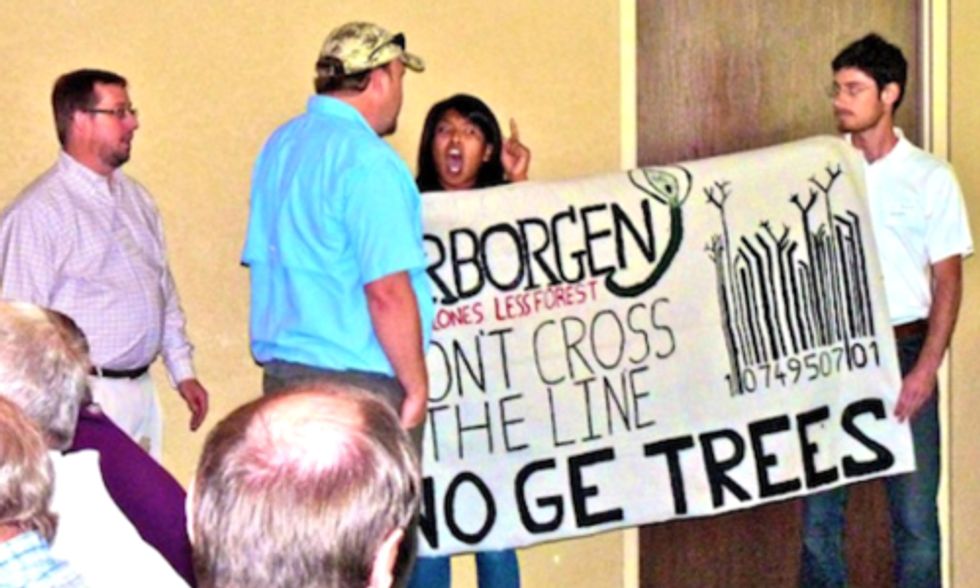 Yesterday in Tallahassee, FL, outraged demonstrators interrupted an event hosted by ArborGen, giving a stark warning to participants to expect resistance and growing protests should they plant GE trees, according to a press release from the Global Justice Equality Project (GJEP). The event brought together landowners and foresters from the industrial tree plantation sector and featured top ArborGen scientists working on GE trees. 
"We sent a clear message to participants—plant genetically engineered trees and expect resistance," said Keith Brunner, an organizer with GJEP. "Invasive GE eucalyptus, planned for deployment across the U.S. South, would irrevocably devastate native ecosystems, exacerbate droughts and lead to catastrophic firestorms. This must be stopped before it is too late."
The USDA is expected to accept public comments on the GE eucalyptus soon, following the release of its draft Environmental Impact Statement on ArborGen's request to commercially sell the trees. And though public comments can be a force of their own, the USDA will ultimately issue the final decision approving or denying ArborGen's request.
If approved, ArborGen could soon sell millions of  the freeze-tolerant, potentially flammable and invasive GE eucalyptus trees across the country. According the GJEP, approval  could open the door to approval for other GE species like GE pine and poplar, which pose additional risks due to the likelihood of contamination of wild species in native forests.
Stephanie Hall, a member of the Toad Clan of the Seminolee Miccosukee People, also pointed out the link between ArborGen's plans and the history of genocide against Indigenous Peoples in the region, saying, "ArborGen could not be planning for the development of vast industrial plantations of genetically engineered eucalyptus trees on land in Florida without the previous history of genocide and forced removal of Indigenous men, women, children, plants and animals from the region. People should not be complicit in this—we must ban genetically engineered trees."
"Early last year, the USDA received nearly 40,000 comments opposing ArborGen's GE eucalyptus, with only a handful received in favor," stated Anne Petermann, executive director of GJEP, noting only four of the submitted comments were supportive of the approval of GE eucalyptus. "Then in May of 2013, the international Tree Biotechnology conference in Asheville, NC, was protested and disrupted for almost a week by hundreds of protesters. These protests and today's disruption are only the beginning. As the USDA considers ArborGen's request to legalize GE trees, opposition to these trees and the threats they pose to communities and native forests continues to grow."
Non-GE eucalyptus plantations have had devastating impacts all over the world. Based on these documented impacts, GJEP expects GE eucalyptus plantations in the U.S. to likely cause:
Clearcutting of biodiverse forests for conversion to industrial GE eucalyptus plantations–called "green deserts" due to their devastating impacts on biodiversity.

Invasive spread of GE eucalyptus trees into native ecosystems–eucalyptus are already a documented invasive species in Florida and California.

Increased danger of firestorms—eucalyptus contain a highly volatile oil and are explosively flammable.

Displacement of wildlife that cannot use the non-native eucalyptus trees for habitat or food.

Contamination of soils and groundwater with toxic agrochemicals used on the plantations.

Worsening of drought—eucalyptus have deep tap roots, monopolize ground water and dry up soils.

Worsening of climate change through the destruction of carbon rich native forests for carbon poor plantations.
As has been the case with GE foods, despite whatever negative consequences the technology may bring about, GE "factory forests" will likely be highly profitable for the biotech companies, as GE crops have been for companies like Monsanto and Syngenta. The Center for Food Safety reports that should the USDA approve AbroGen's GE eucalyptus, the company has projected its profits will grow from $25 million to $500 million in five years. Corporations almost always exist to make money, so Americans should be able to count on the USDA to offset greed with some sort of ethics and make decisions that keep public health and environmental protection as their highest priority. 
--------
YOU MIGHT ALSO LIKE
Genetically Engineering Trees for Biofuels Undermines Real Energy and Climate Solutions
Report Details Potential Hazards of Genetically Engineered Trees Currently Under USDA Review
University of Florida Threatens Arrest and Evicts Anti-GE Tree Campaigners From Campus
--------
EcoWatch Daily Newsletter
A First Nations protester walks in front of a train blockade in Tyendinaga, near Belleville, Ontario, Canada on Feb. 21, 2020. LARS HAGBERG / AFP via Getty Images
An indigenous rail blockade that snarled train travel in Canada for more than two weeks came to an end Monday when police moved in to clear protesters acting in solidarity with another indigenous community in British Columbia (B.C.), which is fighting to keep a natural gas pipeline off its land.
A rainbow snake, a rare reptile spotted in a Florida county for the first time in more than 50 years, seen here on July 5, 2013.
Kevin Enge / FWC Fish and Wildlife Research Institute / Flickr
A Florida hiker recently stumbled across a slithering surprise — a rare snake that hadn't been spotted in the area for more than 50 years.
We need our government to do everything it can to stop PFAS contamination and exposure from wreaking havoc in communities across the country. LuAnn Hun /
Unsplash
By Genna Reed
The EPA announced last week that it is issuing a preliminary regulatory determination for public comment to set an enforceable drinking water standard to two of the most common and well-studied PFAS, PFOA and PFOS.
This decision is based on three criteria:
PFOA and PFOS have an adverse effect on public health
PFOA and PFOS occur in drinking water often enough and at levels of public health concern;
regulation of PFOA and PFOS is a meaningful opportunity for reducing the health risk to those served by public water systems.
Charging EVs in Stockholm: But where does a dead battery go? Ranjithsiji / Wikimedia Commons
By Kieran Cooke
Driving an electric-powered vehicle (EV) rather than one reliant on fossil fuels is a key way to tackle climate change and improve air quality — but it does leave the old batteries behind as a nasty residue.
U.S. Secretary of the Treasure Steven Mnuchin arrives for a welcome dinner at the Murabba Palace in Riyadh, Saudi Arabia on Feb. 22, 2020 during the G20 finance ministers and central bank governors meeting. FAYEZ NURELDINE / AFP via Getty Images
Finance ministers from the 20 largest economies agreed to add a scant mention of the climate crisis in its final communiqué in Riyadh, Saudi Arabia on Sunday, but they stopped short of calling it a major economic risk, as Reuters reported. It was the first time the G20 has mentioned the climate crisis in its final communiqué since Donald Trump became president in 2017.