Protesters Blockade Planned Pipeline Site Near Nuclear Plant Outside NYC
May. 26, 2016 10:53AM EST
Energy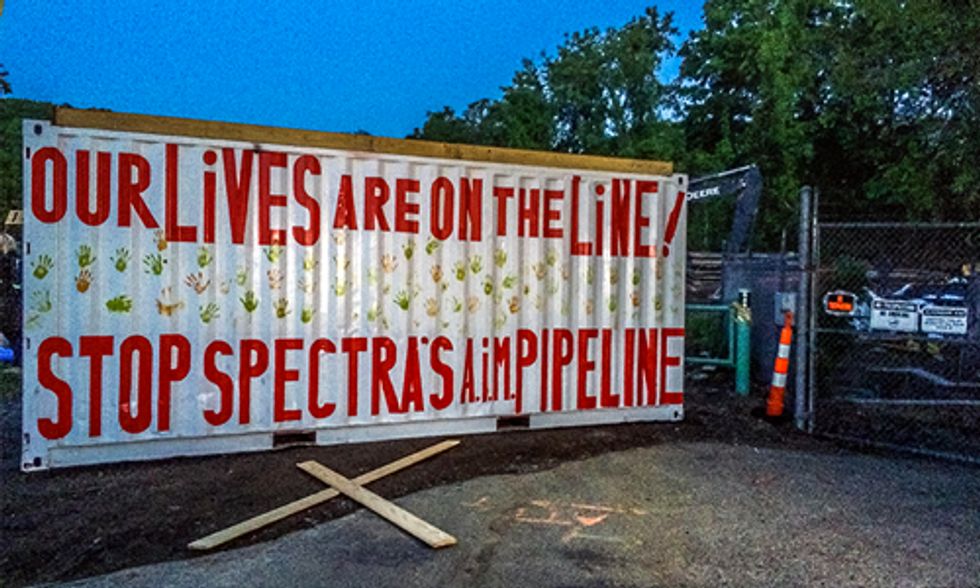 In Peekskill, New York, just about an hour north of New York City, residents have launched a blockade in efforts to stop the construction of a gas pipeline slated to run only hundreds of feet from the aging Indian Point nuclear power plant.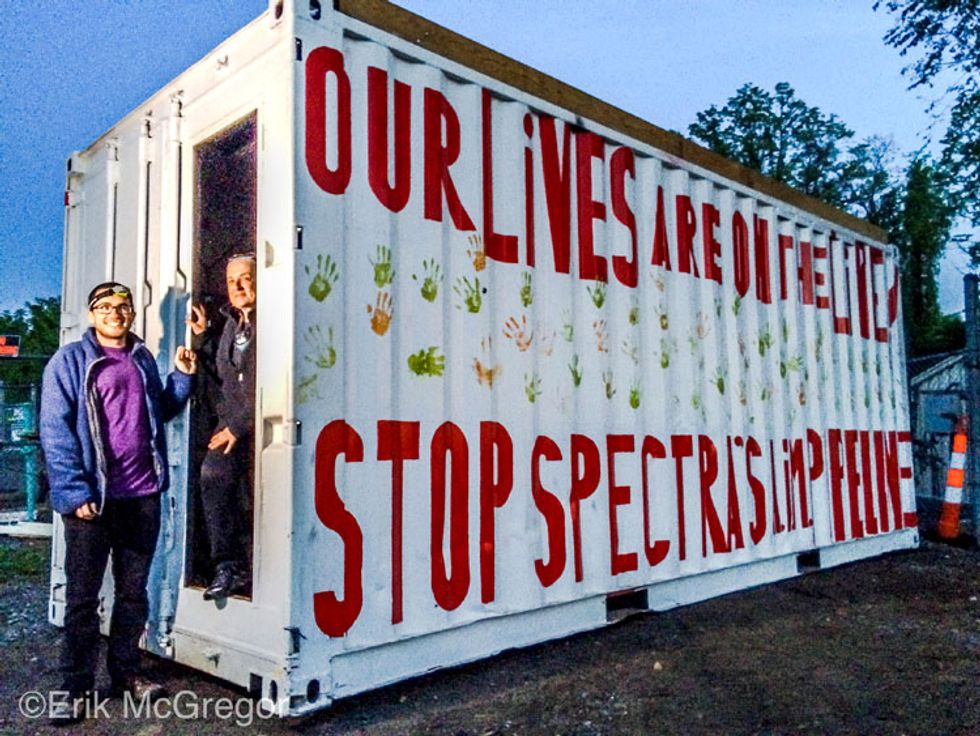 The proposed project has sparked concerns from residents and nuclear experts that a pipeline break could cause a catastrophic nuclear disaster that would threaten the entirety of New York City. The pipeline is being built by Spectra Energy and is officially known as the Algonquin Incremental Market Project or AIM pipeline.
Peekskill residents and activists escalated the campaign to stop this pipeline's construction by installing a fully sustainable shipping container at the entrance of Spectra's work yard—complete with two activists living inside. Democracy Now! was there as the blockade was launched.
Here's the transcript of the interview:
Juan Gonzalez: In Peekskill, New York, just about an hour north of New York City, residents have launched a blockade in efforts to stop construction of Spectra Energy's Algonquin Incremental Market Project, known as the AIM pipeline, which would carry high-pressure methane gas from Massachusetts through Rhode Island, Connecticut and down to the communities along the Hudson River. In Peekskill, the pipeline is slated to run only hundreds of feet from the aging Indian Point nuclear power plant, sparking concerns from residents and nuclear experts that a pipeline break could cause a catastrophic nuclear disaster that would threaten the entirety of New York City.
Well, only hours ago, Peekskill residents and activists escalated the campaign to stop the pipeline's construction by installing a fully sustainable shipping container at the entrance of Spectra's work yard—complete with two activists living inside. Democracy Now! was there as the blockade was launched.
Lee Stewart: My name is Lee Stewart. We are now on the site, the construction site, of Spectra AIM's pipeline. The workers will be arriving very soon to find our home here now, where they're supposed to be doing work.
Jane Kendall: We have a pouch we can fill with water and put it up here so the sun will heat it, so we can have hot showers.
I'm Jane Kendall. Spectra Energy has put their construction pipe for the pipeline through people's yards, through our woodlands, through our wetlands. Now we're putting our home in their yard, in their path. You'll see there's heavy equipment there. They're beginning to plow through to get the path to lay the pipeline. And over here is a yard where they're keeping heavy equipment.
Laura Gottesdiener: And the shipping container, where is that in between all this?
Jane Kendall: It's right smack in the middle. It's stopping everything. And the really great thing is, everybody in this area driving back and forth on the way to work is going to see it.
Laura Gottesdiener: What does the message on the side of this container say?
Lee Stewart: "Our lives on the line. Stop Spectra."
Activist: Here we go, guys. Here we go. There's workers here.
Jane Kendall: Ok, go.
Activist: I'm going to give you this closing.
Jane Kendall: Here we go. Ciao.
Lee Stewart: Love.
Amy Goodman: That was Lee Stewart speaking this morning before he and Jane Kendall locked themselves into the shipping container blockading Spectra Energy's work yard. The project has already faced massive resistance at other points along the route, including in Rhode Island and Massachusetts, where activists from a group known as The FANG Collective have staged a series of tree-sits and protests. Spectra is currently suing three FANG members for $30,000 over a protest in which activists locked themselves to structures at a construction site, delaying work for hours. The three are heading to court this Thursday. In Peekskill, this morning's blockade is the latest in a series of escalating actions. On Saturday, 21 people were arrested after forming a human chain to block trucks from moving in or out of the construction site. Democracy Now!'s Laura Gottesdiener was there, speaking to residents, protesters risking arrest and a nuclear safety expert.
Protesters: Get up! Get down! Leave fossil fuels in the ground! Get up! Get down!
Courtney Williams: My name is Courtney Williams. I am a resident of Peekskill and I am working to stop the Algonquin pipeline expansion. I first heard about the pipeline over two years ago, when a local organization called SAPE, which is Stop the Algonquin Pipeline Expansion, had an info session at the local library. And they had been working to stop fracking and they realized that even if New York banned hydrofracking, we would still be feeling a lot of the health and safety impacts of it if we had massive fracked gas pipelines going through our communities. So that's when we first learned about the project. And my husband actually said, "I think these people are crazy or we need to move," because they're building this pipeline right next to the nuclear power plant, right next to the elementary school and 400 feet from our front door. Our home will be incinerated if this pipeline ruptures near to our house. And the school district, the great school district that we were buying to live in, now our daughter will be going to kindergarten 400 feet from the pipeline, where, you know, she and 300 other kids would be harmed if the pipeline ruptured there.
Laura Gottesdiener: How old is your daughter Irene?
Courtney Williams: My daughter is six. And my—and so she's a kindergartner there now. And my son is going to be four on Monday, actually. And he would be starting there, if we still live here.
Laura Gottesdiener: If this section becomes operational, will you stay and send your kids to this school, where there's—400 feet away, there's the possibility that there could be a pipeline explosion?
Courtney Williams: We really don't feel safe here anymore.
Protesters: We're gonna roll! We're gonna roll! We're gonna roll! We're gonna roll! We're gonna roll right over Spectra!
Jean Bergman: My name is Jean Bergman. And we're here in Peekskill to protest the Spectra pipeline. Right now we have over 20 people willing to risk arrest to try to stop this pipeline from being built. We're standing across the entrance to the pipeline work area and we're going to stay here and prevent vehicles from coming in or out as long as we can.
Protesters: We shall not be moved.
Benjamin Shepard: I'm Benjamin Shepard from Brooklyn, New York City. And we're here to ask: If all of our elected representatives are on record as being against this pipeline, if the mayor of Peekskill is on record as being against the pipeline, if the people of Peekskill are on record as being against this pipeline, who's calling the shots? The people or the corporations? And if the corporations won't get out of the way, the people have to do it, are going to have to get in their way. And that's why we're here, to get on the—stop the machinery.
Paul Blanch: My name is Paul Blanch. I'm a registered professional engineer. I've studied nuclear safety for 50 years. And I know there's a probability of an event occurring that would literally destroy the area here and impact 20 million people and cause property and infrastructure damage exceeding $8 trillion. There is no nuclear power plant that we are aware of, first of all, that's located in such a high densely populated area. There's no nuclear power plant with a gas line running 400 feet from the control room. There is no protection in the control room, should an event occur. If an event occurs, an explosion or the release of gas, even unexploded, could cause disabling the people in the control room and result in meltdown of both reactors. An explosion would engulf the Indian Point facility. And the containments wouldn't be affected, but it's very likely that we would have a release exceeding those of Chernobyl and Fukushima, because there's more radioactive material stored here than at those facilities.
Laura Gottesdiener: So you're saying if there were an explosion at Indian Point power plant, nuclear power plant, everybody in New York City would be displaced?
Paul Blanch: Well, I'm not saying everybody. It depends on which way the wind is blowing. And if it blows to New York City, there's been studies that, you know, the evacuation area could extend beyond 50 miles. And New York City downtown is only 35 miles away. And predominant winds are down the Hudson River and it could cause the relocation of people permanently.
Protesters: Get up! Get down! Leave fossil fuels in the ground! Get up! Get down!
Amy Goodman: That was nuclear power safety expert Paul Blanch speaking Saturday in Peekskill, New York, about the Indian Point nuclear power plant. The facility has long been plagued with aging infrastructure and safety concerns. On Tuesday, the environmental group Friends of the Earth filed an emergency petition with the Nuclear Regulatory Commission demanding one of Indian Point's reactors be kept offline and that another be shut down due to the disintegration of key bolts holding the reactor cooling system together.
Well, for more, we're joined here in New York by Nancy Vann, president of Safe Energy Rights Group and a member of Resist AIM. She's a resident of Peekskill, New York. She just left the newly launched blockade of the AIM pipeline.
Nancy, welcome to Democracy Now!
Nancy Vann: Thank you.
Amy Goodman: So, the significance of this pipeline being next to this nuclear power plant and then Friends of the Earth filing this complaint?
Nancy Vann: The pipeline is dangerous enough on its own. We anticipate that a blast radius from a rupture would be between 800 and a thousand feet. And it runs within about 105 feet of the switchyard that supplies all the power to Indian Point to keep the cores cooled. If the core power goes out, there's a backup generator and the pipeline will run 115 feet from the fuel that would fuel those backup generators. So, any rupture of this pipeline would completely obliterate really critical safety structures at Indian Point.
Juan Gonzalez: Why did public officials allow this pipeline to be built in the first place? Governor Cuomo, for instance, is known as an opponent of the Indian Point nuclear power plant and wants to close it down. Why haven't they stepped forward on this issue?
Nancy Vann: Well, Governor Cuomo actually did step forward on it. He had issued a letter and sent it to FERC, which is the Federal Energy Regulatory Commission, a little—about a month ago, saying that he wanted this pipeline construction halted until an independent risk assessment could be done. FERC, that we like to call FERCbecause of its implications—we always talk about them FERCing us—they are an industry that—they are captured by the industry. They are really a rogue agency. All of their funding comes from the fossil fuel industry. If there were no new projects, there would be no agency.
Amy Goodman: Last year, The FANG Collective—standing for Fighting Against Natural Gas—recorded a series of interviews with a whistleblower who worked as a contract safety inspector on Spectra's AIM pipeline. He was asked to describe the safety conditions at the site. His voice has been distorted.
Safety Inspector: We had an excavator that flipped over, a very heavy—I'd have to guess, but I'd be remiss to say it was easily greater than 50,000 pounds—a trackhoe, flip over on a jobsite, the arrest of it—tumbling down a field. It was arrested by falling onto the flatbed it was putting pipe on. You had the situation at Cromwell, where a crane forgets to unhook its headache ball from the front of the crane and starts to boom crane out. Well, when you do that, cable is supposed to get longer, but it didn't, so it catastrophically broke the cable. The ball hit 10-inch plate, that could have been under pressure. What if that would have been live pressurized plate, that by now had been struck by headache ball, by crane that weighs upteen tons? That could have led to a humongous environmental safety issue as well as multiple deaths. So, the bottom line is, these are all situations where I was personally confronted, from crane to the trackhoe, to the head injuries, to the minor heat exhaustion, to the so on and so forth.
Amy Goodman: The whistleblower went on to say inspectors told him about other safety violations.
Safety Inspector: Inspectors come up to me in the field and say to me, "There was a pipe buried underground that was not inspected properly." And the reason it was not excavated and inspected was that it cost too much money. The right thing for the inspector to do is to make them dig it back up. That's the right thing to do. With the pressure you receive from Spectra, you will never do that.
Amy Goodman: So, Nancy Vann, explain what this safety inspector is saying, in the last 30 seconds we have.
Nancy Vann: He is talking about the fact that new pipelines are actually failing at a much higher rate than older pipelines. They're being put in too fast. The wells are not being inspected. They're using faulty steel, using often Chinese steel that is not up to the standards that it should be. And
Amy Goodman: Our latest news is police are currently trying to cut through the shipping container that was set up today, not successful so far. What about this blockade launch that was just begun this morning? You've got 10 seconds.
Nancy Vann: Our lives really are on the line. In court, we are pleading the necessity defense, saying that we have to do this to keep a greater harm from being perpetrated on the people of New York. There are 20 million people that could be affected if something goes wrong at this pipeline next to Indian Point.
Amy Goodman: Nancy Vann, I want to thank you for being with us, president of Safe Energy Rights Group, member of Resist AIM, lives in Peekskill, New York. And that does it for the show. Special thanks to Laura Gottesdiener and Juan Carlos Dávila for that report.
YOU MIGHT ALSO LIKE
Renewable Energy Jobs Surpass Oil and Gas Sector for First Time in U.S.
Exxon Board Rejects All Nine Climate Resolutions at Annual Meeting
Fracked Gas Isn't Green or Clean
5 Huge Climate Success Stories 10 Years After the Release of Al Gore's 'An Inconvenient Truth'
Winegrowers check vines during the burning of anti-frost candles in the Luneau-Papin wine vineyard in Le Landreau, near Nantes, western France, on April 12, 2021. SEBASTIEN SALOM-GOMIS / AFP via Getty Images
French winemakers are facing devastating grape loss from the worst frost in decades, preceded by unusually warm temperatures, highlighting the dangers to the sector posed by climate change.
"An important share of the harvest has been lost. It's too early to give a percentage estimate, but in any case it's a tragedy for the winegrowers who have been hit," said Christophe Chateau, director of communications at the Bordeaux Wine Council, told CNN.
Climate change, caused by the extraction and combustion of fossil fuels, has pushed winegrowing seasons earlier, putting crops at higher risk of cold — and wildfires supercharged by climate change also threaten American vignerons and farmworkers as well.
"I think it's good for people to understand that this is nature, climate change is real, and to be conscious of the effort that goes into making wine and the heartbreak that is the loss of a crop," Jeremy Seysses of Domaine Dujac in Burgundy's Côte de Nuits told Wine Enthusiast.
As reported by Wine Enthusiast:
Last week, images of candlelit French vineyards flooded social media. Across the country, winemakers installed bougies, or large wax-filled metal pots, among the vines to prevent cold air from settling in during an especially late frost.

With temperatures in early April as low as 22°F, and following an unseasonably warm March, this year's frost damage may be the worst in history for French winegrowers. Every corner of France reports considerable losses, from Champagne to Provence, and Côtes de Gascogne to Alsace. As a result, there will likely be very little French wine from the 2021 vintage reaching U.S. shores.
For a deeper dive:

CNN, Wine Enthusiast, France24, Eater
For more climate change and clean energy news, you can follow Climate Nexus on Twitter and Facebook, sign up for daily Hot News, and visit their news site, Nexus Media News.
From Your Site Articles
Related Articles Around the Web
EcoWatch Daily Newsletter
A recent study focused on regions in Ethiopia, Africa's largest coffee-producing nation. Edwin Remsberg / Getty Images
Climate change could make it harder to find a good cup of coffee, new research finds. A changing climate might shrink suitable areas for specialty coffee production without adaptation, making coffee taste blander and impacting the livelihoods of small farms in the Global South.
In "Weather," Jenny Offill tells the story of a librarian named Lizzie who prepares for a climate apocalypse. Andrew Merry / Getty Images
By Suzanne Cords
One day Lizzie, the first-person narrator of the novel, receives an old book as a gift, with a dedication wishing the reader to be among the survivors. Like the preppers who build bunkers and stockpile supplies in remote areas to be ready for the end of the world, Lizzie is convinced that the end of the world is definitely near in times of a threatening climate disaster.
Lizzie, who lives in New York with her husband and son, is a university campus librarian. She worries about almost everything: her brother, an ex-junkie, or her dental insurance and the future in the face of the apocalypse. She is obsessed with reading reference books and articles about climate change.
She also devours words of wisdom, including about Buddhist spirituality: "A visitor once asked the old monks on Mount Athos what they did all day, and was told: We have died and we are in love with everything." But nothing can lift her spirits.
'Lizzie Is Just Like Us'
Lizzie observes rich New Yorkers plan their move to regions that are less threatened by climate change, something she simply cannot afford. Sometimes she watches disaster movies, which lead her to worry even more.
Above all, she is a gifted observer of her fellow human beings. "Young person worry: What if nothing I do matters? Old person worry: What if everything I do, does?"
Lizzie, the U.S. author told DW, is a bit like the rest of us — well aware of the climate crisis, but because she cares and worries about so many other things, that awareness falls by the wayside. That's how she felt herself, Jenny Offill said, but the more she looked into the issue, the more she saw a need for action on her part, too.

"I also was trying to see if there was a way to make it funny, because, you know, so much of the world of prepping and imagining disaster is actually sort of strangely funny."
The novel was shortlisted for the 2020 UK's Women's Prize for Fiction and has now been released in German translation.
Climate Activist With a Vision
But then, there is also this serious, scientifically based concern about what climate change means. In the past, says Offill, artists were the ones who would predict disasters; today it's the experts, as well as the students she teaches. In the end, their fears and their justified anger motivated her to take a closer look at the issue. Today, she is a climate activist herself, and is involved in initiatives along with many other artists.
Lizzie, the heroine of Weather, hasn't gotten that far. But she voices her fears, and that's a start. "Of course, the world continues to end," says Sylvia, a mentor of Lizzie's, at one point — and commences to water her garden. There is hope after all.
Reposted with permission from Deutsche Welle.
A Shell oil drilling rig off the coast of Alaska in the Chukchi Sea on May 21, 2015. Orjan F. Ellingvag / Corbis via Getty Images
By Jake Johnson
A federal appeals court on Tuesday dealt the final blow to former President Donald Trump's attempt to open nearly 130 million acres of territory in the Arctic and Atlantic Oceans to oil and gas drilling.
Electric vehicles are the cars of the future. sl-f / Getty Images
By 2035, every new car and truck sold in the U.S. could be an EV, a new report says.
Accelerations in technology and especially battery affordability, paired with new policy, mean the dramatic transition would save American drivers $2.7 trillion by 2050, an average savings of $1,000 per household per year.
The ramp up in EV production would also create 2 million new jobs by 2035. Battery prices have fallen 74% since 2014, and their unexpectedly rapid fall is a key driver of the cost savings.
EVs are far simpler mechanically, and more efficient, than internal combustion engine (ICE) vehicles, which translates to reduced climate pollution and lower costs for consumers.
Strengthened vehicle efficiency standards and investment in fast charging infrastructure are needed to accelerate the transition, which would prevent 150,000 premature deaths and save $1.3 trillion in health environmental costs by 2050.
For a deeper dive:

The Guardian, Fast Company, E&E, Morning Consult, Canary Media

For more climate change and clean energy news, you can follow Climate Nexus on Twitter and Facebook, sign up for daily Hot News, and visit their news site, Nexus Media News.