This website uses cookies to ensure you get the best experience while browsing it. By clicking 'Got It' you're accepting these terms.
Protein Shakes Can Help You Lose Weight and Boost Your Metabolism
May. 30, 2016 12:14PM EST
Protein is an important nutrient for weight loss. Getting enough can boost your metabolism, reduce your appetite and help you lose body fat without losing muscle.
Protein shakes are an easy way to add more protein to your diet, and have been shown to help with weight loss.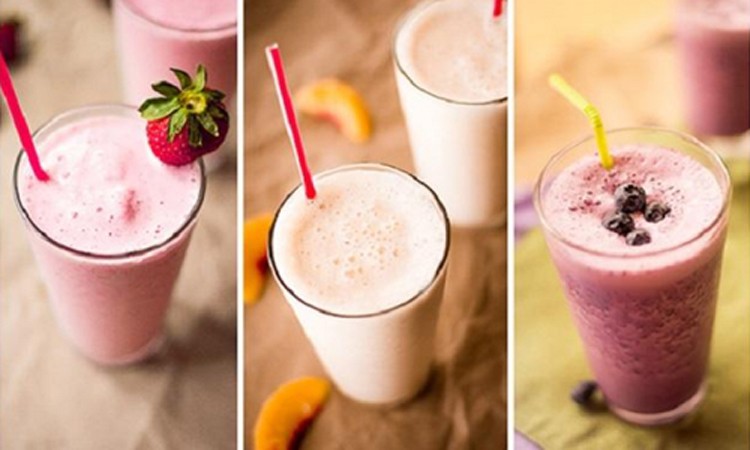 This article explains everything you need to know about protein shakes and how they affect your weight.
What Are Protein Shakes?
Protein shakes are drinks made by mixing protein powder with water, although other ingredients are often added as well.
They can be a convenient addition to the diet, especially when access to quality high-protein foods is limited.
Although most people don't need them to meet daily protein requirements, they can also be useful if you need to increase your intake for some reason.
You can buy protein powder and mix it yourself, but you can also get many different brands of pre-made liquid shakes.
Some of the most popular types of protein powder on the market are:
Some brands contain a mix of different types of protein powder. For example, many plant-based brands combine types to complement each other's amino acid profile.
Bottom Line: Protein shakes can contain different types of protein, each with its own characteristics.
Protein Shakes Decrease Hunger and Appetite
Protein can decrease hunger and appetite in two main ways.
First, it increases levels of appetite-reducing hormones like GLP-1, PYY and CCK, while reducing levels of the hunger hormone ghrelin (5, 6, 7, 8, 9):
Second, protein helps you feel full for longer (10, 11).
In one study, a high-protein breakfast helped participants consume up to 135 fewer calories later in the day (12).
In another, overweight men who had been on a weight loss diet increased their protein intake to 25% of total calories. This increase cut cravings by 60% and late-night snacking by half (13).
Increasing protein intake from 15% to 30% of total calories helped participants in another study consume 441 fewer calories per day without actively trying to limit their portions (14).
What's more, by the end of the 12-week study period, they had lost an average of 11 lbs (5 kg) (14).
These shakes can be a convenient way to add extra protein to your diet. However, keep in mind that too much can still lead to excess calories.
Another study found that shakes containing 20-80 grams of protein all decreased hunger by 50-65%, regardless of the amount of protein in their shakes (15).
So if you're trying to lose weight, 20 grams per shake seems sufficient to reduce hunger.
Bottom Line: Protein can decrease your appetite by affecting your hunger hormones. It can also help you feel full for longer, which can help you eat less and lose body fat.
Protein Shakes May Increase Metabolism
High protein intake can boost your metabolism, helping you burn slightly more calories each day (16, 17).
That's in part because a high-protein diet — especially when combined with strength training — may help you build muscle.
This can speed up your metabolism because muscle burns more calories than fat.
One study gave obese participants shakes with either 200 or 0 grams of extra protein per week.
Those given the protein gained 2.8 lbs (1.3 kg) more mass following a 13-week training program (18).
In another study, researchers gave participants a combination of foods and shakes providing either 0.5 g/lbs or 1.1 g/lbs (1.2 g/kg or 2.4 g/kg) of protein per day.
After 6 weeks, those on the higher-protein diet gained 2.4 lbs (1.1 kg) more muscle and lost 2.9 lbs (1.3 kg) more fat (19).
It should be noted, however, that your ability to gain muscle during a weight loss diet may depend on the amount of muscle you already have (20).
Protein can also increase metabolism because of the amount of calories needed to digest and metabolize it. This is known as the thermic effect of food (TEF).
For instance, 15-30% of protein calories are burned during digestion, while only 5-10% of carb calories and 0-3% of fat calories are burned during digestion (21).
Bottom Line: Protein helps boost metabolism because a lot of energy is spent digesting and metabolizing it. It also helps you build muscle, which burns more calories than fat.
Protein Shakes May Help You Lose Weight and Belly Fat
Researchers generally agree that high-protein diets can help you lose more fat, especially fat from the belly area (22, 23).
In one study, participants on a diet providing 25% of calories as protein lost 10% more belly fat after 12 months than those eating half that amount (24).
In another, participants given an extra 56 grams of whey protein per day had lost 5 lbs (2.3 kg) more at the end of a 23-week study period, despite not consciously changing anything else in their diet (25).
A separate study compared the effect of various weight loss diets. The participants consuming more protein lost 31 lbs (14.1 kg) in 3 months — 23% more than those consuming less (26).
In one final study, participants on diets providing 30% of calories from protein lost 8.1 lbs (3.7 kg) more than those on diets providing 15% of calories from protein (13).
Bottom Line: Protein shakes are a convenient way to increase your daily protein intake. This can help boost fat loss, especially from around your mid-section.
Protein Shakes May Also Prevent Muscle Loss and Metabolic Slowdown
Weight loss diets often cause you to lose muscle, which canslow down your metabolism. This makes it easier to gain all the weight back (and more) once you go off the diet.
A high protein intake combined with strength training can help prevent part of this muscle loss and metabolic slowdown (27,28, 29).
In fact, researchers reported that participants' metabolism decreased less on a weight loss diet providing 36% of calories as protein than on a diet providing about half that amount (30).
Evidence shows that consuming a daily protein shake as part of a weight loss diet may make muscle maintenance up to three and a half times more efficient (31).
A study of athletes compared weight loss diets providing either 35% or 15% of calories from protein. Both diets helped participants lose about the same amount of fat, but those consuming more protein lost 38% less muscle mass (32).
A recent review further notes that weight loss diets that exceed 0.5 g/lbs (1.0 g/kg) of protein per day can help older adults retain more muscle and lose more fat (33).
Bottom Line: Protein shakes consumed during a weight loss diet can help prevent muscle loss and metabolic slowdown. This is particularly effective in combination with strength training.
Protein Shakes May Help Prevent Weight Re-Gain After Weight Loss
Protein's effect on metabolism, appetite and muscle mass may also keep you from regaining the fat you worked so hard to lose.
One study reports that participants given more protein lost more weight and maintained their results better than those given less.
In fact, the high-protein group regained only 9% of the lost weight, whereas the low-protein group regained 23% (26).
Another study gave participants who just completed a weight loss intervention a supplement that provided 48.2 grams of protein per day.
Participants who took the supplement felt more full after meals and had regained 50% less weight 6 months later, compared to those given no supplement (34).
A separate study noted similar effects with a supplement that provided only 30 grams of protein per day, once again showing that more is not necessarily better (35).
Bottom Line: Additional protein, whether from shakes or whole foods, can help minimize the amount of weight you regain after weight loss.
Which Type of Protein is Best?
Different types of protein have different effects on the body.
For instance, whey is more quickly absorbed than casein, helping you feel less hungry in the short-term (36).
One study reports that 56 grams of whey protein per day helped overweight and obese participants lose 5 lbs (2.3 kg) more fat than the same amount of soy protein (25).
Another describes whey as 3 times more effective at maintaining muscle-building ability during a weight loss diet than soy protein (31).
That being said, not all studies agree that whey is superior. For example, one report notes that the faster hunger-reducing effect results in no differences in the amount of calories consumed at meals (36).
Furthermore, several reviews report equal amounts of fat loss with use of whey, soy, rice or egg-protein supplements (37, 38).
One final factor to consider is the protein's quality.
Whey, casein and soy contain all the essential amino acids your body needs.
On the other hand, rice and hemp protein are low in the essential amino acid lysine, and pea protein is also low in the non-essential amino acids cystine and methionine.
That being said, these deficiencies likely don't cause a problem unless if shakes are the only source of protein in your diet.
Also, many plant-based protein powders mix different sources so that the mixture contains all the essential amino acids.
Bottom Line: The exact type of protein powder you have in your shakes should not make a major difference for fat loss. Some studies show an advantage for whey, but the evidence is mixed.
Dosage and Side Effects
Taking 1 shake per day should be a good way to start.
It is best to take it either before or instead of a meal, with 1 or 2 scoops of protein powder in the shake.
Mixing it with water, ice and perhaps a piece of fruit in a blender is a simple way to create a delicious and satisfying shake.
Side effects such as bloating, cramps, gas and diarrhea may occur if you're lactose intolerant and drinking shakes made with whey or casein.
These symptoms can be simply avoided by switching to protein powders not derived from dairy, such as egg, pea, soy, hemp or rice protein powders.
Of note, high-protein diets were once thought to have negative impacts on kidney and bone health, but newer research shows this is not true.
In fact, high protein intakes were never shown to cause any kidney damage in healthy people. However, lower-protein diets may be beneficial for those with existing kidney issues (39, 40).
Protein is also an essential nutrient for bone formation and maintenance, and reviews show that there is no reason to restrict your intake to improve bone health (41, 42).
Most studies report that total protein intakes of between 0.5-1.0 g/lbs (1.2-2.2 g/kg) per day provide most beneficial effects for weight loss.
This amount of protein normally represents around 25-35% of the calories you consume in one day and is generally considered safe.
You can read more about that here: How Much Protein Should You Eat Per Day?
Bottom Line: Taking one shake per day is a good way to start, with 1 or 2 scoops of protein. Some people may experience digestive side effects.
Take Home Message
Most people can easily get enough protein without using shakes.
That being said, these supplements are an easy, safe and delicious way to add extra protein in your diet.
If you're trying to lose weight, extra protein from shakes can help you feel less hungry, help you lose weight faster and lower the likelihood of regaining the lost fat.
This article was reposted from our media associate Authority Nutrition.
YOU MIGHT ALSO LIKE
7 Ways to Increase Your Metabolism
5 Superfoods You're Probably Not Eating, But Should Be
Taiwan Recalls Quaker Oats Products Imported From U.S. After Detecting Glyphosate
Prince William and British naturalist David Attenborough attend converse during the World Economic Forum annual meeting, on January 22 in Davos, Switzerland. Fabrice Cofferini /AFP / Getty Images
Britain's Prince William interviewed famed broadcaster David Attenborough on Tuesday at the World Economic Forum's annual meeting in Switzerland.
During the sit-down, the 92-year-old naturalist advised the world leaders and business elite gathered in Davos this week that we must respect and protect the natural world, adding that the future of its survival—as well as humanity's survival—is in our hands.
Electric vehicle sales took off in 2018, with a record two million units sold around the world, according to a new Deloitte analysis.
What's more, the accounting firm predicts that another 21 million electric cars will be on the road globally over the next decade due to growing market demand for clean transportation, government subsidies, as well as bans on fossil fuel cars.
Teenager Alex Weber and friends collected nearly 40,000 golf balls hit into the ocean from a handful of California golf courses.
Alex Weber /
CC BY-ND
Southwest Greenland had the most consistent ice loss from 2003 to 2012. Eqalugaarsuit, Ostgronland, Greenland on Aug. 1, 2018.
Rob Oo / CC BY 2.0
Greenland is melting about four times faster than it was in 2003, a new study published Monday in the Proceedings of the National Academy of Sciences found, a discovery with frightening implications for the pace and extent of future sea level rise.
"We're going to see faster and faster sea level rise for the foreseeable future," study lead author and Ohio State University geodynamics professor Dr. Michael Bevis said in a press release. "Once you hit that tipping point, the only question is: How severe does it get?"
Finally, some good news about the otherwise terrible partial government shutdown. A federal judge ruled that the Trump administration cannot issue permits to conduct seismic testing during the government impasse.
The Justice Department sought to delay—or stay—a motion filed by a range of coastal cities, businesses and conservation organizations that are suing the Trump administration over offshore oil drilling, Reuters reported. The department argued that it did not have the resources it needed to work on the case due to the shutdown.
Most people have heard of the Amazon, South America's famed rainforest and hub of biological diversity. Less well known, though no less critical, is the Pantanal, the world's largest tropical wetland.
Like the Amazon, the Pantanal is ecologically important and imperiled. Located primarily in Brazil, it also stretches into neighboring Bolivia and Paraguay. Covering an area larger than England at more than 70,000 square miles, the massive wetland provides irreplaceable ecosystem services that include the regulation of floodwaters, nutrient renewal, river flow for navigability, groundwater recharge and carbon sequestration. The wetland also supports the economies of the four South American states it covers.
Demonstrators participate in a protest march over agricultural policy on Jan. 19 in Berlin, Germany. Carsten Koall / Getty Images Europe
By Andrea Germanos
Organizers said 35,000 people marched through the streets of the German capital on Saturday to say they're "fed up" with industrial agriculture and call for a transformation to a system that instead supports the welfare of the environment, animals and rural farmers.

The fire that erupted after a pipeline explosion in Mexico Friday. FRANCISCO VILLEDA / AFP / Getty Images
By Patrick Rogers
If you have ever considered making the switch to an environmentally friendly electric vehicle, don't drag your feet. Though EV prices are falling, and states are unveiling more and more public charging stations and plug-in-ready parking spots, the federal government is doing everything it can to slam the brakes on our progress away from gas-burning internal combustion engines. President Trump, likely pressured by his allies in the fossil fuel industry, has threatened to end the federal tax credits that have already helped put hundreds of thousands of EVs on the road—a move bound to harm not only our environment but our economy, too. After all, the manufacturing and sale of EVs, hybrids, and plug-in hybrids supported 197,000 jobs in 2017, according to the most recent U.S. Energy and Employment Report.