This website uses cookies to ensure you get the best experience while browsing it. By clicking 'Got It' you're accepting these terms.
Protecting Our Waterways When Disaster Strikes
Dec. 24, 2014 07:09AM EST
In 2014 alone, there have been a series of unprecedented disasters on our waterways. A climate of lax government regulations including the recent weak rule for the disposal of toxic coal ash from coal-fired power plants by the U.S. Environmental Protection Agency, makes it critical for us to find a way to protect communities and the integrity of our waterways when a water emergency strikes.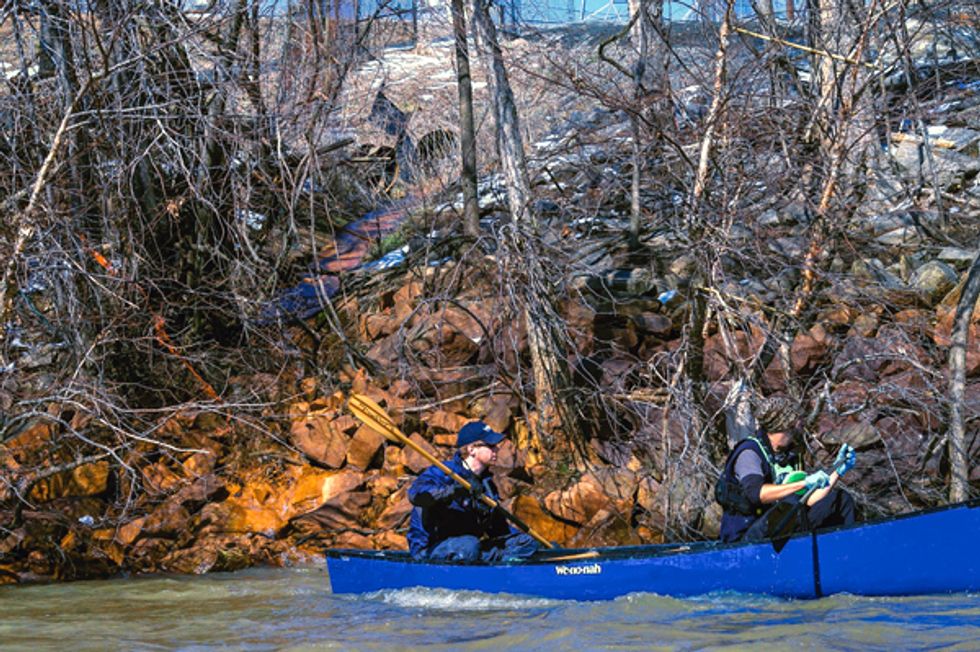 When a chemical used to wash coal (4-methylcyclohexane methanol, or MCHM) leaked into the Elk River in West Virginia from a storage facility in January 2014, more than 300,000 residents were suddenly left without water to drink. As MCHM is not listed in EPA's public database of toxic chemicals and is not federally regulated, this incident showcased just how vulnerable we all are to facing a similar fate.
The rapidly increasing volume of toxic, volatile crude oil by rail and barge has upped the ante on the risk of future accidents even more.
And this past February, a collapsed stormwater pipe released 140,000 tons of toxic coal ash sludge and wastewater into the Dan River in North Carolina, a public drinking water supply for downstream communities like Danville, Virginia. State regulators and Duke Energy, the company responsible for the spill, waited more than 24 hours before notifying the public that it had happened. And just weeks after this catastrophic spill, Waterkeeper Alliance discovered that Duke Energy had deliberately and illegally dumped 61 million gallons of coal ash into the Cape Fear River.
Waterkeeper Alliance is taking action to be part of the solution by launching a rapid response program based on its proven protocol in responding to and remediating some of the nation's worst waterway disasters. Waterkeeper Alliance staff and local Waterkeepers provided on-the-ground support, water quality testing, and advocacy for the Dan River incident and in Lynchburg, Virginia, when a train carrying volatile Bakken crude oil derailed and exploded, spilling an estimated 50,000 gallons of oil into the James River. In past years, Waterkeepers have responded to Hurricanes Floyd and Sandy and the BP oil disaster in the Gulf of Mexico.
Deploying a highly-trained team of advocates and experts by boat and aircraft to assess a situation, test the water, document the impact and rapidly share information with the media and the public allows Waterkeeper Alliance to work quickly to amplify the voice of affected communities, dispersing the truth about the impacts and dangers in real time and ensuring that polluters and government officials don't have the opportunity to downplay or cover up the threat. The response team then advocates for the waterway and affected communities until a cleanup plan is implemented. This requires a myriad of advocacy actions, including filing lawsuits and pursuing legislative remedies.
As a result of rapid response work by Waterkeeper Alliance and North Carolina Waterkeepers on the Dan River, Duke Energy has agreed to clean up not only the spill site but also three other sites with leaking coal ash ponds in Asheville, Charlotte and Wilmington.
Throughout history, the biggest wins for our environment have been the result of citizens advocating for their rights. As always, people are the last line of defense when communities are under assault from polluters. Please join us in helping to defend communities across the country and around the world.
EcoWatch Daily Newsletter
Pro-environment demonstrators on the streets of Washington, DC during the Jan. 20, 2017 Trump inauguration.
Mobilus In Mobili
/ Flickr /
CC BY-SA 2.0
By Dr. Brian R. Shmaefsky
One year after the Flint Water Crisis I was invited to participate in a water rights session at a conference hosted by the US Human Rights Network in Austin, Texas in 2015. The reason I was at the conference was to promote efforts by the American Association for the Advancement of Science (AAAS) to encourage scientists to shine a light on how science intersects with human rights, in the U.S. as well as in the context of international development. My plan was to sit at an information booth and share my stories about water quality projects I spearheaded in communities in Bangladesh, Colombia, and the Philippines. I did not expect to be thrown into conversations that made me reexamine how scientists use their knowledge as a public good.
Mt. Rainier and Reflection Lake on Sept. 10, 2015. Crystal Geyser planned to open a bottling plant near Mt. Rainier, emails show.
louelke - on and off / Flickr
Bottled water manufacturers looking to capture cool, mountain water from Washington's Cascade Mountains may have to look elsewhere after the state senate passed a bill banning new water permits, as The Guardian reported.
Large storage tank of Ammonia at a fertilizer plant in Cubatão, Sao Paulo State, Brazil. Luis Veiga / The Image Bank / Getty Images
The shipping industry is coming to grips with its egregious carbon footprint, as it has an outsized contribution to greenhouse gas emissions and to the dumping of chemicals into open seas. Already, the global shipping industry contributes about 2 percent of global carbon emissions, about the same as Germany, as the BBC reported.
At high tide, people are forced off parts of the pathway surrounding DC's Tidal Basin. Andrew Bossi /
Wikimedia
The Jefferson Memorial in Washington, DC overlooks the Tidal Basin, a man-made body of water surrounded by cherry trees. Visitors can stroll along the water's edge, gazing up at the stately monument.
But at high tide, people are forced off parts of the path. Twice a day, the Tidal Basin floods and water spills onto the walkway.
Lioness displays teeth during light rainstorm in Kruger National Park, South Africa. johan63 / iStock / Getty Images
Ahead of government negotiations scheduled for next week on a global plan to address the biodiversity crisis, 23 former foreign ministers from various countries released a statement on Tuesday urging world leaders to act "boldly" to protect nature.