This website uses cookies to ensure you get the best experience while browsing it. By clicking 'Got It' you're accepting these terms.
Protect the Act that Has Protected You for Forty Years
Feb. 20, 2012 09:00AM EST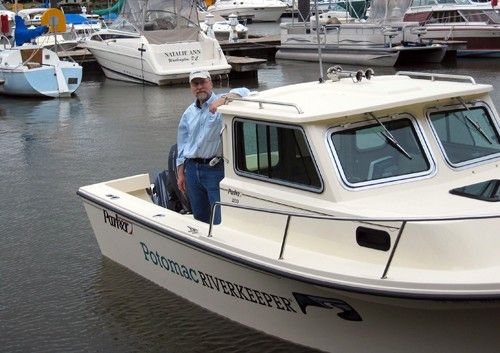 By Ed Merrifield
To kick off the 40th Anniversary of the Clean Water Act, Potomac Riverkeeper Ed Merrifield talks about the importance of and the recent threats to the historic act.
In the early 1970's, when it became clear that the individual states were not going to do anything about their rivers catching on fire, about fisheries disappearing, about green slime forming on rivers and streams, and about a president calling a river that runs past his window a national disgrace, Congress created a law to change all that. In 1972, Congress passed the "Federal Water Pollution Control Act," more commonly known as the "Clean Water Act."
The Clean Water Act's objective is to restore and maintain the chemical, physical and biological integrity of the nation's waters. Its goal was to have all the nation's waters fishable and swimmable by 1983 and have no discharge of pollutants into our waters by 1985. Despite not yet reaching these ambitious goals, the Clean Water Act has done more to restore the health of our rivers and streams than all other laws combined. So why are many or our rivers and streams in decline? Well, the problem has three parts.
First, polluters and friends of polluters have done everything they can to harm the Clean Water Act. In the courts, they have picked at every part of the act in their attempts to get more pollution into our waters. In the Congress, they have worked hard to elect those who would vote on ways of making the act irrelevant. And yes, even some people and organizations that you might think are for the environment have been willing to sacrifice some parts of the Clean Water Act for their version of 30 pieces of silver. Fortunately, the law has been able to survive these onslaughts against our right to clean water. However, as we approach the 40th anniversary of the Clean Water Act in October, polluters and friends of polluters are increasing the number and intensity of their attacks.
Second, although the first page of the act talks about control of both point source (coming out of a pipe or any similar source) and non-point source pollution, the document contains exemptions for agriculture, which for the most part is a non-point source polluter. To get the votes needed to pass the law in '72, Congress added this exemption which has turned out to be the major flaw in the act. This means that for the past 40 years it has been up to the states to stop pollution from agriculture—which hasn't happened.
Third, what good is a law if it is not enforced? Over the years, the U.S. Environmental Protection Agency's (EPA) enforcement of the Clean Water Act has waxed and waned with various administrations' interest in protecting our rights to clean water, and with resources Congress budgets for it. If it were not for a provision in the law that allows citizens to act as attorney general when the states and federal government are not doing their jobs, it's difficult to envision what our rivers would be like during the EPA's worst enforcement periods. Until the EPA can "stand tall" all the time, there will continue to be a struggle to enforce the law.
All of this can be summarized in a simple sentence—There is money in polluting. If it's cheaper for a polluter to pay a lawyer, legislator or someone else to allow him to pollute more, he'll do it. And, although rivers and bays without pollution would have enormous economic benefits to all of us (fisheries, recreation, public health, etc.), the cost to polluters would increase, and they will fight to make this not happen.
So what can you do? Let your legislators know that healthy rivers and streams, and the safe drinking water that comes from them are important to you. Tell them that any attempt to weaken laws protecting our nation's waters is wrong. We will do our best to inform you of legislative attacks on your right to clean water. Please help us in safeguarding one of America's great laws, the Clean Water Act.
For more information, click here.
EcoWatch Daily Newsletter
A vegan diet can improve your health, but experts say it's important to keep track of nutrients and protein. Getty Images
By Dan Gray
Research shows that 16 weeks of a vegan diet can boost the gut microbiome, helping with weight loss and overall health.
A healthy microbiome is a diverse microbiome. A plant-based diet is the best way to achieve this.
It isn't necessary to opt for a strictly vegan diet, but it's beneficial to limit meat intake.
New research shows that following a vegan diet for about 4 months can boost your gut microbiome. In turn, that can lead to improvements in body weight and blood sugar management.
Students gathered at the National Mall in Washington DC, Sept. 20. NRDC
By Jeff Turrentine
Nearly 20 years have passed since the journalist Malcolm Gladwell popularized the term tipping point, in his best-selling book of the same name. The phrase denotes the moment that a certain idea, behavior, or practice catches on exponentially and gains widespread currency throughout a culture. Having transcended its roots in sociological theory, the tipping point is now part of our everyday vernacular. We use it in scientific contexts to describe, for instance, the climatological point of no return that we'll hit if we allow average global temperatures to rise more than 2 degrees Celsius above preindustrial levels. But we also use it to describe everything from resistance movements to the disenchantment of hockey fans when their team is on a losing streak.
samael334 / iStock / Getty Images
Berries are small, soft, round fruit of various colors — mainly blue, red, or purple.
A glacier is seen in the Kenai Mountains on Sept. 6, near Primrose, Alaska. Scientists from the U.S. Geological Survey have been studying the glaciers in the area since 1966 and their studies show that the warming climate has resulted in sustained glacial mass loss as melting outpaced the accumulation of new snow and ice. Joe Raedle / Getty Images
By Mark Mancini
On Aug. 18, Iceland held a funeral for the first glacier lost to climate change. The deceased party was Okjökull, a historic body of ice that covered 14.6 square miles (38 square kilometers) in the Icelandic Highlands at the turn of the 20th century. But its glory days are long gone. In 2014, having dwindled to less than 1/15 its former size, Okjökull lost its status as an official glacier.
Members of Chicago Democratic Socialists of America table at the Logan Square Farmers Market on Aug. 18. Alex Schwartz
By Alex Schwartz
Among the many vendors at the Logan Square Farmers Market on Aug. 18 sat three young people peddling neither organic vegetables, gourmet cheese nor handmade crafts. Instead, they offered liberation from capitalism.
Hackney primary school students went to the Town Hall on May 24 in London after school to protest about the climate emergency. Jenny Matthews / In Pictures / Getty Images
Bird watching in the U.S. may be a lot harder than it once was, since bird populations are dropping off in droves, according to a new study.