This website uses cookies to ensure you get the best experience while browsing it. By clicking 'Got It' you're accepting these terms.
Protect Public Lands From the Fracking Frenzy
Aug. 15, 2013 01:39PM EST
Energy
One of the things that makes America great is our cherished natural treasures. Millions of acres across our beautiful country are public, meaning they belong to us, the American people. But our public lands, many of America's iconic landscapes, and the waterways that surround them, are under threat from fracking.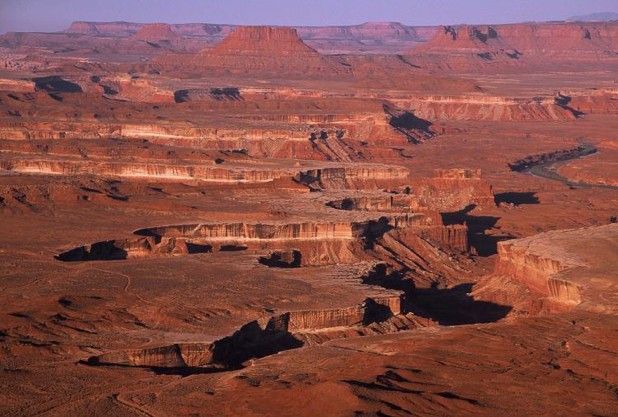 The Obama Administration recently proposed new rules for oil and gas fracking on federal lands managed by the Bureau of Land Management (BLM), including those in the national forest system, and federal lands that are nearby many treasured national parks.
Theodore Roosevelt and Grand Teton National Parks are just two of our treasured public lands threatened by the rapid expansion of oil and natural gas drilling and fracking. A dozen units of our National Parks already have oil and gas operations within them, while 30 units may be threatened in the future with drilling. Nationwide, the BLM estimates that 90 percent of new oil and gas wells on federal land are fracked.
Recent media reports say that the BLM in Colorado will be auctioning off nearly 12,000 acres of public lands for oil and gas drilling and the majority of those acres are located less than 10 miles from Mesa Verde, one of our iconic National Parks. Rocky Mountain National Park is already suffering air quality problems from drilling and fracking on nearby public lands. Southern Utah's Arches and Canyonlands National Parks are surrounded by public lands targeted by industry.
Our cherished public lands face severe air and water pollution from the fracking boom. The animal and plant species dependent upon those lands face habitat loss. And people living and recreating on or near these public lands suffer many health threats.
BLM's proposed rules are too weak and pave the way for corporate profits at the expense of our American treasures. But we have an opportunity to tell the federal government to take the only real path to protect us and our national treasures. The BLM is seeking public comments on the proposed rules until Aug. 23.
Considering the conduct of companies engaged in fracking, the weakness of the government bureaucracies charged with regulating this industry, the cascade of new information and disclosures about the health and environmental perils associated with this extraction method, Waterkeeper Alliance has concluded that fracked gas is not the solution for our energy problems.
Instead of reducing our dependence on coal and leading us to a renewable energy future, the fracking industry threatens our health and environment, accelerates climate change, and presents the single greatest impediment to a long-term sustainable energy future.
Fracked gas and its illusions of cheap and "clean" energy threaten to lead us to carbon dependence for the next century, causing irreparable damage to our climate and imposing immoral costs to our children. The only way to ensure our transition to renewables and healthy future is to start saying no to the fracking industry with a unified voice.
Join Waterkeeper Alliance by adding your name to the list of citizens who want to tell President Obama and the Bureau of Land Management to ban fracking on public land.
Visit EcoWatch's FRACKING and PUBLIC LANDS pages for more related news on this topic.
——–
EcoWatch Daily Newsletter
By Anita Desikan
The Trump administration is routinely undermining your ability — and mine, and everyone else's in this country — to exercise our democratic rights to provide input on the administration's proposed actions through the public comment process. Public comments are just what they sound like: an opportunity for anyone in the public, both individuals and organizations, to submit a comment on a proposed rule that federal agencies are required by law to read and take into account. Public comments can raise the profile of an issue, can help amplify the voices of affected communities, and can show policymakers whether a proposal has broad support or is wildly unpopular.
Alena Gamm / EyeEm / Getty Images
Picture this: a world where chocolate is as rare as gold. No more five-dollar bags of candy on Halloween. No more boxes of truffles on Valentine's day. No more roasting s'mores by the campfire. No more hot chocolate on a cold winter's day.
Who wants to live in a world like that?
Fabian Krause / EyeEm / Getty Images
Water protectors of all persuasions gathered in talking circles at Borderland Ranch in Pe'Sla, the heart of the sacred Black Hills, during the first Sovereign Sisters Gathering. At the center are Cheryl Angel in red and white and on her left, Lyla June. Tracy Barnett
By Tracy L. Barnett
Sources reviewed this article for accuracy.
For Sicangu Lakota water protector Cheryl Angel, Standing Rock helped her define what she stands against: an economy rooted in extraction of resources and exploitation of people and planet. It wasn't until she'd had some distance that the vision of what she stands for came into focus.
Hedges, 2019 © Hugh Hayden. All photos courtesy of Lisson Gallery
By Patrick Rogers
"I'm really into trees," said the sculptor Hugh Hayden. "I'm drawn to plants."
BruceBlock / iStock / Getty Images
Thanks to their high concentration of powerful plant compounds, foods with a natural purple hue offer a wide array of health benefits.