Proposal to Allow 'Limited' Fracking Draws Opposition From All Around New York State
Jun. 20, 2012 07:16PM EST
Energy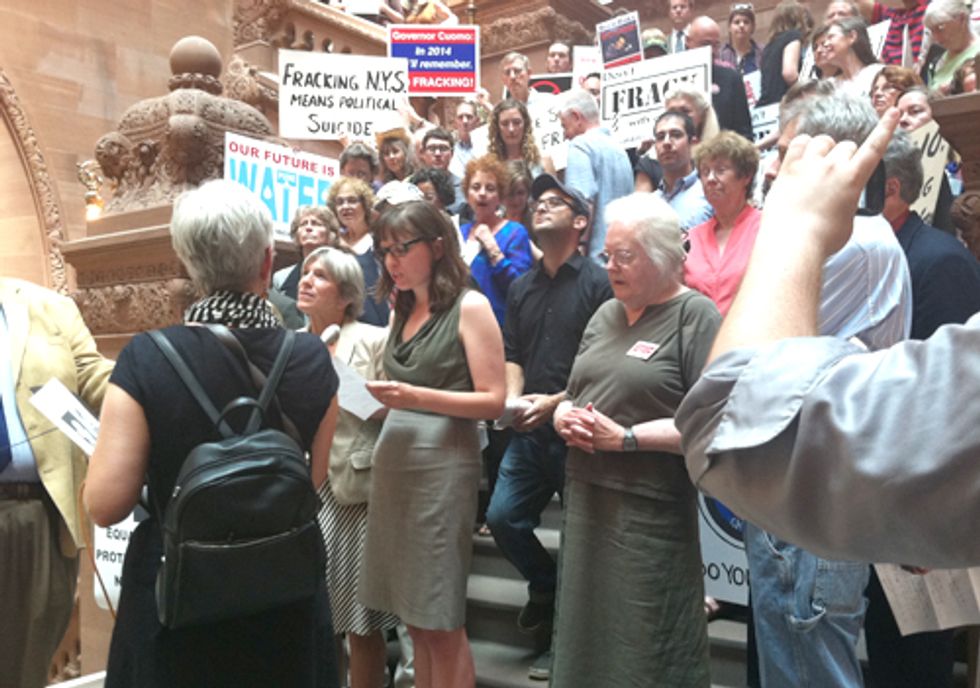 More than 100 Groups, Southern Tier Residents, Members of DEC Fracking Panel, Environmental Organizations, Grassroots Groups, NY Celebrities Call on Gov Cuomo to Reject Plan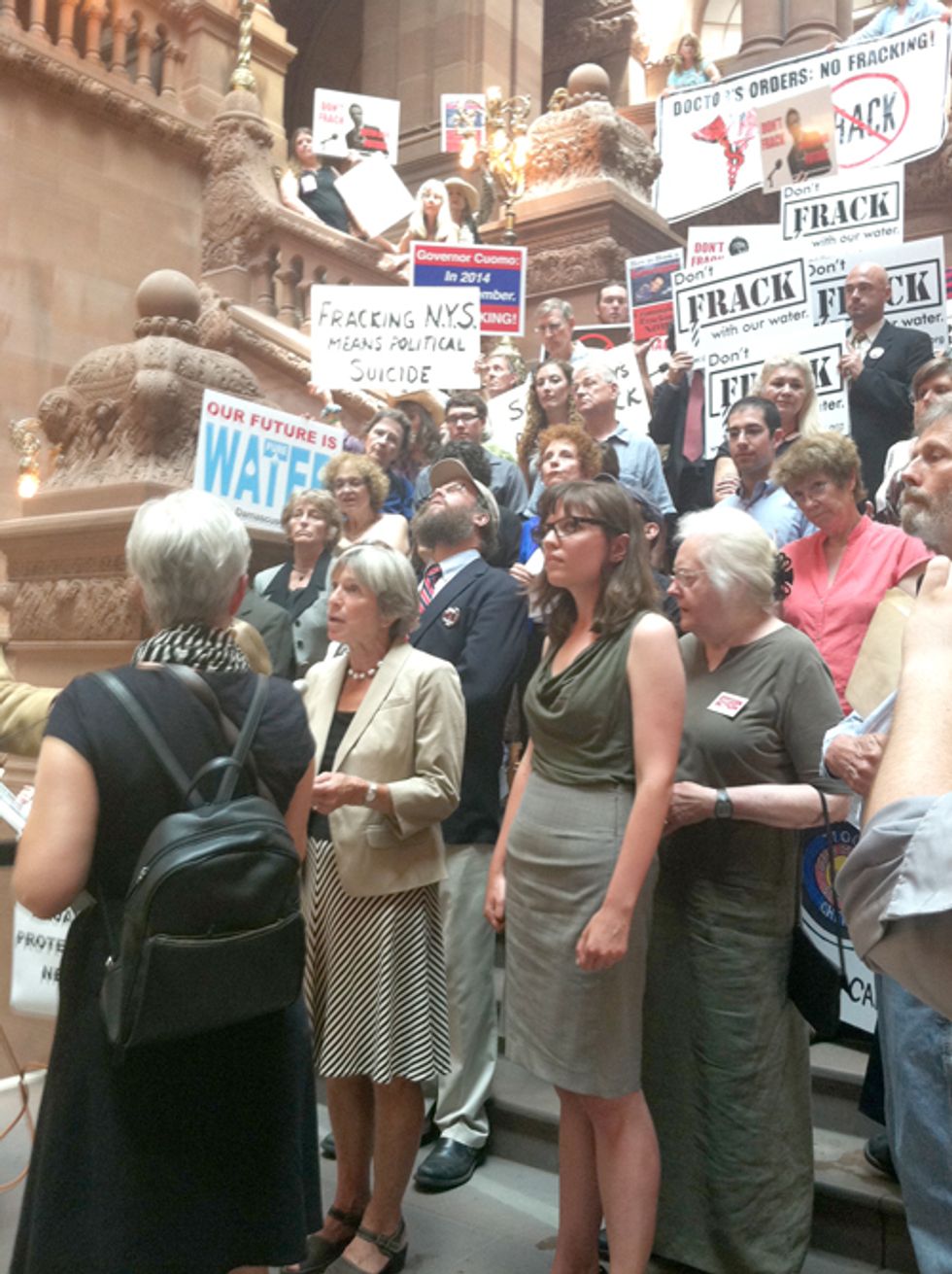 Last week, according to the New York Times, Governor Cuomo's Administration was reportedly considering demonstration programs for high-volume hydraulic fracturing, or "fracking," in parts of Broome, Chemung, Chenango, Steuben and Tioga counties. On June 20, a diverse coalition of Southern Tier organizations and residents, members of the New York State Department of Environmental Conservation (DEC) Hydraulic Fracturing Advisory Panel, environmental organizations, grassroots groups, and medical and health organizations and prominent New Yorkers joined together to issue a statement and call on Governor Cuomo to reject the plan for "limited" fracking that his Administration is reportedly considering.
Among other scientific literature, a recent study by Physicians, Scientists and Engineers for Safe Energy shows that even drilling in deep shale (such as the areas that the Cuomo Administration is reportedly considering) can contaminate the water supply. The study also outlines significant issues with the revised draft Supplemental Generic Environmental Impact Statement, including a lack of scientific data on the risks of fracking.
More than 100 organizations signed the statement including Riverkeeper, Natural Resources Defense Council, New York Breast Cancer Network, Citizen Action of New York, Environmental Advocates of New York, Vestal Residents for Safe Energy, American Academy of Pediatrics (District II, NYS), Working FamiliesParty, Broome County Medical Society, Frack Action, NYPIRG, Food & Water Watch, Damascus Citizens for Sustainability, New York Residents Against Drilling, Josh Fox (Director of Gasland), and many prominent New Yorkers including Michelle Williams, Mark Ruffalo, Scarlet Johansson, Alec Baldwin, Debra Winger, Natalie Merchant, Timothy Hutton, William Buffet, Patti Smith, Patti LaPone, Gloria Steinem, Yoko Ono and others.
Organizers of the effort noted that while the groups have different opinions on how the state should deal with fracking, they are unified in their opposition to this plan. They all agree that this plan is unacceptable and lacks a health impact assessment, socioeconomic impact assessment and that there are significant unanswered scientific inadequacies in the current study and science of fracking.
The groups released a statement noting that:
"The state's Department of Environmental Conservation remains in the midst of an on-going environmental review process, and any decision as to whether or not to frack anywhere in New York State should not be made before the impacts to our health, environment and economy have been comprehensively and properly assessed.
"The current version of the revised Draft Supplemental Generic Environmental Impact Statement lacks a complete evaluation of the negative socioeconomic impacts that would affect the quality of life and resources of any community in which fracking might occur. Numerous serious scientific concerns that have been raised in thousands of comments submitted by our groups and others remain unanswered as yet by the DEC. Nor has thestate committed, to date, to commissioning an independent health impact assessment that will evaluate the full range of potential health impacts and identify particularly vulnerable populations (although we know your staff is now considering such a request). Until we have a complete and independent study of the impacts to public health and the environment and the costs to our communities, the state will simply not be in a position to make a decision as to whether fracking should be permitted in New York.
Quotes
"As residents of the Southern Tier, we are proud to stand with organizations from across the state to reject this plan. We don't want to become New York's sacrifice zone." - Sue Rapp, Vestal Residents for Safe Energy
"If true, the Governor's proposal to only drill in economically disadvantaged areas of New York is a cynical departure from Cuomo's original promise to base his fracking decisions on science—not emotion. The State of New York has failed to make the case that fracking can be conducted safely anywhere in NY. It is especially galling that the Governor is already carving into the communities with the least resources to protect themselves—long before there are even scientific evaluations of safety." - Roger Downs, Conservation Director for the Sierra Club-Atlantic Chapter.
 "A wide-range of groups have joined together to send a clear message to the Governor that limiting the geographic scope of fracking does not make it safe.  If the Governor is still committed to basing the decision on fracking on the state's environmental review, as the leaked report from last week seems to indicate, a decision on whether to allow fracking anywhere on any basis should not be made as long as that review is incomplete. DEC's current draft of that review still has serious deficiencies, including the state's complete failure to consider health impacts, develop a wastewater plan, and assess potentially significant negative economic impacts associated with fracking." - Kate Hudson, Watershed Program Director, Riverkeeper
"New York State is simply not prepared to oversee fracking. Nothing has been presented to change Environmental Advocates of New York's minds about that, certainly not the Governor's reported proposal to restrict drilling to a portion of the state," said Katherine Nadeau, Water & Natural Resources Program Director, Environmental Advocates of New York.
"We firmly believe New York is not ready to move forward with fracking—whether it's 50 wells or 50,000.
"The science is clear: fracking is a carcinogen-dependent industry that offers temporary employment with high risks for injury and death. The young people of Broome, Chenango, Chemung, Tioga, and Steuben counties deserve jobs that do not kill, maim, or poison them. Governor Cuomo, you need a better plan." - Sandra Steingraber, Ph.D., a biologist and Distinguished Scholar in Residence at Ithaca College 
"The residents of the Southern Tier are not the natural gas industry's guinea pigs. If hydrofracking is unacceptable in the Catskills because of the environmental risks, it makes no sense for it to be acceptable elsewhere. It's time for us to ban hydrofracking in every corner of New York - it's harmful to the environment and does not provide the economic dividends the natural gas industry executives are leading us to believe." - Eileen Hamlin, a Kirkwood resident and member of Citizen Action of New York.
"I used to think home rule—essentially the "plan" that was leaked—was good enough. But every week we learn about new risks: seismic activity, high radon levels, and ground level ozone, for example. Not only do these dangers not respect county lines, much of the damage this industry causes is irreversible. It's not even possible to put a wall around the communities that think they have no other economic prospects. We are all in this together." - Martha Robertson, Chair of Tompkins County Legislature and Representative of Elected Officials to Protect NY
"From Long Island to the Southern Tier to Niagara Falls, New Yorkers have soundly rejected the plan to turn certain counties into sacrifice zones for fracking. No part of the state should be subject to a process which the best science decisively shows cannot be done without jeopardizing New Yorkers' health, environment, and quality of life." - Alex Beauchamp, Northeast Region Director, Food & Water Watch
"It is not acceptable to allow the gas industry to prey on the poorest New Yorkers. This is an issue of environmental injustice to turn the Southern Tier into one giant Love Canal." - Julia Walsh, Founder and Campaign Director of Frack Action
"Governor Cuomo's proposal will create two New Yorks: one where hundreds-of-thousands of us will have to live with the dangers of hydrofracking, and the other New York, that is protected. As a Broome County resident, I firmly denounce the Governor's plan." - Brendan Woodruff, NYPIRG Hydrofracking Campaign Organizer.
Visit EcoWatch's FRACKING page for more related news on this topic.
EcoWatch Daily Newsletter