This website uses cookies to ensure you get the best experience while browsing it. By clicking 'Got It' you're accepting these terms.
Propane Fracking Can't Go Forward without a New Environmental Review
Apr. 13, 2012 10:16PM EST
Energy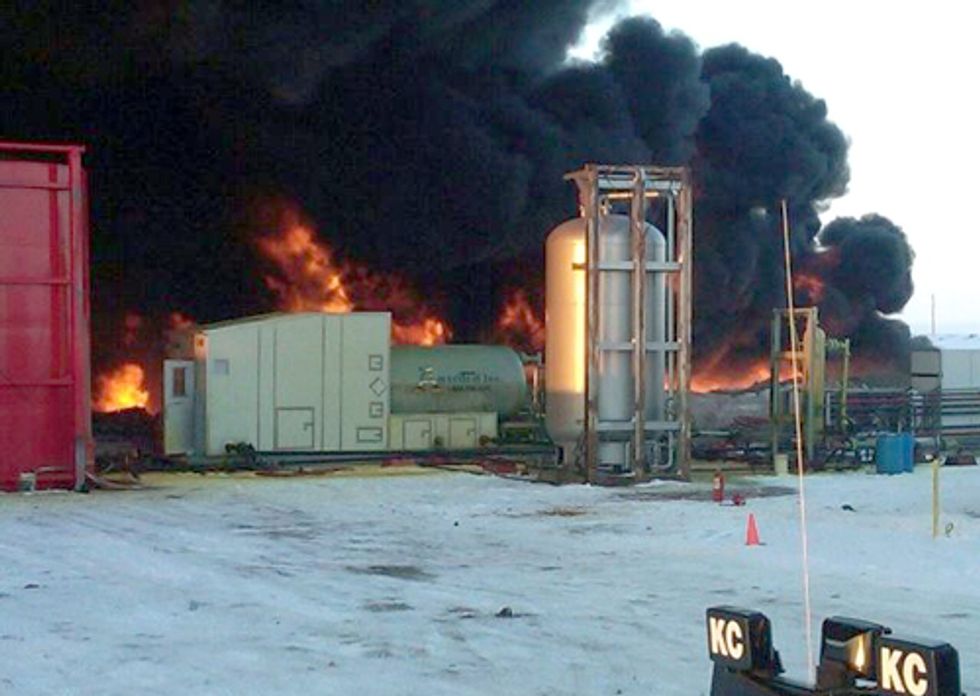 By Kate Sindig
Used with permission of Switchboard - NRDC
Several recent media reports have described plans by a Canadian gas company, GasFrac Energy Services, Inc., and the Tioga County Landowners Association to drill gas wells using the unconventional technique of fracturing with liquefied petroleum gas (LPG). Troublingly, representatives of the parties have indicated that their intention is to circumvent the on-going environmental review of fracking in New York—which has resulted in the current de facto moratorium on any new high-volume fracking—by using an alternative fracking agent, i.e., LPG instead of water.
LPG's main constituent is propane, a highly flammable, and hence explosive gas. It is used in a few limited locations as an alternative to fracking with a water-based fracking fluid, but has not, to our knowledge, ever been used in the Marcellus Shale.
Yesterday, Natural Resources Defense Council (NRDC), together with 14 of our allies and a well-respected geologist, sent a letter to New York Department of Environmental Conservation Commissioner Joe Martens making clear our position that any application to frack with LPG in New York would trigger the need to undertake a new full environmental review. In short, LPG fracking—and its particular risks and impacts—is not analyzed in either the most recent draft supplemental generic environmental impact statement or the earlier 1992 oil and gas development GEIS. As such, it cannot legally be undertaken in New York absent the preparation of a full environmental review that evaluates its risks.
And it does present real risks—including some that are different in nature from those associated with "traditional" fracking. First and foremost is the risk of explosion—a risk highlighted by two major explosions last year at GasFrac well sites that injured fifteen workers and caused the company to suspend all of its operations for two weeks.
Other hazards relate to the trucking of thousands of gallons of LPG to well sites; compressing and re-condensing the LPG for reuse; mixing the LPG with chemicals, which, as with water-based fracking, is necessary for LPG fracking; and the generation of wastewaters contaminated with not only the usual toxic fracking brew but also explosive gas.
Give them points for creativity, I suppose, but don't give GasFrac and Tioga County Landowners any permits for propane fracking in New York without first subjecting it to thorough review.
For more information, click here.
EcoWatch Daily Newsletter
A new study shows that half of all Arctic warming and corresponding sea-loss during the late 20th century was caused by ozone-depleting substances. Here, icebergs discharged from Greenland's Jakobshavn Glacier. Kevin Krajick / Earth Institute /
EurekAlert!
The world awakened to the hole in the ozone layer in 1985, which scientists attributed it to ozone depleting substances. Two years later, in Montreal, the world agreed to ban the halogen compounds causing the massive hole over Antarctica. Research now shows that those chemicals didn't just cut a hole in the ozone layer, they also warmed up the Arctic.
Diane Wilson holds up a bag full of nurdles she collected from one of Formosa's outfall areas on Jan. 15. Julie Dermansky / DeSmogBlog
On the afternoon of Jan. 15, activist Diane Wilson kicked off a San Antonio Estuary Waterkeeper meeting on the side of the road across from a Formosa plastics manufacturing plant in Point Comfort, Texas.
After Wilson and the waterkeeper successfully sued Formosa in 2017, the company agreed to no longer release even one of the tiny plastic pellets known as nurdles into the region's waterways. The group of volunteers had assembled that day to check whether the plant was still discharging these raw materials of plastics manufacturing.
Malaysian Environment Minister Yeo Bee Yin (front 2nd L) and officials inspect a container containing plastic waste shipment on Jan. 20, 2020 before sending back to the countries of origin. AFP via Getty Images
The Southeast Asian country Malaysia has sent 150 shipping containers packed with plastic waste back to 13 wealthy countries, putting the world on notice that it will not be the world's garbage dump, as CNN reported. The countries receiving their trash back include the United States, the United Kingdom, France and Canada.
Trump leaves after delivering a speech at the Congress Centre during the World Economic Forum annual meeting in Davos on Jan. 21, 2020. JIM WATSON / AFP via Getty Images