This website uses cookies to ensure you get the best experience while browsing it. By clicking 'Got It' you're accepting these terms.
Project Green Challenge: Moving From Conventional to Conscious
Sep. 02, 2014 04:20PM EST
Megan Fuerst is a sophomore at Ohio State University, and last year's runner-up for Project Green Challenge, a 30-day eco-lifestyle initiative for students globally. Megan is majoring in Environment, Economy, Development and Sustainability with a concentration in Policy Analysis. She hopes to use this degree to help the re-legalization of industrial hemp in the U.S. and to create more environmentally-friendly policies among major corporations.
I grew up in Chardon, Ohio, surrounded by the Holden Arboretum. As a child, this meant I had acres and acres of woods, rivers and fields to explore. I was raised to love the outdoors and everything Mother Nature had to offer. However, it wasn't until participating in Project Green Challenge 2013 during my freshman year of college that I learned the many ways my beloved Mother Nature was in danger and how my lifestyle was only adding to her decline.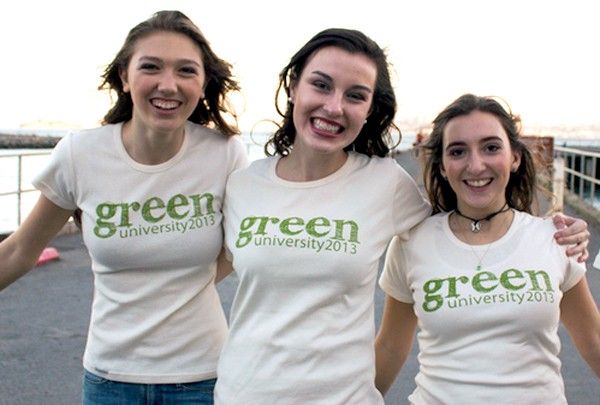 Last year I was a freshman at Ohio State University, one of the largest universities in the country, undeclared in a major and feeling lost. I decided to join a few clubs on campus in order to meet people, most importantly the Students For Recycling club. As it turned out, joining this particular club, where I am now the webmaster, was the single best decision of my life, because it introduced me to Project Green Challenge (PGC) and Teens Turning Green. PGC is a 30-day eco lifestyle competition during the month of October. Each day has a unique, sustainability-related theme, with awesome prizes everyday, as well as an incredible grand prize worth more than $12,000.
By the end of the first day of PGC, I was hooked. After just one day I had learned more that I had ever imagined! Day 1 was the "body" challenge, and I realized that I had never actually thought about what I was putting onto and into my body. That was all the wake-up call I needed. After watching Annie Leonard's Story on Cosmetics [watch below] I couldn't understand how people could just buy any product without even wondering about the ingredients. At the same time, I knew that I was just as guilty as the next person. This made me eager to, first, buy new products, and second, to inform the world about this cycle of consumerism and big business.
Throughout the month, I learned more about the three major components of being green (reduce, recycle and reuse) in more depth than I ever thought possible. Reducing involved more than simply not throwing away as much stuff. It included conserving water, watching my meat intake to reduce agricultural farm waste and pollution, and not buying into hot new items. I understood the importance of reusing and instantly worked towards eliminating plastics from my life, especially plastic bags while grocery shopping. Finally, PGC taught me that recycling is more than just throwing my plastic water bottles in the blue bin rather than the black one. I discovered the term "upcycle" and I learned how to work toward a life of zero waste.
The beauty of PGC is that it works. It helped me find my perfect path in life, and gave me all the resources and motivation I needed to move forward in the sustainability movement. I went from being lost and uncertain to declaring a major with absolute commitment in just one month. Most importantly, Project Green Challenge made sure to emphasize the importance of spreading the word. What good is all this knowledge if I can't share it and create change with it? I gained a newfound confidence through PGC because I had this awesome team of eco-superstars supporting me.
PGC is a lot of work. But, you soon discover that the work is worth it! Teens Turning Green has exceptional incentives to keep students motivated. By doing well on a challenge, you could receive an incredible package full of eco-products such as body care items, stainless steel water bottles, food, reusable containers and more. I even got a yoga mat as a prize one day! Every action is rewarded, and the result is a large team of newfound activists.
I was lucky enough to be a finalist and was flown out to the PGC Finals, a three-day eco-summit in San Francisco at the end of November. It was the experience of a lifetime. I listened to amazing speakers talk about their contributions to the world of sustainability, ate fresh, local and organic meals, modeled ethically produced clothing and created my very own perfume from organic oils. The summit ended with presentations from the finalists, and I couldn't believe my ears when I was named the PGC 2013 Runner-Up. It has led to a whole new chapter of beautiful experiences.
At its core, PGC has one major goal, and that is to create positive change for our planet. This change might take place in your own life, your school or your community, but one thing is certain: you will not come out the same person you were when you started. You will become more informed and conscious, ready to take on the world and set out to fix every problem you encounter. For me, PGC was the start to a life of purpose, responsibility and activism. Sign up for this year's challenge and I'm willing to bet it will do the same for you.
YOU ALSO MIGHT LIKE
'Irreversible' Damage to Planet From Climate Change Says Leaked IPCC Report
World Water Week: 7 Reasons to Claim Water for Life, Not Coal
Leonardo DiCaprio Narrates Climate Change Films Urging Shift From Fossil Fuels to Renewables
EcoWatch Daily Newsletter
Artist's conception of solar islands in the open ocean. PNAS
Millions of solar panels clustered together to form an island could convert carbon dioxide in seawater into methanol, which can fuel airplanes and trucks, according to new research from Norway and Switzerland and published in the Proceedings of the National Academy of Sciences journal, PNAS, as NBC News reported. The floating islands could drastically reduce greenhouse gas emissions and dependence on fossil fuels.
Marcos Alves / Moment Open / Getty Images
More than 40 percent of insects could go extinct globally in the next few decades. So why did the U.S. Environmental Protection Agency (EPA) last week OK the 'emergency' use of the bee-killing pesticide sulfoxaflor on 13.9 million acres?
EcoWatch teamed up with Center for Biological Diversity via EcoWatch Live on Facebook to find out why. Environmental Health Director and Senior Attorney Lori Ann Burd explained how there is a loophole in the The Federal Insecticide, Fungicide, and Rodenticide Act under section 18, "that allows for entities and states to request emergency exemptions to spraying pesticides where they otherwise wouldn't be allowed to spray."
Simple swaps that cut down on kitchen trash.
Sponsored
By Kayla Robbins
Along with the bathroom, the kitchen is one of the most daunting areas to try and make zero waste.
View of downtown Miami, Florida from Hobie Island on Feb. 2, 2019.
Michael Muraz / Flickr
The Democratic candidates for president descended upon Miami for a two-night debate on Wednesday and Thursday. Any candidate hoping to carry the state will have to make the climate crisis central to their campaign, as The New York Times reported.
By Sharon Kelly
On Monday, the Wall Street Journal featured a profile of Scott Sheffield, CEO of Pioneer Natural Resources, whose company is known among investors for its emphasis on drawing oil and gas from the Permian basin in Texas using horizontal drilling and hydraulic fracturing, or fracking.
Pexels
By Craig K. Chandler
The federal government has available to it, should it choose to use them, a wide range of potential climate change management tools, going well beyond the traditional pollution control regulatory options. And, in some cases (not all), without new legislative authorization.
Denis Poroy / Getty Images
By Dan Gray
Processed foods, in their many delicious forms, are an American favorite.
But new research shows that despite increasing evidence on just how unhealthy processed foods are, Americans have continued to eat the products at the same rate.
By Sarah Steffen
With a profound understanding of their environmental surroundings, indigenous communities around the world are often cited as being pivotal to tackling climate change.