This website uses cookies to ensure you get the best experience while browsing it. By clicking 'Got It' you're accepting these terms.
Project Green Challenge: Moving From Conventional to Conscious
Sep. 02, 2014 04:20PM EST
Megan Fuerst is a sophomore at Ohio State University, and last year's runner-up for Project Green Challenge, a 30-day eco-lifestyle initiative for students globally. Megan is majoring in Environment, Economy, Development and Sustainability with a concentration in Policy Analysis. She hopes to use this degree to help the re-legalization of industrial hemp in the U.S. and to create more environmentally-friendly policies among major corporations.
I grew up in Chardon, Ohio, surrounded by the Holden Arboretum. As a child, this meant I had acres and acres of woods, rivers and fields to explore. I was raised to love the outdoors and everything Mother Nature had to offer. However, it wasn't until participating in Project Green Challenge 2013 during my freshman year of college that I learned the many ways my beloved Mother Nature was in danger and how my lifestyle was only adding to her decline.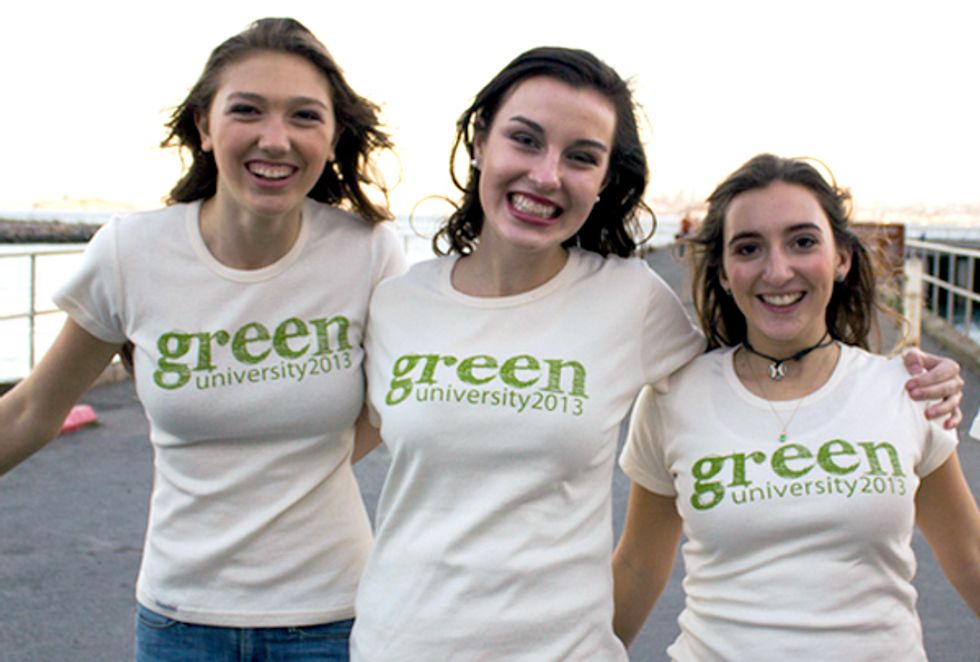 Last year I was a freshman at Ohio State University, one of the largest universities in the country, undeclared in a major and feeling lost. I decided to join a few clubs on campus in order to meet people, most importantly the Students For Recycling club. As it turned out, joining this particular club, where I am now the webmaster, was the single best decision of my life, because it introduced me to Project Green Challenge (PGC) and Teens Turning Green. PGC is a 30-day eco lifestyle competition during the month of October. Each day has a unique, sustainability-related theme, with awesome prizes everyday, as well as an incredible grand prize worth more than $12,000.
By the end of the first day of PGC, I was hooked. After just one day I had learned more that I had ever imagined! Day 1 was the "body" challenge, and I realized that I had never actually thought about what I was putting onto and into my body. That was all the wake-up call I needed. After watching Annie Leonard's Story on Cosmetics [watch below] I couldn't understand how people could just buy any product without even wondering about the ingredients. At the same time, I knew that I was just as guilty as the next person. This made me eager to, first, buy new products, and second, to inform the world about this cycle of consumerism and big business.
Throughout the month, I learned more about the three major components of being green (reduce, recycle and reuse) in more depth than I ever thought possible. Reducing involved more than simply not throwing away as much stuff. It included conserving water, watching my meat intake to reduce agricultural farm waste and pollution, and not buying into hot new items. I understood the importance of reusing and instantly worked towards eliminating plastics from my life, especially plastic bags while grocery shopping. Finally, PGC taught me that recycling is more than just throwing my plastic water bottles in the blue bin rather than the black one. I discovered the term "upcycle" and I learned how to work toward a life of zero waste.
The beauty of PGC is that it works. It helped me find my perfect path in life, and gave me all the resources and motivation I needed to move forward in the sustainability movement. I went from being lost and uncertain to declaring a major with absolute commitment in just one month. Most importantly, Project Green Challenge made sure to emphasize the importance of spreading the word. What good is all this knowledge if I can't share it and create change with it? I gained a newfound confidence through PGC because I had this awesome team of eco-superstars supporting me.
PGC is a lot of work. But, you soon discover that the work is worth it! Teens Turning Green has exceptional incentives to keep students motivated. By doing well on a challenge, you could receive an incredible package full of eco-products such as body care items, stainless steel water bottles, food, reusable containers and more. I even got a yoga mat as a prize one day! Every action is rewarded, and the result is a large team of newfound activists.
I was lucky enough to be a finalist and was flown out to the PGC Finals, a three-day eco-summit in San Francisco at the end of November. It was the experience of a lifetime. I listened to amazing speakers talk about their contributions to the world of sustainability, ate fresh, local and organic meals, modeled ethically produced clothing and created my very own perfume from organic oils. The summit ended with presentations from the finalists, and I couldn't believe my ears when I was named the PGC 2013 Runner-Up. It has led to a whole new chapter of beautiful experiences.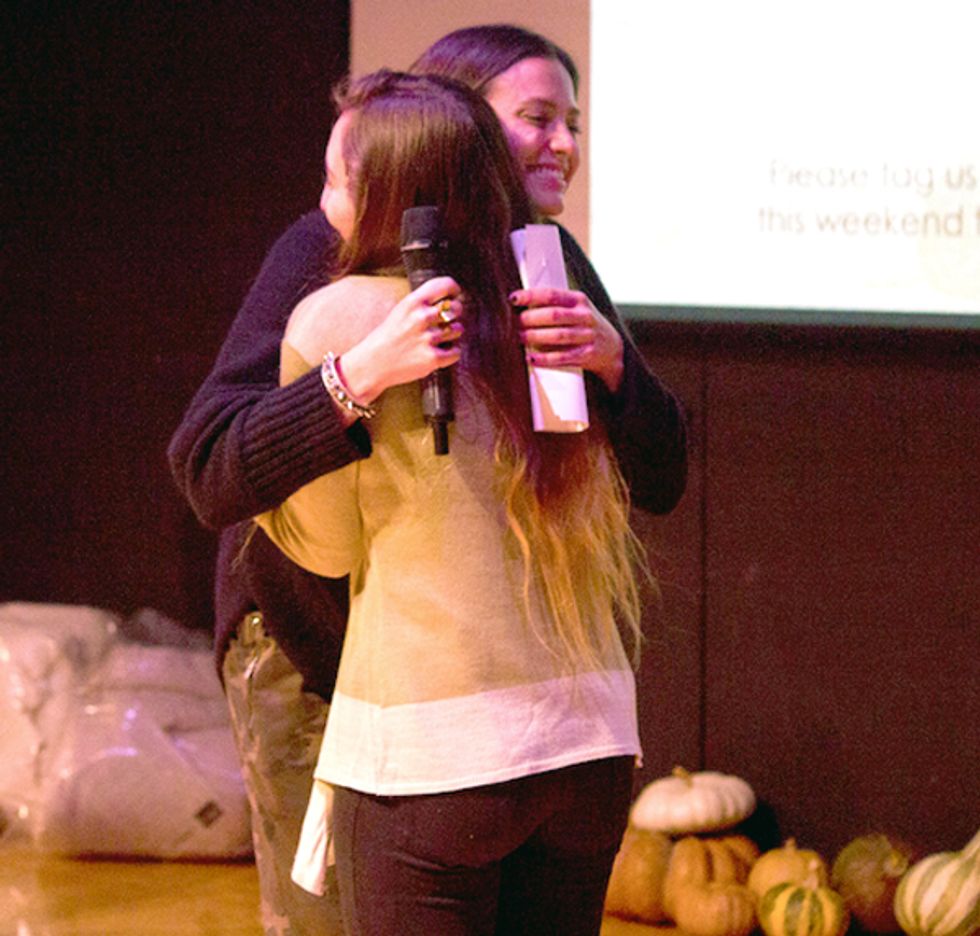 At its core, PGC has one major goal, and that is to create positive change for our planet. This change might take place in your own life, your school or your community, but one thing is certain: you will not come out the same person you were when you started. You will become more informed and conscious, ready to take on the world and set out to fix every problem you encounter. For me, PGC was the start to a life of purpose, responsibility and activism. Sign up for this year's challenge and I'm willing to bet it will do the same for you.
YOU ALSO MIGHT LIKE
'Irreversible' Damage to Planet From Climate Change Says Leaked IPCC Report
World Water Week: 7 Reasons to Claim Water for Life, Not Coal
Leonardo DiCaprio Narrates Climate Change Films Urging Shift From Fossil Fuels to Renewables
EcoWatch Daily Newsletter
One of the 25 new Long Beach Transit hybrid gasoline-electric buses on April 23, 2009. Jeff Gritchen / Digital First Media / Orange County Register / Getty Images
In Long Beach, California, some electric buses can charge along their route without cords or wires.
When a bus reaches the Pine Avenue station, it parks over a special charging pad. While passengers get on and off, the charger transfers energy to a receiver on the bottom of the bus.
Semi trucks travel along I94 on June 21 near Lake forest, Illinois. Scott Olson / Getty Images
The Trump administration pushed through an exemption to clean air rules, effectively freeing heavy polluting, super-cargo trucks from following clean air rules. It rushed the rule without conducting a federally mandated study on how it would impact public health, especially children, said the Environmental Protection Agency (EPA) Inspector General Charles J. Sheehan in a report released yesterday, as the AP reported.

A time-restricted eating plan provides a new way to fight obesity and metabolic diseases that affect millions of people worldwide. RossHelen / iStock / Getty Images Plus
By Satchin Panda and Pam Taub
People with obesity, high blood sugar, high blood pressure or high cholesterol are often advised to eat less and move more, but our new research suggests there is now another simple tool to fight off these diseases: restricting your eating time to a daily 10-hour window.
Kunhui Chih / iStock / Getty Images Plus
A man and his dog walk past an H&M store in Stockholm, Sweden on March 11, 2014. Melanie Stetson Freeman / The Christian Science Monitor via Getty Images
By Ashutosh Pandey
H&M's flagship store at the Sergels Torg square in Stockholm is back in business after a months-long refurbishment. But it's not exactly business as usual here.