Probiotics 101: Everything You Need to Know
By Kris Gunnars
Did you know that the bacteria in your body outnumber your body's cells 10 to 1?
It's true, and most of them reside in your gut.
But there really is no need to panic, most bacteria are quite harmless.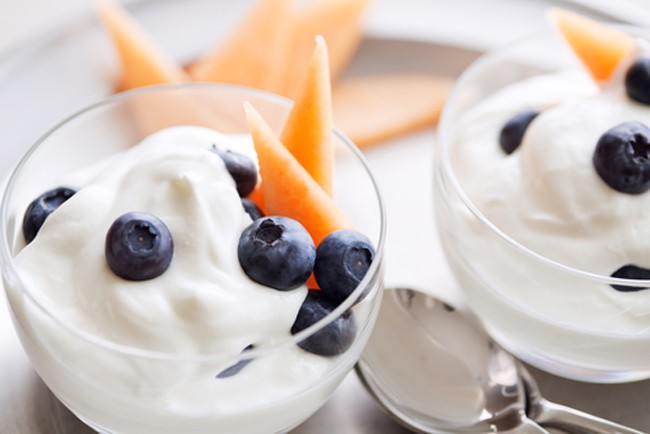 Photo credit: Shutterstock
Having the right bacteria in there has even been linked to numerous health benefits (1).
This includes weight loss, improved digestion, enhanced immune function, better skin and a reduced risk of many diseases (2).
This leads us to the topic at hand, probiotics.
Probiotics are foods or supplements that contain these friendly bacteria, and are supposed to help colonize our guts with health-boosting microorganisms.
The importance of this can not be overstated.
Taking care of your gut, and the friendly bacteria that reside there, may be one of the single most important things you can do for your health.
What Are Probiotics?
According to the official definition, probiotics are "live microorganisms that, when administered in adequate amounts, confer a health benefit on the host" (3).
Probiotics are usually bacteria, but there is also a type of yeast that can function as a probiotic.
You can get probiotics from supplements, as well as foods that are prepared by bacterial fermentation.
Probiotic foods include yogurt, kefir, sauerkraut, tempeh, kimchi and others.
Probiotics should not be confused with prebiotics (note the "e"), which are dietary fibers that help feed the friendly bacteria that are already in the gut (4).
There are actually dozens of different probiotic bacteria that have been shown to have health benefits.
The most common groups include Lactobacillus and Bifidobacterium. Then there are many different species within each group, and each species has many strains.
Interestingly, different probiotics seem to work for different health conditions. Therefore, choosing the right type (or types) of probiotic is essential.
Many probiotic supplements combine different species together in the same supplement. These are known as broad-spectrum probiotics, or multi-probiotics.
Keep in mind that this is a new but rapidly expanding area of research.
Although the evidence is promising, it is not conclusively proven that probiotics help with all the health conditions mentioned in this article (5).
Bottom Line: Probiotics are live microorganisms that cause health benefits when consumed in adequate amounts. There are many different types, and you can get them from foods or supplements.
The Importance of Microorganisms in the Gut
The complex community of microorganisms in your gut is called the gut flora (6).
Your gut actually contains hundreds of different types of microorganisms, with some numbers going as high as 1000.
This includes bacteria, yeasts and viruses. The great majority is bacteria.
Most of the gut flora is found in the colon, or large intestine, the last part of the digestive tract.
The metabolic activities of the gut flora actually resemble those of an organ. For this reason, some scientists refer to the gut flora as the "forgotten organ" (7).
The gut flora actually performs many functions that are important for health. It manufactures vitamins, including vitamin K and some of the B vitamins (8).
It also turns fibers into short-chain fatty acids like butyrate, propionate and acetate, which feed the gut wall and perform many metabolic functions (9, 10).
They also stimulate the immune system, and regulate the integrity of the gut. This can help prevent unwanted substances from "leaking" into the body and provoking an immune response (11, 12, 13, 14).
However, not all organisms in the gut are friendly. Some are good, others are bad.
The gut flora is actually highly sensitive to modern insults, and studies show that an "unbalanced" gut flora is linked to numerous diseases (15, 16).
This includes obesity, type 2 diabetes, metabolic syndrome, heart disease, colorectal cancer, Alzheimer's, depression and many, many more (17, 18, 19, 20, 21, 22, 23).
Probiotics (and prebiotic fibers) can help correct this balance, making sure that our "forgotten organ" is functioning optimally (24).
Bottom Line: Your gut flora consists of hundreds of different types of microorganisms. Probiotics help your gut flora perform optimally.
Probiotics and Digestive Health
Probiotics have been studied most in regard to digestive health (25).
The strongest evidence has to do with antibiotic-associated diarrhea.
When people take antibiotics, especially for long periods of time, they often suffer from diarrhea for a long time after the infection has been eradicated.
This is because the antibiotics kill many of the natural bacteria in the gut, which shifts the balance and allows the "bad" bacteria to thrive.
Dozens of studies have provided strong evidence that probiotic supplements can help cure antibiotic-associated diarrhea (26, 27, 28).
Probiotics have also been shown to be beneficial against irritable bowel syndrome, a very common digestive disorder. They can help reduce gas, bloating, constipation, diarrhea and other symptoms (29, 30, 31).
Some studies also show that probiotics may be beneficial against inflammatory bowel diseases such as Crohn's disease and ulcerative colitis (32).
Probiotics may also be useful against Helicobacter pylori infections, the main driver of ulcers and stomach cancer (33, 34, 35, 36).
If you currently have digestive problems that you can't seem to get rid of, then perhaps a probiotic supplement is something you should consider.
Bottom Line: Probiotics have been shown to be effective against various digestive problems. This includes antibiotic-associated diarrhea and irritable bowel syndrome.
Probiotics and Weight Loss
Obese individuals have different gut bacteria than lean people (37, 38).
Animal studies have also shown that fecal transplants from lean animals can make obese animals lose weight (39, 40).
For this reason, many scientists now believe that our gut bacteria are important in determining body fatness (41, 42).
Although this needs to be studied a lot more, some probiotic strains have been shown to help with fat loss (43).
The most impressive study on this was published in 2013. It was a study of 210 individuals with central obesity (lots of belly fat).
In this study, taking the probiotic Lactobacillus gasseri caused people to lose 8.5 percent of their belly fat mass over a period of 12 weeks (44).
When they stopped taking the probiotic, they gained the belly fat back within 4 weeks.
There is also some evidence that Lactobacillus rhamnosus and Bifidobacterium lactiscan help with weight loss and obesity prevention (45).
However, this needs to be studied more before any recommendations can be made.
There are also some animal studies showing that other probiotic strains could even lead to weight gain, not loss (46).
Bottom Line: There is some evidence that the probiotic Lactobacillus gasserican help people lose belly fat. This needs to be studied a lot more.
Other Health Benefits of Probiotics
Getting into all the incredible benefits of probiotics is beyond the scope of this article.
However, there are a few that are definitely worth highlighting here:
This is just the tip of the iceberg. Probiotics have been studied, and shown to be beneficial, for a wide range of other health problems.
Bottom Line: Probiotics have been shown to have numerous health benefits. They may reduce depression and anxiety, improve heart health and enhance immune function, to name a few.
Are There Any Side Effects?
Probiotics are generally well tolerated and considered safe for most people.
However, in the first few days, you may experience side effects related to digestion. This includes gas and mild abdominal discomfort (60).
After this initial adaptation period is over, your digestion should be better than it was before.
Probiotics can be dangerous, and even lead to infections, in people with compromised immune systems. This includes people with HIV, AIDS and several other health conditions (61).
If you have a medical condition, definitely consult with your doctor before taking a probiotic supplement.
Bottom Line: Probiotic supplements may cause digestive symptoms, but this should subside within a few days. They may be dangerous for people with certain medical conditions.
What Are The Best Probiotic Supplements?
There are hundreds of different probiotic supplements available.
If you have a health problem and you want to try a probiotic for that purpose, then it is very important that you choose the right strain.
I recommend looking around on Amazon at the different options available. There you can see which strains the supplements contain.
Make sure to buy probiotics from a reputable manufacturer. Dietary supplements are not regulated, so many of these products may not contain what the labels say they do.
According to one study, it is best to take probiotics either right before, or with, a meal that contains some fat (62).
Beyond that, make sure to follow the instructions on the packaging. Keep in mind that some products need to be refrigerated.
Take Home Message
Maintaining a healthy gut goes way beyond just taking a probiotic supplement.
What you do from day to day is just as important.
All sorts of lifestyle factors, especially the foods you eat, have been shown to affect the gut bacteria (63).
Living a healthy lifestyle, getting good sleep, and eating real food with lots of fiber is the key.
In many cases, probiotic foods and supplement can be helpful as well.
I recently started taking a probiotic supplement myself (this one here).
It has significantly improved my digestion, and I feel that my energy levels and thinking have improved as well.
I now consider probiotics to be an essential component of my own personal health strategy.
This article was reposted from our media associate Authority Nutrition.
YOU MIGHT ALSO LIKE
6 Common Food Additives Used in the U.S. That Are Banned in Other Countries
Alarming Report Links Hormone-Disrupting Chemicals to Autism, ADHD, lower IQ and Obesity
As the Trump administration moves full speed ahead on boosting the oil and fossil fuel industry, opposition to increased pipeline construction is cropping up in different communities around the country.
Keep reading...
Show less
Minke whale stranding near Havergate Island in Suffolk. MCGA.
By Simon Evans
Last Saturday, two dead whales washed up on the coast of Suffolk, in eastern England, and a third was spotted floating at sea.
What happened next illustrates how news can spread and evolve into misinformation, when reported by journalists rushing to publish before confirming basic facts or sourcing their own quotes.
Keep reading...
Show less
By Monica Amarelo and Paul Pestano
Sun safety is a crucial part of any outdoor activity for kids, and sunscreen can help protect children's skin from harmful ultraviolet rays. Kids often get sunburned when they're outside unprotected for longer than expected. Parents need to plan ahead and keep sun protection handy in their cars or bags.
Keep reading...
Show less
By Joe McCarthy
A lot of people take part in community clean-up efforts—spending a Saturday morning picking up litter in a park, mowing an overgrown field or painting a fence.
Keep reading...
Show less
May. 26, 2017 03:22PM EST
Rink Glacier in western Greenland, with a meltwater lake visible center. NASA/OIB
Scientists have had their eyes on Greenland as its iconic glaciers have begun disappearing due to a warming climate. But, what they didn't expect to see was a whole new type of melting.
Keep reading...
Show less
May. 26, 2017 03:40PM EST
A coalition of conservation groups and others announced Thursday that a historic number of comments and petitions of support have been submitted to the U.S. Department of the Interior in support of Bears Ears National Monument. Despite the entirely inadequate 15-day comment period ending on May 26, more than 685,000 comments in support of Bears Ears National Monument have been collected.
Keep reading...
Show less
May. 26, 2017 02:50PM EST
Mountain View Fire
By Lena Moffitt
An oil tanker in Mead, Colorado exploded, killing one and injuring three on Thursday. Authorities are continuing to investigate the cause of the explosion.
Keep reading...
Show less
May. 26, 2017 01:27PM EST
Banner created by Alliance for Climate Education
Keep reading...
Show less


Get EcoWatch in your inbox