Pro Surfers vs. GMOs: New Film Explores Hawaii's Growing Anti-GMO Movement
Mar. 20, 2014 10:11AM EST
Food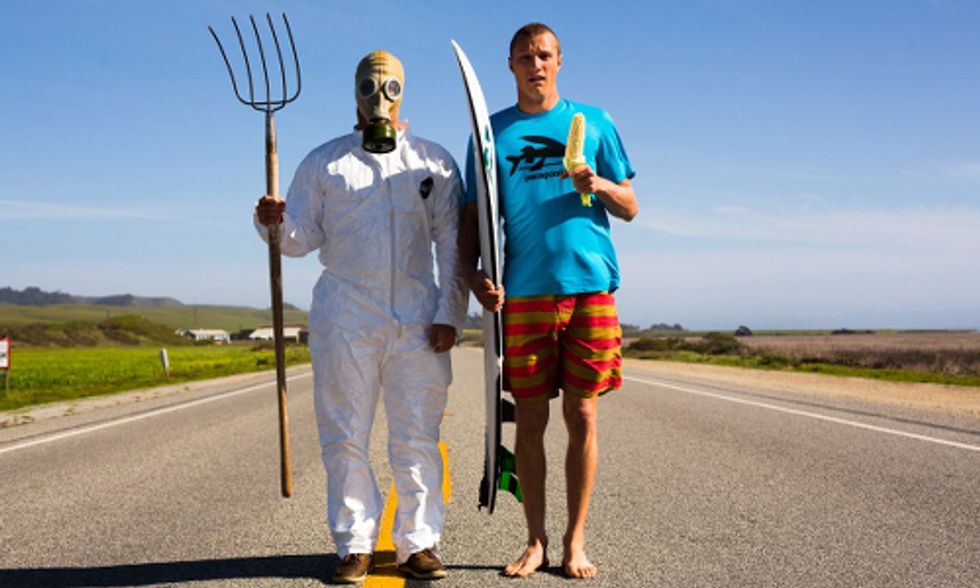 Some of the world's greatest surfers—including Kelly Slater, John John Florence, Sebastian Zietz and Dustin Barca—convened on the North Shore of Oahu last December to protest the operations of GMOs (genetically modified organisms) on the Hawaiian Islands, according to Surfing For Change.
Filmmaker Kyle Thiermann, host and creator of Surfing For Change, released the short documentary Pro Surfers vs. GMOs last week, which documented the longboard uprising and explored the surfers' objections.
While on Oahu, Thiermann interviewed casual beach-goers at the Pipeline Pro surf contest, met up with pro surfers and activists to get their perspective on GMOs, joined a march against Monsanto in Haleiwa with hundreds of protestors and ventured to Ma'o Organic Farms on the West Side of Oahu to document solutions for a more sustainable food system in Hawaii.
"There's such an unknown with the longterm effects of all the pesticides, and the herbicides and genetically modified seeds," said 11-time surfing world champion Slater. "Humans are kind of messing with science and just because you can doesn't mean you should."
The anti-GMO surfer initiative is part of a larger battle gaining momentum in the U.S. and other countries between critics who say GMO crops and the toxic pesticides used on them contribute to health and environmental dangers and proponents who argue genetically engineering crops are essential to increasing global food production.
"There's no research done that says they're good," said pro surfer and MMA fighter Barca. "When you look into most of the pockets of these scientists who are fighting for GMO, they're usually bought off by [GMO] companies and have a biased opinion."
Hawaiian islands are a popular experimentation and testing ground for biotech crops for many companies due to an ideal year-round climate, said Thiermann.
Surfing for Change sponsors include: Clif Bar, FCS, Patagonia and Sector 9.
Visit EcoWatch's GMO page for more related news on this topic.

EcoWatch Daily Newsletter