This website uses cookies to ensure you get the best experience while browsing it. By clicking 'Got It' you're accepting these terms.

When it comes to clean energy and sustainability, solar looks to be a shoo-in one day for the "green" Hall of Fame. Today, more and more sports teams, sports leagues and sports organizations are embracing the advantages of solar energy.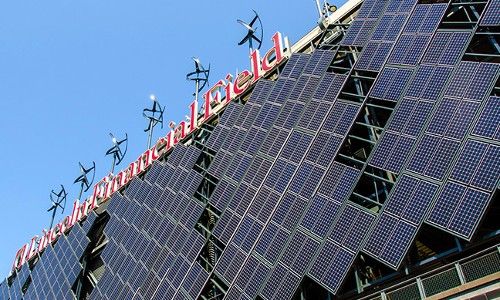 At Lincoln Financial Field, the Philadelphia Eagles have 2,500 solar panels installed. Photo credit: NRG Solar
On Monday, the National Hockey League (NHL) released a new sustainability report, saying, in part, "We believe it's important to invest in clean, renewable energy sources, such as wind, solar and hydro in North America. Supporting clean energy will help achieve long-term benefits for our business, such as price stability."
 
The report went on to add: "In addition to pursuing reduction measures, five NHL arenas now supply a portion of their power needs for the facility by using on-site solar power or lower-emission energy sources, such as biogas-fueled fuel cell technology."
 
One good example of this growing trend are the Stanley Cup champions, the Los Angeles Kings, who play at the world-famous, multi-purpose Staples Center in downtown Los Angeles. Far away from the view of fans, the Staples Center has 1,727 solar panels on its rooftop. Today, this state-of-the-art, 364-kilowatt photovoltaic (PV) system provides up to 20 percent of the facility's energy needs on a non-game day and a portion of the power it needs when the puck is dropped for the opening faceoff.
 
Clearly, solar has become a fan favorite. From San Jose to Winnipeg and Tampa Bay to Montreal, communities that embrace professional hockey are embracing solar energy, too. We commend the NHL and Commissioner Gary Bettman for their ongoing commitment to renewable energy and a cleaner environment. They recognize, like so many others, that clean, affordable and reliable solar energy creates thousands of new jobs on both sides of the U.S.-Canadian border, pumps billions of dollars into our respective countries' economies and helps to significantly reduce pollution. We're proud to share our "green team" colors with the NHL and look forward to being part of a winning "power play" that benefits both of our great nations as well as the environment.
 
But hockey isn't alone in the solar spotlight. Earlier this month, the Indianapolis Motor Speedway (IMS)–home to the greatest racecar event in the world, the Indy 500–installed the largest solar-powered system of any sporting facility in the world. That's right–the world! IMS boasts a 9.6 megawatt (MW) PV system, employing 39,312 solar modules, bringing new meaning to that famous Brickyard saying: "Start your engines." Clearly, solar is off and running at the Indy 500, lapping all other forms of renewable energy.
 
Major League Baseball and the National Football League have "drafted" solar systems, too. At Lincoln Financial Field, the Philadelphia Eagles have 2,500 solar panels installed; the San Francisco Giants have 590 solar panels at AT&T Park; the Boston Red Sox are currently heating nearly half of their hot water with solar thermal panels; and the St. Louis Cardinals are producing 32,000 kilowatt hours (kWh) of solar energy per year at Busch Stadium.
 
Today, solar is the fastest-growing source of renewable energy in America. But guess what? You can also make a persuasive case that we are actually #1 overall. According to a recently-released report by the Federal Energy Regulatory Commission (FERC) natural gas and solar ran 1-2 in new capacity installed in the first half of 2014, with 1,555 MW of natural gas coming online and 1,131 MW of solar. But if you add in the 457 MW of distributed generation solar added (and in the first quarter of this year alone!)–something FERC fails to take into account–solar topped all other forms of energy with at least 1,588 MW of new installed capacity.
 
So quietly, without anyone really noticing, solar is now leading the energy Super Bowl at halftime. How will the rest of the year turn out? Let's just say that I like our chances a lot, and I'm betting on the home team!
EcoWatch Daily Newsletter
In this Oct. 7 handout photo from the Aracaju Municipal Press Office, workers are removing oil from Viral Beach, in Aracaju, Brazil. The spill has been polluting Brazil's beaches since early September. Aracaju Municipal Press Office / AP
More than 1,000 miles of shoreline in Brazil are now contaminated by a mysterious oil spill. that has lasted for weeks as the country struggles to clean what may be its largest oil spill in history.
Nitrogen dioxide and nitrogen oxides, the pollutants released by diesel vehicles are a major source of air pollution in London. Jack Taylor / Stringer / Getty Images
On days where air pollution is higher, hundreds of people across nine major cities in England are suffering from more potentially fatal cardiac arrests or heading to the hospital for strokes or severe asthma attacks, according to new research from King's College in London.
A diet high in fish and vegetables can help keep your gut healthy. Linda Raymond / E+ / Getty Images
By Heather Cruickshank
Trillions of bacteria and other microbes live in the human digestive system. Together, they form a community that's known as the gut microbiota.
Many bacteria in the microbiota play important roles in human health, helping to metabolize food, strengthen intestinal integrity and protect against disease.
The message of the global movement to ban fracking and get off fossil fuels envisions a different future, one that starts with cutting off pollution at the source. cta88 / iStock / Getty Images Plus
A young fingerling Chinook salmon leaps out of the water at Pillar Point Harbor in Half Moon Bay, California on May 16, 2018. Justin Sullivan / Getty Images
The Trump administration is rolling back protections for endangered California fish species, a move long sought by a group of wealthy farmers that Interior Secretary David Bernhardt continued to lobby for months before he began working for the administration, The New York Times reported Tuesday.