Pro Sports Teams Go Solar

When it comes to clean energy and sustainability, solar looks to be a shoo-in one day for the "green" Hall of Fame. Today, more and more sports teams, sports leagues and sports organizations are embracing the advantages of solar energy.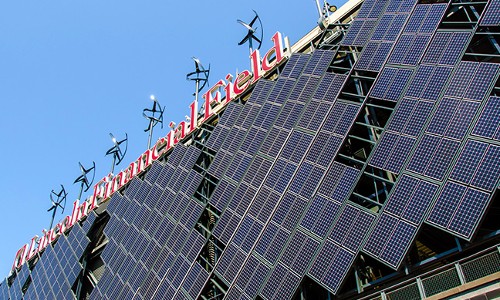 At Lincoln Financial Field, the Philadelphia Eagles have 2,500 solar panels installed. Photo credit: NRG Solar
On Monday, the National Hockey League (NHL) released a new sustainability report, saying, in part, "We believe it's important to invest in clean, renewable energy sources, such as wind, solar and hydro in North America. Supporting clean energy will help achieve long-term benefits for our business, such as price stability."
 
The report went on to add: "In addition to pursuing reduction measures, five NHL arenas now supply a portion of their power needs for the facility by using on-site solar power or lower-emission energy sources, such as biogas-fueled fuel cell technology."
 
One good example of this growing trend are the Stanley Cup champions, the Los Angeles Kings, who play at the world-famous, multi-purpose Staples Center in downtown Los Angeles. Far away from the view of fans, the Staples Center has 1,727 solar panels on its rooftop. Today, this state-of-the-art, 364-kilowatt photovoltaic (PV) system provides up to 20 percent of the facility's energy needs on a non-game day and a portion of the power it needs when the puck is dropped for the opening faceoff.
 
Clearly, solar has become a fan favorite. From San Jose to Winnipeg and Tampa Bay to Montreal, communities that embrace professional hockey are embracing solar energy, too. We commend the NHL and Commissioner Gary Bettman for their ongoing commitment to renewable energy and a cleaner environment. They recognize, like so many others, that clean, affordable and reliable solar energy creates thousands of new jobs on both sides of the U.S.-Canadian border, pumps billions of dollars into our respective countries' economies and helps to significantly reduce pollution. We're proud to share our "green team" colors with the NHL and look forward to being part of a winning "power play" that benefits both of our great nations as well as the environment.
 
But hockey isn't alone in the solar spotlight. Earlier this month, the Indianapolis Motor Speedway (IMS)–home to the greatest racecar event in the world, the Indy 500–installed the largest solar-powered system of any sporting facility in the world. That's right–the world! IMS boasts a 9.6 megawatt (MW) PV system, employing 39,312 solar modules, bringing new meaning to that famous Brickyard saying: "Start your engines." Clearly, solar is off and running at the Indy 500, lapping all other forms of renewable energy.
 
Major League Baseball and the National Football League have "drafted" solar systems, too. At Lincoln Financial Field, the Philadelphia Eagles have 2,500 solar panels installed; the San Francisco Giants have 590 solar panels at AT&T Park; the Boston Red Sox are currently heating nearly half of their hot water with solar thermal panels; and the St. Louis Cardinals are producing 32,000 kilowatt hours (kWh) of solar energy per year at Busch Stadium.
 
Today, solar is the fastest-growing source of renewable energy in America. But guess what? You can also make a persuasive case that we are actually #1 overall. According to a recently-released report by the Federal Energy Regulatory Commission (FERC) natural gas and solar ran 1-2 in new capacity installed in the first half of 2014, with 1,555 MW of natural gas coming online and 1,131 MW of solar. But if you add in the 457 MW of distributed generation solar added (and in the first quarter of this year alone!)–something FERC fails to take into account–solar topped all other forms of energy with at least 1,588 MW of new installed capacity.
 
So quietly, without anyone really noticing, solar is now leading the energy Super Bowl at halftime. How will the rest of the year turn out? Let's just say that I like our chances a lot, and I'm betting on the home team!
Bill Maher is sick of billionaires' obsession with Mars, more like "Mars-a-Lago," he said.
In a new animation produced by ATTN:, the popular talk show host of Real Time, discusses the perils of our planet, including how "climate change is killing us."
Keep reading...
Show less
Dr. Benjamin D. Santer, research scientist
A group of prominent climate scientists have written a study explicitly refuting statements made by the U.S. Environmental Protection Agency Administrator Scott Pruitt on climate data. During his Senate confirmation hearing, Pruitt claimed in a written response that satellite data shows a "leveling off" of warming over the past two decades.
Keep reading...
Show less
By David Pomerantz
The Nevada Assembly passed a bill Wednesday that would dramatically increase the growth of renewable energy in the state, but Sheldon Adelson, the casino magnate and major donor to Donald Trump, is attempting to prevent the bill from becoming law.
Keep reading...
Show less
Matt Crossick
By Yosola Olorunshola
Whether it's through fashion or protest, Vivienne Westwood is not a woman afraid of making a statement.
On May 23, she rocked up to the residence of the Archbishop of Canterbury in London with a special guest—the Grim Reaper—to issue a strong statement on the Church of England's position on fracking.
Keep reading...
Show less
By Paul Brown
The food industry and big agricultural concerns are driving climate change and at the same time threatening to undermine efforts to feed the world's growing population, according to GRAIN, an organization that supports small farmers.
Particularly singled out for criticism are the large chemical fertilizer producers that have gained access to the United Nations talks on climate change. GRAIN accuses them of behaving like the fossil fuel companies did in the 1990s, pushing false information in the hope of delaying real action on climate change.
Keep reading...
Show less
May. 24, 2017 06:55PM EST
By Sydney Robinson
President Trump has no doubt been given a long list of extravagant, elaborate gifts in his lifetime, but the gift given to him today by Pope Francis may not make it on his most favorite list.
Keep reading...
Show less
May. 24, 2017 07:17PM EST
By John Rogers
Maybe it's because I first started working on clean energy while serving in the Peace Corps he founded, or maybe it's my years of working on these issues from his home state. But I can't help thinking about the 100th anniversary of John F. Kennedy's birth, and connecting his stirring rhetoric to the energy challenges of our times.
Here's what our 35th president might have said about the challenges of energy transition and the opportunities in clean energy:
"Change is the law of life. And those who look only to the past or present are certain to miss the future."
Keep reading...
Show less
May. 24, 2017 01:47PM EST
Keep reading...
Show less


Get EcoWatch in your inbox