Mar. 03, 2016 12:56PM EST
Prize-Winning Activist Berta Cáceres Murdered in Honduras
By Friends of the Earth International
Berta Cáceres, 2015 Goldman Environmental Prize winner, was murdered last night in her home. Reportedly, her assassins waited until well after dark before breaking into the house where she slept. Her brother was also injured in the attack.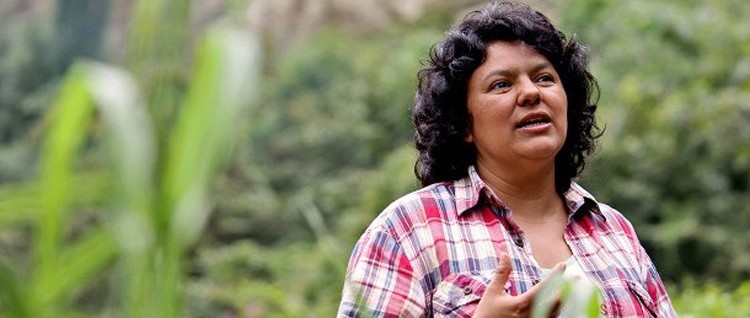 Our condolences to her family, friends and all who worked alongside her.
"This is a sad day for Honduras and the world," said Jagoda Munic, chair of Friends of the Earth International.
"Given the situation in Honduras, in which indigenous, environmental and human rights activists like Berta Cáceres are targeted by government and corporate security forces alike, international pressure is needed to bring the murderers to justice and protect those brave enough to speak out on behalf of their fellow citizens and the environment."
Cáceres rallied her fellow indigenous Lenca people of Honduras and waged a grassroots campaign that successfully pressured the world's largest dam builder to pull out of the Agua Zarca dam.
According to the Goldman Environmental Prize website:
Since the 2009 coup, Honduras has witnessed an explosive growth in environmentally destructive megaprojects that would displace indigenous communities. Almost 30 percent of the country's land was earmarked for mining concessions, creating a demand for cheap energy to power future mining operations. To meet this need, the government approved hundreds of dam projects around the country, privatizing rivers, land and uprooting communities.
Among them was the Agua Zarca Dam, a joint project of Honduran company Desarrollos Energéticos SA (DESA) and Chinese state-owned Sinohydro, the world's largest dam developer. Agua Zarca, slated for construction on the sacred Gualcarque River, was pushed through without consulting the indigenous Lenca people—a violation of international treaties governing indigenous peoples' rights. The dam would cut off the supply of water, food and medicine for hundreds of Lenca people and violate their right to sustainably manage and live off their land.
It's not yet known who is behind Cáceres assassination, but as a indigenous, environmental and human rights activist she knew well the risks she faced. In 1993, she co-founded the National Council of Popular and Indigenous Organizations of Honduras (COPINH) to address the growing threats posed to indigenous communities by illegal logging, fight for their territorial rights and improve their livelihoods.
The work of COPINH is still sorely needed. Honduras has been called, "the deadliest place for environmental activists," and is a country where corruption is a major problem. Twelve activists were killed last year alone for their efforts to defend land and the environment, according to a report by UK-based NGO Global Witness—more per capita than any other country (a record Honduras has held for the last five years).
At Friends of the Earth International, we have for a long time admired the work of Cáceres and COPINH, and at times worked together. In 2013, Friends of the Earth supporters joined voices around the world in support of Cáceres when she and other activists were facing prison sentences.
Here's a video of Cáceres when she accepted the Goldman Environmental Prize:
On threats to her own life, she said on Dec. 24, 2013:
"The army has an assassination list of 18 wanted human rights fighters with my name at the top. I want to live, there are many things I still want to do in this world but I have never once considered giving-up fighting for our territory, for a life with dignity, because our fight is legitimate. I take lots of care but in the end, in this country where there is total impunity I am vulnerable… when they want to kill me, they will do it."
On Dec. 9, 2015, Cáceres was interviewed about the death of a fellow activist, Tomás Garcia, who was shot at close range during a peaceful protest at the site of the same Agua Zarca hydro-electric dam. This is how she ended that interview:
"We truly believe in solidarity and in hope despite how hurtful this process is. And we can only think of how our brother, Tomas, is no longer with us, of how much he is missed, not just by his family—his sons and daughters—but by COPINH as well. And despite everything that's happened, we still have hope in our people's struggle."
Here's a video from the Goldman Environmental Prize on Berta Cáceres' work rallying the indigenous Lenca people of Honduras and waging a grassroots campaign that successfully pressured the world's largest dam builder to pull out of the Agua Zarca Dam:
YOU MIGHT ALSO LIKE
Robert F. Kennedy, Jr.: Syria, Another Pipeline War
Elephants Being Slaughtered for Ivory Faster Than They Can Reproduce
Trees Cut as Maple Syrup Farmers Lose Eminent Domain Battle Over Constitution Pipeline
Michael Kappel / Flickr
The most important thing we can do today as conscious consumers, farmers and food workers is to regenerate public health, the environment and climate stability. We can do this most readily by moving away from industrial, GMO and factory-farm food toward an organic, pasture-based, soil-regenerative, humane, carbon-sequestering and climate-friendly agriculture system.

What's standing in the way of this life-or-death transformation? Rampant greenwashing. The proliferation of $90 billion worth of fraudulently labeled or advertised "natural" and "socially responsible" food products in the U.S. confuses even the most well-intentioned of consumers and lures them away from purchasing genuine organic or grass-fed products.
Perhaps no company personifies greenwashing more than Vermont-based Ben & Jerry's. Ben & Jerry's history—a start-up launched by two affable hippies, from a renovated gas station in Burlington, Vermont—is legendary. Despite selling out to Unilever in April 2000, the brand's handlers have preserved its quirky, homespun image and masterfully convinced consumers that Ben & Jerry's has never strayed from its mission: "to make the world a better place."
As the New York Times reported, the Organic Consumers Association (OCA) recently sent samples of Ben and Jerry's top-selling ice cream brands to an independent testing lab for analysis. Ten out of 11 samples tested positive for Roundup (glyphosate and AMPA) herbicide contamination
So much for making the world a better place.
Compare the Ben & Jerry's test results with the results of our testing of organic brands, brands that use organic milk from farms that are actually making the world a better place. Three out of four nationally distributed organic ice cream brands tested negative for Roundup contamination (only Whole Foods "365" brand was contaminated).
A History of Stalling on Organic
Twenty-four years ago, anti-GMO food activists, including the Pure Food Campaign (OCA's predecessor), successfully pressured Ben & Jerry's and a number of other leading dairies to prohibit the use of America's first genetically engineered food product, Monsanto's recombinant Bovine Growth Hormone (rBGH). Now marketed by drug giant Elanco (Eli Lilly), rBGH is linked to increased risk of human breast and colon cancer, a greater use of antibiotics in animal feed, and damage to cow's health.
Several groups, including the OCA, subsequently asked Ben & Jerry's to move beyond just prohibiting their dairy cows from being injected with rBGH. We asked them to go 100 percent organic, which would have required the company to ban its dairy suppliers from feeding their cows GMO corn and grain, and to use only organic ingredients in its flavors. But even before Ben & Jerry's was bought out by Unilever, company founder Ben Cohen told Vermont Food activist Michael Colby "that Ben & Jerry's was not going to transition to organic because it wouldn't allow them to 'maximize profits.' "
Since 1994, Ben & Jerry's, the $1.5-billion-per-year flagship brand of the second-largest multinational food corporation in the world, Unilever (annual sales $60 billion), has cashed in big time on its "rBGH-free" policy, advertising its brand, over and over again, as "all natural," "GMO-free," "fair trade," "climate-just" and "socially responsible."
Despite repeated calls from consumer groups to stop advertising its ice-cream as "natural" or "all natural," given that it is derived from cows raised almost exclusively on GMO corn forage (grown with Roundup Ready, neonic- and BT-spliced seeds), laced with non-organic ingredients, sprayed heavily with Roundup and other pesticides, Ben & Jerry's continues to greenwash and lie. The company recently described its mission as:
To make, distribute and sell the finest quality and euphoric concoctions with a continued commitment to incorporating wholesome, ingredients and promoting business practices that respect the Earth and the Environment.
After more than a decade of dodging consumer, farmer, animal welfare, environmental and farmworker pleas to stop greenwashing and to equitably source its milk from cows grazing on organic pasture, Ben & Jerry's continues to stall. Instead, Ben & Jerry's sources its milk from St. Alban's, a 400-farmer dairy co-op that is increasingly dominated by large factory farm-type dairy operations. To feed their cows, farmers routinely spray tons of pesticides, including Roundup, atrazine and metolachlor, on fields of GMO corn grown from neonic-coated and BT toxin seeds. They also apply tons of soil-killing, climate-disrupting nitrogen fertilizers that pollute Vermont's streams, rivers and lakes.
Petitions and protests calling for Ben & Jerry's to stop its suppliers from exploiting farmworkers, confining dairy cows and driving small dairy farmers into bankruptcy, have produced nothing more than vague promises of "respecting the Earth" and supporting rural economic justice.
Enough is enough. Vermont and national public interest organizations have lost our patience. It's time for Unilever and Ben & Jerry's to move beyond greenwashing to decisive action. It's time for Ben & Jerry's to announce it will immediately begin transitioning to 100-percent organic. Otherwise conscious consumers have no choice but to launch a national and, if necessary, international protest campaign and boycott.
Vermont Activists Demand Major Changes From Ben and Jerry's
Regeneration Vermont, a broad-based coalition of consumers and farmers, has repeatedly asked Ben & Jerry's and Unilever to sign a six-point pledge to go 100-percent organic over a three-year transition period. Here's what the groups want Ben & Jerry's to pledge:
1. A transition away from GMO crops and toxic pesticides/fertilizers and toward regenerative organic agricultural methods.
2. Fair wages for farmers, including premiums based on regeneration benchmarks and assistance in the transition toward regenerative methods.
3. Economic justice for farm workers, fair and livable wages, decent housing and social and cultural dignity.
4. Adoption of climate remediation techniques, beginning with an emphasis on healthy soils and cover-cropping for carbon sequestration and erosion control.
5. Humane treatment of farm animals, a phase-out of confinement dairies and a transition back to grassland grazing and grass-based feed for ruminants.
6. Cleaning up and protecting our watersheds, streams, rivers, ponds, lakes and groundwater.
A Trail of Toxins
Recent reports published by Regeneration Vermont reveal that Ben & Jerry's suppliers, and Vermont and U.S. (non-organic) dairy farmers in general, have gone backward, rather than forward over the past 15 years in terms of environmental sustainability, food safety, nutrition, greenhouse gas pollution, water pollution, animal welfare, farmworker justice and preservation of family farms.
Chemical fertilizer use has also almost doubled in Vermont since GMOs began to dominate the market 15 years ago.
So much for Monsanto's claims that GMO crops would reduce the use of toxic pesticides and water-polluting and climate-destabilizing nitrogen fertilizers. Not to mention Ben & Jerry's claim that it is "non-GMO" and "environmentally responsible."
Among Regeneration Vermont's finding are the following:
An astounding 97 percent of Vermont's field corn, the major component of a non-organic dairy cow's diet, is now GMO (Roundup Ready, Bt-spliced, neonic seeds). This is the highest percentage of any state in the U.S.
Herbicide use has increased more than 100 percent-per-acre in Vermont since Monsanto's GMO corn came on the market, with recent heavy use of atrazine, metholachlor, simazine, pendimethlin, glyphosate (Roundup), acetochlor, dicamba and alachlor.
As Regeneration Vermont states in its report:
Regulators have determined that five of these eight most used herbicides [in Vermont] are possible or probable human carcinogens, the remaining three are suspected carcinogens. Seven of the eight are possible or probable endocrine disruptors (the other one is a suspected to be an endocrine disruptor). All eight have been determined by regulators and academics to cause birth or developmental defects and contaminate drinking water and public waters with dangerous chemicals that have long-term persistence. Atrazine, simazine, acetachlor and alachlor have lost their registration in the EU, and are effectively banned.
The Threat of #DirtyDairy and Factory Farms
Millions of health-minded Americans, especially parents of young children, now understand that cheap, non-organic, genetically engineered, industrial and factory farm food is hazardous. Not only does chemical- and energy-intensive factory farming destroy the environment, destabilize the climate, impoverish rural communities, exploit farm workers, inflict unnecessary cruelty on farm animals, and contaminate the water supply, but the end product itself is inevitably contaminated and inferior in nutritional terms, in this case in comparison to 100 percent grass-fed and organic milk and dairy.
America's green-minded consumers understand that industrial agriculture poses a terminal threat to the environment and climate stability. A highly conscious and passionate segment of the population is beginning to understand that converting to non-chemical, non-genetically engineered, energy-efficient, carbon-sequestering organic/regenerative farming practices and drastically reducing food miles by re-localizing the food chain, are essential preconditions for stabilizing our out-of-control climate and preparing our families and communities for future energy and resource shortages.

A critical mass of the global grassroots—consumers, farmers, activists—now realize that unless we act quickly, global warming and climate chaos will soon severely disrupt industrial agriculture and long-distance food transportation, leading to massive crop failures, food shortages, famine, war and pestilence. Even more alarming, accelerating levels of greenhouse gases will soon push global warming to a tipping point that will melt the polar icecaps and possibly unleash a cataclysmic discharge of climate-destabilizing methane, now sequestered in the fragile arctic tundra.

Thanks to this growing consumer awareness—and four decades of hard work—the organic community has built up a $50-billion "certified organic" and $5-billion 100 percent grass-fed food and products sector that prohibits the use of genetic engineering and pesticides. The rapidly expanding organic products sector now constitutes more than 5 percent of total retail grocery sales (and 15 percent of fruits and vegetables), with an annual growth rate of 10-15 percent. Even taking into account a sluggish economy, the organic market, if we eliminate greenwashing and labeling fraud, could conceivably reach a "tipping point" of 20 percent of grocery sales in 2020.

The Myth of "Natural" Remains a Threat
As impressive as this $55 billion Organic and Grass-fed Alternative is, it remains overshadowed by an additional $90 billion in annual spending by consumers on products, such as B&J's, fraudulently marketed as "natural," "gmo-free," "free range" or "sustainable."
Consumer surveys indicate that the overwhelming majority of Americans believe that "natural" products are "almost organic," yet at the same time, much cheaper; the majority believes that "all natural" actually means that it is better than organics. Ben & Jerry's is not the only brand greenwashing its products and impeding the growth of organic, 100 percent grass-fed and regenerative foods. But it is certainly among the most shameless.
In fact, all these "natural," "all-natural" and "sustainable" products are neither backed up by rules and regulations, nor a third-party certifier. Most "natural" or conventional products—whether produce, dairy or canned or frozen goods—are produced on large industrial farms or in processing plants that are highly polluting, chemical-intensive and energy-intensive.
Perhaps fraudulently labeled "natural" foods such as Ben & Jerry's wouldn't matter so much if we were living in normal times, with a relatively healthy population, environment and climate. Conventional products sold as "natural" or "nearly organic" would be just one more example of chicanery or unethical business practices.
But we are not living in normal times.
Demanding that fake natural brands and producers, such as Ben & Jerry's, make the transition to organic is a matter of life or death. We're tired of pleading and politely asking Ben & Jerry's, Unilever and other greenwashers to please change their ways. It's time to step up the pressure. Please join the growing boycott of Ben & Jerry's ice-cream by signing this petition and by volunteering to join a local campaign team in your local community.
Ronnie Cummins is the international director of the Organic Consumers Association.
Tom Reichner | Shutterstock.com
Three days before oral arguments are scheduled in the 10th Circuit Court of Appeals on Bureau of Land Management safety measures to regulate fracking operations on public lands, the U.S. Department of Interior is moving ahead with its plan to rescind the 2015 rule.
The rule, which was the product of nearly five years of agency work, expert input, public comments and hearings, never went into effect after it was challenged immediately by oil and gas industry trade associations. After a district court judge set aside the rule in 2016, BLM and citizen groups appealed to the 10th Circuit in late 2016.
Keep reading...
Show less
Jul. 24, 2017 08:04AM EST
Stomach contents of an albatross chick photographed in the Pacific in 2009. Chris Jordan / U.S. Fish & Wildlife Service HQ
By Tim Radford
Scientists have calculated yet another item on the human shopping list that makes up the modern world: plastics. They have estimated the mass of all the plastic bottles, bags, cups, toys, instruments and fabrics ever produced and tracked its whereabouts, as yet another index of the phenomenal change to the face of the planet made by recent human advance.
Altogether, since about 1950, with the birth of a new industry, more than 8.3 billion tonnes (or 9.1 tons) of synthetic organic polymers have been generated, distributed and discarded. Of that total, 6.3 billion tonnes are classified as waste.
Keep reading...
Show less
Jul. 24, 2017 10:03AM EST
By Jessica Corbett
As Senate Democrats stay silent on an energy bill that environmental groups call "a pro-fracking giveaway to oil and gas interests that would commit America to decades more of dangerous fossil fuel dependence," Sen. Bernie Sanders (I-Vt.) is receiving applause for speaking out against it.
"As a nation, our job is to move away from fossil fuels toward sustainable energy and energy efficiency. This bill does the opposite," Sanders said in a statement.
Keep reading...
Show less
Jul. 24, 2017 09:09AM EST
ExxonMobil filed suit against the federal government last week, claiming that a $2 million fine levied against the company by the Treasury Department is "unlawful" and "capricious."
The Treasury Department fined Exxon Thursday morning, alleging that the oil giant displayed "reckless disregard" of U.S.-Russian sanctions in its dealings with Russian company Rosneft in 2014 under CEO Rex Tillerson.
Keep reading...
Show less
Jul. 24, 2017 02:14PM EST
By Andy Rowell
For years, environmentalists have warned that due to climate change, there will be billions of barrels of oil that we will never be able to burn. These reserves will become what has increasingly been called "stranded assets."
To give you one example: In a new report, Friends of the Earth argued that "The coal, oil and gas in reserves already in production and development globally is more than we can afford to burn. There is no room for any new coal, oil or gas exploration and production.
Keep reading...
Show less
Jul. 24, 2017 12:38PM EST
Craftsman tiny house by Zyl Vardos. Abel Zyl / Shuttertstock
Late last year, the tiny house community celebrated a watershed moment—an official appendix in the 2018 version of the International Residential Code, the model building code used by most jurisdictions in the U.S.
"There are many things that are monumental in the adoption of tiny house construction codes by the IRC," cheered Thom Stanton, the CEO of small space developer, Timber Trails. "Among them, that architects, designers, builders, community developers and (maybe most importantly) zoning officials have a means of recognizing tiny houses as an official form of permissible dwelling."
Keep reading...
Show less
Jul. 24, 2017 02:34PM EST
www.youtube.com
The colossal mass of throwaway plastic—from straws to bags to bottles—has grown much faster than recycling and disposal efforts can contain it. You might even say this is obvious, no matter where you look.
As a result, places that were once considered pristine—such as Antarctica and the ocean floors of Australia—have become inundated with plastic waste.
Check out this video from National Geographic to watch underwater photographer Huai Su film a diver collecting an endless amount of plastic bottles that litter the seafloor off Xiaoliuqiu Island, Taiwan.