This website uses cookies to ensure you get the best experience while browsing it. By clicking 'Got It' you're accepting these terms.
Private Water Companies Join Forces with Fracking Interests
Apr. 20, 2012 05:15AM EST
Energy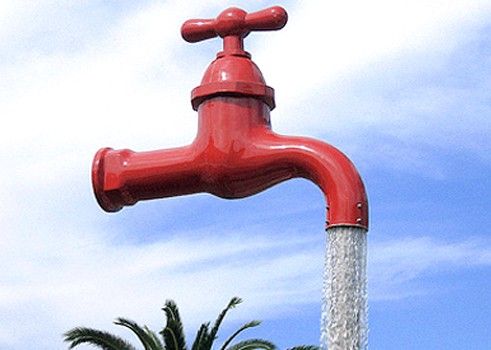 By Sarah Pavlus
The country's two largest private water utility companies are participants in a massive lobbying effort to expand controversial shale gas drilling—a heavy industrial activity that promises to enrich the water companies but may also put drinking water resources at risk.
The situation—which some watchdogs describe as a troubling conflict of interest—underscores the complex issues raised by the nationwide push to privatize infrastructure and services like water, prisons and roads.
The water companies—American Water and Aqua America—are leading drinking water suppliers in Pennsylvania, where drilling is booming. They also sell water to gas companies—which use a drilling technique that requires massive amounts of water—and have expressed interest in treating drilling wastewater, a potentially lucrative opportunity.
These investor-owned, publicly traded water utility companies are also dues-paying "associate members" of the gas industry's powerful Marcellus Shale Coalition, a fact confirmed by coalition spokesman Travis Windle, who says associate members pay $15,000 annually in dues. "Our associate members are really the backbone of the industry," adds Windle.
Both water companies serve millions of people across the country—Aqua America operates in 11 states and American Water in more than 30. Neither company is currently in Colorado.
The coalition, which is led by major gas producers, contends that "responsible development of natural gas" will bolster the region's economy while providing an important source of domestic energy. It has reported more than $2 million in Pennsylvania lobbying expenditures since 2010.
Aqua America joined the coalition in 2010 and Pennsylvania American Water—a subsidiary of American Water—joined in 2011, according to the coalition's quarterly magazine, which publishes a full member list in each issue.
Shale gas drillers use a combination of horizontal drilling and hydraulic fracturing, or "fracking," to extract gas from the Marcellus formation in Pennsylvania. The controversial technique forces millions of gallons of water—mixed with sand and chemicals—into the ground to crack the shale rock and release gas. In addition to the potential risks posed by actual fracturing, the process produces large amounts of toxic wastewater that can be difficult to dispose of safely.
The U.S. Environmental Protection Agency (EPA) is currently conducting a congressionally-mandated study "to investigate the potential adverse impact that hydraulic fracturing may have on water quality and public health." Pennsylvania is home to three of the seven sites selected for the nationwide study.
Separately, the EPA is testing the water of some Pennsylvania residents who say that nearby gas drilling contaminated their wells. According to the EPA, early test results indicate the water is safe to drink, however, some environmentalists disagree with that analysis.
In the meantime, the water companies are selling water to the drillers while calling for fracking to be done in an environmentally responsible manner. In a presentation to investors last month, American Water stated that it is "realizing additional revenues from water sales to drilling companies while remaining vigilant in protecting our water sources."
In the presentation, the company noted it is "currently selling water to gas drillers at 34 distribution points in Pennsylvania," and that it "sold 250.4 million gallons of water to gas drillers from January through December of 2011, producing $1.6 million in revenues."
(Some public water utilities sell to drillers too, but no public utilities are part of the Marcellus Shale Coalition.)
American Water spokesman Terry Maenza says the company's support for environmental protection is unchanged by its role in the shale coalition and that it is also a member of numerous environmental groups.
"By the nature of our business, we will continue to be stewards of the environment, ensuring water source protection," says Maenza.
The company isn't currently in the drilling wastewater treatment business, according to Maenza, though during a quarterly earnings call last year, American Water CEO Jeff Sterba told investors, "We are very definitely looking and working in the wastewater treatment area." Maenza declined to comment on any specific initiatives.
Aqua America executive Karl Kyriss says his company's involvement in the coalition helps protect water resources.
"By participating, we can have some direct input into the group that is looking to support development of the Marcellus Shale," says Kyriss. "But we are very much committed that it be done in an environmentally sensitive and protected manner. And we think we can do that better from the inside than just sort of watching what happens."
Aqua America is aggressively positioning itself to take advantage of what CEO Nick DeBenedictis has described to investors as a "water-energy nexus that could have a positive impact on the future of our company." In recent years, the company has made sizeable acquisitions in Texas and Ohio—states that, like Pennsylvania, are home to large shale gas plays—and is also building a pipeline in Pennsylvania to supply water to drillers.
DeBenedictis believes the pipeline will ease the wear and tear on roads and the environment currently caused by trucks carrying water to wells.
Recently, however, that pipeline has come under fire from local anti-drilling activists because the project will displace dozens of residents from a mobile home park.
Like American Water, Aqua America is not currently in the drilling wastewater treatment business, but may expand into that market in the future.
Some environmental advocates see potential conflicts between the interests of the private water industry and the interests of drinking water consumers.
"If American Water and Aqua America wanted to ensure that their water supplies were protected, they would support a national ban on hydraulic fracturing for shale gas," argues Mary Grant, a researcher at Food and Water Watch, which has reported on Aqua America's ties to the coalition. "But, instead of acting on the precautionary principle, they are paying thousands of dollars a year to an industry coalition that advocates for shale gas development, despite the risks to water quality."
"We are concerned that these relationships encourage investor owned water utilities to endorse shale gas development despite its risk to public water supplies," Grant says.
Eric Goldstein, a senior attorney for the Natural Resources Defense Council, adds, "Sometimes the interests of private ownership are inconsistent with the concept of preserving our water resources in the public trust for future generations. And the potential clashing of those interests is why these questions have been raised about whether for-profit companies ought to be running public water supplies."
For more information, click here.
—————
Stay up-to-date on the latest fracking news by clicking here.
EcoWatch Daily Newsletter
A fracking well looms over a residential area of Liberty, Colorado on Aug. 19.
WildEarth Guardians / Flickr
Pope Francis flanked by representatives of the Amazon Rainforest's ethnic groups and catholic prelates march in procession during the opening of the Special Assembly of the Synod of Bishops for the Pan-Amazon Region at The Vatican on Oct. 07 in Vatican City, Vatican. Alessandra Benedetti / Corbis News / Getty Images
The Catholic Church "hears the cry" of the Amazon and its peoples. That's the message Pope Francis hopes to send at the Synod of the Amazon, a three-week meeting at the Vatican that ends Oct. 27.
The crowd appears to attack a protestor in a video shared on Twitter by ITV journalist Mahatir Pasha.
VOA News /
Youtube screenshot
Some London commuters had a violent reaction Thursday morning when Extinction Rebellion protestors attempted to disrupt train service during rush hour.
Some fruit drinks may appear to be healthier, but many can have high levels of added sugars. d3sign / Moment / Getty Images
By Kristen Fischer
Though the science has shown sugary drinks are not healthy for children, fruit drinks and similar beverages accounted for more than half of all children's drink sales in 2018, according to a new report.

Donald Trump attends the opening of Red Tiger Golf Course at Trump National Doral on Jan. 12, 2015 in Doral, Florida. Johnny Louis / FilmMagic
Acting White House Chief of Staff Mick Mulvaney made two controversial announcements about the 2020 Group of Seven (G7) summit: it will be hosted at one of President Donald Trump's golf resorts in Miami and it won't feature any discussion of the climate crisis.
Farms with just one or a handful of different crops encourage fewer species of pollinating and pest-controlling insects to linger, ultimately winnowing away crop yields, according to a new study.
Up to half of the detrimental impacts of the "landscape simplification" that monocropping entails come as a result of a diminished mix of ecosystem service-providing insects, a team of scientists reported Oct. 16 in the journal Science Advances.
Monocrop palm oil plantation Honduras.
​SHARE Foundation / Flickr / CC BY-NC 2.0​
"Our study shows that biodiversity is essential to ensure the provision of ecosystem services and to maintain a high and stable agricultural production," Matteo Dainese, the study's lead author and a biologist at Eurac Research in Bolzano, Italy, said in a statement.

It stands to reason that, with declines in the sheer numbers of insects that ferry pollen from plant to plant and keep crop-eating pests under control, these services will wane as well. But until now, it hasn't been clear how monocultures affect the number and mix of these species or how crop yields might change as a result.
Aiming to solve these questions, Dainese and his colleagues pulled together data from 89 studies cutting across a variety of landscapes, from the tropics of Asia and Africa to the higher latitudes of northern Europe. They tabulated the number of pollinating and pest-controlling insects at these sites — both the absolute number of individuals and the number of species — along with an assessment of the ecosystem services the insects provided.
In almost all of the studies they looked at, the team found that a more diverse pool of these species translated into more pollination and greater pest control. They also showed that simplified landscapes supported fewer species of service-providing insects, which ultimately led to lower crop yields.
The researchers also looked at a third measure of the makeup of insect populations — what they called "evenness." In natural ecosystems, a handful of dominant species with many more individuals typically live alongside a higher number of rarer species. The team found as landscapes became less diverse, dominant species numbers dwindled and rare species gained ground. This resulting, more equitable mix led to less pollination (though it didn't end up affecting pest control).
"Our study provides strong empirical support for the potential benefits of new pathways to sustainable agriculture that aim to reconcile the protection of biodiversity and the production of food for increasing human populations," Ingolf Steffan-Dewenter, one of the study's authors and an animal ecologist at the University of Würzburg in Germany, said in the statement.
The scientists figure that the richness of pollinator species explains around a third of the harmful impacts of less diverse landscapes, while the richness of pest-controlling species accounts for about half of the same measure. In their view, the results of their research point to the need to protect biodiversity on and around crops in an uncertain future.
"Under future conditions with ongoing global change and more frequent extreme climate events, the value of farmland biodiversity ensuring resilience against environmental disturbances will become even more important," Steffan-Dewenter said.
Reposted with permission from our media associate Mongabay.
From Your Site Articles
Related Articles Around the Web
View of an Ivorian cleared forest at the edge of the 35.000 hectares Peko Mont National Park on Oct. 8, 2016. The Mont Péko National Park is located in the west of Ivory Coast where the forest officers fight with illegal immigrants to protect an exceptional flora and fauna, espacially dwarf elephants. SIA KAMBOU / AFP / Getty Images
Ivory Coast's rainforests have been decimated by cocoa production and what is left is put in peril by a new law that will remove legal protections for thousands of square miles of forests, according to The Guardian.
The Apusiaajik Glacier, as seen from Kulusuk village in East Greenland. Like most glaciers in Greenland, it's retreating rapidly, changing the local landscape year by year. Photo credit: Karin Kirk
By Karin Kirk
Greenland had quite the summer. It rose from peaceful obscurity to global headliner as ice melted so swiftly and massively that many were left grasping for adjectives. Then, Greenland's profile was further boosted, albeit not to its delight, when President Trump expressed interest in buying it, only to be summarily dismissed by the Danish prime minister.
During that time I happened to be in East Greenland, both as an observer of the stark effects of climate change and as a witness to local dialogue about presidential real estate aspirations, polar bear migrations and Greenland's sudden emergence as a trending topic.