This website uses cookies to ensure you get the best experience while browsing it. By clicking 'Got It' you're accepting these terms.
Private Water Companies Join Forces with Fracking Interests
Apr. 20, 2012 05:15AM EST
Energy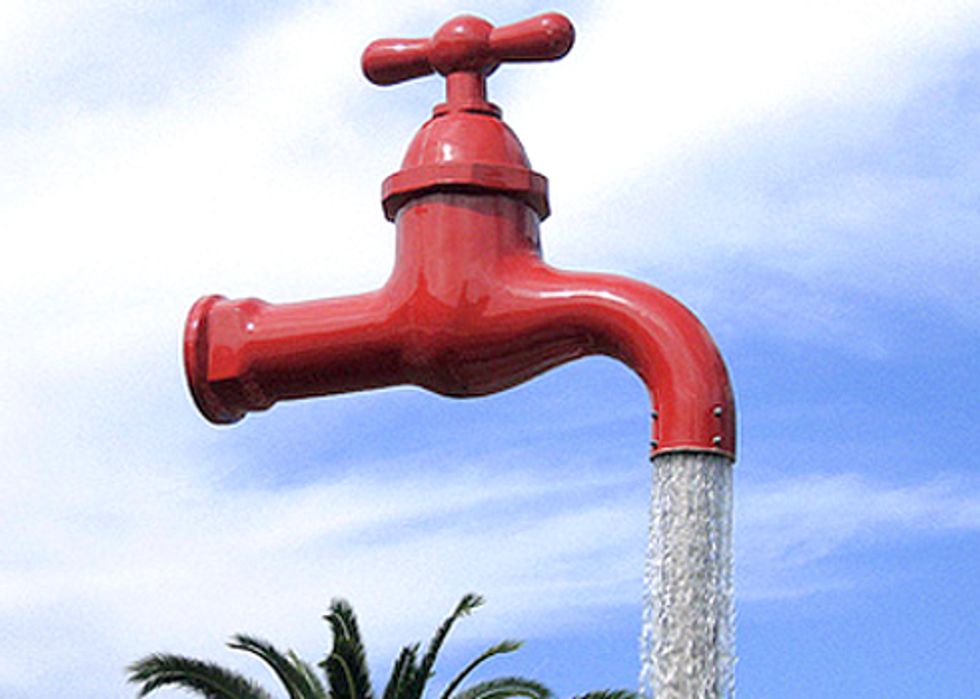 By Sarah Pavlus
The country's two largest private water utility companies are participants in a massive lobbying effort to expand controversial shale gas drilling—a heavy industrial activity that promises to enrich the water companies but may also put drinking water resources at risk.
The situation—which some watchdogs describe as a troubling conflict of interest—underscores the complex issues raised by the nationwide push to privatize infrastructure and services like water, prisons and roads.
The water companies—American Water and Aqua America—are leading drinking water suppliers in Pennsylvania, where drilling is booming. They also sell water to gas companies—which use a drilling technique that requires massive amounts of water—and have expressed interest in treating drilling wastewater, a potentially lucrative opportunity.
These investor-owned, publicly traded water utility companies are also dues-paying "associate members" of the gas industry's powerful Marcellus Shale Coalition, a fact confirmed by coalition spokesman Travis Windle, who says associate members pay $15,000 annually in dues. "Our associate members are really the backbone of the industry," adds Windle.
Both water companies serve millions of people across the country—Aqua America operates in 11 states and American Water in more than 30. Neither company is currently in Colorado.
The coalition, which is led by major gas producers, contends that "responsible development of natural gas" will bolster the region's economy while providing an important source of domestic energy. It has reported more than $2 million in Pennsylvania lobbying expenditures since 2010.
Aqua America joined the coalition in 2010 and Pennsylvania American Water—a subsidiary of American Water—joined in 2011, according to the coalition's quarterly magazine, which publishes a full member list in each issue.
Shale gas drillers use a combination of horizontal drilling and hydraulic fracturing, or "fracking," to extract gas from the Marcellus formation in Pennsylvania. The controversial technique forces millions of gallons of water—mixed with sand and chemicals—into the ground to crack the shale rock and release gas. In addition to the potential risks posed by actual fracturing, the process produces large amounts of toxic wastewater that can be difficult to dispose of safely.
The U.S. Environmental Protection Agency (EPA) is currently conducting a congressionally-mandated study "to investigate the potential adverse impact that hydraulic fracturing may have on water quality and public health." Pennsylvania is home to three of the seven sites selected for the nationwide study.
Separately, the EPA is testing the water of some Pennsylvania residents who say that nearby gas drilling contaminated their wells. According to the EPA, early test results indicate the water is safe to drink, however, some environmentalists disagree with that analysis.
In the meantime, the water companies are selling water to the drillers while calling for fracking to be done in an environmentally responsible manner. In a presentation to investors last month, American Water stated that it is "realizing additional revenues from water sales to drilling companies while remaining vigilant in protecting our water sources."
In the presentation, the company noted it is "currently selling water to gas drillers at 34 distribution points in Pennsylvania," and that it "sold 250.4 million gallons of water to gas drillers from January through December of 2011, producing $1.6 million in revenues."
(Some public water utilities sell to drillers too, but no public utilities are part of the Marcellus Shale Coalition.)
American Water spokesman Terry Maenza says the company's support for environmental protection is unchanged by its role in the shale coalition and that it is also a member of numerous environmental groups.
"By the nature of our business, we will continue to be stewards of the environment, ensuring water source protection," says Maenza.
The company isn't currently in the drilling wastewater treatment business, according to Maenza, though during a quarterly earnings call last year, American Water CEO Jeff Sterba told investors, "We are very definitely looking and working in the wastewater treatment area." Maenza declined to comment on any specific initiatives.
Aqua America executive Karl Kyriss says his company's involvement in the coalition helps protect water resources.
"By participating, we can have some direct input into the group that is looking to support development of the Marcellus Shale," says Kyriss. "But we are very much committed that it be done in an environmentally sensitive and protected manner. And we think we can do that better from the inside than just sort of watching what happens."
Aqua America is aggressively positioning itself to take advantage of what CEO Nick DeBenedictis has described to investors as a "water-energy nexus that could have a positive impact on the future of our company." In recent years, the company has made sizeable acquisitions in Texas and Ohio—states that, like Pennsylvania, are home to large shale gas plays—and is also building a pipeline in Pennsylvania to supply water to drillers.
DeBenedictis believes the pipeline will ease the wear and tear on roads and the environment currently caused by trucks carrying water to wells.
Recently, however, that pipeline has come under fire from local anti-drilling activists because the project will displace dozens of residents from a mobile home park.
Like American Water, Aqua America is not currently in the drilling wastewater treatment business, but may expand into that market in the future.
Some environmental advocates see potential conflicts between the interests of the private water industry and the interests of drinking water consumers.
"If American Water and Aqua America wanted to ensure that their water supplies were protected, they would support a national ban on hydraulic fracturing for shale gas," argues Mary Grant, a researcher at Food and Water Watch, which has reported on Aqua America's ties to the coalition. "But, instead of acting on the precautionary principle, they are paying thousands of dollars a year to an industry coalition that advocates for shale gas development, despite the risks to water quality."
"We are concerned that these relationships encourage investor owned water utilities to endorse shale gas development despite its risk to public water supplies," Grant says.
Eric Goldstein, a senior attorney for the Natural Resources Defense Council, adds, "Sometimes the interests of private ownership are inconsistent with the concept of preserving our water resources in the public trust for future generations. And the potential clashing of those interests is why these questions have been raised about whether for-profit companies ought to be running public water supplies."
For more information, click here.
—————
Stay up-to-date on the latest fracking news by clicking here.
EcoWatch Daily Newsletter
No longer will the options when we die be a choice between just burial or cremation. Soon it will be possible to compost your remains and leave your loved ones with rich soil, thanks to a new funeral service opening in Seattle in 2021 that will convert humans into soil in just 30 days, as The Independent reported.
You can reduce the footprint of a medium-sized live tree by donating it to elephants at a local zoo, like this African elephant pictured above. eans / iStock / Getty Images
The holiday season is supposed to be about giving and sharing, but often it is actually about throwing away. The U.S. generates 25 percent more garbage between Thanksgiving and New Year's than it does during the rest of the year. That's around one million extra tons per week, according to National Environmental Education Foundation (NEEF) figures reported by The Associated Press.
The Opera House is seen with smoke haze which enveloped Sydney Harbor on Dec. 10 in Sydney, Australia. Smoke haze hangs over the city as the New South Wales fire danger risk is raised from 'very high' to 'severe'. James D. Morgan / Getty Images
The brushfires raging through New South Wales have shrouded Australia's largest city in a blanket of smoke that pushed the air quality index 12 times worse than the hazardous threshold, according to the Australia Broadcast Corporation (ABC).
People walk across the bridge near Little Raven Court in downtown Denver. Younger Americans increasingly prefer to live in walkable neighborhoods. Helen H. Richardson / The Denver Post via Getty Images
By David B. Goldstein
Energy efficiency is the cornerstone of any country's plan to fight the climate crisis. It is the cheapest option available, and one that as often as not comes along with other benefits, such as job creation, comfort and compatibility with other key solutions such as renewable energy. This has been recognized by the International Energy Agency (IEA) for at least a decade.
Activists from Extinction Rebellion New York City engaged in nonviolent direct action to confront climate change outside City Hall on April 17, 2019. Erik McGregor / Pacific Press / LightRocket via Getty Images
By Andrea Germanos

Over 500 groups on Monday rolled out an an action plan for the next president's first days of office to address the climate emergency and set the nation on a transformative path towards zero emissions and a just transition in their first days in office.