Prince Harry's Moving Photos From Africa Trip Show Brutal Reality of Poaching
Dec. 02, 2015 11:33AM EST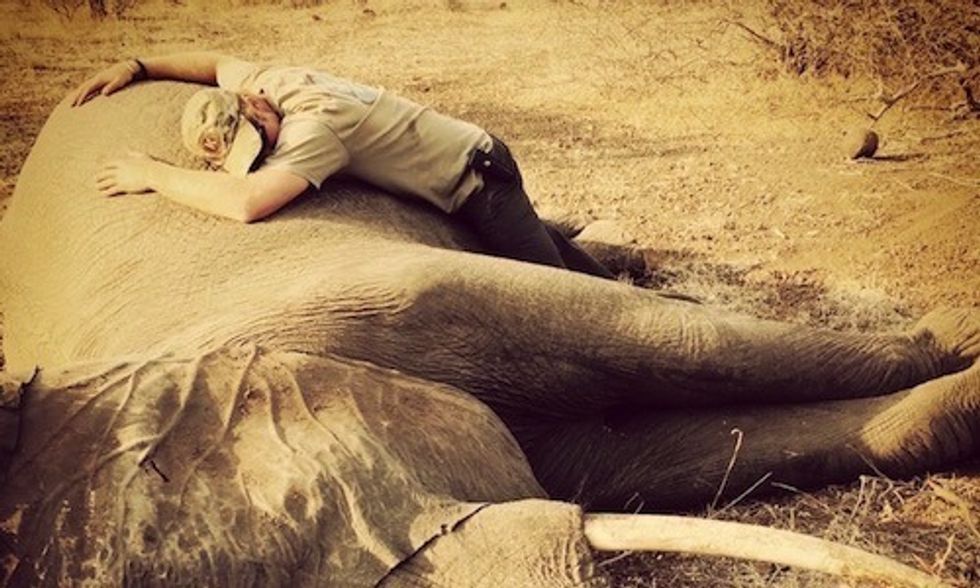 Prince Harry has released personal photographs from his three months working as a wildlife conservation volunteer in Africa this summer. The 31-year-old is visibly moved in many of the photos, such as this one where he's face down and stretched across a majestic elephant.
Prince Harry shares his personal feelings behind this photograph @SANParksKNP on Instagram: https://t.co/iN27WVQdWh https://t.co/lqApOP4tOA

— Kensington Palace (@Kensington Palace)1449053042.0
"After a very long day in Kruger National Park, with five rhinos sent to new homes and three elephants freed from their collars—like this sedated female—I decided to take a moment," the Prince Harry said about the photo.
"I know how lucky I am to have these experiences, but hearing stories from people on the ground about how bad the situation really is, upset and frustrated me. How can it be that 30,000 elephants were slaughtered last year alone? None of them had names, so do we not care? And for what? Their tusks? Seeing huge carcasses of rhinos and elephants scattered across Africa, with their horns and tusks missing is a pointless waste of beauty."
Prince Harry worked right alongside rangers responding poaching attacks, according to The Guardian. His pictures are from Tanzania, South Africa, Botswana and Namibia.
He said that Kruger National Park in South Africa, one of Africa's largest game reserves, "is one of the most beautiful places on earth. But in recent years it has become a major killing field."
Prince Harry shares his story behind this photograph of 'Hope the rhino' on Instagram: https://t.co/xJrWrj6opT https://t.co/4xt4rxGK2k

— Kensington Palace (@Kensington Palace)1449052946.0
"Many people will have heard of Hope, a young female black rhino that was brutally wounded by poachers," Harry, the fifth in line to the British throne, says about the photo above. "This was the second operation to try to save this animal's life.
"Some poachers use a dart gun and tranquilize the animal so as not have to fire a shot that would be heard. They then hack their face off while the animal is paralysed. Local communities saw her stumbling through the bush and then alerted the authorities. Thanks to Dr William Fowlds and his team, Hope survived and is making a speedy recovery."
"In recent years Kruger has also become a major killing field," Prince Harry said in a speech with Sky News.
"The numbers of rhinos poached in South Africa has grown by nearly 500 percent in just five years, with most of these occurring in Kruger," he continued. "Already this year 1,500 rhinos have been killed in this country. That is four every day."
He said that if current poaching rates continue there will be no wild African elephants or rhinos left by the time children born this year—like his niece, Charlotte (who is 7 months old)—turn 25.
Prince Harry also released videos of the trip. In this touching clip, he feeds an orphaned baby rhino from a milk bottle and gives it a kiss.
Prince Harry's personal video from his summer visit to southern Africa. Read his story: https://t.co/3jo6v2lPtZ https://t.co/O1HqrglfZL

— Kensington Palace (@Kensington Palace)1449053487.0
"These baby rhinos are at an orphanage because their mothers were killed by poachers. I can't say where this is for obvious reasons," he said.
"But I spent an afternoon with Petronel Nieuwoubt who runs the orphanage. The youngest rhino was called Don. He was just two months old when he was found in Kruger National Park. Petronel has students and volunteers from all over the world come to look after these orphans. They pay for this experience and that money is used for milk, food, fencing and rangers for security."
Harry revealed some other details of his work on the field and with the animals. In this photo, he's holding oxygen tubes as he tends to a dehorned rhino.
Prince Harry shares his story behind this photograph on Instagram: https://t.co/TE8WWRulwC https://t.co/y2r62VKzFB

— Kensington Palace (@Kensington Palace)1449052868.0
"I was working with Dr. Mark Jago and Dr. Pete Morkel in Namibia. Some countries are de-horning small populations of rhino to deter poachers from shooting them," he says about the photo.
"It is a short-term solution and surely no substitute for professional and well-trained rangers protecting these highly sought-after animals. De-horning has to be done every two years for it to be effective and can only realistically be done with small populations in open bush.
"My initial task each time was to monitor the heart rate and oxygen levels and help stabilise them as quickly as possible. My responsibilities then grew to taking blood and tissue samples and the de-horning itself."
The Prince: "This is a test for all humanity and we cannot afford to fail. Nature needs us to fight her battles and protect her animals."

— Kensington Palace (@Kensington Palace)1449051758.0
"His photographs and videos highlight the urgent challenges faced by people on the ground working to protect Africa's most endangered animals," a statement from Kensington Palace reads.
Check out other videos and photos from Prince Harry's trip.
"Trying to stop a 3 tonne rhino with a rope and a blindfold isn't easy!" Read HRH's story: https://t.co/aBYj1BAJ6E https://t.co/EWKTje9GIK

— Kensington Palace (@Kensington Palace)1449055389.0
HRH speaks to forensic investigators gathering evidence at the scene in the hope of eventually catching the poachers https://t.co/3nlqO8EusI

— Kensington Palace (@Kensington Palace)1449049069.0
Prince Harry looks over the body of a female rhino, killed alongside her 2-year-old calf by poachers #RoyalVisitSA https://t.co/6BSURELx1k

— Kensington Palace (@Kensington Palace)1449048957.0
Prince Harry arrives at an horrific poaching crime scene @SANParksKNP where two rhinos were killed last week. https://t.co/NUZzHQA38V

— Kensington Palace (@Kensington Palace)1449048615.0
Prince Harry is introduced to 'Killer' - a dog used by @SANParksKNP to track poachers #RoyalVisitSA https://t.co/zoYzmJd9b4

— Kensington Palace (@Kensington Palace)1448993632.0
Ever the ecologically minded royal family, Harry's brother, Prince William, is also outspoken on the illegal wildlife trade.
Prince Harry: "My brother William has put the fate of endangered species back on the global agenda. I am incredibly proud of him."

— Kensington Palace (@Kensington Palace)1449051817.0
The Duke & Prince Harry have now both met Zawadi, a black rhino. Read Prince Harry's story: https://t.co/kZ8k0GfcJC https://t.co/ebuXwSrjHZ

— Kensington Palace (@Kensington Palace)1449053278.0
On Monday, Harry's father, Prince Charles, delivered the keynote speech at the opening session of COP21 climate talks on Monday.
"So I can only urge you to think of your grandchildren, as I think of mine, and of those billions of people without a voice; those for whom hope is the rarest of sensations; those for whom a secure life is a distant prospect," the Prince of Wales, who has long been an advocate climate change action, said in his speech.
"Most of all, I urge you to consider the needs of the youngest generation, because none of us has the right to assume that "for our today they should give up their tomorrow."
Watch his speech below:
In case you missed it yesterday, watch The Prince of Wales's keynote speech at the opening session of #COP21 here. https://t.co/ddRfyutGDU

— Clarence House (@Clarence House)1448976395.0
YOU MIGHT ALSO LIKE
Watch the Film of the Year: Racing Extinction
Sea Shepherd Condemns Japan's Plan to Slaughter 4,000 Minke Whales
Extremely Disturbing Video Shows Pilot Whale Being Tied and Drowned by Taiji Hunters
Huge Victory: U.S. Government Slams Door on Invasive Experiments on Chimps
EcoWatch Daily Newsletter
Related Articles from EcoWatch