Prevent a New York Fracking Train Wreck—Submit Comments to the DEC Today
Dec. 12, 2012 02:33PM EST
Energy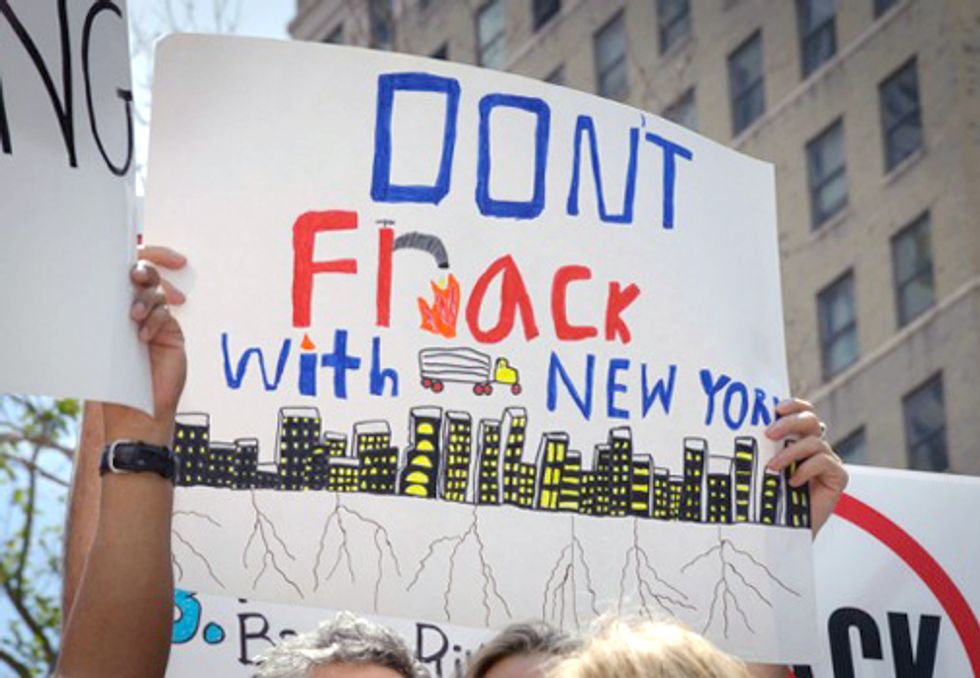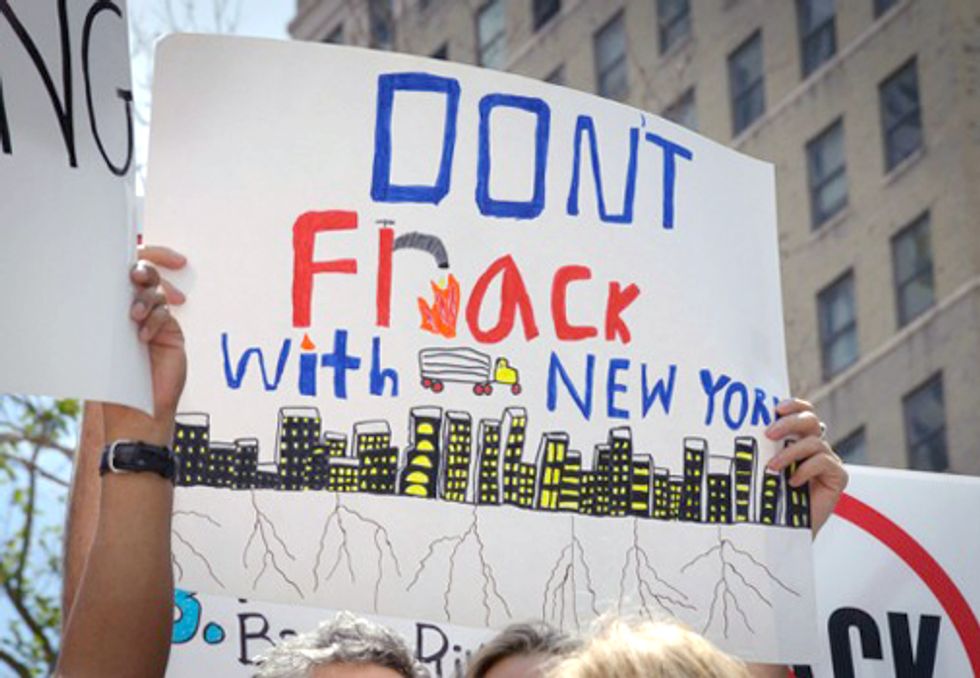 As of today you may file a response to the proposed fracking regulations to the New York Department of Environmental Conservation (DEC) online or via snail mail. I encourage you to do so. This may be your last opportunity to comment on how shale gas wells are permitted in New York. If your area does not have a political carve-out in the Supplemental Generic Environmental Impact Statement (SGEIS), and if your town or city does not have a land use plan and ordinance that addresses shale gas  industrialization, then the state regulations will govern where wells are drilled. After this, all you may be able to do is protest a State Environmental Quality Review review, file a Section 78 proceeding to try to block a permit or sue the frackers. In that regard, put the DEC on notice now, in writing by commenting on the proposed regulations.
Public Comment Period Open
Comments will be accepted on the draft regulations from today through 5 p.m. on Jan. 11, 2013.
You can submit comments on the web at the New York State High-Volume Hydraulic Fracturing (HVHF) Comments page of DEC's website.
You can mail your comments to:
Attn: Draft HVHF Regulations Comments
New York State Department of Environmental Conservation
625 Broadway
Albany, NY 12233-6510
Snail responses are more effective. The online form does not address all the HVHF issues, in fact it ignores the new proposal to allow horizontal wells to be drilled under rivers and lakes. 
Form letters only count as one response. Responses from governmental agencies and groups are important. If your group or environmental nonprofit organization does not respond to the regulations get a new group or environmental group, preferably a good one like Earthjustice.
The proposed regulations ignore almost all surface uses and they ignore surface property rights completely. The regulations ignore every surface use except for "inhabited dwellings," (which does not include housing under construction) and a "places of public assembly" which are defined in New York as public theaters, auditoriums, restaurants, etc.
In plain English, this means there are no setbacks for shale gas wells from school yards, daycare centers, out-patient clinics, factories, warehouses, office buildings, play grounds, etc. 
Likewise, there are no gas well setbacks from any surface property lines.  A shale gas well can be drilled right next to your property.
Under New York's Compulsory Integration or the Split Estate, the well can be drilled on your property without your consent.
This willful lack of protection for the built environment make the regulations a textbook argument for local land use ordinances. It also makes them ripe for litigation either as written or during subsequent challenges. The DEC is fully aware of all this, but would not fail to point it out in writing.
The proposed regulations are, of course, wholly out of sync with, and in many places contradictory to the draft SGEIS. The regulations are uninformed by any health studies and are completely devoid of any scientific underpinnings. That is because they are in fact drilling regulations, focused on how wells are drilled—not on environmental safeguards.
New York does not require the operator to submit their entire drilling program for review, they can apply one well at a time, when, in practice, multiple wells may be planned. This ignores the industrialized shale gas forest, for the tree of one well permit application. The regulations are silent on the cumulative impacts of shale gas infrastructure—gas field processing plants, gas field compressor stations, gas gathering systems or heavy trucking, other than near the well site.
There are few changes from the September 2011 draft. The setback of a gas well from a water well has been increased from 100 feet to 500 feet, but there are no peer reviewed studies to indicate that, given Upstate's problematic topography and hydrology, anything less than 3,000 feet would suffice to keep a groundwater well from being gassed. On the other hand, they have eliminated the requirement for 2 feet of freeboard in a drilling pit—it can now be filled to overflowing.
Feel free to use my collection of responses as a guide. They include papers and input from Dr. Ingraffea, Dr. Bishop, Lou Allstadt, Brian Brock, Jill Wiener, Deborah Goldberg, Karen Edelstein, Kelly Branigan, Walter Hang, Bill Fischer, Art Palmer, Paul Rubin, Rachel Treichler, Team Slottje and other experts on specific topics. As received, will add input from Sierra Club, Natural Resources Defense Council, etc.
If you would like a paper in Word, send me an email—[email protected] Other groups will publish their responses, they can serve as guides as well. You can copy and paste sections of other people's responses to the online form or snail mail. Just be sure to add your own input and copy relevant papers. Focus on the most egregiously bad aspects of the regulations:
1. Inadequate protections for surface uses
The only structures protected by setbacks in the proposed regulations are "inhabited dwellings" and "places of public assembly." (Section 560.4 Setbacks). Although "inhabited dwelling" is not defined in the regulations or the ECL, it is defined in various New York state codes as synonymous with a "residence" which would not include a motel, hotel or hospital. An "inhabited dwelling" would not include an uninhabited house or apartment under construction.
"Place of public assembly" is not defined in the regulations, but it is defined in building and fire codes as being public meeting rooms, auditoriums, theaters, restaurants, etc. Per the Department of Health, this does not include the following: "Places of public assembly shall not include halls owned by churches, religious organizations, granges, public associations or free libraries." 
This means that office buildings, warehouses, retail stores, playgrounds, public parks, golf courses, organic farms, barns, stables, marinas, factories, out-patient clinics, hospitals and schools are not specifically protected by the regulations.
The new regulations would enable multiple well pads to vent raw gas for up to two (2) days after completion. (556.2 (a & b) Given the lack of specific setbacks in 560.4, this means that shale gas wells  could gas school children, livestock and home owners.
Although a shale gas well can clearly be permitted next to a school yard, etc. under these regulations, the DEC's pat response has been "We would never do that." If they would never do that, then it should say so in these regulations as named protections, as no drill zones.
The proposed 500 foot setback is on the low end of setback in state and local ordinances. 
2. No protections for surface property rights
Surface rights are not protected in the regulations, other than the two uses identified in 560.4. In fact, surface rights are virtually ignored in the regulations, since there are no setbacks of HVHF wells from property lines. The only setbacks for drilling pads are for "spacing units" which are based on subsurface rights, not property lines. See for instance Section 553 Well Spacing.
When the regulations refer to "correlative rights" they are referring to subsurface rights, mineral rights. They are not referring to surface uses, since surface rights are not protected in the regulations: there are no HVHF well setbacks proposed from property lines.
3. Inadequate protections for water supplies
Setbacks from private water sources (560.4 (a) (1) Setbacks)  are limited to 500 feet from private water wells and springs. Unfortunately, given Upstate New York's problematic hydrology and topography, that would guarantee that shallow water wells will be contaminated with methane migration from wellbores. Since under those hydrological conditions, high levels of methane contamination are apt to extend up to a kilometer from a shale gas well.
Setbacks from aquifers, which are water sources tapped by public and private wells, are limited to "Primary Aquifers" (560.4 (a) (3)) which only serve large population centers.
There are no protections, no setbacks for the rest of the state's aquifers. There is no scientific rationale for the disparate treatment, it is simply a case of environmental gerrymandering.
There is a setback from "100 year floodplains" but, in Upstate New York, "100 year floodplains" are breached with increasing regularity, so, until they are redefined, this should be the 500 year floodplain.
4. Lack of protections for state lakes and rivers 
There is a new loophole (Section 52.3) that would allow horizontal well laterals to be drilled under every lake in the state except the New York City reservoirs, and every river and major stream.
Since there are no specific setbacks for many of these water bodies, that means wells could be drilled on the shoreline hard by the stream or lake—insuring that they would be contaminated with run-off, spills and methane mobilized by aging wellbores. To form spacing units, adjacent properties next to the lake, river or stream could be compulsively integrated against their will. The state agency that would lease the rights under the lake or river, permit the drilling and compulsively integrate the adjacent owner is all one in the same: the DEC. This loophole needs to be closed—no laterals should be allowed under state lakes, rivers and streams.
5. Lack of protections for state parks and forests 
A new loophole (190.8) allows gas wells to be drilled laterally under state parks and forests from outside. Since there are no property line setbacks in the regulations, this means that a park or forest could be ringed by drilling rigs. The proximity of shale gas wells would increase the likelihood of groundwater contamination from drilling, spills, run-off and methane migration.
To form spacing units, adjacent properties next to the park or forest could be compulsively integrated against their will. The state agency that would lease the rights under the park, permit the drilling and compulsively integrate the adjacent owner is all one in the same: the DEC. This loophole should be closed and state parks and forests protected from shale gas industrialization.
6.  Failure to address the cumulative impact of multiple well infrastructures 
The regulations do not require the operator to submit their entire drilling program for multiple wells. See for instance Section 552.1 (a). Other states require the entire drilling program to be submitted for review. The regulations  do not address gas field processing plant, gas field compressor stations in the field, gas field gathering systems or trucking activities other than at the well site.
7. Inadequate Environmental Oversight
Under a loophole in the regulations, (550.2) New York is one of the few states that tasks its minerals management agency, the Division of Mineral Resources, (DMR) with environmental oversight for the gas well permits it issues.
Since the DMR's mission is primarily to promote drilling, this compromises their objectivity as an environmental steward. New York has no autonomous environmental oversight over shale gas industrialization. 
This is evidenced in the regulations themselves—they do not protect the built environment, water supplies or the natural environment. Environmental oversight over drilling should be removed from DMR to another department.
8. The regulations represent an unfunded burden on state agencies and local government
The State of New York will derive no direct benefit from HVHF wells since it has no state tax on gas or oil production. The state proposes a token fee for well permit applications—$2380 for a 6,000 foot well. This is insufficient to cover the costs of a comprehensive review of the application, much less offset the negative impacts of the well itself. This means that the state will have no funds to repair roads damaged by frack trucks, no funds to mitigate environmental damages, and no funds to assist counties and towns on the negative impacts of shale gas industrialization.
9. Failure to disclose fracking chemicals poses a health risk 
Under a loophole, 560.3 Proprietary Fracking Fluids, are exempt from disclosure. Nothing should be exempt from disclosure, since if the frack fluids sicken someone, the victim and their doctor needs to know what chemicals they have been exposed to.
10.  No preparations for frack waste disposal 
There are not adequate facilities to dispose of HVHF frack waste in New York, since there are no disposal wells in the state. Section 554.1 (c) would allows frack waste to be disposed of anywhere the DEC deems appropriate, with no objective standard other than this: "the department will take into consideration the known geology of the area, the sensitivity of the surrounding environment to such fluids."
11.  Inadequate protections for groundwater
The DEC's well construction standards focus almost entirely on the casing, the steel tubing, (see for instance 560.6 (13)) while ignoring the fact many gas wells leak from outside the casing, via the cement and the well bore itself, gassing groundwater and that horizontal shale gas wells are particularly apt to mobilize methane into groundwater.
12.  Absence of seismic testing regulations
The conspicuous lack of any seismic testing regulations  is emblematic of how ill-equipped New York is to regulate HVHF or even address comprehensively all the operations and risks entailed. It is indicative of the DEC's indolent approach to regulating the industry.
Get your responses in. Copy the press and your elected officials. Stop this fracking train wreck.
Visit EcoWatch's FRACKING page for more related news on this topic.
EcoWatch Daily Newsletter