This website uses cookies to ensure you get the best experience while browsing it. By clicking 'Got It' you're accepting these terms.


The best of EcoWatch, right in your inbox. Sign up for our email newsletter!
Presidential Candidates and Renewable Energy: Where Do They Stand?
Mar. 01, 2016 09:31AM EST
Politics
By EnergySage
Renewable energy is a particularly hot issue in this year's presidential election. At the end of 2015, the U.S. joined 195 other nations in signing a UN agreement that committed to an aggressive climate change reduction strategy. Additionally, the Obama Administration is now in the process of defending its much-discussed Clean Power Plan to reduce greenhouse gas emissions. Congress also extended solar and wind tax credits and lifted the U.S. oil export ban in the 2016 spending bill—two controversial policies for today's candidates with their eye on the presidency.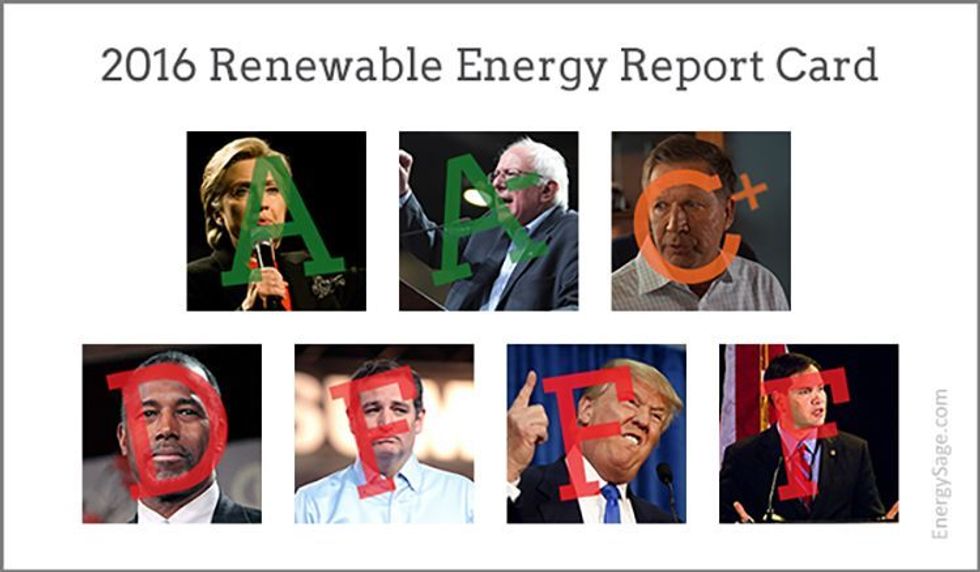 EnergySage graded the 2016 presidential candidates on their support of solar, wind and other forms of renewable energy. Our key criteria include:
1. Does the candidate believe in climate change?
2. Has the candidate published an energy plan?
3. Does the candidate's energy plan have specific targets for renewable energy development or energy efficiency initiatives?
4. Does the candidate support incentives for renewable energy?
5. Does the candidate support expanding oil and gas production?
6. Does the candidate want to defund or eliminate government agencies like the U.S. Environmental Protection Agency and the Department of Energy?
With all of these criteria in mind, here's how the 2016 candidates measure up.
Democratic Presidential Candidates and Renewable Energy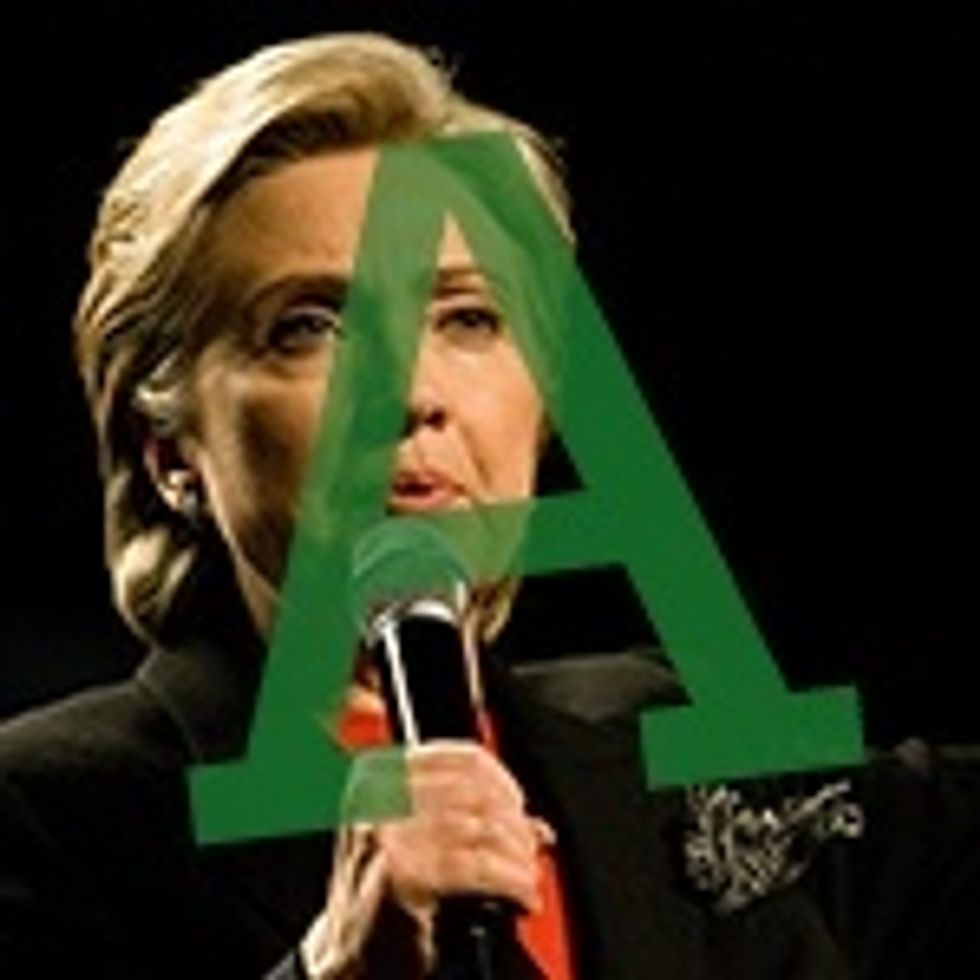 Grade: A
Former Sec. of State Clinton's climate change plan proposes to reduce U.S. greenhouse gas emissions more than 80 percent by 2050. She presents two strategies to achieve this goal: expand solar energy across the U.S. to 140 gigawatts (the equivalent of installing solar energy systems on 25 million homes) and to power every home in America with renewable energy by 2026. She supports the expansion of renewable energy on federally-owned lands and infrastructure and would restrict, but not eliminate, development of fossil fuel resources on public lands.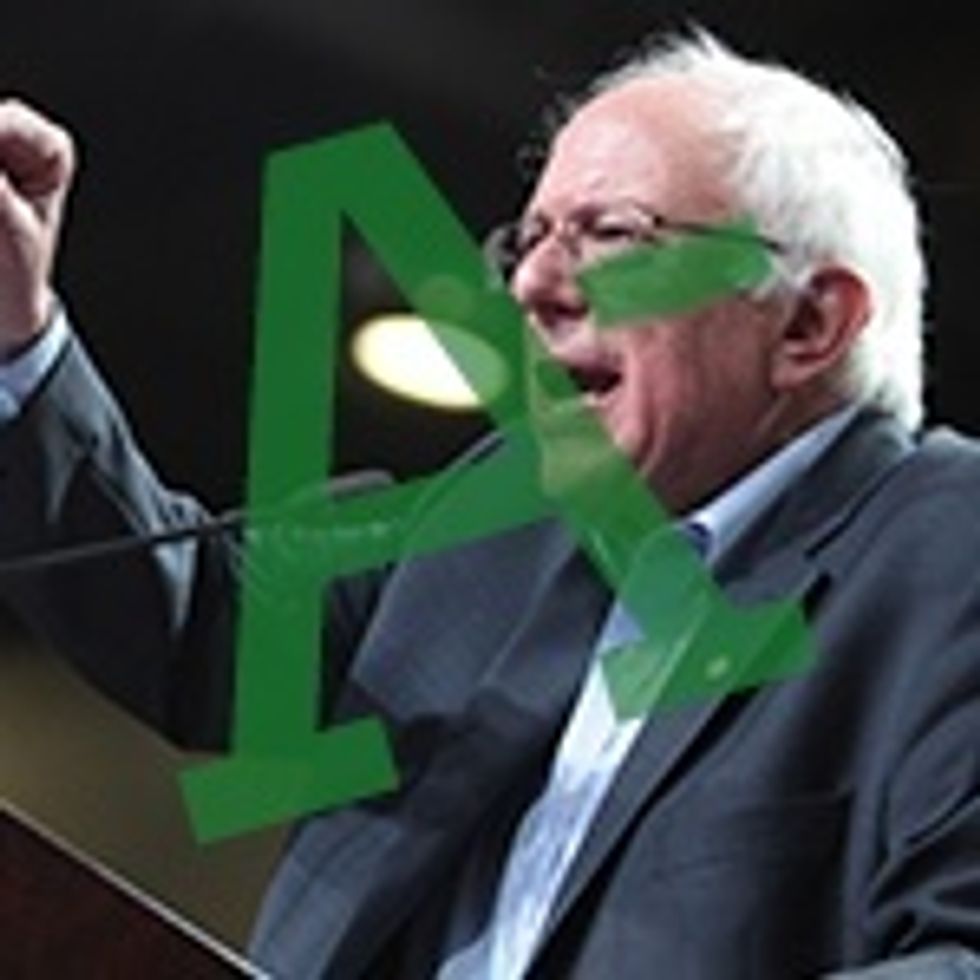 Grade: A-
Sen. Sanders has a plan to reduce carbon pollution more than 80 percent by 2050, largely through a tax on carbon and investments in energy efficiency, and wind and solar power. He supports banning all future fossil fuel leases on public lands and would cut subsidies for fossil fuel producers in favor of supporting renewable energy development. However, because he has not detailed specific targets for renewable energy growth, we grade him slightly lower than Clinton.
Republican Presidential Candidates and Renewable Energy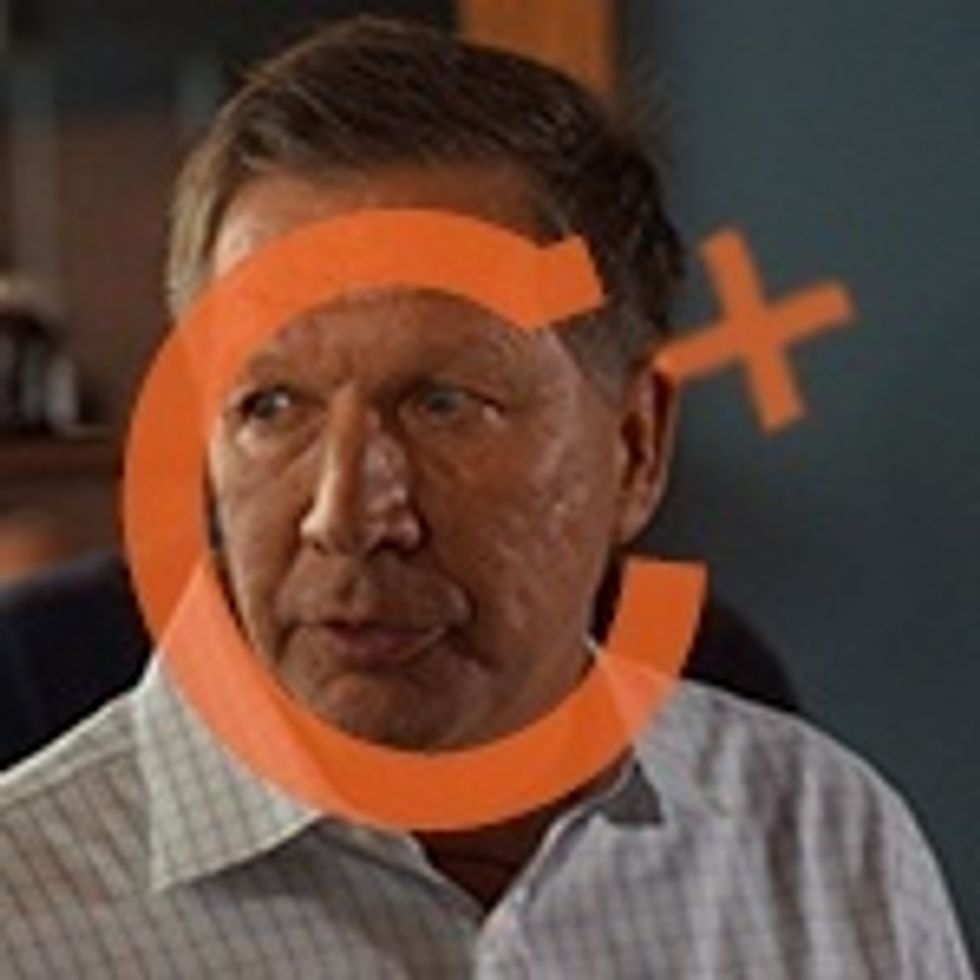 Grade: C+
In his energy plan, Ohio Gov. John Kasich supports increasing U.S. energy production from all sources, including alternatives and renewables, as well as "removing barriers" for the development of advanced energy technologies. His plan also supports energy efficiency efforts, stating, "the cheapest, cleanest energy is the energy we never have to produce."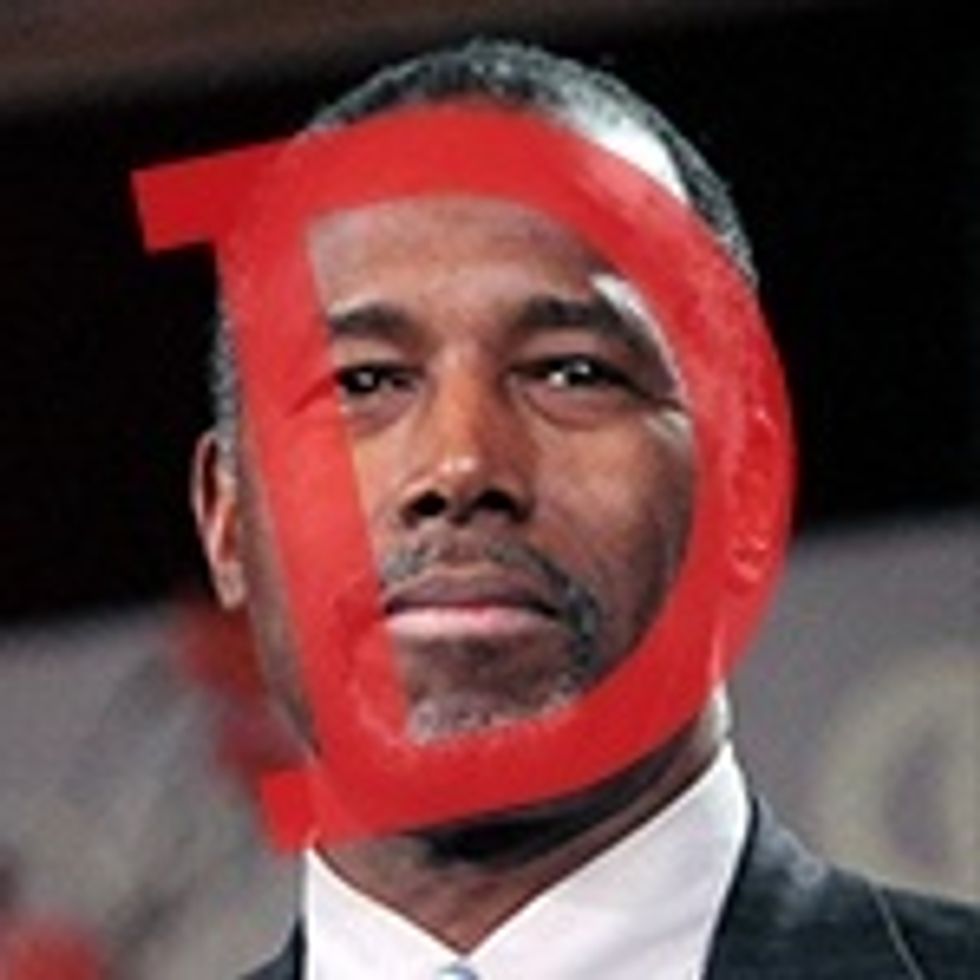 Grade: D
Dr. Ben Carson's proposed energy policy doesn't outline specific climate change or renewable energy measures. While he has called global warming "irrelevant," he has advocated for an all-of-the-above approach to energy resources, including expanding renewable energy sources wherever they are economically feasible. He also calls for the elimination of all subsidies for energy markets.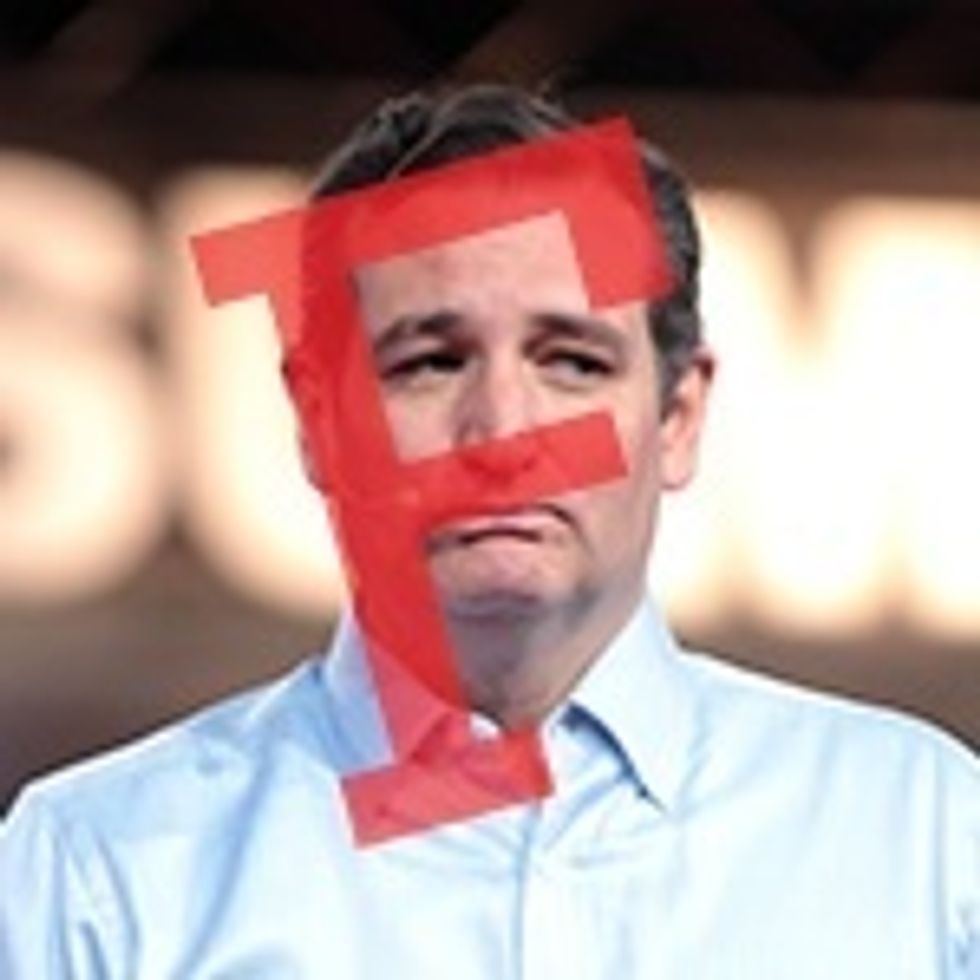 Grade: F
The extent of Sen. Ted Cruz's energy platform is the elimination of the Department of Energy, as well as multiple programs at the Environmental Protection Agency. His energy policy calls for the abolishment of all energy subsidies, but does not oppose renewable energy resources to the extent that they are economically competitive. (Oddly, it is worth noting that several of the "government funded failed companies" listed on Sen. Cruz's website, including First Solar and SunPower Corporation, are successful publicly-traded companies).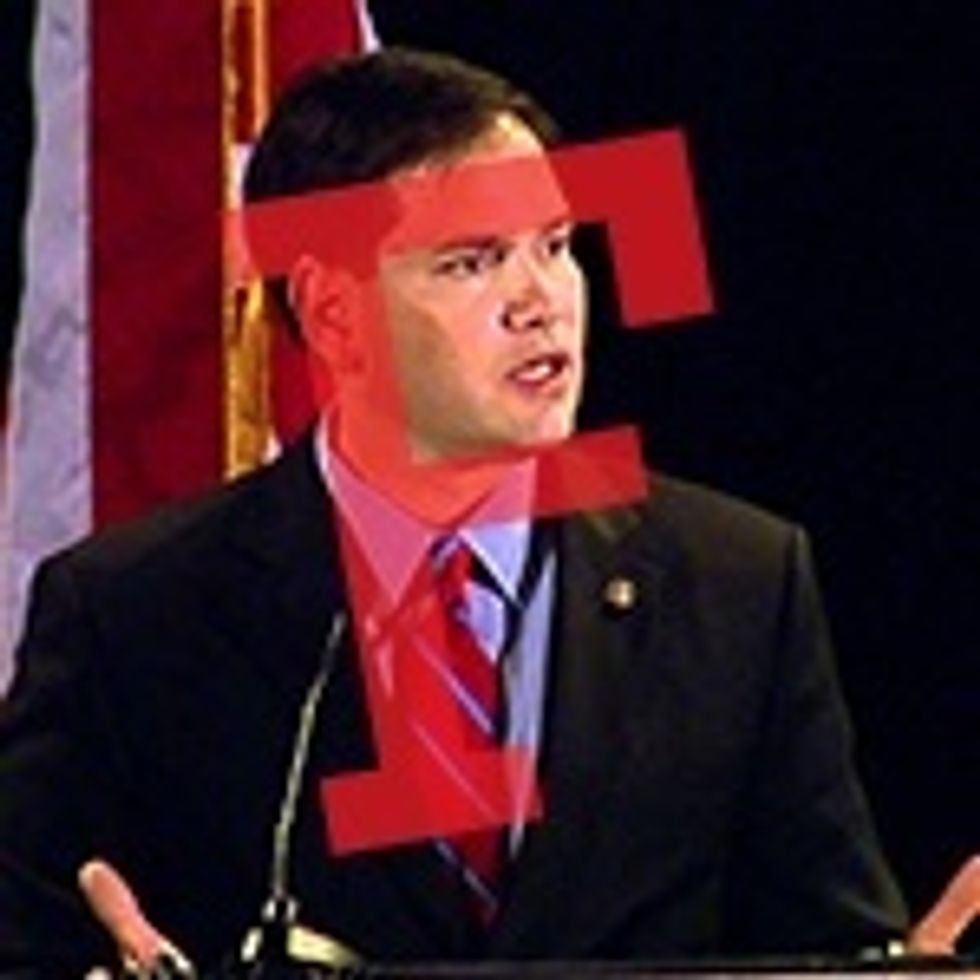 Grade: F
Sen. Marco Rubio's proposed energy policies would expand fossil fuel energy development in the U.S. both on land and offshore and would eliminate tax credits and policies that support renewable energy development. While he does believe that climate change is occurring, he doesn't believe that it is caused by human activities—this stance runs counter to the scientific community and assures his failing grade.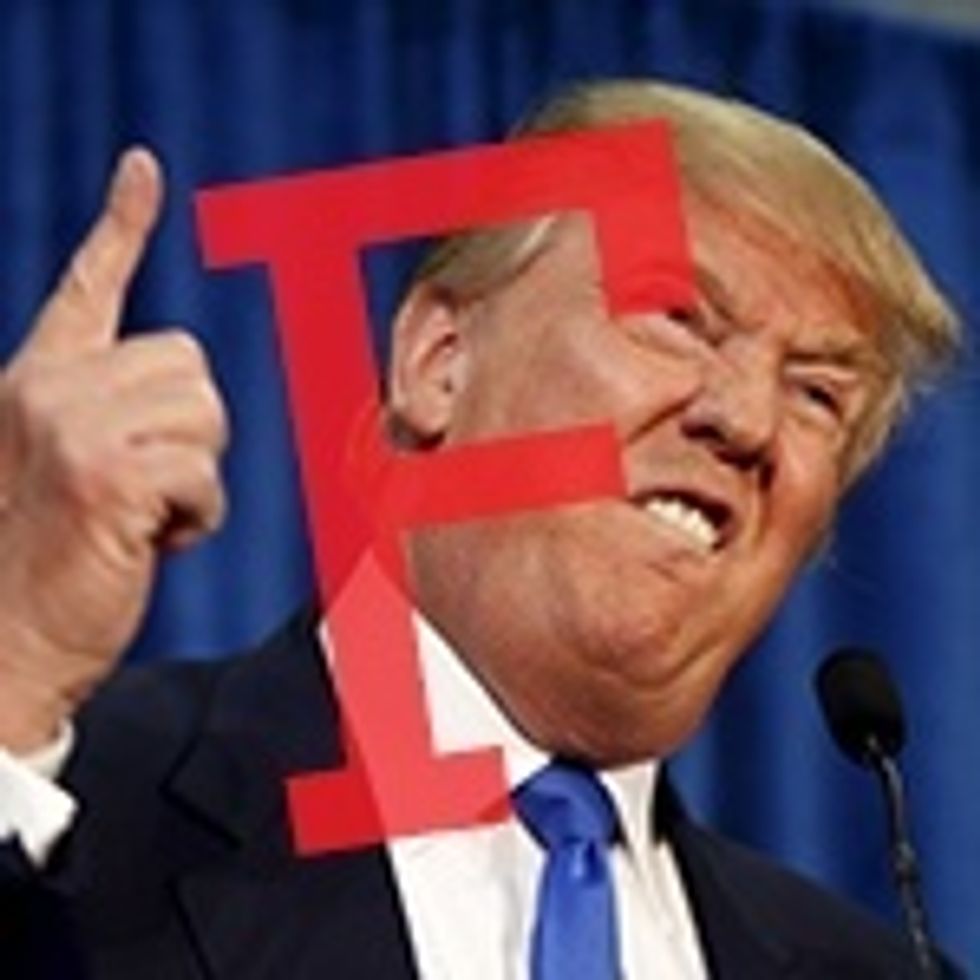 Grade: F
Donald Trump has not proposed an energy policy. To the extent that he has commented publicly on energy issues, he supports expanding natural gas and oil resource development in the U.S. Oddly, he also believes that the Chinese invented the concept of global warming "to make U.S. manufacturing noncompetitive." Like Senators Rubio and Cruz, we grade Mr. Trump as an F.
YOU MIGHT ALSO LIKE
2015 Was Record-Breaking Year for Investment in Renewable Energy
China's Coal Use and Carbon Emissions Fall as Renewables Have Record-Breaking Year
Trade Rules Trump Climate Action: U.S. Blocks India's Ambitious Solar Plans
EcoWatch Daily Newsletter
Pexels
By Danielle Nierenberg and Katherine Walla
As the holiday season ramps up for many across the world, Food Tank is highlighting 15 children's books that will introduce young eaters, growers and innovators to the world of food and agriculture. Authors and organizations are working to show children the importance — and fun — of eating healthy, nutritious and delicious food, growing their own produce, and giving food to others in need.
Pixabay
Purple cabbage, also referred to as red cabbage, belongs to the Brassica genus of plants. This group includes nutrient-dense vegetables, such as broccoli, Brussels sprouts, and kale.
Pexels
By Lauren Wolahan
For the first time ever, the UN is building out a roadmap for curbing carbon pollution from agriculture. To take part in that process, a coalition of U.S. farmers traveled to the UN climate conference in Madrid, Spain this month to make the case for the role that large-scale farming operations, long criticized for their outsized emissions, can play in addressing climate change.
Pexels
In recent years, acai bowls have become one of the most hyped-up health foods on the market.
They're prepared from puréed acai berries — which are fruits grown in Central and South America — and served as a smoothie in a bowl or glass, topped with fruit, nuts, seeds, or granola.
Investing in grid infrastructure would enable utilities to incorporate modern technology, making the grid more resilient and flexible. STRATMAN2 / FLICKR
By Elliott Negin
The Royal Swedish Academy of Sciences' recent decision to award the 2019 Nobel Prize in Chemistry to scientists who developed rechargeable lithium-ion batteries reminded the world just how transformative they have been. Without them, we wouldn't have smartphones or electric cars. But it's their potential to store electricity generated by the sun and the wind at their peak that promises to be even more revolutionary, reducing our dependence on fossil fuels and protecting the planet from the worst consequences of climate change.