President Obama's Ode to Fracking
Oct. 02, 2014 06:49PM EST
Climate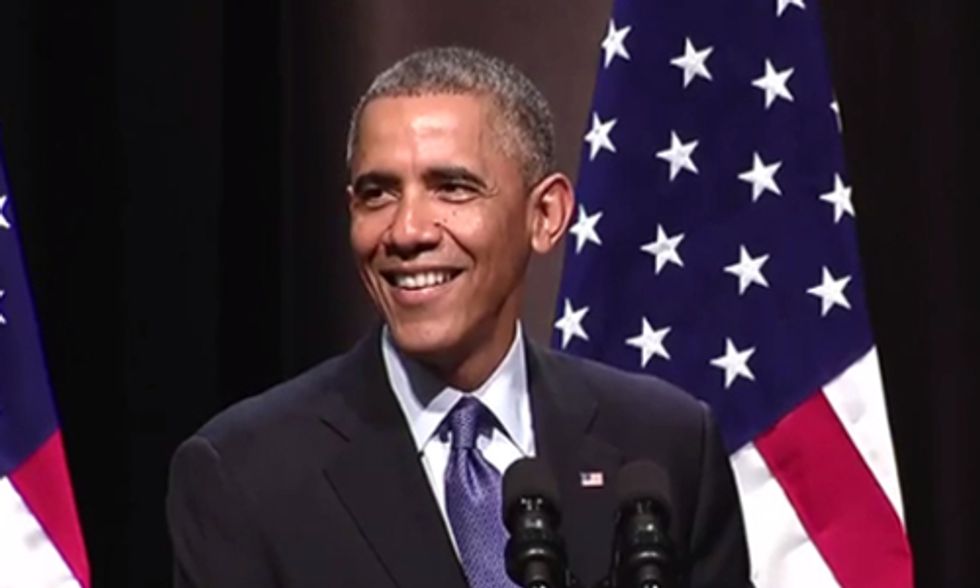 In a speech today at Northwestern University in the Chicago suburb of Evanston, President Obama addressed the economy, touching on job creation, immigration, health care and raising the minimum wage. He also spoke briefly about energy, reiterating the "all of the above" policy he's previously expressed that has frustrated advocates of renewable energy and immediate action on climate change.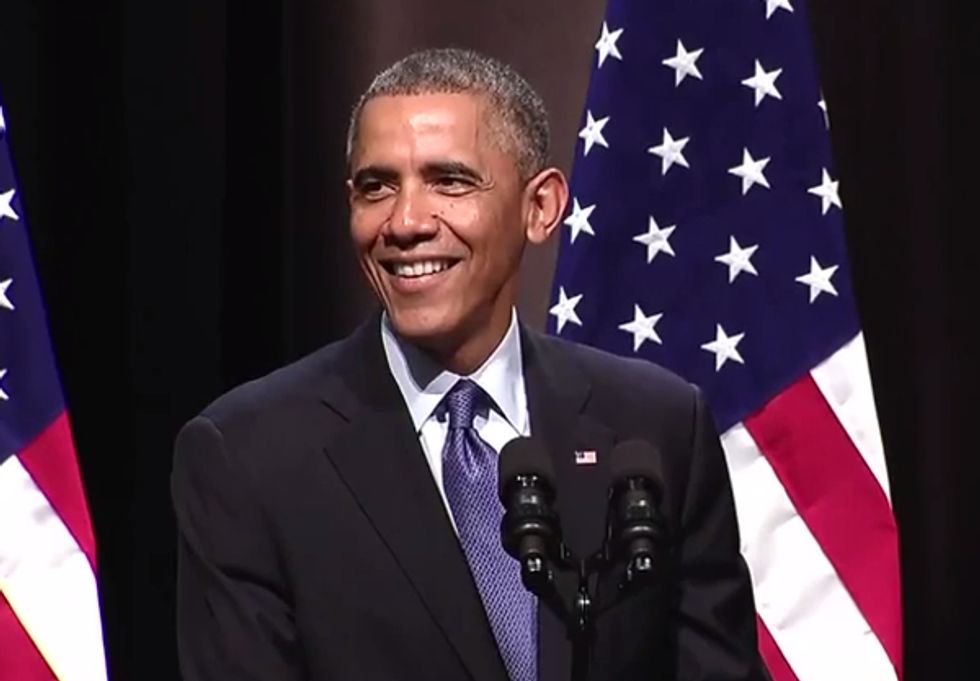 He boasted about reduced foreign oil imports, saying that America is now the world's leading oil and gas producer, despite their role in producing the greenhouse gas emissions that further climate change.
"For the first time in nearly two decades, we now produce more oil than we buy from other countries," he said. "We're doing it so fast that two years ago, I set a goal to cut our oil imports in half by 2020—and we will meet that goal this year."
He delivered what appeared to environmentalists to be an ode to fracking. He credited "our 100-year supply of natural gas" as a factor in renewed job creation, saying "Many are in manufacturing—the quintessential middle-class job."
In fact, the number of jobs created by fracking for natural gas is heavily disputed, with the glossiest job numbers inflated by jobs only tangentially related to the industry. In Ohio, where fracking is widespread, net job creation has been nearly nonexistent. And community activists have pointed out that natural gas drilling can cause job loss in other fields such as fishing, agriculture and tourism and that the workforce is often migratory, moving from state to state as old sites are tapped out and new sites are drilled.
"By applauding natural gas, the extraction of which leaks methane 86 times more potent than carbon dioxide, President Obama has once again reiterated his commitment to an unsustainable "all of the above" energy policy while paying lip service to renewable power," said Friends of the Earth climate and energy campaigner Kate DeAngelis in response to the speech. "If President Obama is truly interested in addressing the climate crisis, the only thing to do with natural gas is keep it in the ground."
The president did give a brief shout-out to renewable energy.
"At the same time, we've helped put tens of thousands of people to work manufacturing wind turbines, and installing solar panels on homes and businesses," he said. "We've tripled the electricity we harness from the wind, and increased tenfold what we generate from the sun. We have brought enough clean energy online to power every home and business in Illinois and Wisconsin, 24/7. That's progress we can be proud of. And I know that here at Northwestern, your researchers are working to convert sunlight into liquid fuel. Which sounds impossible. Or at least really hard. But if you need to get the hard or the impossible done, America is a pretty good place to do it."
YOU MIGHT ALSO LIKE
America's Fracking Boom Looks More Like a Blip According to European Study
Experts Call on Obama to Ban Fracking in Lead Up to People's Climate March
President Obama Acknowledges Climate Change While Fully Supporting Fracking in SOTU
EcoWatch Daily Newsletter