President Obama, Your Climate Legacy Lies with Keeping Fossil Fuels in the Ground
Aug. 25, 2015 12:37PM EST
Energy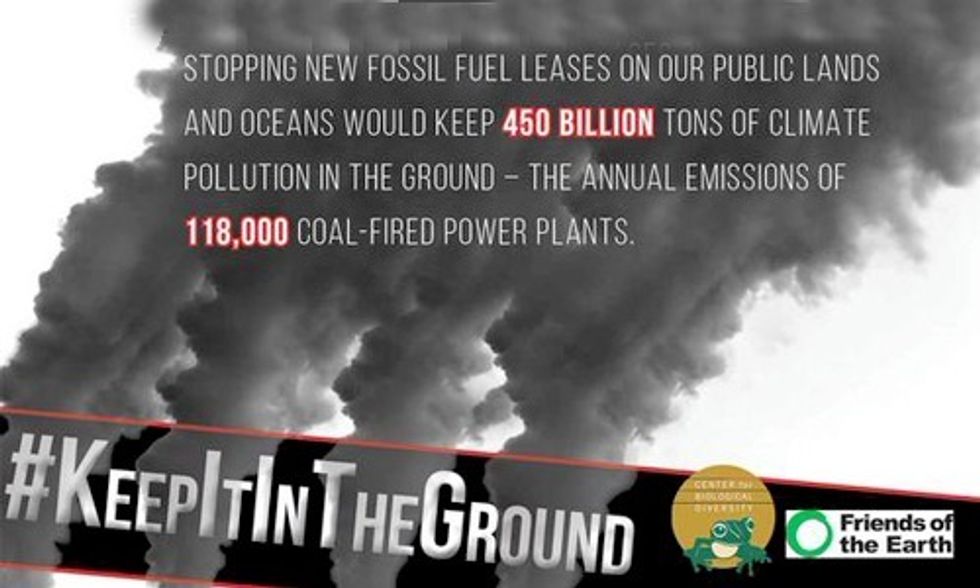 To maintain a good chance of avoiding catastrophic global warming, the world must keep the vast majority of its remaining fossil fuels in the ground. Federal fossil fuels—those that President Obama controls—are the place to begin. Emissions reductions from recent policies like the Clean Power Plan and methane regulations for new oil and gas operations are important and necessary, but will not get us even close to addressing the unprecedented threat of climate change.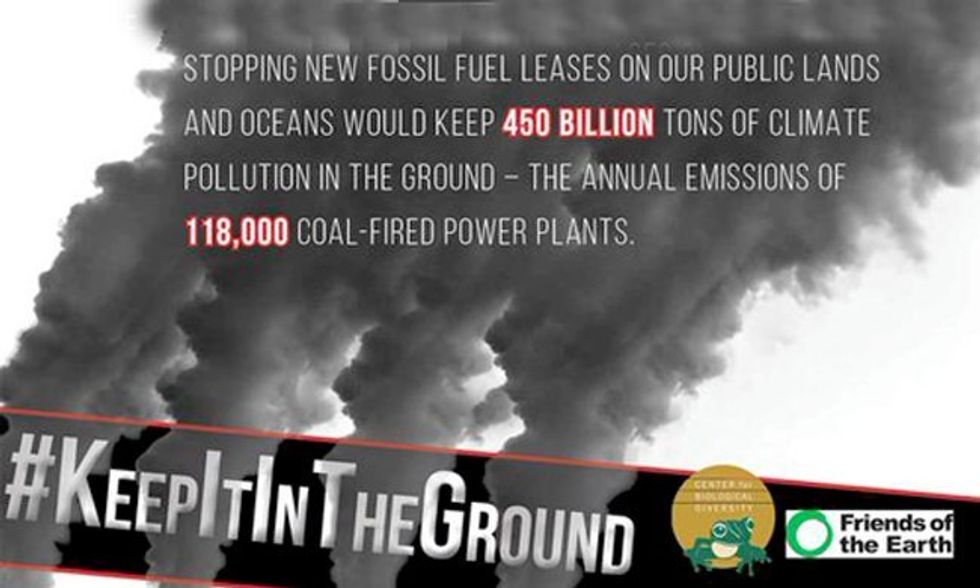 To serious tackle this threat, President Obama needs to address the source of those emissions: fossil fuel leasing. Each new federal fossil fuel lease opens new deposits for development that should be deemed unburnable. By placing those deposits off limits, stopping new leasing would help align U.S. energy policy with a safer climate future and global carbon limits.
A new report, The Potential Greenhouse Gas Emissions of U.S. Federal Fossil Fuels, written by Ecoshift Consulting on behalf of the Center for Biological Diversity and Friends of the Earth, finds that unleased, publicly owned fossil fuels on federally controlled lands and offshore areas hold up to 450 billion tons of greenhouse gases. All of that greenhouse gas pollution must be kept in the ground if the U.S. is to meet its obligation to, as President Obama has pledged, be a leader in confronting the global climate crisis.
The case for keeping federal fossil fuels in the ground has never been more clear and the need never more dire. The world is already experiencing disturbing climatic changes that are resulting in sea level rise, drought, extreme weather events and many others, with significant social, political and economic repercussions.
We are at a critical moment in the climate movement, when what the federal government does with the fossil fuels that belong to us—exploit them or keep them in the ground—will have far-reaching consequences for present and future generations. President Obama has the authority to put a stop to new federal fossil fuel leasing and keep 450 billion tons of climate-disrupting greenhouse gases out of the atmosphere.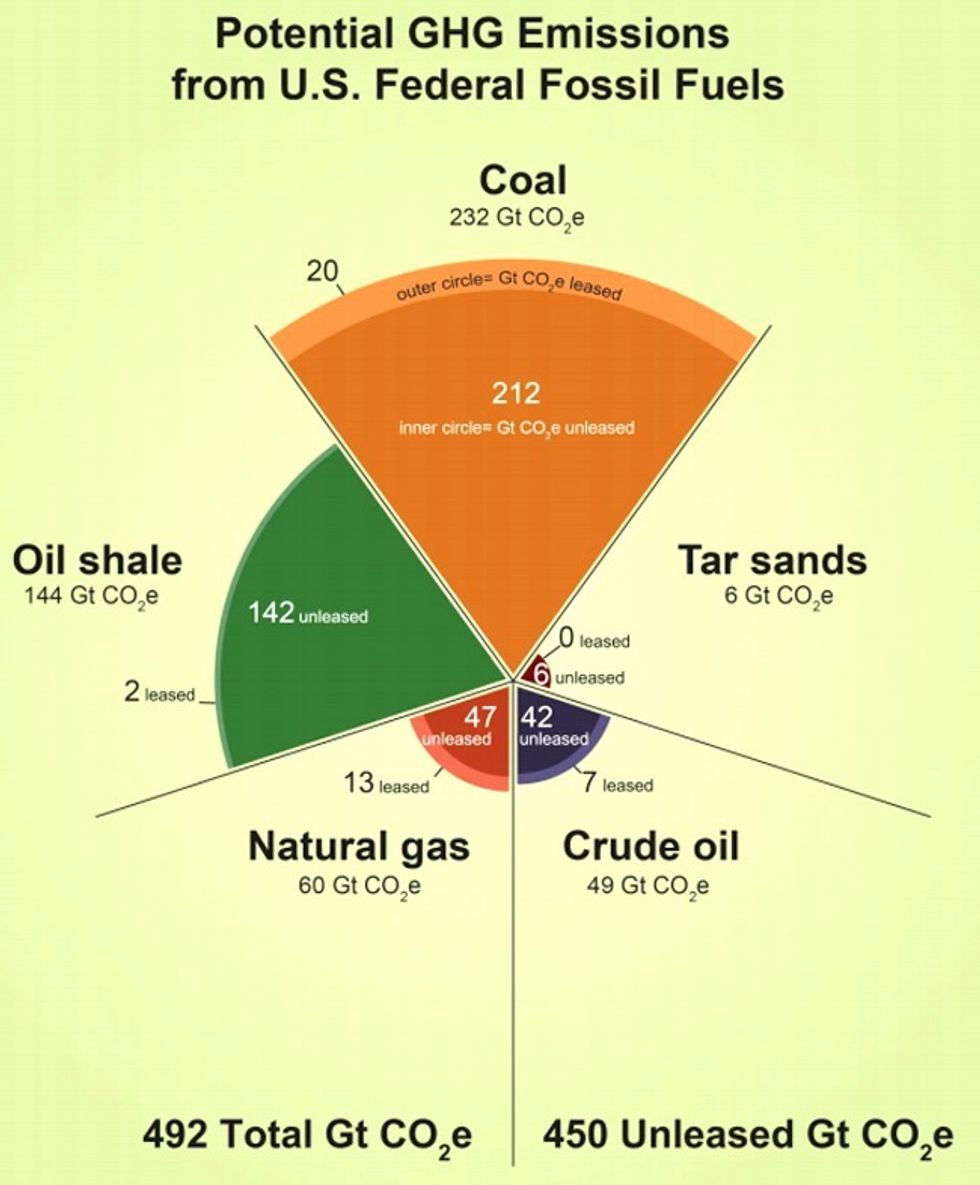 Federally controlled lands and waters, such as our national parks, monuments, forests, wildlife refuges and oceans, are cherished areas of our natural legacy that should be protected, not exploited. They embody deep and diverse cultural values and provide clean air and water, recreation and solitude and refuge for endangered wildlife. So far, the Obama administration has leased nearly 15 million acres of public land and 21 million acres of ocean for fossil fuel development. Stopping new leasing would help safeguard our air and water from dirty energy pollution, ensure the health of communities that have lived in energy sacrifice zones for generations and keep our last, best wildlife habitat from being lost to fossil fuel industrialization.
For a true climate legacy that places the safety and health of our lands, waters and climate above the profits of fossil fuel companies, President Obama has only one choice: keep those dirty fossil fuels in the ground.
YOU MIGHT ALSO LIKE
Bill McKibben: Picturing the End of Fossil Fuels
Donald Trump: Keystone XL Pipeline Would Have 'No Impact' on The Environment
Fossil Fuel Leasing on Public Lands Must End to Prevent Global Climate Crisis, Report Finds
EcoWatch Daily Newsletter
Recent Stories from EcoWatch