This website uses cookies to ensure you get the best experience while browsing it. By clicking 'Got It' you're accepting these terms.
President Obama: You Have the Power to Set this Country's Course
Jan. 21, 2013 04:17PM EST
Renewable Energy
By Paul E McGinniss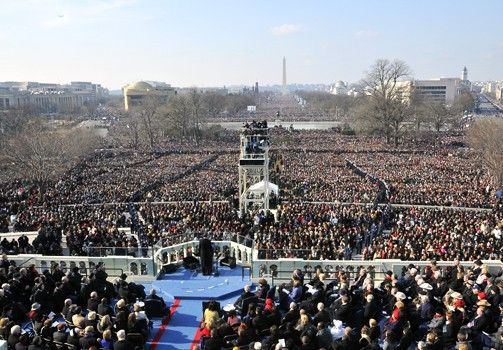 President Obama today in his second inaugural address gave a rallying cry for Americans to join together and make the changes we need to create a healthier, more prosperous country.
President Obama said:
"For now decisions are upon us, and we cannot afford delay."
A major part of President Obama's rousing speech addressed climate change:
"We, the people, still believe that our obligations as Americans are not just to ourselves, but to all posterity. We will respond to the threat of climate change, knowing that the failure to do so would betray our children and future generations. Some may still deny the overwhelming judgment of science, but none can avoid the devastating impact of raging fires, and crippling drought, and more powerful storms. "
President Obama stressed the importance of renewable energy:
"The path towards sustainable energy sources will be long and sometimes difficult. But America cannot resist this transition; we must lead it. We cannot cede to other nations the technology that will power new jobs and new industries—we must claim its promise. That is how we will maintain our economic vitality and our national treasure—our forests and waterways; our croplands and snow capped peaks. That is how we will preserve our planet, commanded to our care by God.  That's what will lend meaning to the creed our fathers once declared."
President Obama is asking all Americans to let their voices be heard:
"You and I, as citizens, have the power to set this country's course."
"You and I, as citizens, have the obligation to shape the debates of our time—not only with the votes we cast, but with the voices we lift in defense of our most ancient values and enduring ideals."
Like the President said:
It is time to take action.
Take action today by signing up for EcoWatch's Top News of the Day and stay engaged on the leading environmental issues.
Sign the petitions on EcoWatch and get engaged on these issues:




-------
Paul E McGinniss is The New York Green Advocate. He is a green building consultant and real estate broker in New York. He is pretty much obsessed with all things environment and has lately become a resiliency addict. Follow McGinniss @PaulEMcGinniss.
EcoWatch Daily Newsletter
Large food companies are following in the footsteps of fast-food restaurants such as Burger King and KFC by offering meat alternatives. Getty Images
By Elizabeth Pratt
Hormel, Kellogg's, and Kroger are among the large companies now planning to offer "fake meat" products at grocery stores.
Experts say the trend toward plant-based meats coincides with consumers' desires to eat less meat.
However, experts urge consumers to closely check package labels as a product isn't necessarily healthy just because it's described as plant-based.
In grocery stores and fast-food outlets around the U.S., a revolution is taking place.
Colombia rainforest. Marcel Oosterwijk / CC BY-SA 2.0
Many of us think of the Amazon as an untouched wilderness, but people have been thriving in these diverse environments for millennia. Due to this long history, the knowledge that Indigenous and forest communities pass between generations about plants, animals and forest ecology is incredibly rich and detailed and easily dwarfs that of any expert.
picture-alliance / Newscom / R. Ben Ari
By Wesley Rahn
Plastic byproducts were found in 97 percent of blood and urine samples from 2,500 children tested between 2014 and 2017, according to a study by the German Environment Ministry and the Robert Koch Institute.

Pexels
Medically reviewed by Daniel Bubnis, MS, NASM-CPT, NASE Level II-CSS
Hot yoga has become a popular exercise in recent years. It offers many of the same benefits as traditional yoga, such as stress reduction, improved strength, and flexibility.
Lara Hata / iStock / Getty Images
By SaVanna Shoemaker, MS, RDN, LD
Rice is a staple in many people's diets. It's filling, inexpensive, and a great mild-tasting addition to flavorful dishes.
An image of the trans-alaskan oil pipeline that carries oil from the northern part of Alaska all the way to valdez. This shot is right near the arctic national wildlife refuge. kyletperry / iStock / Getty Images Plus
The Trump administration has initialized the final steps to open up nearly 1.6 million acres of the protected Alaskan National Wildlife Refuge to allow oil and gas drilling.