President Obama Tweets First Blue Marble Photo in 43 Years
Jul. 21, 2015 11:09AM EST
Science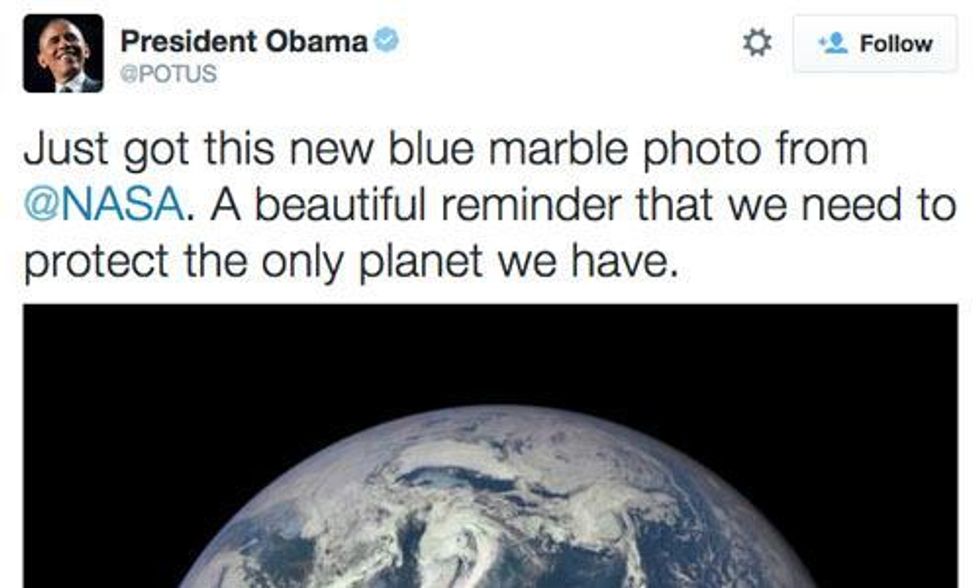 NASA's new Deep Space Climate Observatory (DSCOVR) satellite has released a stunning, new Blue Marble photo for the first time in four decades, prompting President Obama to tweet a gentle reminder "that we need to protect the only planet we have."
Just got this new blue marble photo from @NASA. A beautiful reminder that we need to protect the only planet we have. pic.twitter.com/JQ3174P0LF

— President Obama (@POTUS) July 20, 2015
The image above was taken on July 6 literally one million miles away and is the first Blue Marble photo of our planet since 1972, when the now-iconic photo of our glistening world was snapped by the American crew of the Apollo 17 spacecraft.
"Turns out," as NASA astronaut Scott Kelly wrote on the White House's Medium page, "It's quite tricky to take a good photo of the entire Earth." Other images you've seen of Earth are composites assembled from multiple different shots.
#DSCVR today's new image of #Earth. What made the Blue Marble so special? http://t.co/JIjXTxak2J #EarthRightNow pic.twitter.com/iz9CPloUxu

— Scott Kelly (@StationCDRKelly) July 20, 2015
EcoWatch readers know that it's more important than ever to preserve our environment from the dire effects of climate change, and President Obama has spoken out on this issue many times before.
At his Earth Day speech delivered at the Everglades National Park this past April, the commander-in-chief emphasized this message clearly:
"This is a problem now. It has serious implications for the way we live right now. Stronger storms. Deeper droughts. Longer wildfire seasons. The world's top climate scientists are warning that a changing climate already affects the air that our children are breathing."
At the end of his speech, Obama concluded that we must all be planetary stewards to ensure the safety of future generations:
"We are blessed with the most beautiful God-given landscape in the world. It's an incredible bounty that's been given to us. But we've got to be good stewards for it. We have to take care of it. We only get to enjoy things like our amazing national parks because great Americans like Teddy Roosevelt and Marjory Stoneman Douglas and a whole bunch of ordinary folks whose name aren't in the history books, they fought to protect our national inheritance. And now it's our turn to ensure that this remains the birthright of all Americans for generations to come. So many people here are active in your communities, doing what's needed. The young people who are here, the next generation, they're way ahead of us in understanding how important this is. Let's make sure we don't disappoint them. Let's stand up and do what's right before it's too late."
Following POTUS' tweet, plenty fellow Twitter users sent responses. Here are some of my favorites:
Agreed @POTUS, even more justification to push for a new #climate #deal in #Paris. @NASA https://t.co/bewwvHfi7r — NN Themvu Projects (@themvup) July 21, 2015
@POTUS @NASA @POTUS @NASA Plz, don't let firms lead world against environmental protection. Our real common wealth is Biodiversity.NO #TAFTA

— mat (@Matouloulou) July 21, 2015
@POTUS @NASA Absolutely. So let's put a stop to #TPP before it breaks things even more. — Jack Phoenix (@BohemianPaladin) July 21, 2015
@POTUS @NASA To protect the only planet we have takes real leadership and new ideas. More energy efficient homes, appliances, cars, etc !!!!

— Tony (@TonyTbriggs) July 21, 2015
The White House's official Twitter also chimed in that DSCOVR will release several more Blue Marbles in the very near future:
The blue marble. It's our home. And soon, @NASA's #DSCOVR will be able to take full snapshots of it every few hours. http://t.co/KLWb0EG992

— The White House (@WhiteHouse) July 21, 2015
YOU MIGHT ALSO LIKE
World Scientists: Climate Change as Serious a Risk as Nuclear War
7 Climate Records Broken in 2014 Indicates Earth Is 'Gravely Ill'
Exxon Exposed for Spending Millions on Climate Change Denial
EcoWatch Daily Newsletter
Related Articles from EcoWatch
Recent Stories from EcoWatch