President Obama, Stop the Monsanto Protection Act
Mar. 26, 2013 02:22PM EST
GMO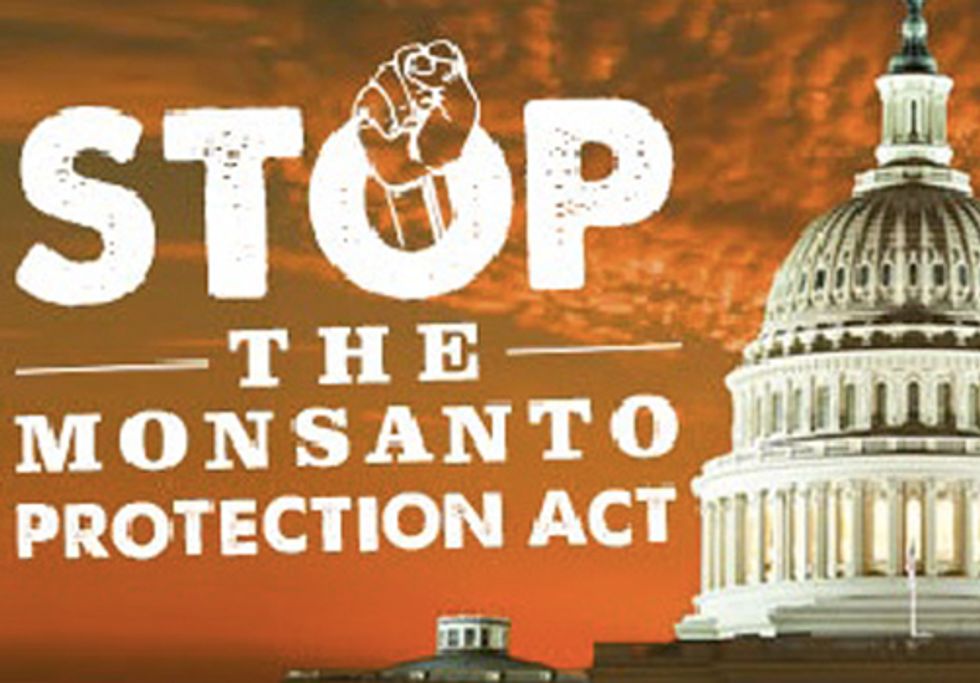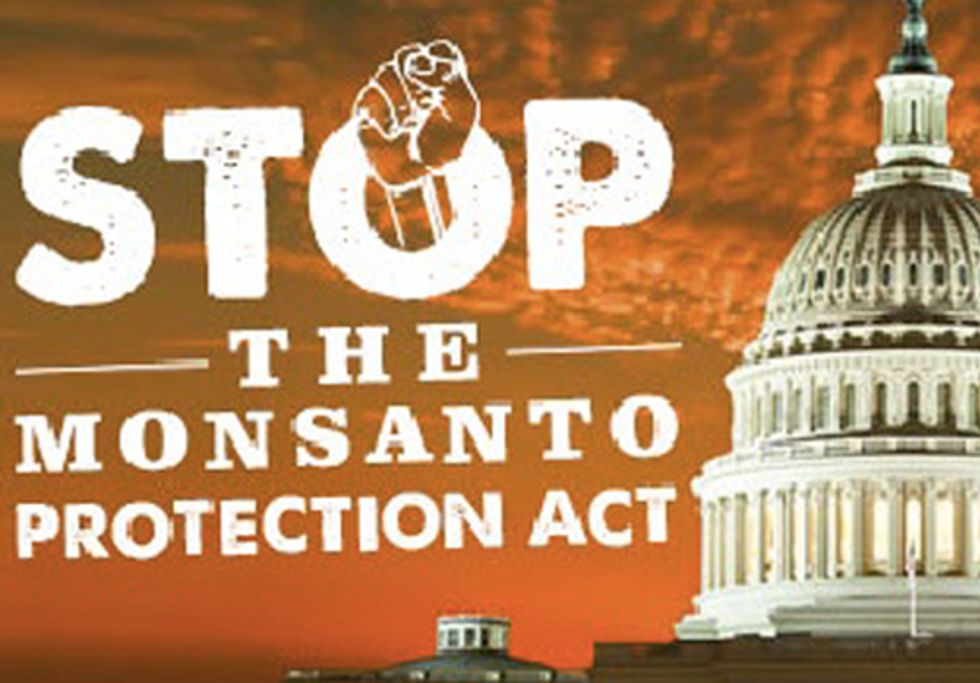 Food Democracy Now!, a national grassroots movement to build a safe, sustainable food system is urging President Obama to veto HR. 933, the short-term funding measure that Congress passed last Thursday morning by a vote of 318 to 109. Tucked inside the Congressional spending bill is a poison pill, Section 735, known as the Monsanto Protection Act, that undermines the independence of judicial review and gives biotech seed companies like Monsanto, DuPont and Dow Chemical a blank check on the approval of new genetically engineered crops.
 
Since the bill's passage in Congress, more than 225,00 Food Democracy Now! members have signed a letter to President Obama, asking that he strike the Monsanto Protection Act from being signed into law.
 
The so-called "biotech rider" was included in budget legislation that won final approval from the House, avoiding a shutdown of the federal government on March 27, when the current funding was set to expire. The provision was slipped into the legislation anonymously and explicitly grants the U.S. Department of Agriculture (USDA) the authority to override a judicial ruling stopping the planting of a genetically modified crop.
 
At this moment, due to Congress passing the Monsanto Protection Act, the Obama administration has been forced into a high-stakes standoff of avoiding government shutdown due to mandatory budget agreements and ensuring that it fully protects Constitutional mandates of judicial review and independent regulatory oversight.
 
"Section 735 is unconstitutional, it's a clear violation of the separation of powers between three equal branches of government," says Dave Murphy, founder and executive director of Food Democracy Now!
 
"Not only does the Monsanto Protection Act undermine the sovereignty of U.S. courts, but it also makes it impossible for government officials to faithfully protect the American public from potential human health and environmental harms of untested genetically engineered crops," says Murphy.
 
The passage of the Monsanto Protection Act is another sign of how out of Congress is with the sentiment of the America public. The insertion of the biotech rider in a backroom deal with corporate lobbyists and Senate leaders is a new low. Since losing a court case in 2010 to Center for Food Safety for the unlawful planting of genetically modified organism (GMO) sugar beets, Monsanto and other biotech companies have been desperate to find a way around court mandated environmental impact statements required as a result of a U.S. district court's ruling.
 
There is a new urgency in the fight over the Monsanto Protection Act for family farmers and food activists across the country as thirteen new genetically engineered crops await approval at the USDA and AquaBounty's GMO salmon could be approved at the Food and Drug Administration next month, and the passage of this rider in an unrelated budget spending bill could open the floodgates for their new approval, even if the budget agreement only lasts for the next six months.
 
At the same time, any new approvals could threaten the livelihoods of America's farmers, as any of the approval of even a single of these untested crops could lead to widespread contamination of farmers' crops as it has in several instances in the past.
 
"If allowed to pass, the Monsanto Protection Act will open farmers and the agricultural economy to very real and significant harm from cross-contamination events like the StarLink corn and LibertyLink rice incidents, which cost American farmers and businesses more than $1 billion," said Murphy.
 
"Without President Obama intervening to protect the constitution, biotech seed and chemical companies will be allowed to openly skirt even minimal protections of human health and environmental concerns," said Murphy. "As a constitutional law scholar, the president knows better than almost anyone what's at stake."
 
For the past year, family farm advocates and legal experts have fought to stop the Monsanto Protection Act, another special interest corporate giveaway that fundamentally undermines federal courts' ability to protect family farmers and the environment from potentially hazardous GMO crops that have not been proven safe.
Visit EcoWatch's GENETICALLY MODIFIED ORGANISM page for more related news on this topic.
——–
Tell the FDA to Deny Approval of GE Salmon:
EcoWatch Daily Newsletter