President Obama, Stop Selling Us Out: End Oil, Gas and Coal Extraction on Public Lands
On Friday across our nation and the world conscientious members of churches, motivated students at universities and schools and civic-minded employees of many U.S. cities will join together in calling on the institutions that they love to take an act of fiscal prudence and global conscience to ensure that we have a future worth fighting for.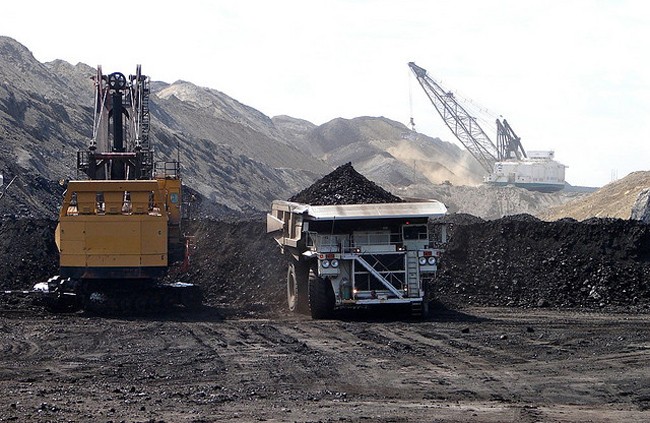 As a part of Global Divestment Day, they will be asking the leaders of their churches, schools and cities to divest from companies that extract and burn fossil fuels.
So far, the rapidly growing fossil fuel divestment movement has focused on investment assets of academic, religious and municipal institutions. While that's a smart starting point, it misses a huge opportunity and challenge: expanding targeted assets to include those owned by all Americans. I'm referring to the coal, oil and gas that underlie our public lands and waters, the carbon that belongs to all of us.
Last year, a full quarter of all fossil fuels produced in the U.S. came from our public lands, our nation's single biggest source which created a whopping $110 billion in royalty, rents and bonus payments to the U.S. treasury. Divestment won't reach its full moral promise until we divest from burning the fossil fuels we all own.
Luckily, ending the sale of public carbon is very simple. Selling off future reserves is entirely up to the President. Without having to wait for a do-nothing Congress, President Obama can stop new sales from proceeding with the stroke of a pen. That federal divestment would be a real climate legacy.
A credit to the energy and brilliance of its activists, fossil fuel divestment is probably the fastest growing environmental movement. Divestment groups have formed on hundreds of college campuses in just the last couple years.
A few groups have already won. Some are staging massive campus protests, while Harvard students are suing their university to force divestment. Thirty U.S. cities have agreed to divest and organizations as diverse as the Rockefeller Brothers Fund and the Oxford Diocese of the Church of England are getting their money completely out of coal, oil and gas companies.
It makes sense. Fossil fuels are a bad financial bet. Late last year, the Wall Street Journal reported that the eight coal-mining stocks traded on the New York Stock Exchange were down an average of 29 percent in 2014. With solar and wind now achieving price parity, coal is going the way of the Betamax.
But fossil fuel divestment is about much more than money. We just experienced the world's hottest year in history, part of the trend of the 14 hottest years on record occurring in just the last 15 years. To continue to profit from coal, oil and gas dooms our children and grandchildren to a world that will be increasingly inhospitable. We each face an unassailable moral imperative to divest completely from the fossil fuel business.
While many Americans have financial connections to fossil fuel companies through the investments of our towns, churches, colleges and retirement funds, all Americans have collective ownership of vast coal, oil and gas reserves sold off daily from our public lands and waters.
Ending extraction of the fossil fuels we all own is the moral equivalent of divestment by the churches and schools we attend. Just like our towns, churches, colleges and retirement funds have been investing in fossil fuels without most of us ever thinking about it, our government has been doing the same. And in the same way that college kids are calling for universities to divest, all Americans must demand the same of our government.
Of course, just as student energy is fueling the divestment campaigns on campuses, locking down our public carbon is not going to happen without sustained public pressure.
But there is every reason to believe that a campaign for our collective divestment from the public land fossil fuel business can take off just as quickly. The stakes are as high as the future health of our planet and it is surely our highest moral imperative not to sell that future for our own quick buck.
Obama has the authority to cut U.S. fossil fuel production by 25 percent. It's our job to show our support for such a bold, brave and necessary move.
YOU MIGHT ALSO LIKE
Nation's Largest Solar Farm on Public Lands Now Online
Tim Cook: New Solar Farm Will Be Apple's 'Biggest, Boldest and Most Ambitious Project Ever'
50 of the World's Largest Cities Ranked by People, Planet, Profit
By Itai Vardi
A recent intensification in protests against Williams Partners' planned Atlantic Sunrise pipeline in Pennsylvania prompted a state senator to propose legislation aimed at limiting demonstrations.
Last month, Pennsylvania Sen. Scott Martin (R-Norman) announced his intention to introduce legislation that would pass the costs of law enforcement responding to protests onto the demonstrators. Martin also helped introduce a different bill that would criminalize protests at natural gas facilities.
Keep reading...
Show less
Black Shogun / iStock
The Federal Energy Regulatory Commission (FERC) released its Final Environmental Impact Statement Friday for the Mountain Valley Pipeline, a controversial 303-mile pipeline that would carry two billion cubic feet of fracked gas per day from West Virginia through Virginia.
Keep reading...
Show less
Falcon PEV
The so-called "first and last mile" problem is one of the biggest hurdles with public transportation. How do you encourage more people to take Earth-friendlier commutes when their homes are miles away from the train or bus station?
One solution, as this Estonian electric scooter company proposes, is to simply take your commute with you—literally. Tallinn-based Stigo has developed a compact e-scooter that folds to the size of a rolling suitcase in about two seconds.
Keep reading...
Show less
Connect4Climate
[Editor's note: I'm still in shock after hearing the news that Lucia Grenna passed away in her sleep last week. When we first met in April of 2014 at a Copenhagen hotel, I was immediately taken by here powerful presence. We spent the next couple days participating in a Sustainia climate change event where Lucia presented her audacious plans to connect people to the climate issue. I had the chance to partner with Lucia on several other projects throughout the years and work with her incredible Connect4Climate team. I was always in awe of her ability to "make the impossible possible." Her spirit will live on forever. — Stefanie Spear]
It is with a heavy heart that Connect4Climate announces the passing of its founder and leading light, Lucia Grenna. Lucia passed peacefully in her sleep on June 15, well before her time. We remember her for her leadership and extraordinary ability to motivate people to take on some of the greatest challenges of our time, not least climate change.
Keep reading...
Show less
Jun. 23, 2017 07:29PM EST
Wikimedia Commons
By Stacy Malkan
Neil deGrasse Tyson has inspired millions of people to care about science and imagine themselves as participants in the scientific process. What a hopeful sign it is to see young girls wearing t-shirts emblazoned with the words, "Forget princess, I want to be an astrophysicist."
Keep reading...
Show less
Jun. 23, 2017 01:57PM EST
www.youtube.com
By Andy Rowell
Any day now we will truly witness climate change in action. Within days at worst, maybe weeks at best, scientists predict that a huge section of the Larsen C ice shelf in Antarctica will break off into the ocean, in what is called a major "carving" event.
Keep reading...
Show less
Jun. 23, 2017 02:27PM EST
www.youtube.com
President Trump visited Cedar Rapids, Iowa on June 21 to speak to a large crowd in the U.S. Cellular Center at a political rally organized by his campaign.
As Trevor Noah noted during The Daily Show episode last night (starts at 2:25), the real reason Trump has these rallies is to "get back in front of his loyal crowds and feed of their energy." Noah believes that "Trump supporters are so on board with their dude he can say anything and they'll come along for the ride."
Keep reading...
Show less
Jun. 23, 2017 07:50PM EST
The Kamuthi solar plant in the southern Indian state of Tamil Nadu.
The rapid growth in renewable energy continues to put a dent in the demand for coal.
Coal India, the world's biggest coal mining company and producer of 82 percent of the country's coal, announced the closure of 37 mines that are financially "unviable."
Keep reading...
Show less
Jun. 23, 2017 06:42PM EST
www.youtube.com
By Katie O'Reilly
Two years ago—long before coal became one of the most dominant and controversial symbols of the 2016 presidential election—Bloomberg Philanthropies approached production company RadicalMedia with the idea of creating a documentary exploring the U.S. coal mining industry. Last spring, they brought on Emmy-nominated director Michael Bonfiglio, tasked with forging a compelling story out of the multitudes of facts, statistics and narratives underlying the declining industry.
Keep reading...
Show less


Get EcoWatch in your inbox