President Obama: Some in Congress Are 'Shills for the Fossil Fuel Industry'
Mar. 17, 2015 09:45AM EST
Climate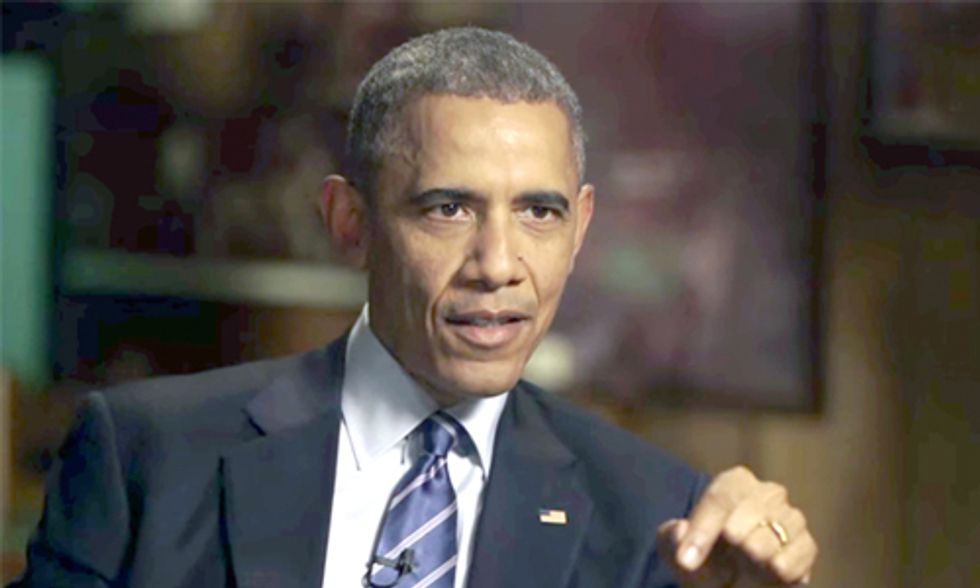 President Obama sat down with Vice founder Shane Smith yesterday and talked candidly about a range of issues including Iran, gridlock in DC, ISIL, marijuana and climate change. And on climate change, he emphasized the urgency of action—and the short-sightedness of Republican opposition.
"Climate change is an example of the hardest problems to solve," said Obama. "The hardest thing to do in politics and in government is to make sacrifices now for a long-term payoff."
He asserted his determination to push in the right direction, given the influence his office offers him.
"I can have as much of an impact on the things that are important to people as anybody on the planet," said Obama. "If I can change how the country thinks about [climate change] as a serious immediate threat, not some distant vague thing, if I can encourage and gain commitments from the Chinese to put forward a serious plan to start curbing their greenhouse gases, and that allows us to leverage the entire world for the conference that will be taking place later this year in Paris, and if I'm able to double fuel efficiency standards and if I'm able to make appliances more efficient and to double the production of clean energy—if I'm able to do all those things now, when I'm done, we're still going to have a heck of a problem. But we will have made enough progress that the next President and the next generation can start building on it and you start getting some momentum."
When Smith brought up Sen. James Inhofe's recent stunt of throwing a snowball on the floor of the Senate to "prove" climate change isn't happening, saying "that would be funny if he were't the chairman of the environment committee," Obama responded, "That's disturbing."
But he said he thinks the upcoming generation will be nurturing fewer Inhofes.
"Here's what makes me optimistic," he said. "You take Sasha and Malia—16 and 13 —and the sophistication and awareness that they have about environmental issues, compared to my generation or yours —they're way ahead of the game."
That's reflected in a recent poll taken by Ipsos that found 90 percent of 8th graders believe climate change is real and caused by human activity, while in the Senate close to 50 percent are somewhere on the climate-denier spectrum.
"There's always going to be resistance to change and some of that is going to be generational," said Obama. "I guarantee you that the Republican party will have to change its approach to climate change because voters will insist upon it. The challenge on something like climate change is there comes a point of no return and you do have to make sure we get at this thing quick enough and with enough force to be able make a difference. On climate change, 90 percent of Democrats agree with me, and 90 percent of Republicans oppose any action on it and a sizable proportion of their party denies it even exists. It's not both sides arguing and ceasing gridlock, you've got one side that is denying the facts."
When Smith asked Obama why he believed there was this resistance and this disconnect, Obama pulled no punches.
"In some cases, you have elected officials who are shills for the oil companies or the fossil fuel industry and there's a lot of money involved," he said. "Typically in Congress, the committees of jurisdiction are populated by folks from places that pump a lot of oil and pump a lot of gas."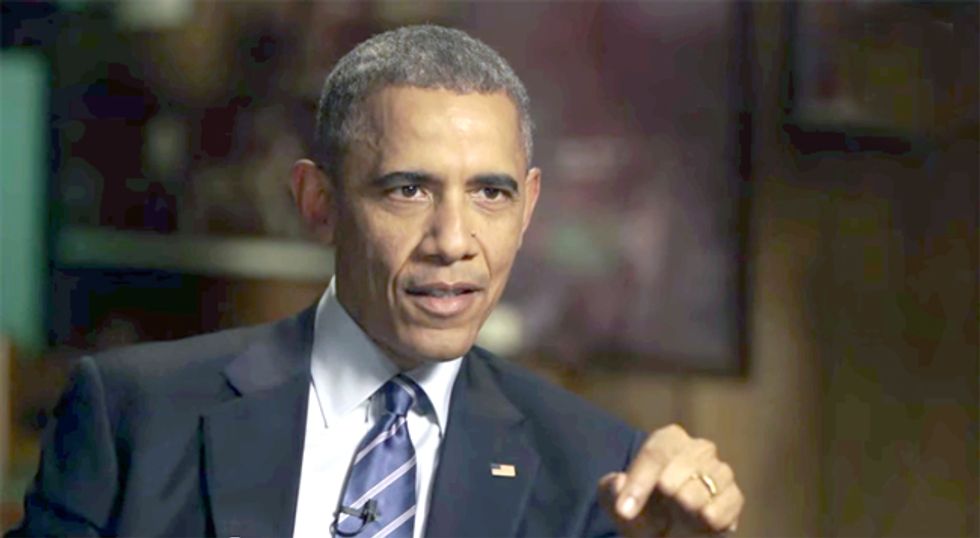 The interview ended with Smith asking Obama about what he said was the top subject viewers were inquiring about in submitting questions for the President online: marijuana legalization.
The President's response?
"Young people, I understand this is important to you, but you should be thinking about climate change, the economy, jobs, war and peace. Maybe way at the bottom you should be thinking about marijuana."
YOU MIGHT ALSO LIKE
8 Reasons to Be Optimistic About the Climate Movement in 2015
Watch Sen. Inhofe Throw a Snowball on Senate Floor to Prove Climate Change Is a 'Hoax'
EcoWatch Daily Newsletter
Related Articles from EcoWatch
Recent Stories from EcoWatch