President Obama Signs Farm Bill Legalizing Industrial Hemp
Vote Hemp, the nation's leading grassroots hemp advocacy organization working to revitalize industrial hemp production in the U.S., is excited to report that President Obama has signed the Farm Bill which contains an amendment to legalize hemp production for research purposes.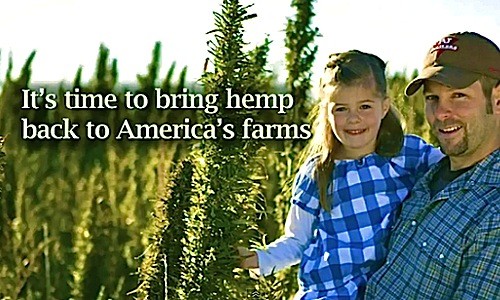 Originally introduced by Rep. Polis (D-CO), Rep. Massie (R-KY) and Rep. Blumenauer (D-OR), the amendment allows State Agriculture Departments, colleges and universities to grow hemp, defined as the non-drug oilseed and fiber varieties of Cannabis, for academic or agricultural research purposes, but it applies only to states where industrial hemp farming is already legal under state law. Sen. McConnell (R-KY) successfully worked to retain and strengthen the hemp research amendment during the Farm Bill conference committee process.
"With the U.S. hemp industry estimated at over $500 million in annual retail sales and growing, a change in federal law to allow colleges and universities to grow hemp for research means that we will finally begin to regain the knowledge that unfortunately has been lost over the past fifty years," says Vote Hemp President Eric Steenstra.
"This is the first time in American history that industrial hemp has been legally defined by our federal government as distinct from drug varieties of Cannabis," Steenstra continued. "The market opportunities for hemp are incredibly promising—ranging from textiles and health foods to home construction and even automobile manufacturing. This is not just a boon to U.S. farmers, this is a boon to U.S. manufacturing industries as well."
So far in the 2014 legislative season, industrial hemp legislation has been introduced or carried over in thirteen states: Arizona, Hawaii, Indiana, Mississippi, Nebraska, New Jersey (carried over from 2013), New York, Oklahoma, South Carolina, Tennessee, Washington (two bills carried over from 2013), West Virginia and Wisconsin.
In addition to the Farm Bill amendment, two standalone industrial hemp bills have been introduced in the 113th Congress so far. H.R. 525, the "Industrial Hemp Farming Act of 2013," was introduced in the U.S. House on Feb. 6, 2013, and the companion bill, S. 359, was introduced in the U.S. Senate soon thereafter on Feb. 14, 2013. The bills define industrial hemp, exclude it from the definition of "marihuana" in the Controlled Substances Act (CSA), and give states the exclusive authority to regulate the growing and processing of the crop under state law. If passed, the bills would remove federal restrictions on the domestic cultivation of industrial hemp.
To date, thirty-two states have introduced pro-hemp legislation and twenty have passed pro-hemp legislation. Ten states (California, Colorado, Kentucky, Maine, Montana, North Dakota, Oregon, Vermont, Washington and West Virginia) have passed industrial hemp farming laws and removed barriers to its production. These states will be able to take immediate advantage of the industrial hemp research and pilot program provision, Section 7606, of the Farm Bill.  
Three states (Hawaii, Kentucky and Maryland) have passed bills creating commissions or authorizing research. Nine states (California, Colorado, Illinois, Montana, New Hampshire, New Mexico, North Dakota, Vermont and Virginia) have passed resolutions. Finally, eight states (Arkansas, Illinois, Maine, Minnesota, New Mexico, North Carolina, North Dakota and Vermont) have passed study bills. However, despite state authorization to grow hemp, farmers in those states still risk raids by federal agents, prison time, and property and civil asset forfeiture if they plant the crop, due to the failure of federal policy to distinguish non-drug oilseed and fiber varieties of Cannabis (i.e., industrial hemp) from psychoactive drug varieties (i.e., "marihuana").
Visit EcoWatch's FOOD and BIODIVERSITY page for more related news on this topic.

The Brooks Range in the Arctic National Wildlife Refuge. Hillebrand / U.S. Fish and Wildlife Service
By Andy Rowell
"Disruption" is one of the buzzwords of the energy market right now as plummeting costs of renewables is changing the way we heat our homes and drive our automobiles.
Some of the biggest names in the energy business spoke Wednesday on that very topic in London at the Financial Times' Energy Transition Strategies Summit, at the panel Rethinking Energy in a Time of Disruption.
Keep reading...
Show less
Chris Kick / Twitter
Keep reading...
Show less
Shaahina Ali
Keep reading...
Show less
The federal government is providing extensive support for fossil fuel production on public lands and waters offshore, through a combination of direct subsidies, enforcement loopholes, lax royalty collection, stagnant lease rates and other advantages to the industry, a report released Wednesday found.
Keep reading...
Show less
Keep reading...
Show less
By Elgie Holstein
The federal budget that the president proposes annually and Congress votes on is more than a collection of numbers. It tells us who the president is, what he stands for and what he cares about.
Keep reading...
Show less
The U.S. Environmental Protection Agency (EPA) budget will still be slashed by nearly a third, from $8.2 billion to $5.65 billion, under President Trump's fiscal 2018 budget proposal released Tuesday.
The EPA, which has long been targeted by the Trump administration, is the hardest hit federal agency under the new plan. Opponents say it "endangers Americans" and cripples an institution charged with protecting their health and safety.
Keep reading...
Show less
Frustrated by non-experts taking to the internet to dispute the science behind human-made climate change, North Carolina meteorologist Greg Fishel issued a challenge to climate deniers, urging them to "put up or shut up" and "submit your work the way real scientists do, and see where it takes you."
Keep reading...
Show less


Get EcoWatch in your inbox