This website uses cookies to ensure you get the best experience while browsing it. By clicking 'Got It' you're accepting these terms.
President Obama Signs Farm Bill Legalizing Industrial Hemp
Feb. 07, 2014 03:21PM EST
Vote Hemp, the nation's leading grassroots hemp advocacy organization working to revitalize industrial hemp production in the U.S., is excited to report that President Obama has signed the Farm Bill which contains an amendment to legalize hemp production for research purposes.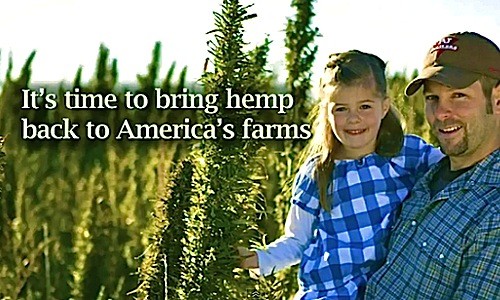 Originally introduced by Rep. Polis (D-CO), Rep. Massie (R-KY) and Rep. Blumenauer (D-OR), the amendment allows State Agriculture Departments, colleges and universities to grow hemp, defined as the non-drug oilseed and fiber varieties of Cannabis, for academic or agricultural research purposes, but it applies only to states where industrial hemp farming is already legal under state law. Sen. McConnell (R-KY) successfully worked to retain and strengthen the hemp research amendment during the Farm Bill conference committee process.
"With the U.S. hemp industry estimated at over $500 million in annual retail sales and growing, a change in federal law to allow colleges and universities to grow hemp for research means that we will finally begin to regain the knowledge that unfortunately has been lost over the past fifty years," says Vote Hemp President Eric Steenstra.
"This is the first time in American history that industrial hemp has been legally defined by our federal government as distinct from drug varieties of Cannabis," Steenstra continued. "The market opportunities for hemp are incredibly promising—ranging from textiles and health foods to home construction and even automobile manufacturing. This is not just a boon to U.S. farmers, this is a boon to U.S. manufacturing industries as well."
So far in the 2014 legislative season, industrial hemp legislation has been introduced or carried over in thirteen states: Arizona, Hawaii, Indiana, Mississippi, Nebraska, New Jersey (carried over from 2013), New York, Oklahoma, South Carolina, Tennessee, Washington (two bills carried over from 2013), West Virginia and Wisconsin.
In addition to the Farm Bill amendment, two standalone industrial hemp bills have been introduced in the 113th Congress so far. H.R. 525, the "Industrial Hemp Farming Act of 2013," was introduced in the U.S. House on Feb. 6, 2013, and the companion bill, S. 359, was introduced in the U.S. Senate soon thereafter on Feb. 14, 2013. The bills define industrial hemp, exclude it from the definition of "marihuana" in the Controlled Substances Act (CSA), and give states the exclusive authority to regulate the growing and processing of the crop under state law. If passed, the bills would remove federal restrictions on the domestic cultivation of industrial hemp.
To date, thirty-two states have introduced pro-hemp legislation and twenty have passed pro-hemp legislation. Ten states (California, Colorado, Kentucky, Maine, Montana, North Dakota, Oregon, Vermont, Washington and West Virginia) have passed industrial hemp farming laws and removed barriers to its production. These states will be able to take immediate advantage of the industrial hemp research and pilot program provision, Section 7606, of the Farm Bill.  
Three states (Hawaii, Kentucky and Maryland) have passed bills creating commissions or authorizing research. Nine states (California, Colorado, Illinois, Montana, New Hampshire, New Mexico, North Dakota, Vermont and Virginia) have passed resolutions. Finally, eight states (Arkansas, Illinois, Maine, Minnesota, New Mexico, North Carolina, North Dakota and Vermont) have passed study bills. However, despite state authorization to grow hemp, farmers in those states still risk raids by federal agents, prison time, and property and civil asset forfeiture if they plant the crop, due to the failure of federal policy to distinguish non-drug oilseed and fiber varieties of Cannabis (i.e., industrial hemp) from psychoactive drug varieties (i.e., "marihuana").
Visit EcoWatch's FOOD and BIODIVERSITY page for more related news on this topic.

Southwest Greenland had the most consistent ice loss from 2003 to 2012. Eqalugaarsuit, Ostgronland, Greenland on Aug. 1, 2018.
Rob Oo / CC BY 2.0
Finally, some good news about the otherwise terrible partial government shutdown. A federal judge ruled that the Trump administration cannot issue permits to conduct seismic testing during the government impasse.
The Justice Department sought to delay—or stay—a motion filed by a range of coastal cities, businesses and conservation organizations that are suing the Trump administration over offshore oil drilling, Reuters reported. The department argued that it did not have the resources it needed to work on the case due to the shutdown.
Climate change has been called the biggest challenge of our time. Last year, scientists with the United Nations said we basically have 12 years to limit global warming to 1.5ºC to avoid planetary catastrophe.
Amid a backdrop of rising global carbon emissions, there's a real case for pessimism. However, many scientists are hopeful of a way out.
Demonstrators participate in a protest march over agricultural policy on Jan. 19 in Berlin, Germany. Carsten Koall / Getty Images Europe
By Andrea Germanos
Organizers said 35,000 people marched through the streets of the German capital on Saturday to say they're "fed up" with industrial agriculture and call for a transformation to a system that instead supports the welfare of the environment, animals and rural farmers.

A Massachusetts road coated with snow and ice following the winter storm which prompted Trump to mock climate change. Scott Eisen / Getty Images
President Donald Trump has once again contradicted the findings of the U.S. government when it comes to the threat posed by climate change. Days after a Department of Defense report outlined how climate-related events like wildfires and flooding put U.S. military installations at risk, Trump took to Twitter to mock the idea that the world could be getting warmer, Time reported.
Trump's tweet came in response to a massive winter storm that blanketed the Midwest and Northeast this weekend.
The fire that erupted after a pipeline explosion in Mexico Friday. FRANCISCO VILLEDA / AFP / Getty Images
By Jason Bittel
Formidable predators stalk the forests between Panama and northern Argentina. They are sometimes heard but never seen. They are small but feisty and have even been documented trying to take down a tapir, which can top out at nearly 400 pounds. Chupacabras? No.
Mead is a fermented beverage traditionally made from honey, water and a yeast or bacterial culture.
U.S. Army member helps clear debris from Tyndall Air Force Base following Hurricane Michael.
U.S. Army
A tree found severed in half in an act of vandalism in Joshua Tree National Park. Gina Ferazzi / Los AngelesTimes / Getty Images
By Rhea Suh
One month on, the longest and most senseless U.S. government shutdown in history is taking a grave and growing toll on the environment and public health.

Food inspectors have been idled or are working without pay, increasing the risk we'll get sick from eating produce, meat and poultry that isn't properly checked. National parks and public wilderness lands are overrun by vandals, overtaken by off-road joyriders, and overflowing with trash. Federal testing of air and water quality, as well as monitoring of pollution levels from factories, incinerators and other sources, is on hold or sharply curtailed. Citizen input on critical environmental issues is being hindered. Vital research and data collection are being sidelined.