President Obama: 'It's Time for America and the World to Act on Climate Change'
Aug. 03, 2015 09:00AM EST
Climate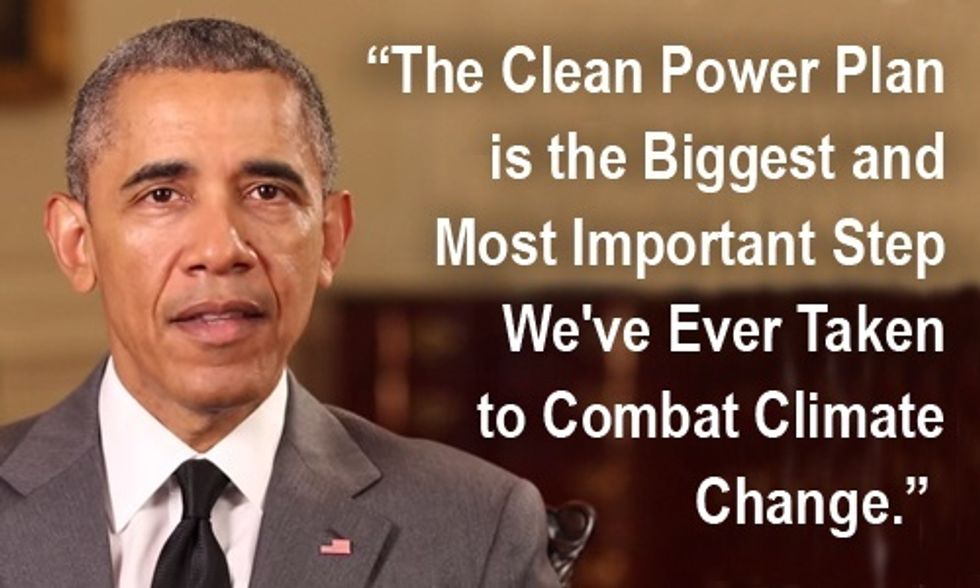 President Barack Obama declared Sunday that his administration is poised to unroll greater-than-expected cuts to greenhouse gas emissions from U.S. power plants, in what he called "the biggest, most important steps we've ever taken to combat climate change."
However, as leaked details of the plan circulate ahead of Monday's slated unveiling, some climate campaigners say the measures, in fact, fall short of the president's pledge to take aggressive action to curb the global warming crisis.
In a White House video released Sunday, Obama acknowledged this crisis—emphasizing that scientific data shows that climate change is real and it already poses a threat to human and environmental health. "Climate change is not a problem for another generation," Obama said. "Not anymore. That's why on Monday my administration will release a final version of America's Clean Power Plan."
The plan is an update to a draft version released by the Environmental Protection Agency last summer. While the contents have not been officially released, they have been reported by numerous media outlets, including the Washington Post and New York Times, who cited unnamed sources in the Obama administration in articles published Saturday.
The cornerstone of the plan is a 32 percent cut in power plants' greenhouse gas emissions by 2030, compared to 2005 levels. This is a greater reduction than the 30 percent slash called for in last year's draft.
The new rule also boosts the requirements for renewable energy sources. "While the proposed rule would have allowed states to lower emissions by transitioning from plants fired by coal to plants fired by natural gas, which produces about half the carbon pollution of coal, the final rule is intended to push electric utilities to invest more quickly in renewable sources, raising to 28 percent from 22 percent the share of generating capacity that would come from such sources," note Times reporters Coral Davenport and Gardiner Harris.
However, the plan also includes apparent concessions to the industry—which has already vowed to levy lawsuits against the provisions.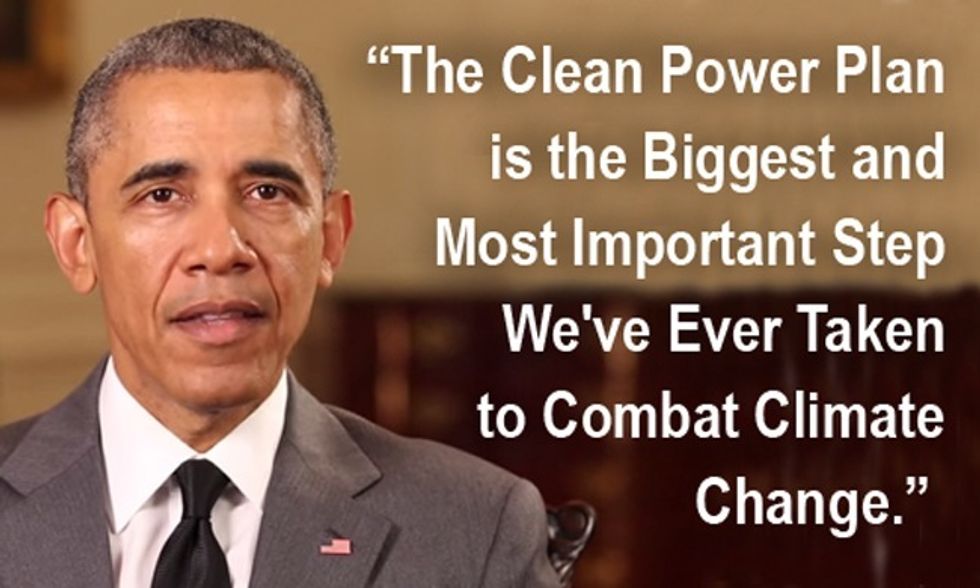 Post reporter Joby Warrick wrote that "state governments also will be given more time to meet their targets and considerably more flexibility in how they achieve their pollution-cutting goals, according to two senior officials knowledgeable about the rule. For the first time, the officials said, the plan also includes a 'reliability safety valve' that can buy states additional time if needed to avoid disruptions in the power supply."
Moreover, the Times notes that "the final rules are explicitly meant to encourage the use of interstate cap-and-trade systems, in which states place a cap on carbon pollution and then create a market for buying permits or credits to pollute. The idea is that forcing companies to pay to pollute will drive them to cleaner sources of energy."
But Daphne Wysham, director the Sustainable Energy and Economy Network, told Common Dreams that such cap-and-trade measures "allow polluters to profit and do not create an incentive for rapid reduction in greenhouse gas emissions."
"The good news is that Obama is recognizing that the climate crisis is urgent and this is going to be an important part of his legacy," continued Wysham, who participated in the recent direct actions and protests against Shell's Arctic drilling fleet in Portland, Oregon. "The bad news is that he is going nowhere near far enough."
"We need to be off of coal completely, as soon as possible," Wysham continued, echoing the warnings of scientists, who say that, to avert a climate catastrophe, the vast majority of fossil fuel deposits around the world must remain unused. "We need to be looking at 1990 greenhouse gas emissions baselines like the rest of the world uses. We need to be rapidly phasing out of coal and gas fired power. We need to stop drilling in the Arctic, which Obama allowed Shell to proceed with."
Karthik Ganapathy, U.S. communications manager for the climate action group 350.org, agrees. "This plan is a good first step but not enough for Obama to hang his climate legacy on," Ganapathy told Common Dreams. "It doesn't go far enough in terms of moving society off of fossil fuels."
"When it comes to the things Obama can do to combat climate change with his executive authority, there is a long list," Ganapathy continued. "He could drastically change the leasing process for fossil fuel on public land, reject the Keystone XL pipeline and stop drilling in the Arctic. This is all within his purview."
Bill Snape, senior counsel to the Center for Biological Diversity, told Common Dreams that whatever gains are represented in the president's proposal, the details of which are still trickling out, are ultimately a testament to people power: "We wouldn't be where we are without the people, the millions of people, who have sacrificed time and energy and resources and money hold meetings and stage protests. But this is just the beginning."
YOU MIGHT ALSO LIKE
6 Governors Who Refuse to Comply With Obama's Clean Power Plan
Hillary's Horror Video Bashes GOP Climate Deniers
Pope Francis' Historic Visit to the U.S. Will Be a Climate Game-Changer
Winegrowers check vines during the burning of anti-frost candles in the Luneau-Papin wine vineyard in Le Landreau, near Nantes, western France, on April 12, 2021. SEBASTIEN SALOM-GOMIS / AFP via Getty Images
French winemakers are facing devastating grape loss from the worst frost in decades, preceded by unusually warm temperatures, highlighting the dangers to the sector posed by climate change.
"An important share of the harvest has been lost. It's too early to give a percentage estimate, but in any case it's a tragedy for the winegrowers who have been hit," said Christophe Chateau, director of communications at the Bordeaux Wine Council, told CNN.
Climate change, caused by the extraction and combustion of fossil fuels, has pushed winegrowing seasons earlier, putting crops at higher risk of cold — and wildfires supercharged by climate change also threaten American vignerons and farmworkers as well.
"I think it's good for people to understand that this is nature, climate change is real, and to be conscious of the effort that goes into making wine and the heartbreak that is the loss of a crop," Jeremy Seysses of Domaine Dujac in Burgundy's Côte de Nuits told Wine Enthusiast.
As reported by Wine Enthusiast:
Last week, images of candlelit French vineyards flooded social media. Across the country, winemakers installed bougies, or large wax-filled metal pots, among the vines to prevent cold air from settling in during an especially late frost.

With temperatures in early April as low as 22°F, and following an unseasonably warm March, this year's frost damage may be the worst in history for French winegrowers. Every corner of France reports considerable losses, from Champagne to Provence, and Côtes de Gascogne to Alsace. As a result, there will likely be very little French wine from the 2021 vintage reaching U.S. shores.
For a deeper dive:

CNN, Wine Enthusiast, France24, Eater
For more climate change and clean energy news, you can follow Climate Nexus on Twitter and Facebook, sign up for daily Hot News, and visit their news site, Nexus Media News.
From Your Site Articles
Related Articles Around the Web
EcoWatch Daily Newsletter
A recent study focused on regions in Ethiopia, Africa's largest coffee-producing nation. Edwin Remsberg / Getty Images
Climate change could make it harder to find a good cup of coffee, new research finds. A changing climate might shrink suitable areas for specialty coffee production without adaptation, making coffee taste blander and impacting the livelihoods of small farms in the Global South.
In "Weather," Jenny Offill tells the story of a librarian named Lizzie who prepares for a climate apocalypse. Andrew Merry / Getty Images
By Suzanne Cords
One day Lizzie, the first-person narrator of the novel, receives an old book as a gift, with a dedication wishing the reader to be among the survivors. Like the preppers who build bunkers and stockpile supplies in remote areas to be ready for the end of the world, Lizzie is convinced that the end of the world is definitely near in times of a threatening climate disaster.
Lizzie, who lives in New York with her husband and son, is a university campus librarian. She worries about almost everything: her brother, an ex-junkie, or her dental insurance and the future in the face of the apocalypse. She is obsessed with reading reference books and articles about climate change.
She also devours words of wisdom, including about Buddhist spirituality: "A visitor once asked the old monks on Mount Athos what they did all day, and was told: We have died and we are in love with everything." But nothing can lift her spirits.
'Lizzie Is Just Like Us'
Lizzie observes rich New Yorkers plan their move to regions that are less threatened by climate change, something she simply cannot afford. Sometimes she watches disaster movies, which lead her to worry even more.
Above all, she is a gifted observer of her fellow human beings. "Young person worry: What if nothing I do matters? Old person worry: What if everything I do, does?"
Lizzie, the U.S. author told DW, is a bit like the rest of us — well aware of the climate crisis, but because she cares and worries about so many other things, that awareness falls by the wayside. That's how she felt herself, Jenny Offill said, but the more she looked into the issue, the more she saw a need for action on her part, too.

"I also was trying to see if there was a way to make it funny, because, you know, so much of the world of prepping and imagining disaster is actually sort of strangely funny."
The novel was shortlisted for the 2020 UK's Women's Prize for Fiction and has now been released in German translation.
Climate Activist With a Vision
But then, there is also this serious, scientifically based concern about what climate change means. In the past, says Offill, artists were the ones who would predict disasters; today it's the experts, as well as the students she teaches. In the end, their fears and their justified anger motivated her to take a closer look at the issue. Today, she is a climate activist herself, and is involved in initiatives along with many other artists.
Lizzie, the heroine of Weather, hasn't gotten that far. But she voices her fears, and that's a start. "Of course, the world continues to end," says Sylvia, a mentor of Lizzie's, at one point — and commences to water her garden. There is hope after all.
Reposted with permission from Deutsche Welle.
A Shell oil drilling rig off the coast of Alaska in the Chukchi Sea on May 21, 2015. Orjan F. Ellingvag / Corbis via Getty Images
By Jake Johnson
A federal appeals court on Tuesday dealt the final blow to former President Donald Trump's attempt to open nearly 130 million acres of territory in the Arctic and Atlantic Oceans to oil and gas drilling.
Electric vehicles are the cars of the future. sl-f / Getty Images
By 2035, every new car and truck sold in the U.S. could be an EV, a new report says.
Accelerations in technology and especially battery affordability, paired with new policy, mean the dramatic transition would save American drivers $2.7 trillion by 2050, an average savings of $1,000 per household per year.
The ramp up in EV production would also create 2 million new jobs by 2035. Battery prices have fallen 74% since 2014, and their unexpectedly rapid fall is a key driver of the cost savings.
EVs are far simpler mechanically, and more efficient, than internal combustion engine (ICE) vehicles, which translates to reduced climate pollution and lower costs for consumers.
Strengthened vehicle efficiency standards and investment in fast charging infrastructure are needed to accelerate the transition, which would prevent 150,000 premature deaths and save $1.3 trillion in health environmental costs by 2050.
For a deeper dive:

The Guardian, Fast Company, E&E, Morning Consult, Canary Media

For more climate change and clean energy news, you can follow Climate Nexus on Twitter and Facebook, sign up for daily Hot News, and visit their news site, Nexus Media News.