President Obama Issues Executive Order to Prepare U.S. For Impacts of Climate Change
Nov. 04, 2013 10:35AM EST
Climate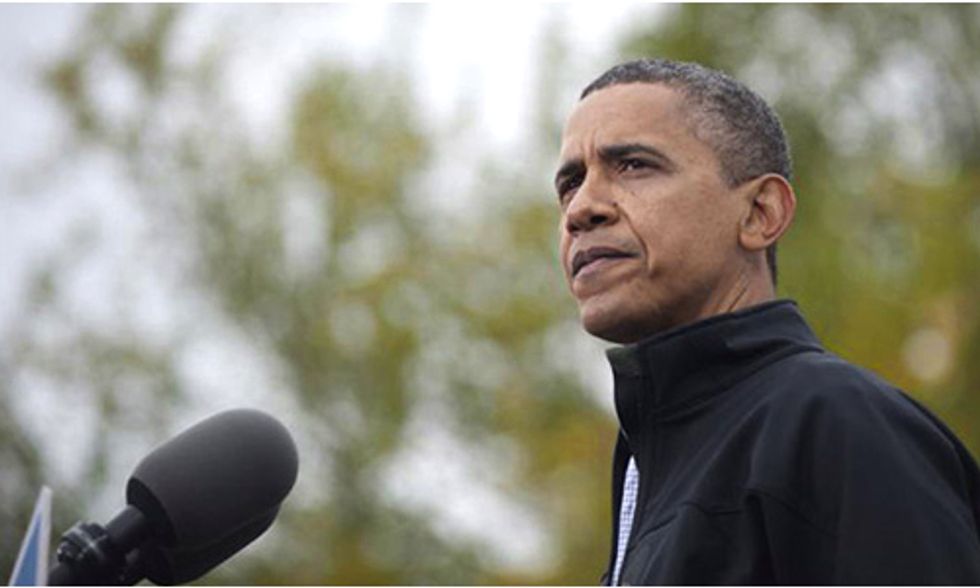 By Rob Moore
On Friday President Obama issued an Executive Order on climate preparedness, directing federal agencies to begin identifying and removing barriers to actions that would, "increase the Nation's resilience to climate change while ensuring continued protection of public health and the environment." Agencies have been given nine months to identify those barriers and report back to an interagency climate preparedness council.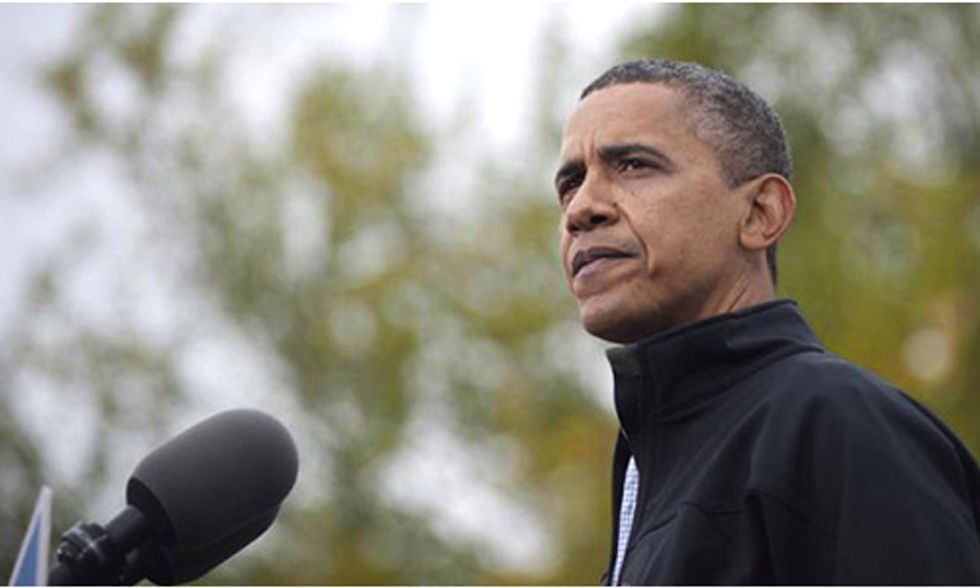 Long-term this could be a very valuable thing to do, as it should influence how billions in federal dollars are spent on water, energy and transportation infrastructure as well as disaster preparedness and recovery. Currently, little consideration is given to rising sea levels, susceptibility to flooding and extreme weather, and other climate impacts that could affect major infrastructure projects in the future. Making climate impacts a consideration today will help us avoid damage tomorrow, both by steering funds away from projects that don't make good climate sense and towards infrastructure projects that do.
The President also formed a Task Force on Climate Preparedness and Resilience made up of state, local and tribal leaders. The Task Force will provide information on how the federal government can deploy grant and loan programs more effectively to assist state and local climate preparedness activities and also advise the President on what kinds of information and tools state, local and tribal governments need to make better decisions. The Task Force members are identified on the map below as well as listed.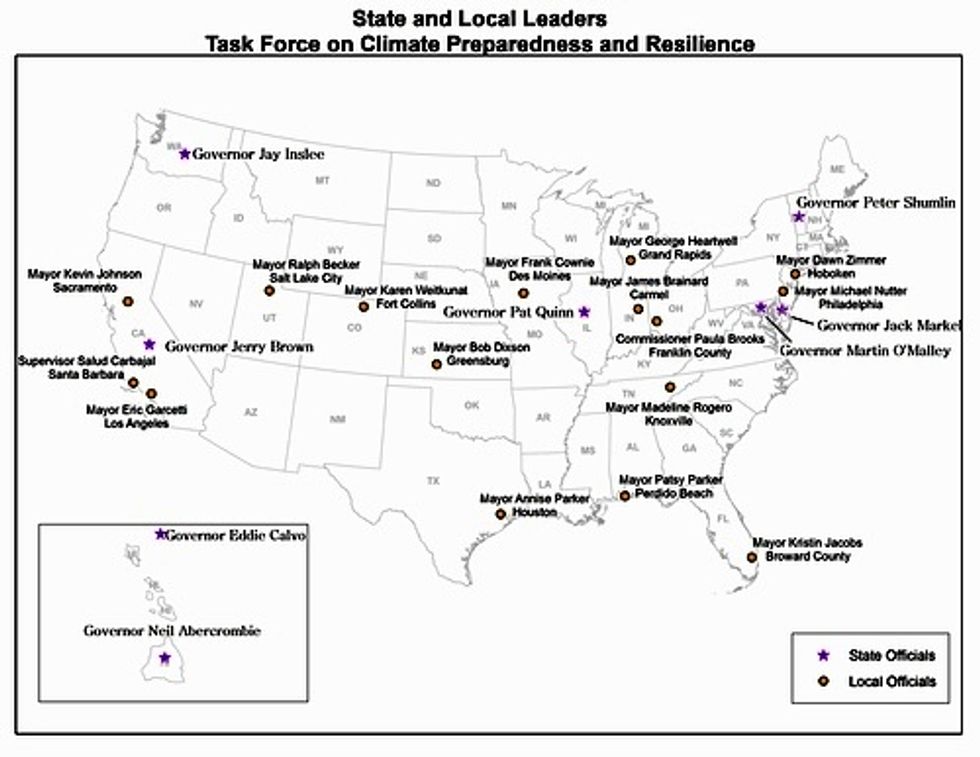 State Officials:
Gov. Neil Abercrombie (D-HI)
Gov. Jerry Brown (D-CA)
Gov. Eddie Calvo (R-GU)
Gov. Jay Inslee (D-WA)
Gov. Jack Markell (D-DE)
Gov. Martin O'Malley (D-MD)
Gov. Pat Quinn (D-IL)
Gov. Peter Shumlin (D-VT)
Local Officials:
Mayor Ralph Becker (Salt Lake City, UT)
Mayor James Brainard (Carmel, IN)
Commissioner Paula Brooks (Franklin County, OH)
Supervisor Salud Carbajal (Santa Barbara County, CA)
Mayor Frank Cownie (Des Moines, IA)
Mayor Bob Dixson (Greensburg, KS)
Mayor Eric Garcetti (Los Angeles, CA)
Mayor George Heartwell (Grand Rapids, MI)
Mayor Kristin Jacobs (Broward County, FL)
Mayor Kevin Johnson (Sacramento, CA)
Mayor Michael Nutter (Philadelphia, PA)
Mayor Annise Parker (Houston, TX)
Mayor Patsy Parker (Perdido Beach, AL)
Mayor Madeline Rogero (Knoxville, TN)
Mayor Karen Weitkunat (Fort Collins, CO)
Mayor Dawn Zimmer (Hoboken, NJ)
Tribal Officials:
Karen Diver, Chairwoman, Fond du Lac Band of Lake Superior Chippewa (MN)
Reggie Joule, Mayor, Northwest Arctic Borough (AK)
Visit EcoWatch's CLIMATE CHANGE page for more related news on this topic.
———

EcoWatch Daily Newsletter
Related Articles from EcoWatch
Recent Stories from EcoWatch