This website uses cookies to ensure you get the best experience while browsing it. By clicking 'Got It' you're accepting these terms.
President Obama: Climate Change Is an 'Immediate Risk to Our National Security'
May. 21, 2015 08:58AM EST
Climate
When President Obama delivered the keynote address at the Coast Guard Academy graduation ceremonies Wednesday, the theme was one he's been hitting with increasing frequency as he nears the end of his time in office: climate change. He has emphasized its impact on the economy, public health and national security. He focused on the latter at the Coast Guard ceremony, with an increased sense of urgency.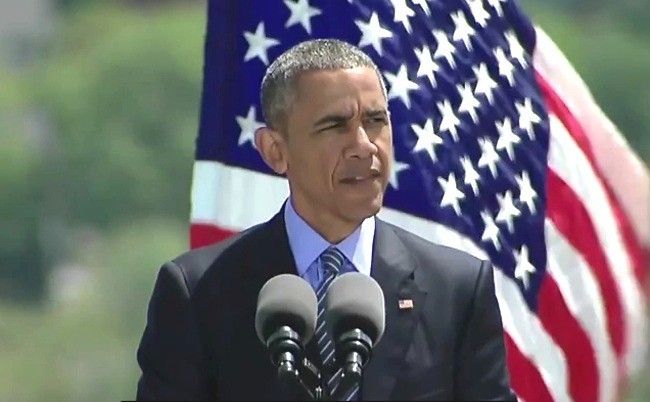 As Republicans in Congress fight against Obama's climate measures such as the Clean Power Plan while also raising the alarm about terrorism and trying to position themselves as the party best equipped to fight it, the President appears to be painting them into a corner.
"This cannot be subject to the usual politics and the usual rhetoric," said Obama to the Coast Guard graduates, even as Republicans are applying ideological rhetoric to virtually every environmental issue.
The President stressed the importance of the missions that the graduates will participate in, saying, "We need you to safeguard our ports against all threats, including terrorism. We need you to respond in times of disaster or distress and lead your rescue teams as they jump out of perfectly good helicopters. We need you in the Middle East; in the Gulf; alongside our Navy; in places like West Africa, where you helped keep the ports open so that the world could fight a deadly disease. We need you in the Asia Pacific, to help our partners train their own coast guards to uphold maritime security and freedom of navigation in waters vital to our global economy."
Then he said, "This brings me to the challenge I want to focus on today—one where our Coast Guardsmen are already on the front lines, and that, perhaps more than any other, will shape your entire—and that's the urgent need to combat and adapt to climate change. As a nation, we face many challenges, including the grave threat of terrorism. And as Americans, we will always do everything in our power to protect our country. Yet even as we meet threats like terrorism, we cannot, and we must not, ignore a peril that can affect generations."
"Cadets, the threat of a changing climate cuts to the very core of your service," he continued. "You know the beauty of the sea, but you also know its unforgiving power. Here at the Academy, climate change—understanding the science and the consequences—is part of the curriculum, and rightly so, because it will affect everything that you do in your careers. Some of you have already served in Alaska and aboard icebreakers, and you know the effects. As America's Maritime Guardian, you've pledged to remain always ready—Semper Paratus—ready for all threats. And climate change is one of those most severe threats."
He then moved into the meat of his presentation.
"I'm here today to say that climate change constitutes a serious threat to global security, an immediate risk to our national security," he said. "And make no mistake, it will impact how our military defends our country."
Climate change, he said, "will shape how every one of our services plan, operate, train, equip and protect their infrastructure, their capabilities, today and for the long term." And given that so many military facilities are coastal, that could threaten their readiness for action, he said.
He pointed out some of the risks that today's and tomorrow's Coast Guard might have to cope with. They included rising seas forcing people from their homes and creating more refugees.
"I guarantee you the Coast Guard will have to respond," he said, just as they are part of the international relief teams responding to humanitarian disasters such as Typhoon Haiyan in the Philippines.
He pointed to food shortages due to drought and increases competition for resources as another threat and mentioned two instances of instability and violence they'd led to: "Severe drought helped to create the instability in Nigeria that was exploited by the terrorist group Boko Haram. It's now believed that drought and crop failures and high food prices helped fuel the early unrest in Syria, which descended into civil war in the heart of the Middle East."
He said that responding to the impacts of climate change would ultimately not be enough: "As men and women in uniform, you know that it can be just as important, if not more important, to prevent threats before they can cause catastrophic harm. And only way—the only way—the world is going to prevent the worst effects of climate change is to slow down the warming of the planet. The world has to finally start reducing its carbon emissions—now."
The President enumerated again the steps he's already proposed to do so, including making building more energy efficient, investing more in research on renewable technologies, cutting carbon emissions from power plants and working with other countries to strike international greenhouse gas reduction agreements.
He hit one jarring note, given his recent approval of Shell's plan to drill for oil in the fragile Arctic seas ecosystem, a move widely condemned by environmental groups.
"Climate change means Arctic sea ice is vanishing faster than ever," he said. "We're witnessing the birth of a new ocean—new sea lanes, more shipping, more exploration, more competition for the vast natural resources below. The U.S. is an Arctic nation, and we have a great interest in making sure that the region is peaceful, that its indigenous people and environment are protected, and that its resources are managed responsibly in partnership with other nations. I believe that our interests in the Arctic demand that we continue to invest in an enduring Coast Guard icebreaking capacity."
Obama took another sly stab at the climate deniers in Congress.
"Now, I know there are still some folks back in Washington who refuse to admit that climate change is real," he said. "And on a day like today, it's hard to get too worried about it. There are folks who will equivocate. They'll say, 'You know, I'm not a scientist.' Well, I'm not either. But the best scientists in the world know that climate change is happening. Our analysts in the intelligence community know climate change is happening. Our military leaders—generals and admirals, active duty and retired—know it's happening. Our homeland security professionals know it is happening. And our Coast Guard knows it's happening."
YOU MIGHT ALSO LIKE
Watch Obama and Bill Nye Take on 'Climate-Denier Club' in Congress
Obama Says 'Climate Change Can No Longer Be Ignored' as Jeb Bush Admits He's 'Concerned'
John Kerry: Not Addressing Climate Change Will Lead to 'Utter Catastrophe'
EcoWatch Daily Newsletter
By Collin Rees
We know that people power can stop dangerous fossil fuel projects like the proposed Line 3 tar sands oil pipeline in Minnesota, because we've proved it over and over again — and recently we've had two more big wins.

Scientists released a study showing that a million species are at risk for extinction, but it was largely ignored by the corporate news media. Danny Perez Photography / Flickr / CC
By Julia Conley
Scientists at the United Nations' intergovernmental body focusing on biodiversity sounded alarms earlier this month with its report on the looming potential extinction of one million species — but few heard their calls, according to a German newspaper report.
Pixabay
Summer is fast approaching, which means it's time to stock up on sunscreen to ward off the harmful effects of sun exposure. Not all sunscreens are created equally, however.
DoneGood
By Cullen Schwarz
Ethical shopping is a somewhat new phenomenon. We're far more familiar with the "tried and tested" methods of doing good, like donating our money or time.
Mark Wallheiser / Getty Images
The climate crisis is a major concern for American voters with nearly 40 percent reporting the issue will help determine how they cast their ballots in the upcoming 2020 presidential election, according to a report compiled by the Yale Program on Climate Change Communication.
Of more than 1,000 registered voters surveyed on global warming, climate and energy policies, as well as personal and collective action, 38 percent said that a candidate's position on climate change is "very important" when it comes to determining who will win their vote. Overall, democratic candidates are under more pressure to provide green solutions as part of their campaign promises with 64 percent of Democrat voters saying they prioritize the issue compared with just 34 percent of Independents and 12 percent of Republicans.
Flooding in Winfield, Missouri this month. Jonathan Rehg / Getty Images
President Donald Trump has agreed to sign a $19.1 billion disaster relief bill that will help Americans still recovering from the flooding, hurricanes and wildfires that have devastated parts of the country in the past two years. Senate Republicans said they struck a deal with the president to approve the measure, despite the fact that it did not include the funding he wanted for the U.S.-Mexican border, CNN reported.
"The U.S. Senate has just approved a 19 Billion Dollar Disaster Relief Bill, with my total approval. Great!" the president tweeted Thursday.
Reed Hoffmann / Getty Images
Violent tornadoes tore through Missouri Wednesday night, killing three and causing "extensive damage" to the state's capital of Jefferson City, The New York Times reported.
"There was a lot of devastation throughout the state," Governor Mike Parson said at a Thursday morning press conference, as NPR reported. "We were very fortunate last night that we didn't have more injuries than what we had, and we didn't have more fatalities across the state. But three is too many."

georgeclerk / E+ / Getty Images
By Jennifer Molidor
One million species are at risk of extinction from human activity, warns a recent study by scientists with the United Nations. We need to cut greenhouse gas pollution across all sectors to avoid catastrophic climate change — and we need to do it fast, said the Intergovernmental Panel on Climate Change.
This research should serve as a rallying cry for polluting industries to make major changes now. Yet the agriculture industry continues to lag behind.