This website uses cookies to ensure you get the best experience while browsing it. By clicking 'Got It' you're accepting these terms.
President Obama: Climate Change Is an 'Immediate Risk to Our National Security'
May. 21, 2015 08:58AM EST
Climate
When President Obama delivered the keynote address at the Coast Guard Academy graduation ceremonies Wednesday, the theme was one he's been hitting with increasing frequency as he nears the end of his time in office: climate change. He has emphasized its impact on the economy, public health and national security. He focused on the latter at the Coast Guard ceremony, with an increased sense of urgency.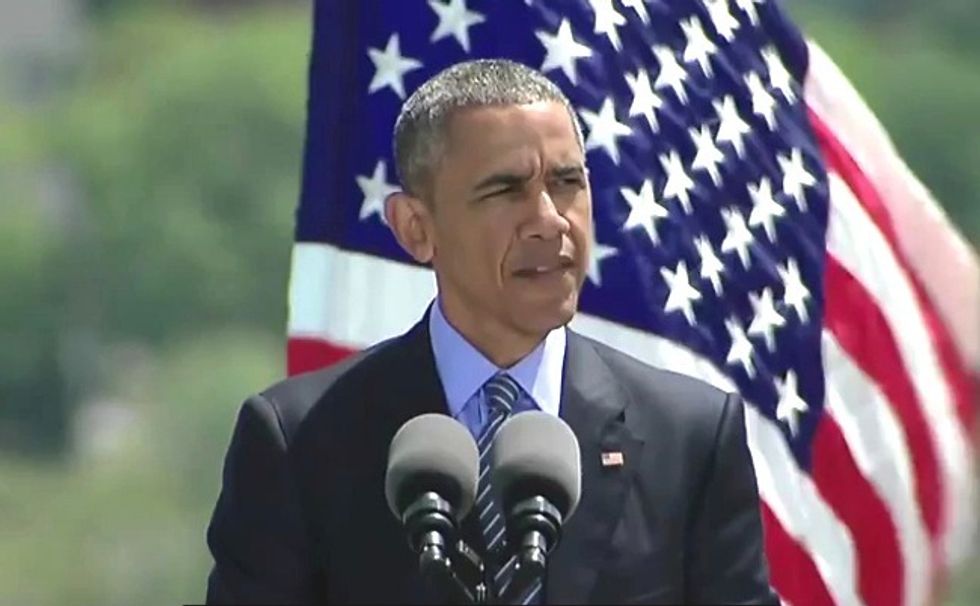 As Republicans in Congress fight against Obama's climate measures such as the Clean Power Plan while also raising the alarm about terrorism and trying to position themselves as the party best equipped to fight it, the President appears to be painting them into a corner.
"This cannot be subject to the usual politics and the usual rhetoric," said Obama to the Coast Guard graduates, even as Republicans are applying ideological rhetoric to virtually every environmental issue.
The President stressed the importance of the missions that the graduates will participate in, saying, "We need you to safeguard our ports against all threats, including terrorism. We need you to respond in times of disaster or distress and lead your rescue teams as they jump out of perfectly good helicopters. We need you in the Middle East; in the Gulf; alongside our Navy; in places like West Africa, where you helped keep the ports open so that the world could fight a deadly disease. We need you in the Asia Pacific, to help our partners train their own coast guards to uphold maritime security and freedom of navigation in waters vital to our global economy."
Then he said, "This brings me to the challenge I want to focus on today—one where our Coast Guardsmen are already on the front lines, and that, perhaps more than any other, will shape your entire—and that's the urgent need to combat and adapt to climate change. As a nation, we face many challenges, including the grave threat of terrorism. And as Americans, we will always do everything in our power to protect our country. Yet even as we meet threats like terrorism, we cannot, and we must not, ignore a peril that can affect generations."
"Cadets, the threat of a changing climate cuts to the very core of your service," he continued. "You know the beauty of the sea, but you also know its unforgiving power. Here at the Academy, climate change—understanding the science and the consequences—is part of the curriculum, and rightly so, because it will affect everything that you do in your careers. Some of you have already served in Alaska and aboard icebreakers, and you know the effects. As America's Maritime Guardian, you've pledged to remain always ready—Semper Paratus—ready for all threats. And climate change is one of those most severe threats."
He then moved into the meat of his presentation.
"I'm here today to say that climate change constitutes a serious threat to global security, an immediate risk to our national security," he said. "And make no mistake, it will impact how our military defends our country."
Climate change, he said, "will shape how every one of our services plan, operate, train, equip and protect their infrastructure, their capabilities, today and for the long term." And given that so many military facilities are coastal, that could threaten their readiness for action, he said.
He pointed out some of the risks that today's and tomorrow's Coast Guard might have to cope with. They included rising seas forcing people from their homes and creating more refugees.
"I guarantee you the Coast Guard will have to respond," he said, just as they are part of the international relief teams responding to humanitarian disasters such as Typhoon Haiyan in the Philippines.
He pointed to food shortages due to drought and increases competition for resources as another threat and mentioned two instances of instability and violence they'd led to: "Severe drought helped to create the instability in Nigeria that was exploited by the terrorist group Boko Haram. It's now believed that drought and crop failures and high food prices helped fuel the early unrest in Syria, which descended into civil war in the heart of the Middle East."
He said that responding to the impacts of climate change would ultimately not be enough: "As men and women in uniform, you know that it can be just as important, if not more important, to prevent threats before they can cause catastrophic harm. And only way—the only way—the world is going to prevent the worst effects of climate change is to slow down the warming of the planet. The world has to finally start reducing its carbon emissions—now."
The President enumerated again the steps he's already proposed to do so, including making building more energy efficient, investing more in research on renewable technologies, cutting carbon emissions from power plants and working with other countries to strike international greenhouse gas reduction agreements.
He hit one jarring note, given his recent approval of Shell's plan to drill for oil in the fragile Arctic seas ecosystem, a move widely condemned by environmental groups.
"Climate change means Arctic sea ice is vanishing faster than ever," he said. "We're witnessing the birth of a new ocean—new sea lanes, more shipping, more exploration, more competition for the vast natural resources below. The U.S. is an Arctic nation, and we have a great interest in making sure that the region is peaceful, that its indigenous people and environment are protected, and that its resources are managed responsibly in partnership with other nations. I believe that our interests in the Arctic demand that we continue to invest in an enduring Coast Guard icebreaking capacity."
Obama took another sly stab at the climate deniers in Congress.
"Now, I know there are still some folks back in Washington who refuse to admit that climate change is real," he said. "And on a day like today, it's hard to get too worried about it. There are folks who will equivocate. They'll say, 'You know, I'm not a scientist.' Well, I'm not either. But the best scientists in the world know that climate change is happening. Our analysts in the intelligence community know climate change is happening. Our military leaders—generals and admirals, active duty and retired—know it's happening. Our homeland security professionals know it is happening. And our Coast Guard knows it's happening."
YOU MIGHT ALSO LIKE
Watch Obama and Bill Nye Take on 'Climate-Denier Club' in Congress
Obama Says 'Climate Change Can No Longer Be Ignored' as Jeb Bush Admits He's 'Concerned'
John Kerry: Not Addressing Climate Change Will Lead to 'Utter Catastrophe'
EcoWatch Daily Newsletter
Aerial view of Ruropolis, Para state, northen Brazil, on Sept. 6, 2019. Tthe world's biggest rainforest is under threat from wildfires and rampant deforestation. JOHANNES MYBURGH / AFP via Getty Images
By Kate Martyr
Deforestation in Brazil's Amazon rainforest last month jumped to the highest level since records began in 2015, according to government data.
A total of 563 square kilometers (217.38 square miles) of the world's largest rainforest was destroyed in November, 103% more than in the same month last year, according to Brazil's space research agency.
From January to November this year an area almost the size of the Caribbean island of Puerto Rico was destroyed — an 83% overall increase in destruction when compared with the same period last year.
The figures were released on Friday by the National Institute for Space Research (INPE), and collected through the DETER database, which uses satellite images to monitor forest fires, forest destruction and other developments affecting the rainforest.
What's Behind the Rise?
Overall, deforestation in 2019 has jumped 30% compared to last year — 9,762 square kilometers (approximately 3769 square miles) have been destroyed, despite deforestation usually slowing during November and December.
Environmental groups, researchers and activists blamed the policies of Brazil's president Jair Bolsonaro for the increase.
They say that Bolosonaro's calls for the Amazon to be developed and his weakening support for Ibama, the government's environmental agency, have led to loggers and ranchers feeling safer and braver in destroying the expansive rainforest.
His government hit back at these claims, pointing out that previous governments also cut budgets to environment agencies such as Ibama.
The report comes as Brazil came to loggerheads with the Association of Small Island States (AOSIS) over climate goals during the UN climate conference in Madrid.
AOSIS blasted Brazil, among other nations, for "a lack of ambition that also undermines ours."
Last month, a group of Brazilian lawyers called for Bolsonaro to be investigated by the International Criminal Court over his environmental policies.
Reposted with permission from DW.
The Carolina parakeet went extinct in 1918. James St. John /
CC BY 2.0
The Carolina parakeet, the only parrot species native to the U.S., went extinct in 1918 when the last bird died at the Cincinnati Zoo. Now, a little more than 100 years later, researchers have determined that humans were entirely to blame.
Pexels
Vitamin C is a very important nutrient that's abundant in many fruits and vegetables.
BLM drill seeders work to restore native grasses after wildfire on the Bowden Hills Wilderness Study Area in southeast Oregon, Dec. 14, 2018. Marcus Johnson / BLM / CC BY 2.0
By Tara Lohan
In 2017 the Thomas fire raged through 281,893 acres in Ventura and Santa Barbara counties, California, leaving in its wake a blackened expanse of land, burned vegetation, and more than 1,000 destroyed buildings.