President Obama, Are You a Climate Champion or a Climate Hypocrite?
Aug. 17, 2015 10:13AM EST
Climate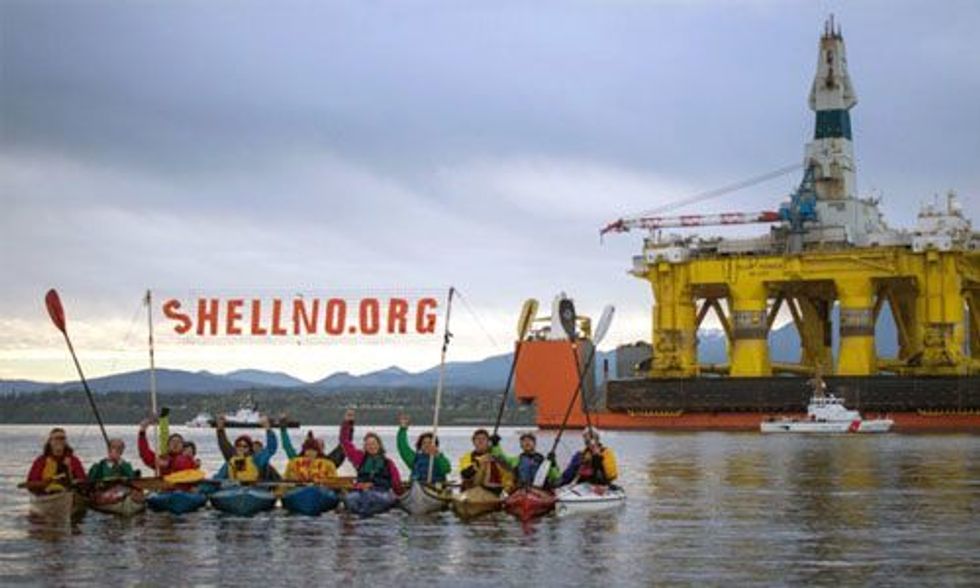 President Obama just gave away the American Arctic Ocean to one of the most irresponsible oil companies on Earth, and he will bear responsibility for the consequences. The decision to green light every step of Shell's pathway to its oil and gas lease in the Chukchi Sea was a critical test of President Obama's climate legacy, and he failed.
LIVE: Interview with #ShellNo Activist on her experience in #Portland https://t.co/M7tweiSms3 #ClimateChange pic.twitter.com/CqZTD863PT

— Unicorn Riot (@UR_Ninja) August 6, 2015
Drilling for Arctic oil and gas is unnecessary and should not even be up for consideration according to the latest climate science. Yet over the past five months, the federal government has been busy removing any and all administrative hurdles in Shell's way. After affirming the original lease sale and approving every permit needed to discharge pollution, harass wildlife and transport its drilling fleet to the Chukchi Sea, it looks like the Obama administration wants Shell there as quickly as possible.
The irony of President Obama's climate position is not lost on the American people. We have repeatedly been told about the unprecedented threat that climate change poses to the health and well-being of our environment and society. In his 2015 State of the Union address, President Obama said, "No challenge poses a greater threat to future generations than climate change."
At the United Nations Climate Change Summit in October 2014, he said the urgent and growing threat of climate change will dramatically define this century and that the U.S. is stepping up and embracing our responsibility to combat it. On the contrary, he continues to let companies like Shell move forward with destructive fossil fuel projects.
The question every American should be asking right now is: "President Obama, are you a climate champion or a climate hypocrite?"
If Shell's more than $7 billion gamble leads to the discovery of recoverable oil and gas deposits, the earliest production could begin is between 2025 and 2030. By 2025, however, the U.S. has agreed to reduce its greenhouse gas emissions 26 to 28 percent below 2005 levels. Despoiling the pristine Arctic to increase oil and gas production at a time when we need to be reducing emissions makes no logical sense.
If President Obama earnestly wants to use his remaining term in office to combat climate change, his choice regarding oil and gas development in the Arctic Ocean should be easy. If Shell continues to get its way, we are faced with a very bleak future:
Unpredictable sea ice conditions and storms lead to accidents for Shell's drilling fleet, where emergency responses are limited due their location 70 miles from shore and nearly 1,000 miles from the nearest Coast Guard base.
A 75 percent chance of a large oil spill that Arctic conditions make extremely difficult and nearly impossible to contain or clean up.
A number of iconic marine animal species, including threatened and endangered species like the Pacific walrus and polar bear, are harassed during Shell's drilling operations.
Subsistence hunters are unable to access or hunt the animals that are of vital importance to their culture.
Climate change is exacerbated as the extraction and burning of Arctic oil and gas releases an estimated 15.8 billion tons of carbon emissions. As a result, reductions in sea ice continue to reach record levels and coastal erosion forces several Alaska Native villages to permanently relocate.
But this does not have to be the new reality for the American Arctic Ocean. President Obama has one last opportunity to stop this reckless and short-sighted project. He can deny Shell's revised application to allow for deeper drilling of oil and gas deposits and protect the people and wildlife that depend on a vibrant Chukchi Sea environment from a toxic legacy that will surely last decades.
New report: Arctic drilling and #climate safety don't mix. Read more: #ShellNo #SaveTheArctic pic.twitter.com/2JIh3Y7H3o

— Friends of the Earth (@foe_us) August 13, 2015
If President Obama takes a stand, billions of gallons of oil will be left in the ground, and an important message sent to Big Oil: the oil and gas deposits contained under the American Arctic Ocean belong to the American people and will be managed in their best interest, not the interest of growing Big Oil's profits. The legitimacy of U.S. leadership as head of the Arctic Council will be strengthened and President Obama will be poised to start a needed discussion about curtailing fossil fuel extraction going into the United Nations climate talks in Paris this winter.
The American Arctic Ocean is a sensitive, ecologically-rich, and unforgiving environment, making it one of the worst places to drill but one of the best places to stand up and say "No!" to Big Oil. President Obama should be held responsible for his deeds and not his words. He can no longer hide behind his climate legacy rhetoric while giving Shell access to Arctic oil and gas without being called a climate hypocrite. The American people, the Arctic Ocean and our climate future expect and deserve better.
YOU MIGHT ALSO LIKE
Arctic Oil Drilling Is a Climate Disaster, Says New Report
10 Years Later: Fracking and the Halliburton Loophole
EcoWatch Daily Newsletter
Related Articles from EcoWatch
Recent Stories from EcoWatch