This website uses cookies to ensure you get the best experience while browsing it. By clicking 'Got It' you're accepting these terms.
President Obama, Act Now to Save the Bees
Jul. 03, 2013 08:30AM EST
Health + Wellness
In light of recent action in Europe to suspend the use of certain neonicotinoid pesticides, Beyond Pesticides joined 12 other environmental and advocacy organizations in urging the Obama Administration to direct the U.S. Environmental Protection Agency (EPA) to follow the European Union's lead in recognizing that risks posed by these pesticides are unacceptably high, and to suspend the use of these chemicals in the U.S. to protect pollinators and the nation's agricultural economy.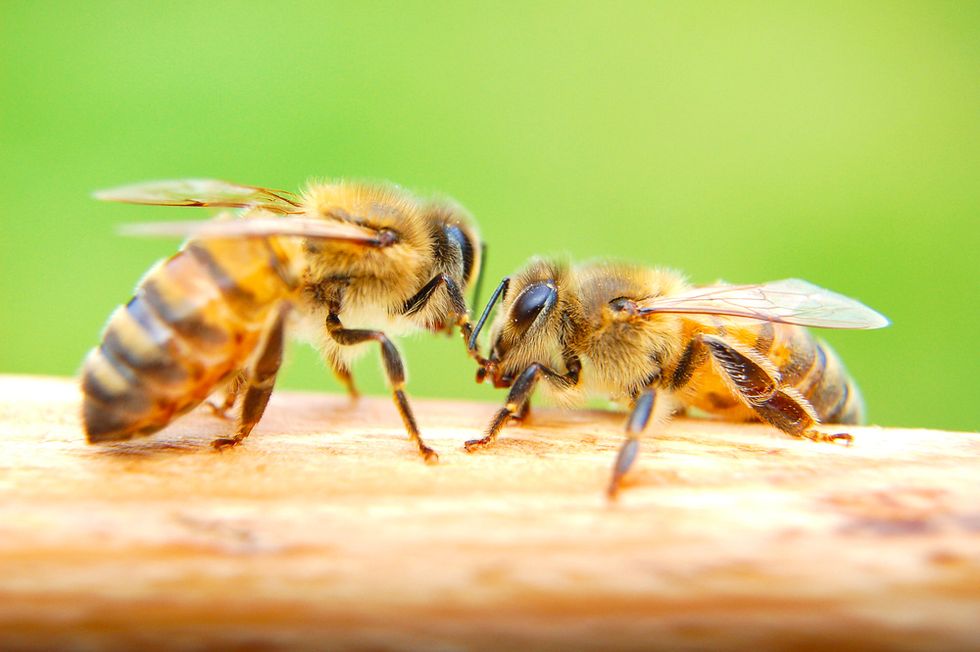 Photo courtesy of Shutterstock
The letter urges the Obama Administration to not only direct EPA to follow Europe's lead in suspending certain neonicotinoid pesticides uses, but requests even more protective measures, including a minimum two-year suspension for all outdoor uses of neonicotinoid insecticides pending resolution of their hazards to bees and beneficial organisms. Highlighting the negative environmental and economic impacts of outdoor uses of the EPA-approved neonicotinoid insecticides—imidacloprid, clothianidin, thiamethoxam, dinetofuran and acetamiprid—as well as a recognition that the initial risk assessments for these chemicals fail to adequately consider key risks to bee health, the letter to President Obama notes that it, "would not be responsible to continue to allow these threatening compounds to be used so broadly."
On average, U.S. beekeepers lost 45.1 percent of the colonies in their operation during the winter of 2012-2013, with many reporting over 70 percent losses of their bee colonies. Recently, over 50,000 bumble bees, representing approximately 300 colonies, were killed after the application of a neonicotinoid pesticide to trees in Oregon. Given that bee pollination is a $20-$30 billion per year contributor to U.S. agriculture and vital to the majority of fruit and vegetable produce, current impacts on bees are rapidly evolving into devastating—perhaps irreversible—losses to farmers, consumers and the economy as a whole, which relies on domestically-produced bee-pollinated food and fiber crops.
The neonicotinoid class of insecticides has been identified as a leading factor in bee declines. Neonicotinoids are systemic insecticides used primarily as seed treatment for corn and soybeans, as well as in home and garden products. The Center for Food Safety has a comprehensive list of neonicotinoid products to avoid. These chemicals contaminate nectar and pollen, as well as soil and surface water. Foraging and navigational disruptions, immune suppression as well as learning and memory disorders have been documented in bees exposed to even low levels of these chemicals. An extensive overview of the major studies showing the effects of neonicotinoids on pollinator health can be found on Beyond Pesticides' What the Science Shows webpage.
In March 2013, commercial beekeepers and environmental organizations filed an emergency legal petition with EPA to suspend use of the pesticides linked to honey bee deaths, urging the agency to adopt safeguards. Meanwhile in Europe, the European Commission passed a continent-wide suspension on the neonicotinoids imidacloprid, clothianidin and thiamethoxam, citing unacceptable hazards to bees, which is supported by a European Food Safety Authority (EFSA) report that finds the neonicotinoid class of insecticides of "critical concern" to bee health. Unfortunately, in the U.S., response from federal regulatory agencies is stymied. Despite the groundbreaking decision in Europe, EPA released a report which failed to address the overwhelming scientific evidence of neonicotinoid-related bee deaths or present any sustainable solution to address the bee crisis.
The letter also brings several key acknowledgments by federal officials made in public statements at recent meetings, in media statements, in EPA documents and other venues to the Administration, including:
EPA's enforcement guidance for neonicotinoid use is inadequate.
EPA's bee kill incident reporting system is inadequate.
Labels on neonicotinoid products are inadequate to mitigate adverse environmental effects, specifically to avoid seed dust-mediated mortality to honey bees and other beneficial insects in or near corn fields.
Current corn planting machinery poses significant dust-off risks and needs changing, while also recognizing that such changes will likely take many years and stating that EPA lacks authority to mandate machinery changes.
Bee health and populations, and crop pollination, are in a near-crisis state based on several synergistic factors including insecticide use.
EPA has not consulted with the U.S. Fish and Wildlife Service on potential effects on threatened or endangered species under Sec. 7 of the Endangered Species Act for the neonicotinoid insecticides.
According to the concerned groups, EPA has refused to exercise its regulatory power to address the major contribution of these insecticides to bee declines. Instead, the agency has pointed to land use decisions, crop planting choices by farmers, pathogens, bee nutrition and other factors outside the agency's authority, while failing to adopt measures that could offer long-term sustainable protection of bee populations. The letter also cites emerging science which documents extensive surface water contamination and impacts on non-target organisms such as aquatic invertebrates, birds and other pollinators.
"We could face a second Silent Spring above and beyond the threats to managed and wild pollinators," the letter states. Additionally, it states that EPA's planned 2018 deadline to complete its registration reviews for the major neonicotinoids "is far too slow in view of their potentially calamitous risks."
The signatories to this letter include: Beyond Pesticides, The Center for Food Safety, Pesticides Action Network North America, Friends of the Earth, The Xerces Society, Sierra Club, Defenders of Wildlife, Californians for Alternatives to Toxics, Food & Water Watch, Center for Environmental Health, American Bird Conservancy and the Northwest Coalition for Alternatives to Pesticides.
Beyond Pesticides' BEE Protective campaign also has educational tools to help the pollinators in your yard, park or garden and information to help transform your community and raise awareness about pollinator health.
Visit EcoWatch's BIODIVERSITY page for more related news on this topic.
——–

WHAT STEPS COULD BE TAKEN TO PRESERVE BIODIVERSITY IN URBAN AREAS?
EcoWatch Daily Newsletter
Ocean pollution concept with plastic and garbage.
Anton Petrus
/ Moment / Getty Images
Nestlé cannot claim that its Ice Mountain bottled water brand is an essential public service, according to Michigan's second highest court, which delivered a legal blow to the food and beverage giant in a unanimous decision.
A number of supermarkets across the country have voluntarily issued a recall on sushi, salads and spring rolls distributed by Fuji Food Products due to a possible listeria contamination, as CBS News reported.
A U.S. Border Patrol agent gathers personal effects from immigrants before they are transferred to a McAllen processing center on July 02, 2019 in Los Ebanos, Texas. John Moore / Getty Images
Poverty and violence in Central America are major factors driving migration to the United States. But there's another force that's often overlooked: climate change.
Retired Lt. Cmdr. Oliver Leighton Barrett is with the Center for Climate and Security. He says that in Guatemala, Honduras and El Salvador, crime and poor economic conditions have long led to instability.
"And when you combine that with protracted drought," he says, "it's just a stressor that makes everything worse."
Barrett says that with crops failing, many people have fled their homes.
"These folks are leaving not because they're opportunists," he says, "but because they are in survival mode. You have people that are legitimate refugees."
So Barrett supports allocating foreign aid to programs that help people in drought-ridden areas adapt to climate change.
"There are nonprofits that are operating in those countries that have great ideas in terms of teaching farmers to use the land better, to harvest water better, to use different variety of crops that are more resilient to drought conditions," he says. "Those are the kinds of programs I think are needed."
So he says the best way to reduce the number of climate change migrants is to help people thrive in their home countries.
Reporting credit: Deborah Jian Lee / ChavoBart Digital Media.
Reposted with permission from Yale Climate Connections.
Chris Pratt arrives to the Los Angeles premiere of "Jurassic World: Fallen Kingdom" on June 12, 2018 in Los Angeles, California. Michael Tran / FilmMagic / Getty Images

Chris Pratt was called out on social media by Game of Thrones star Jason Momoa after Pratt posted an image "low key flexing" with a single-use plastic water bottle.