President Obama Acknowledges Climate Change While Fully Supporting Fracking in SOTU
Jan. 28, 2014 11:36PM EST
Climate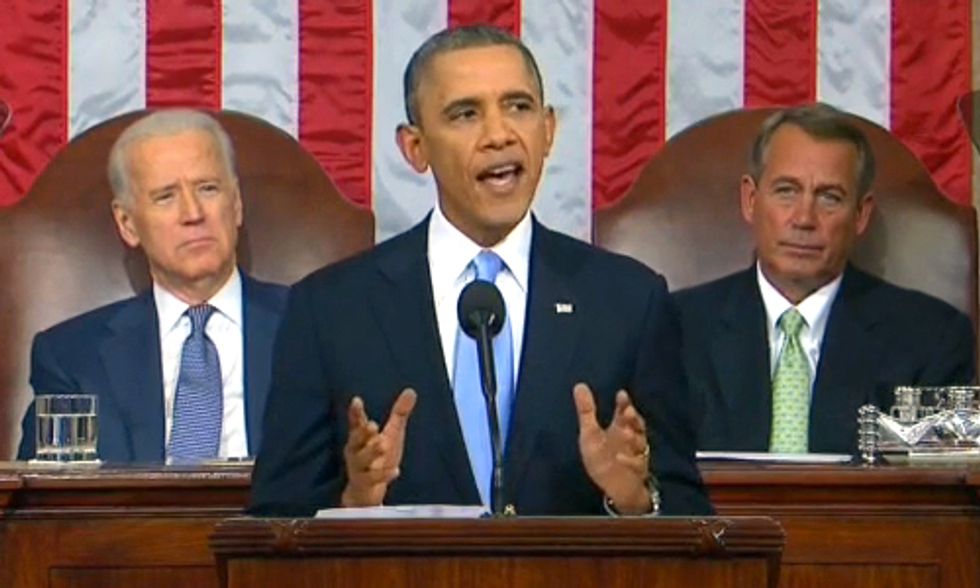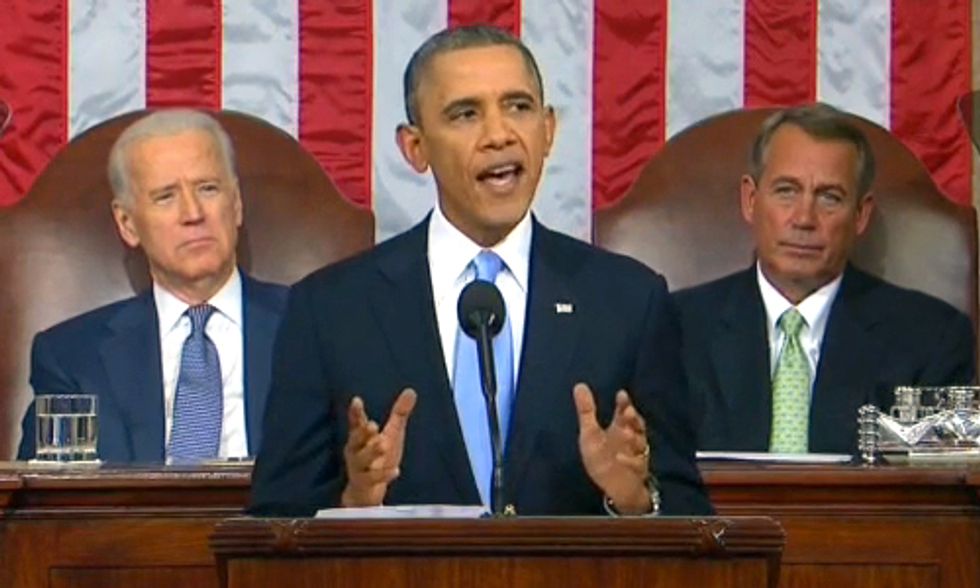 Tonight, President Obama during his State of the Union outlined the progress of his "all of the above" energy strategy. In his speech, he said:
Now, one of the biggest factors in bringing more jobs back is our commitment to American energy. The all-of-the-above energy strategy I announced a few years ago is working, and today, America is closer to energy independence than we've been in decades.
One of the reasons why is natural gas—if extracted safely, it's the bridge fuel that can power our economy with less of the carbon pollution that causes climate change. Businesses plan to invest almost $100 billion in new factories that use natural gas. I'll cut red tape to help states get those factories built, and this Congress can help by putting people to work building fueling stations that shift more cars and trucks from foreign oil to American natural gas. My administration will keep working with the industry to sustain production and job growth while strengthening protection of our air, our water, and our communities. And while we're at it, I'll use my authority to protect more of our pristine federal lands for future generations.
It's not just oil and natural gas production that's booming; we're becoming a global leader in solar, too. Every four minutes, another American home or business goes solar; every panel pounded into place by a worker whose job can't be outsourced. Let's continue that progress with a smarter tax policy that stops giving $4 billion a year to fossil fuel industries that don't need it, so that we can invest more in fuels of the future that do.
And even as we've increased energy production, we've partnered with businesses, builders, and local communities to reduce the energy we consume. When we rescued our automakers, for example, we worked with them to set higher fuel efficiency standards for our cars. In the coming months, I'll build on that success by setting new standards for our trucks, so we can keep driving down oil imports and what we pay at the pump.
Taken together, our energy policy is creating jobs and leading to a cleaner, safer planet. Over the past eight years, the United States has reduced our total carbon pollution more than any other nation on Earth. But we have to act with more urgency—because a changing climate is already harming western communities struggling with drought, and coastal cities dealing with floods. That's why I directed my administration to work with states, utilities, and others to set new standards on the amount of carbon pollution our power plants are allowed to dump into the air. The shift to a cleaner energy economy won't happen overnight, and it will require tough choices along the way. But the debateis settled. Climate change is a fact. And when our children's children look us in the eye and ask if we did all we could to leave them a safer, more stable world, with new sources of energy, I want us to be able to say yes, we did.
In response, Greenpeace Executive Director Phil Radford said, "It's good to hear that President Obama plans to move forward with his plan to address climate change, but unfortunately, his administration continues to undermine this plan by encouraging the extraction of coal, oil and gas from our public lands and waters, unlocking huge quantities of carbon pollution. Adding insult to injury, the fossil fuel industry hopes to boost exports of its dirty energy abroad, from the Keystone XL pipeline to proposals to create huge coal and LNG export facilities."
Visit EcoWatch's CLIMATE CHANGE and FRACKING pages for more related news on this topic.

EcoWatch Daily Newsletter