This website uses cookies to ensure you get the best experience while browsing it. By clicking 'Got It' you're accepting these terms.
[Editor's note: Conor Kennedy traveled this summer to Cuba to dive the Gardens of the Queen, one of the most pristine marine environments in the Caribbean, to conduct ecological assessments of the coral reef ecosystem with Ocean Doctor. This is Part II of a five-part series. Read Part I, Part III, Part IV and Part V.]
Castro told us that for many years he had fished and scuba dived Cuba's coastal waters without understanding either the biological importance or the fragility of the coral reefs. In fact, his machismo as a sportsman was notorious, and we later met fishermen on Cuba's south coast who remembered Castro as a deadly spear fisherman. Castro told us that his encounter with Jacques Cousteau—the undersea explorer, conservationist and inventor of the aqualung—had changed his perspective, transforming him into a fierce environmentalist.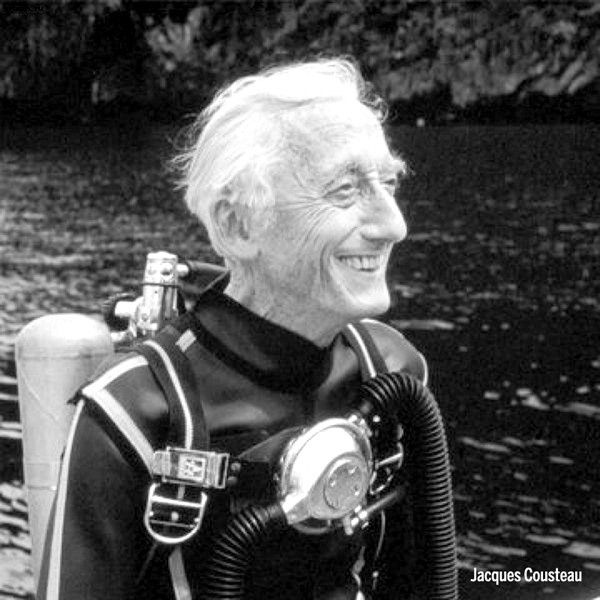 Inspired by Cousteau, Castro launched Cuba on one of the most aggressive reef and fishery preservation efforts of any nation in the world. Cuba's aim is to permanently protect 25 percent of its coastal waters as marine reserves. Compare that to less than two percent of the U.S. coastal zones and a worldwide average of only around one percent. But the jewel in Cuba's crown of marine conservation is the "Gardens of the Queen," the nearly perfectly preserved reef that we had come to the island to dive.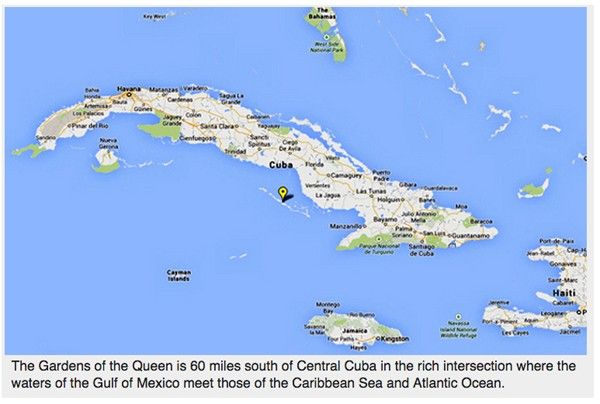 Castro spoke passionately about many other things—the ability of LED bulbs to save energy and the great potential for diesel dependent Caribbean islands to invest in wave, tidal and solar energy. He soliloquized about space junk, the constellations and the painful rigors of a Jesuit education. He told us that he spends hours each day reading information from the Internet. "You wouldn't believe," he said in astonishment, "how much information is on the Internet." He warned of the danger of nuclear weapons and the fact that a nuclear exchange during the 1962 missile crisis could have destroyed human life on our planet. He remarked that even today, an accidental exchange, given the power of nuclear weapons after World War II, could destroy humanity and our civilization, "which required 4 billion years to develop since the birth of the universe."
My 12-year-old brother, Aidan, asked Castro about Fulgencio Batista, the dictator whom he overthrew in 1959. Aidan asked which side Batista's ancestors had taken during Cuba's War of Independence from Spain in 1898. Castro had told us that his own father came to Cuba to fight on the side of the anti-colonial revolutionaries and stayed on as a contractor for the universally despised United Fruit Company. Castro answered that Batista's father had fought for independence on the side of Jose Marti and Cuba's patriots. Afterward Castro wrote a letter containing a more detailed description of the Batista family history for Aidan, which he sent us by courier. At the end of our meeting, Castro walked us to our car.
Although the residents of Havana are poor, Cuba boasts that it has the lowest crime rate in the Americas. Even Aidan felt safe walking the streets to visit Havana's markets and restaurants even late at night. Small entrepreneurs, many of them using money from American relatives to finance their enterprises, have opened new businesses—ice cream parlors, cigar stores, restaurants and barber shops—on nearly every street in Havana. Nearly all of Havana's famous taxis are perfectly preserved vintage 1940s and 1950s Chevys, Buicks and Cadillacs. We rode to the bazaar market—a former locomotive factory—and visited, Jose Marti Park, the Museum of the Revolution and other landmarks, including Ernest Hemingway's favorite restaurants and bars, in a 100-year-old Model T.
The centerpiece of the Museum of The Revolution is the Granma, the decrepit wooden yacht upon which Castro and 81 revolutionaries traveled from their exile in Veracruz, Mexico in 1956 to launch their revolution against Batista from the Sierra Maestra Mountains. Castro told us that by that time he already "had a Marxist background" but that many of his fellow fighters were simple idealists who despised corruption and tyranny and wanted to fight for democracy and justice.

In selecting 81 fighters for the journey from the much larger roster of revolutionaries who wanted a space on board, Castro told us that he looked for men of small size rather than ideological purity in order to cram aboard the tiny vessel as many guerrilla fighters as possible. We also saw the wreckage of the American U-2 piloted by U.S. Air Force Lt. Rudolph Anderson who died when Cuban and Russian soldiers launched a SAM surface missile against the American spy plane during the Cuban Missile Crisis in 1962. Anderson's downing precipitated the most perilous days in human history by bringing the world to the brink of nuclear war.
The Internet is largely inaccessible in Havana and too expensive for the average Cuban and U.S. cell phones don't work. Few Cubans can afford air conditioners. In the evening, people sit on stoops or on chairs on the sidewalk playing dominoes, or on couches or chairs in their salons watching black and white T.V., their doors and windows wide open to the street. Or they gather by the hundreds in couples or small groups on the sea wall along Havana's famous boulevard, the Malecon, and just talk. Aidan often said that he loves Havana more than any place he has ever been. He said he thought it was a good way to live—without computers, screens, iPhones and Xbox's, although I didn't hear him swear off any of his screens back home.
On every street corner we found Cubans anxious to talk with us. We chatted with cab drivers, waiters, musicians and young and old people we met in the street. We even visited a police station in a fifteenth century fort when a street vendor tried to overcharge us for a haircut. We made our case before the police captain, who quickly vindicated us. We considered the episode a good adventure with Cuban justice. Most people were happy to learn that we were from the U.S. They all wanted to know when our country would end the embargo.
We visited the Plaza of the Revolution, posed in front of the statue of Jose Marti and passed a special park built to accommodate anti-Bush protesters during the George W. Bush administration. Bush's policies in Iraq and Guantanamo were especially unpopular in Cuba. While most Cubans seem proud at having stood up to half a century of U.S. corporate and military power, they still admire America for our country's historic ideals. A bronze statue of Abraham Lincoln dominates Havana's principal park on the Avenida de los Presidentes and another Lincoln statue stands in front of Cuba's Capital, a perfect replica of the U.S. Capitol building, built at a time when Cuba-U.S. relations were strong.
We were equally surprised how often Cubans from every background expressed affection for Miami's Cubans—many of whom the Cuban government has traditionally considered to be enemies and traitors. "We all have a cousin in Miami," many Cubans told us. One Cuban explained that after the Soviet Bloc collapsed in 1991, Cuba's trade partners and generous Russian assistance programs all disappeared. The cataclysmic financial crash that subsequently hit Cuba sent throngs of economic refugees to Miami. These migrants lacked the anti-Castro animus that characterized the Cuban political refugees of yesteryear.
A tour guide later told us the money that Miami Cubans send home to family and relatives provide a critical boost to the Cuban economy. A Cuban official spoke affectionately of the Miami Cubans, "They are our brothers and sisters." Still many Cubans remain wary of knee-jerk anti-Cuban sentiment within the U.S. government. On our way to see Castro, one Cuban told us that the Netflix series, House of Cards, has become the obsession of many Cubans. "We say to ourselves, 'If even 10 percent of this is true, we are all screwed.'"
EcoWatch Daily Newsletter
Asian elephants in Bandipur National Park, India. Mike Prince / CC BY 2.0
By John R. Platt
Some of the tiniest creatures in Myanmar benefit from living near the largest species in the area.
Eucador's Waorani indigenous people celebrated a court ruling against oil extraction on their ancestral lands.
Oregon state capitol. Tashka / iStock / Getty Images
Oregon republicans fled their state rather than do anything to stop the climate crisis. The state republicans abrogated their duties as elected officials and ran away since they don't have the votes to stop a landmark bill that would make Oregon the second state to adopt a cap-and-trade program to curb greenhouse gas emissions, as Vice News reported.
The Burbo Bank Offshore Wind Farm in the Irish Sea in Wallasey, England. Christopher Furlong / Getty Images
The birthplace of coal power is changing its ways. For the first time since the industrial revolution, the United Kingdom will generate more electricity from clean energy sources like wind, solar and nuclear power rather than from fossil fuel plants, the country's National Grid said Friday, as the BBC reported.
A chimpanzee in Ol Pejeta Conservancy, Kenya. Ray in Manila / CC BY 2.0
By Ashley Edes
Whether you find it fascinating or disquieting, people recognize the inherent similarities between us and our closest primate relatives, especially the great apes. As a primatologist I regularly field questions ranging from how strong gorillas and chimpanzees are (very) to whether monkeys throw poop (not yet observed in the wild) to how smart they are (let's just say I can't compete with their puzzle-solving abilities).
An Impossible Burger. Sarah Stierch / Flickr / CC BY 2.0
By Jaydee Hanson
In the foodie world, 2019 might as well be named The Year of the Impossible Burger. This plant-based burger that "bleeds" can now be found on the menus of Burger King, Fatburger, Cheesecake Factory, Red Robin, White Castle and many other national restaurant chains. Consumers praise the burger's meat-like texture and the product is advertised as an environmentally friendly alternative to traditional beef burgers.