Preserving an Appalachian Treasure: American Ginseng
[Editor's note: This article has been going viral on EcoWatch for days and has been very popular over the last many months. The article is from the 2009 August issue of EcoWatch Journal and the online format of the article is from an older version of our site. I thought with it's renewed popularity, it was best to provide it in our updated online format. Enjoy.]
American Ginseng, Panax Quinquefolius, is a long-lived understory herb found in the mesophytic forests of Appalachia. Ginseng was once native to China but over-harvesting of its species, Panax Ginseng, extirpated the populations. The Chinese have used the roots of the plants in medicinal preparations for thousands of years. Soon after the species was discovered in North America in the 1700s, the Chinese relied heavily on exports of American Ginseng. In the late 1700s, residents established a significant trade chain with the Orient and exported tremendous amounts of ginseng roots. More than 750,000 pounds of wild ginseng roots were exported in 1822 and ginseng sold for 42 cents a pound. It still remains an important component of the informal economy in Appalachia and prices of ginseng today range from $200 to a high of $1,500 a dried pound for the wild roots.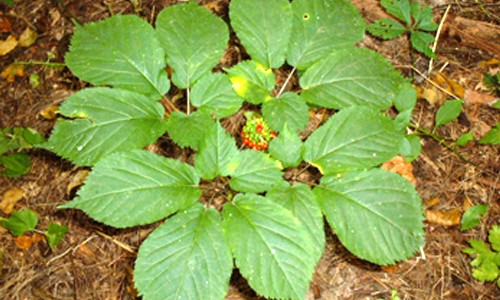 In the early 1900s, the ginseng community recognized the need to protect wild populations and enlisted two practices: laws and cultivation. Ginseng can be cultivated under shade cloth or wooded canopies. Northeastern Ohio had several ginseng farms in the early 1900s. The plant was so popular that a national and several state ginseng organizations were created to assist growers. Ohio passed House Bill 9 in 1915 that levied a penalty for the destruction or theft of ginseng. Today, wild ginseng is listed under Appendix II of the Convention of International Trade of Endangered Species and ginseng trade is monitored by the U.S. Fish and Wildlife Service.
Legislation and cultivation have not been totally effective in protecting wild populations. Poaching has become very problematic for both ginseng growers and public land managers trying to secure wild ginseng. Harvesters are urged to abide by sustainable harvesting practices such as taking only mature plants (5 years or older), replanting the ripe berries in the forest, and abiding by harvest seasons. In an effort to protect cultivated ginseng, growers in Ohio have recently begun to seek state certification for Ohio growers. Currently two states have certification—Wisconsin and West Virginia. Certification means that cultivated plants could be distinguished from wild plants and would become exempt from regulations. It may also provide legal means for growers to access crop insurance for roots that are destroyed or stolen.
Ultimately, the long-term survival of this economically important and culturally significant Appalachian species and the future of ginseng trade is dependent on teaching harvesters sustainable practices and encouraging continued cultivation of the roots. Certification of growers is an important step.
For more information about sustainable harvesting techniques or certification efforts, contact Roots of Appalachia Growers Association.
Visit EcoWatch's BIODIVERSITY page for more related news on this topic.

A coalition of conservation groups and others announced Thursday that a historic number of comments and petitions of support have been submitted to the U.S. Department of the Interior in support of Bears Ears National Monument. Despite the entirely inadequate 15-day comment period ending on May 26, more than 685,000 comments in support of Bears Ears National Monument have been collected.
Keep reading...
Show less
Rink Glacier in western Greenland, with a meltwater lake visible center. NASA/OIB
Scientists have had their eyes on Greenland as its iconic glaciers have begun disappearing due to a warming climate. But, what they didn't expect to see was a whole new type of melting.
Keep reading...
Show less
Mountain View Fire
By Lena Moffitt
An oil tanker in Mead, Colorado exploded, killing one and injuring three on Thursday. Authorities are continuing to investigate the cause of the explosion.
Keep reading...
Show less
Banner created by Alliance for Climate Education
Keep reading...
Show less
Twenty-two GOP senators sent a letter Thursday urging Donald Trump to pull out of the Paris agreement. They argued remaining in the deal could "upend" the administration's ability "to fulfill its goal of rescinding the Clean Power Plan."
Keep reading...
Show less
By Cheryl Johncox
The Federal Energy Regulatory Commission (FERC) rejected on Thursday Energy Transfer Partners' request to resume horizontal directional drilling at two sites for its Rover fracked gas pipeline. This rejection comes after numerous leaks into Ohio's wetlands, and Clean Air and Clean Water act violations. FERC has halted the process at only eight locations of the 32 where drilling is taking place under Ohio's wetlands and streams.
Keep reading...
Show less
By Nadia Prupis
A majority of people in eight countries say they are ready to change their lifestyles if it would prevent climate catastrophe, a survey on global threats released Wednesday found.
Keep reading...
Show less
May. 25, 2017 01:55PM EST
Bill Maher is sick of billionaires' obsession with Mars, more like "Mars-a-Lago," he said.
In a new animation produced by ATTN:, the popular talk show host of Real Time, discusses the perils of our planet, including how "climate change is killing us."
Keep reading...
Show less