This website uses cookies to ensure you get the best experience while browsing it. By clicking 'Got It' you're accepting these terms.
Preserving an Appalachian Treasure: American Ginseng
Jan. 16, 2014 10:20PM EST
[Editor's note: This article has been going viral on EcoWatch for days and has been very popular over the last many months. The article is from the 2009 August issue of EcoWatch Journal and the online format of the article is from an older version of our site. I thought with it's renewed popularity, it was best to provide it in our updated online format. Enjoy.]
American Ginseng, Panax Quinquefolius, is a long-lived understory herb found in the mesophytic forests of Appalachia. Ginseng was once native to China but over-harvesting of its species, Panax Ginseng, extirpated the populations. The Chinese have used the roots of the plants in medicinal preparations for thousands of years. Soon after the species was discovered in North America in the 1700s, the Chinese relied heavily on exports of American Ginseng. In the late 1700s, residents established a significant trade chain with the Orient and exported tremendous amounts of ginseng roots. More than 750,000 pounds of wild ginseng roots were exported in 1822 and ginseng sold for 42 cents a pound. It still remains an important component of the informal economy in Appalachia and prices of ginseng today range from $200 to a high of $1,500 a dried pound for the wild roots.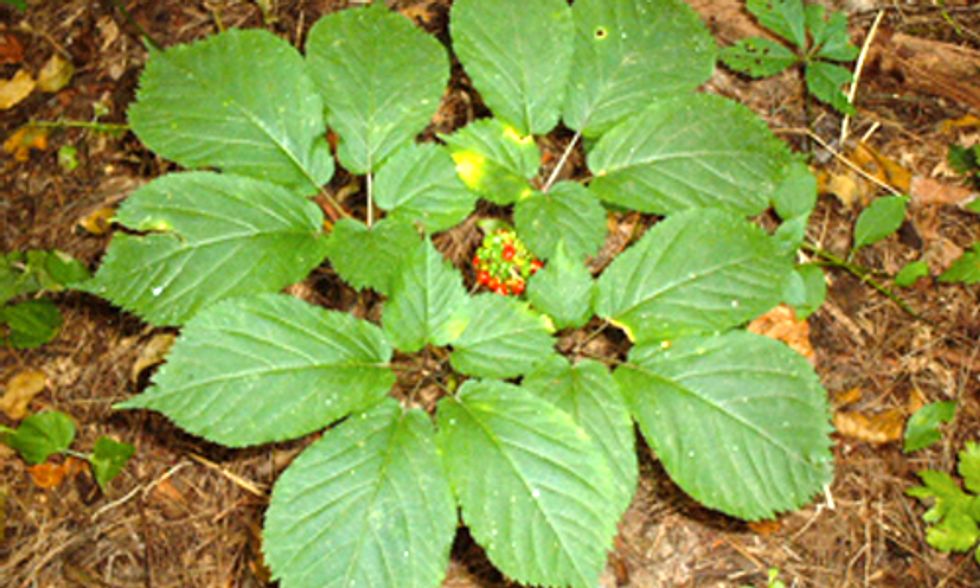 In the early 1900s, the ginseng community recognized the need to protect wild populations and enlisted two practices: laws and cultivation. Ginseng can be cultivated under shade cloth or wooded canopies. Northeastern Ohio had several ginseng farms in the early 1900s. The plant was so popular that a national and several state ginseng organizations were created to assist growers. Ohio passed House Bill 9 in 1915 that levied a penalty for the destruction or theft of ginseng. Today, wild ginseng is listed under Appendix II of the Convention of International Trade of Endangered Species and ginseng trade is monitored by the U.S. Fish and Wildlife Service.
Legislation and cultivation have not been totally effective in protecting wild populations. Poaching has become very problematic for both ginseng growers and public land managers trying to secure wild ginseng. Harvesters are urged to abide by sustainable harvesting practices such as taking only mature plants (5 years or older), replanting the ripe berries in the forest, and abiding by harvest seasons. In an effort to protect cultivated ginseng, growers in Ohio have recently begun to seek state certification for Ohio growers. Currently two states have certification—Wisconsin and West Virginia. Certification means that cultivated plants could be distinguished from wild plants and would become exempt from regulations. It may also provide legal means for growers to access crop insurance for roots that are destroyed or stolen.
Ultimately, the long-term survival of this economically important and culturally significant Appalachian species and the future of ginseng trade is dependent on teaching harvesters sustainable practices and encouraging continued cultivation of the roots. Certification of growers is an important step.
For more information about sustainable harvesting techniques or certification efforts, contact Roots of Appalachia Growers Association.
Visit EcoWatch's BIODIVERSITY page for more related news on this topic.

EcoWatch Daily Newsletter
California Gov. Gavin Newsom speaking with attendees at the 2019 California Democratic Party State Convention at the George R. Moscone Convention Center in San Francisco.
Gage Skidmore
/ Flickr /
CC BY-SA 2.0
California Gov. Gavin Newsom imposed new restrictions on oil exploration in his state yesterday by putting a moratorium on hundreds hydraulic fracturing permits until the projects are reviewed by independent scientists, as the AP reported.
The endangered Houston toad. Courtesy of U.S. Fish and Wildlife Service
While the planet continues to heat up, almost every single one of the 459 species listed as endangered in the U.S. will struggle as the climate crisis intensifies, according to new research published in the journal Nature Climate Change.
"This singular scientific achievement was accomplished at Heliogen's commercial facility in Lancaster, California."
Heliogen
A startup backed by Bill Gates unveiled a breakthrough solar technology Tuesday that could free heavy industry from fossil fuels.
Rhodiola rosea is an adaptogenic herb that can help with chronic fatigue and stress-related burnout. Tero Laakso / Flickr
By Gavin Van De Walle, MS, RD
While everyone has specific life stressors, factors related to job pressure, money, health, and relationships tend to be the most common.
Stress can be acute or chronic and lead to fatigue, headaches, upset stomach, nervousness, and irritability or anger.
A video shows a woman rescuing a koala from Australia's wildfires.
VOA News / YouTube screenshot
More than 350 koalas may have died in the wildfires raging near the Australian town of Port Macquarie in New South Wales, but one got a chance at survival after a woman risked her life to carry him to safety.