This website uses cookies to ensure you get the best experience while browsing it. By clicking 'Got It' you're accepting these terms.
Preserving an Appalachian Treasure: American Ginseng
Jan. 16, 2014 10:20PM EST
[Editor's note: This article has been going viral on EcoWatch for days and has been very popular over the last many months. The article is from the 2009 August issue of EcoWatch Journal and the online format of the article is from an older version of our site. I thought with it's renewed popularity, it was best to provide it in our updated online format. Enjoy.]
American Ginseng, Panax Quinquefolius, is a long-lived understory herb found in the mesophytic forests of Appalachia. Ginseng was once native to China but over-harvesting of its species, Panax Ginseng, extirpated the populations. The Chinese have used the roots of the plants in medicinal preparations for thousands of years. Soon after the species was discovered in North America in the 1700s, the Chinese relied heavily on exports of American Ginseng. In the late 1700s, residents established a significant trade chain with the Orient and exported tremendous amounts of ginseng roots. More than 750,000 pounds of wild ginseng roots were exported in 1822 and ginseng sold for 42 cents a pound. It still remains an important component of the informal economy in Appalachia and prices of ginseng today range from $200 to a high of $1,500 a dried pound for the wild roots.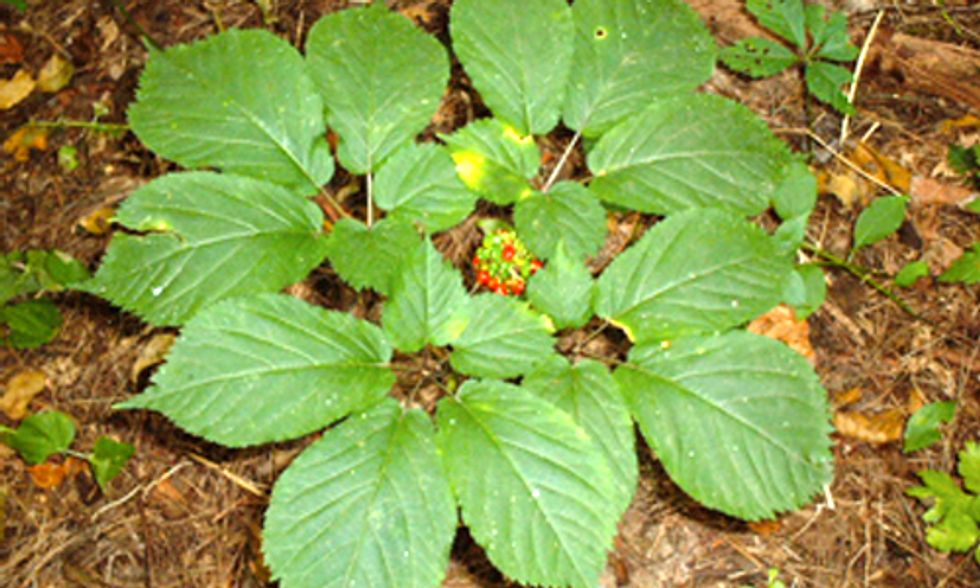 In the early 1900s, the ginseng community recognized the need to protect wild populations and enlisted two practices: laws and cultivation. Ginseng can be cultivated under shade cloth or wooded canopies. Northeastern Ohio had several ginseng farms in the early 1900s. The plant was so popular that a national and several state ginseng organizations were created to assist growers. Ohio passed House Bill 9 in 1915 that levied a penalty for the destruction or theft of ginseng. Today, wild ginseng is listed under Appendix II of the Convention of International Trade of Endangered Species and ginseng trade is monitored by the U.S. Fish and Wildlife Service.
Legislation and cultivation have not been totally effective in protecting wild populations. Poaching has become very problematic for both ginseng growers and public land managers trying to secure wild ginseng. Harvesters are urged to abide by sustainable harvesting practices such as taking only mature plants (5 years or older), replanting the ripe berries in the forest, and abiding by harvest seasons. In an effort to protect cultivated ginseng, growers in Ohio have recently begun to seek state certification for Ohio growers. Currently two states have certification—Wisconsin and West Virginia. Certification means that cultivated plants could be distinguished from wild plants and would become exempt from regulations. It may also provide legal means for growers to access crop insurance for roots that are destroyed or stolen.
Ultimately, the long-term survival of this economically important and culturally significant Appalachian species and the future of ginseng trade is dependent on teaching harvesters sustainable practices and encouraging continued cultivation of the roots. Certification of growers is an important step.
For more information about sustainable harvesting techniques or certification efforts, contact Roots of Appalachia Growers Association.
Visit EcoWatch's BIODIVERSITY page for more related news on this topic.

EcoWatch Daily Newsletter
A bushfire burns outside the Perth Cricket Stadium in Perth, Australia on Dec. 13, 2019. PETER PARKS / AFP via Getty Images

By Albert Van Dijk, Luigi Renzullo, Marta Yebra and Shoshana Rapley
2019 was the year Australians confronted the fact that a healthy environment is more than just a pretty waterfall in a national park; a nice extra we can do without. We do not survive without air to breathe, water to drink, soil to grow food and weather we can cope with.
By Fino Menezes
Everyone adores dolphins. Intelligent, inquisitive and playful, these special creatures have captivated humans since the dawn of time. But dolphins didn't get to where they are by accident — they needed to develop some pretty amazing superpowers to cope with their environment.
Protesters face off against security during the Dakota Access Pipeline protests. ROBYN BECK / AFP / Getty Images
In just two weeks, three states have passed laws criminalizing protests against fossil fuel infrastructure.
Donald Trump and Anthony Fauci, director of the National Institute of Allergy and Infectious Diseases, listen to White House coronavirus response coordinator Deborah Birx speak in the Rose Garden for the daily coronavirus briefing at the White House on March 29, 2020 in Washington, DC. Tasos Katopodis / Getty Images
President Donald Trump has bowed to the advice of public health experts and extended social distancing measures designed to slow the spread of the new coronavirus till at least April 30.
Pexels
By Charli Shield
At unsettling times like the coronavirus outbreak, it might feel like things are very much out of your control. Most routines have been thrown into disarray and the future, as far as the experts tell us, is far from certain.