This website uses cookies to ensure you get the best experience while browsing it. By clicking 'Got It' you're accepting these terms.
Prescription Drugs Entering the Great Lakes at Alarming Rate
Nov. 27, 2013 09:22AM EST
By Brian Bienkowski
Only about half of the prescription drugs and other newly emerging contaminants in sewage are removed by treatment plants. That's the finding of a new report by the International Joint Commission (IJC), a consortium of officials from the U.S. and Canada who study the Great Lakes.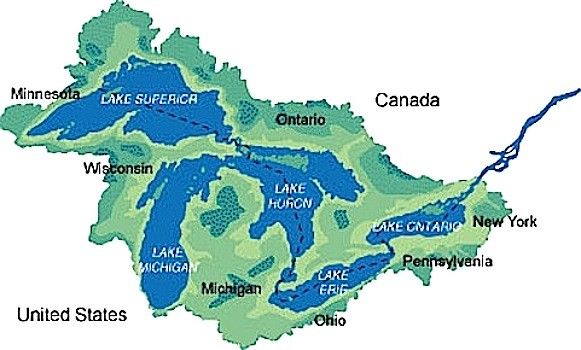 The impact of most of these "chemicals of emerging concern" on the health of people and aquatic life remains unclear. Nevertheless, the commission report concludes that better water treatment is needed.
"The compounds show up in low levels—parts per billion or parts per trillion—but aquatic life and humans aren't exposed to just one at a time, but a whole mix," said Antonette Arvai, physical scientist at the IJC and the lead author of the study. "We need to find which of these chemicals might hurt us."
More than 1,400 wastewater treatment plants in the U.S. and Canada discharge 4.8 billion gallons of treated effluent into the Great Lakes basin every day, according to the study.
The scientists reviewed 10 years of data from wastewater treatment plants worldwide to see how well they removed 42 compounds that are increasingly showing up in the Great Lakes.
Six chemicals were detected frequently and had a low rate of removal in treated effluent: an herbicide, an anti-seizure drug, two antibiotic drugs, an antibacterial drug and an anti-inflammatory drug. Caffeine, acetaminophen and estriol (a natural estrogen) also were frequently detected in sewage but had high removal rates.
The wastewater plants had a low removal rate (less than 25 percent chance of removing 75 percent or more) for 11 of the 42 chemicals.
"The weight of evidence suggests that at least half of the 42 substances examined in the present study are likely to be removed in municipal wastewater treatment plants," the authors wrote.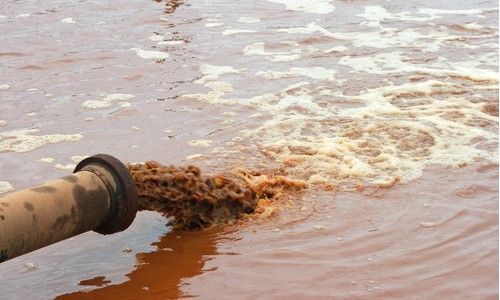 Photo courtesy of Shutterstock
Triclosan, an antibacterial and antifungal compound found in some soaps, toothpastes and other consumer products, has proven acutely toxic to algae and can act as a hormone disruptor in fish. Triclosan was found frequently, according to the new report and plants had "medium removal efficiency."
Also, the anti-inflammatory drug diclofenac bioaccumulates in fish, but its impact is unclear, said Diana Aga, a chemistry professor and researcher at the University of Buffalo who studies emerging chemicals in the Great Lakes.
Aga said even without knowing exact impacts, consistently seeing antibiotics show up in effluent is concerning.
"Even at low levels you don't want to have people ingest antibiotics regularly because it will promote resistance," she said.
Chemicals' showing up in wastewater effluent doesn't necessarily mean they will be found in drinking water. But some studies have found prescription drugs in drinking water at parts-per-trillion levels. A federal study of 74 waterways used for drinking water in 25 states found 53 had traces of one or more pharmaceuticals.
There are currently no federal regulations of pharmaceuticals in waste or drinking water. However, 12 pharmaceuticals are currently on the Environmental Protection Agency's list of chemicals under consideration for drinking water standards.
Most researchers expected that the large lakes would dilute pharmaceuticals quickly, but a study this summer found the drugs contaminating Lake Michigan two miles from Milwaukee sewage outfalls. 
It's important to not place blame squarely on wastewater treatment plants, said Michael Murray, a scientist with the National Wildlife Federation's Great Lakes Regional Center who is on the IJC's board.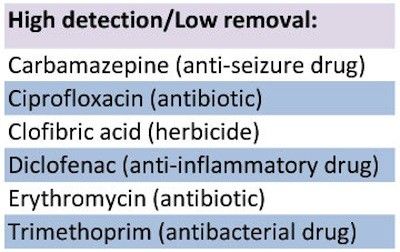 "They weren't designed to handle these types of chemicals," Murray said. "And most municipalities in the Great Lakes are under tight budgets and they're just doing what they can to meet requirements."
Most plants use activated sludge treatment, which uses bacteria to break down solids that come in from the wastewater. Since the chemicals come into the plants at such low levels, many of them readily break down, said Allison Fore, a spokesperson for the Metropolitan Water Reclamation District of Greater Chicago.
Other newer technologies, such as ozonation or carbon filters, also are effective at removing pharmaceuticals and other new chemicals but are expensive, Arvai said.
Previous research has linked other drugs in fish to slower reaction times to predators, altered eating habits and anxiety.
Visit EcoWatch's WATER page for more related news on this topic.

EcoWatch Daily Newsletter
Large food companies are following in the footsteps of fast-food restaurants such as Burger King and KFC by offering meat alternatives. Getty Images
By Elizabeth Pratt
Hormel, Kellogg's, and Kroger are among the large companies now planning to offer "fake meat" products at grocery stores.
Experts say the trend toward plant-based meats coincides with consumers' desires to eat less meat.
However, experts urge consumers to closely check package labels as a product isn't necessarily healthy just because it's described as plant-based.
In grocery stores and fast-food outlets around the U.S., a revolution is taking place.
Colombia rainforest. Marcel Oosterwijk / CC BY-SA 2.0
Many of us think of the Amazon as an untouched wilderness, but people have been thriving in these diverse environments for millennia. Due to this long history, the knowledge that Indigenous and forest communities pass between generations about plants, animals and forest ecology is incredibly rich and detailed and easily dwarfs that of any expert.
picture-alliance / Newscom / R. Ben Ari
By Wesley Rahn
Plastic byproducts were found in 97 percent of blood and urine samples from 2,500 children tested between 2014 and 2017, according to a study by the German Environment Ministry and the Robert Koch Institute.

Pexels
Medically reviewed by Daniel Bubnis, MS, NASM-CPT, NASE Level II-CSS
Hot yoga has become a popular exercise in recent years. It offers many of the same benefits as traditional yoga, such as stress reduction, improved strength, and flexibility.
Lara Hata / iStock / Getty Images
By SaVanna Shoemaker, MS, RDN, LD
Rice is a staple in many people's diets. It's filling, inexpensive, and a great mild-tasting addition to flavorful dishes.
An image of the trans-alaskan oil pipeline that carries oil from the northern part of Alaska all the way to valdez. This shot is right near the arctic national wildlife refuge. kyletperry / iStock / Getty Images Plus
The Trump administration has initialized the final steps to open up nearly 1.6 million acres of the protected Alaskan National Wildlife Refuge to allow oil and gas drilling.