This website uses cookies to ensure you get the best experience while browsing it. By clicking 'Got It' you're accepting these terms.
Navi Whitten, a College of the Atlantic undergraduate from Cape Elizabeth, Maine, was raised in a small coastal town exploring tide pools and adventuring in the sea. "At College of the Atlantic, I am driven to find energy solutions for the rural communities on the Maine Islands," he said. "I currently help manage North Haven Oyster Company where three of us sustainably grow hundreds of thousands of oysters on a small island. Maine is my home, and I want to increase the quality of life here as much as I can."
[Editor's note: This is the fourth article in a 4-part series (read Part I , Part II and Part III) from College of the Atlantic students studying ways to develop and implement renewable energy solutions for the Maine coast in a unique multidisciplinary, multigenerational field-based course developed by College of the Atlantic faculty and the Island Institute under the auspices of the Fund for Maine Islands. College of the Atlantic is an University partner on EcoWatch.]
After spending three informative, inspiring weeks at the Energy Academy on Samso island, Denmark, students of College of the Atlantic and participants and staff of the Island Institute returned to the U.S. to tackle energy challenges for the people of Maine—specifically, islanders.
Vinalhaven and North Haven—two islands in midcoast Maine that make up the Fox Islands—have small year-round communities that rely on the lobster industry as the primary source of economic stability with tourism following behind.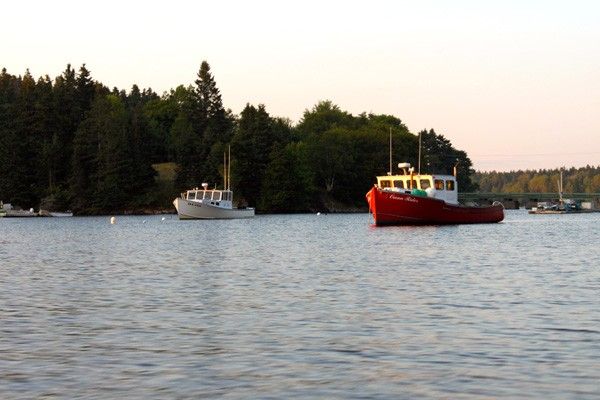 In the 2010 U.S. census, North Haven's year-round population was 355, increasing to 1,000 in the summer. The same census showed Vinalhaven's year-round population was 1,165; 2,200 in the summer.
The two islands are separated by the small Fox Island thoroughfare, which hosts much of North Haven's lobstering fleet and moored sailboats in the summer. Vinalhaven is a larger island, with a larger lobstering fleet. There are two separate ferries that depart Rockland to carry passengers, automobiles, and goods to and from the islands; the passage is 12 miles each way.
The two islands get electricity from the local utility, Fox Island Electric Cooperative (FIEC). Five years ago, in response to a growing demand for lower electricity costs and energy independence from the mainland, FIEC completed its first major renewable energy project: three new 1,500-kilowatt wind turbines, which generate a combined 11,000 kilowatt-hours (kWh) annually.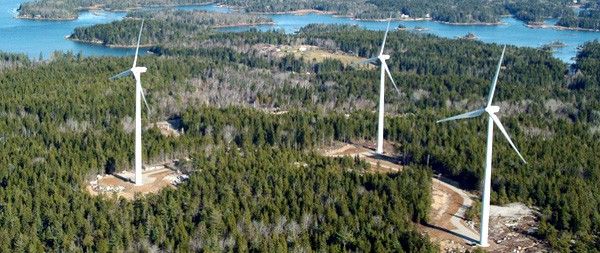 The two islands' residents consume about 10,000 kWh annually so, to the untrained eye, it looks like the turbines supply enough electricity, with a 1,000 kWh surplus.
Not so fast.
The turbines generate most of the electricity when the wind is blowing steadily at fair speeds, which is the case for most of the year, September through June. However, in July and August, electricity consumption grows with the population. This wouldn't be a problem, if, in those two months, the wind kept blowing like it does the rest of the year. But it doesn't: The energy generated by the turbines in July and August doesn't even come close to the residents' consumption.
So how do the islands get the energy they need? In those two summer months, FIEC has to purchase a 500 kWh peak capacity for a fixed price. If, for some reason, the electric load goes beyond capacity, the utility has to then purchase electricity on the spot market, which is very expensive.
In the winter, when the winds blow steady and the consumption is lower, FIEC sells its excess energy via an underground cable to the mainland. The ability to sell in the winter helps defray islanders' total year-round electricity cost, but the price is still high. With an average hovering around 27 cents per kWh, Fox Islands residents pay around twice as much as the national average, and they aren't even the highest electricity costs compared to other Maine islands.
Maine's winters are long and cold. Islander or not, seven of 10 Maine households are heated by fuel oil—a higher ratio than any other state. In response, the local legislature set a goal of cutting this consumption by one-third by 2030.
The price of oil cannot be determined by the island residents, and they pay more than the mainland communities due to extra distribution costs. So, in order to look at ways to make the Fox Islands more energy independent, we need to look at what can be generated on the islands.
Fortunately there are many ways to increase energy generation with renewable sources. There's also existing home-heating technology that uses electricity in a way that is far more efficient than fuel oil—heat pumps.
In the beginning, this whole project was focused on generating a feasibility study for a large solar array that could offset summer electricity needs. But several financial, technological and social challenges have emerged as we look deeper into the project. With residential heating, we first looked at the potential for bulk purchasing of heat pumps to offset oil consumption, while also paying attention to the need for weatherization. We believe solar panels and heat pumps together provide opportunities for the Fox Islands to become more energy independent while also lowering costs. But obstacles remain—mostly financial.
After five years of successful wind energy generation, island residents have not seen a steady decrease in energy costs, in part due to expensive legal fees as well as the high summer energy consumption. And we have begun to see the challenges FIEC faces in dealing with buying and selling energy on a fluctuating market. Being able to sell excess electricity in the winter certainly helps keep costs reasonable, but there isn't much room to make it more affordable unless the market price in the winter becomes higher when selling.
Another difficulty is that a large solar array can certainly generate enough energy to make up for reduced wind generation—but mostly from 11 a.m. to 2 p.m., whereas peak usage usually is 4 to 10 p.m. Battery storage is possible, but very expensive and not a common technology yet for this scale.
Heat pumps are great because they can run at 400 percent efficiency and need no fuel oil to operate—only electricity. How a heat pump works is remarkably similar to your refrigerator. But they do use a fair amount of electricity, mostly during that long winter. So, the more electricity used to run the heat pumps, the less energy there is to export to the mainland, and thus less revenue from the off island market.
Many other questions have come up in this research. Does it make more sense to use fuel oil to heat homes, leaving more electricity to sell on the market and to help lower electricity costs? Or, can it be more cost-effective to run the heat pumps off wind and solar, and not have as much of an excess to sell in the winter? The answers depend on the fluctuating price of oil and electricity, making it difficult to calculate payback periods and returns on investment.
As we find ways that these systems can work for the islands, another question arises. What will the financial model look like? We are looking at the tax appetite of a LLC which includes ITCs (Investment Tax Credits), PPAs (Power Purchase Agreements), as well as RECs (Renewable Energy Credits) and how they all inform each other. FIEC is a nonprofit, but one that could greatly benefit from tax incentives and rebates via a taxable LLC.
We are hopeful our study will help FIEC see potential ways to continue moving toward lower electricity costs and more energy independence from the mainland. We will be presenting findings, along with several other groups Nov. 7, at the Island Energy Conference, sponsored by The Island Institute in Portland.
I am working with fellow College of the Atlantic undergraduate Zak Kendall and FIEC board member Patrick Trainor, who lives year round on Vinalhaven. If the final feasibility study generates enough interest from FIEC and island communities, there is potential for plans to be implemented in the future.
I grew up in southern Maine but lived on North Haven all summer in 2014, working as a stern man on a lobster boat. My captain expressed concerns for the future of lobstering, particularly for the high energy costs that affect him and his family. He also runs an oyster farm, where I helped to plant, harvest and sell thousands of oysters. He said it would be difficult to run the upweller pump for young oysters if the price of electricity went much higher.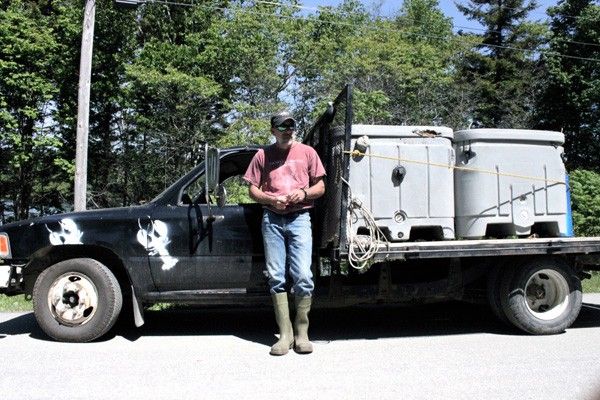 But the cost of both fuel oil and electricity will most likely continue to rise, so we are working hard to stabilize these prices and to make essential new resources available in a clean, affordable and resilient way.
YOU MIGHT ALSO LIKE
Samso: World's First 100% Renewable Energy-Powered Island Is a Beacon for Sustainable Communities
Community Engagement Fuels Sustainable Future for Peaks Island, Maine
EcoWatch Daily Newsletter
Six Extinction Rebellion protesters were arrested as they blocked off corporations in the UK. The group had increased their actions to week-long nationwide protests.
Sari Goodfriend
By Courtney Lindwall
Across the world, tens of thousands of young people are taking to the streets to protest climate inaction. And at the historic Apollo Theater in Harlem last month, more than a dozen of them took to the stage.
Golde Wallingford submitted this photo of "Pure Joy" to EcoWatch's first photo contest. Golde Wallingford
EcoWatch is pleased to announce our third photo contest!

Pumpjacks on Lost Hills Oil Field in California. Arne Hückelheim, Wikimedia Commons
By Julia Conley
A national conservation group revealed Wednesday that President Donald Trump's drilling leases on public lands could lead to the release of more carbon emissions than the European Union contributes in an entire year.
Pixabay
By Marlene Cimons
For nearly a century, scientists thought that malaria could only spread in places where it is really hot. That's because malaria is spread by a tiny parasite that infects mosquitoes, which then infect humans — and this parasite loves warm weather. In warmer climates, the parasite grows quickly inside the mosquito's body. But in cooler climates, the parasite develops so slowly that the mosquito will die before the it is fully grown.
The summit of Mauna Kea in Hawaii, which is considered sacred by some Native Hawaiians. Charmian Vistaunet / Design Pics / Getty Images
A decade-long fight over the proposed construction of a giant telescope on a mountain considered sacred by some Native Hawaiians came to a head Wednesday when 33 elders were arrested for blocking the road to the summit, HuffPost Reported.
A boy walks past a plastic-choked canal in in Phnom Penh, Cambodia on Jan. 17, 2019. TANG CHHIN SOTHY / AFP / Getty Images
Cambodia is the latest Asian country to reject the wealthy world's plastic waste.
Pick one of these nine activism styles, and you can start making change. YES! Illustrations by Delphine Lee
By Cathy Brown
Most of us have heard about UN researchers warning that we need to make dramatic changes in the next 12 years to limit our risk of extreme heat, drought, floods and poverty caused by climate change. Report after report about a bleak climate future can leave people in despair.