This website uses cookies to ensure you get the best experience while browsing it. By clicking 'Got It' you're accepting these terms.
Power Plants Forced to Clean Up Deadly Pollutants
Dec. 22, 2011 12:24PM EST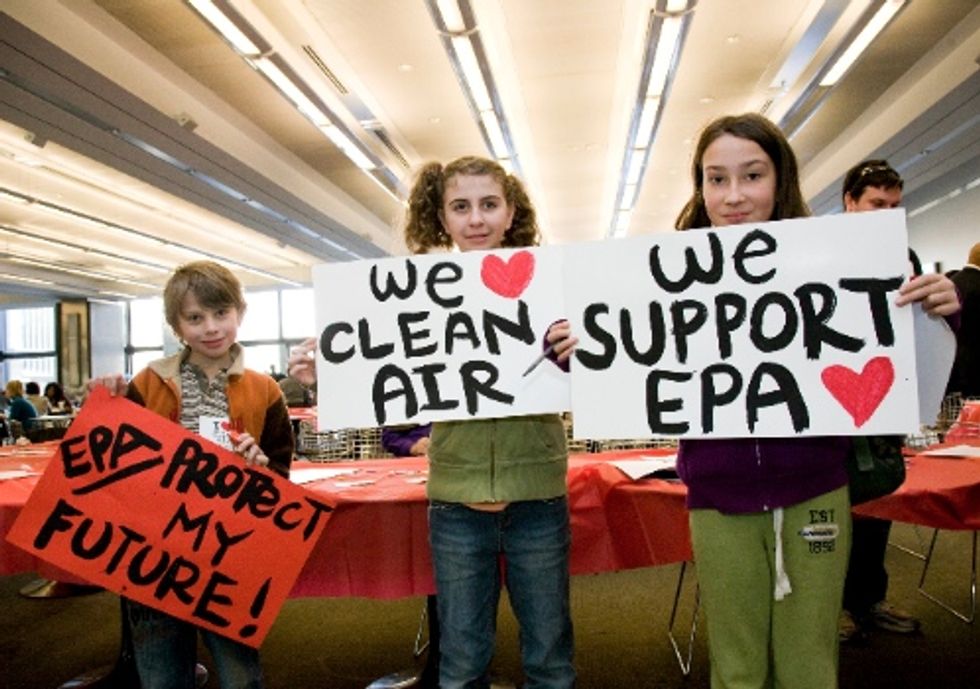 The Ohio Environmental Council (OEC) applauds the recent U.S. Environmental Protection Agency (EPA) power plant regulations that will reduce dangerous pollution such as mercury and fine particulates linked to asthma attacks, developmental disorders and preventable deaths.
"The U.S. EPA stood up against big polluter interests and did the right thing," states David R. Celebrezze, director of air and water special projects for the OEC.
The new U.S. EPA air toxic rule means that power plants will have to reduce their mercury emissions by 90 percent in three to four years. The new rules will also require scrubbers on power plants. Scrubbers are pollution reduction technology that will reduce harmful emissions of mercury, arsenic, chromium, nickel and acid gases.
Ohio's archaic fleet of power plants emit so much mercury and other pollutants, that Ohio ranks in the top five states in health impacts due to mercury and other emissions.
According to a study commissioned by the Clean Air Task Force, Ohio ranks second in the nation in state health impacts with 1,221 deaths, 835 hospital admissions and 1891 heart attacks. Additionally, Ohio ranks third in the country for state per capita mortality risk (2010 est).
"Industry will ballyhoo that this will close plants. What they don't tell you are some of these plants were probably going to close anyway," states Celebrezze.
Many Ohio metro areas rank near the top in the country in terms of city health impacts:
• #8 Cleveland-Elyria-Mentor
• #10 Cincinnati-Middletown
• #13 Columbus
In terms of metro area per capita mortality risk (est. 2010):
• #3 Steubenville-Weirton
• #5 Sandusky
• #7 Youngstown-Warren-Boardman
• #8 Mansfield
• #9 Springfield
Top power plants for health impacts (annual 2010)
• #3 in the country is the W H Sammis (Jefferson) County: 163 deaths, 124 hospital admissions, 268 heart attacks.
Mercury emissions harm public health. After mercury is emitted from power plants, it settles on plants and in our waterways. While in the water it turns into methyl mercury and is consumed by fish. Some of those fish are then consumed by people.
In Ohio, it is recommended that people eat less of certain fish species—such as smallmouth bass, walleye and largemouth bass—from many bodies of water due to high levels of mercury. In some bodies of water, it is recommended that none of the species be eaten due to elevated levels of PCBs, mercury and other contaminants. The full list can be found on the Ohio EPA's website.
People exposed to (elemental) mercury through breathing can experience harmful effects. According to the U.S. EPA "Symptoms include these: tremors; emotional changes (e.g. mood swings, irritability, nervousness, excessive shyness); insomnia; neuromuscular changes (such as weakness, muscle atrophy, twitching); headaches; disturbances in sensations; changes in nerve responses, and performance deficits on tests of cognitive function. At higher exposures, there may be kidney effects, respiratory failure and death."
Further research has demonstrated that exposing infants and children to mercury can impair their neurological development. Symptoms of methylmercury poisoning can include: peripheral vision reduction; disturbances in sensations ("pins and needles" feelings, usually in the hands, feet and around the mouth); lack of coordination of movements; impairment of speech, hearing and walking, and muscle weakness, according to the U.S. EPA.
Mercury emissions from Ohio power plants (sampling-2010):
• W.H. Sammis: 424lbs.
• Kyger Creek : 420 lbs.
• Cardinal Plant: 407 lb.
• Conesville plant: 318 lb.
• Muskingum Plant: 321 lb.
• Gavin plant: 829 lb.
• Eastlake plant: 301 lb.
• Avon Lake plant: 246lbs
Overall, Ohio power plants emitted 4,208 pounds of mercury in 2010.
The new U.S. EPA rule will prevent 130,000 child asthma attacks and 11,000 premature deaths yearly in the U.S. Additional health care savings will be $37 billion to $90 billion each year by 2016.
"Once these rules are fully implemented, Santa Claus will have fewer asthma attacks as he moves through Ohio," states Celebrezze.
For more information, click here. To learn more about the EPA's Mercury and Air Toxics Standards, click here.

--------
The mission of the Ohio Environmental Council (OEC) is to secure healthy air, land and water for all who call Ohio home. The OEC is Ohio's leading advocate for fresh air, clean water and sustainable land use. The OEC has a 40-year history of innovation, pragmatism and success. Using legislative initiatives, legal action, scientific principles and statewide partnerships, the OEC secures a healthier environment for Ohio's families and communities.
EcoWatch Daily Newsletter
Baby orangutan and mother orang utan seen walking in Jakarta, Indonesia. Aprison Photography / Moment / Getty Images
By Tara Lohan
To be a good wildlife photographer, you need an expertly trained eye. But good ears help, too.
Worker spraying toxic pesticides or insecticides on corn plantation. D-Keine / E+ / Getty Images
Poor people in developing countries are far more likely to suffer from exposure to pesticides classified as having high hazard to human health or the environment, according to new data that Unearthed analyzed.
Power to heat, to cool, to drive the world's industries. Renewables can supply it all.
Jason Blackeye / Unsplash
By Paul Brown
Virtually all the world's demand for electricity to run transport and to heat and cool homes and offices, as well as to provide the power demanded by industry, could be met by renewable energy by mid-century.

Phthalates, a group of chemicals used to make plastics more flexible and harder to break, affect health in many ways. Tatyana Tomsickova Photography / Moment / Getty Images
By George Citroner
Exposure to phthalates was associated with autism traits in boys (but not girls) between ages 3 and 4 years, according to a new study.
However, the risk was diminished in women who took folic acid during their pregnancy.
This study is the first to find that folic acid supplements provide a protective effect from phthalates.
Exposure in the womb to a group of endocrine-disrupting chemicals called phthalates was associated with autism traits in boys (but not girls) between ages 3 and 4 years, according to a new study.
A coral and fish community at the Great Barrier Reef, northeast of Port Douglas, Queensland, Australia, on Aug. 28, 2018. Francois Gohier / VWPics / Universal Images Group via Getty Images
Researchers released a sobering study this week showing that all of the world's coral reefs may be lost to the climate crisis by 2100.