Porter Ranch 'Monster' Gas Leak Largest in U.S. History
The Aliso Canyon natural gas well blowout, which lasted for months and sickened scores of nearby residents, has been confirmed as the largest methane leak in history.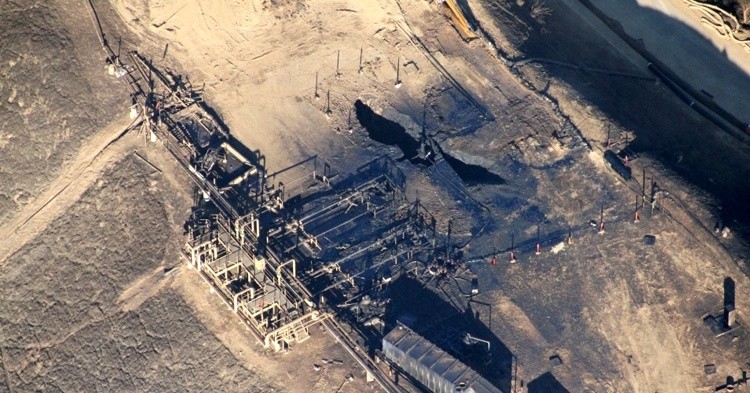 According to a peer-reviewed study published Thursday in the journal Science, the nearly four-month leak released roughly 100,000 tons of methane—effectively doubling the methane emissions rate of the entire Los Angeles Basin. Southern California Gas Co. said it stopped the leak earlier this month. State Division of Oil, Gas and Geothermal Resources engineers confirmed the leak was halted last week.
"Aliso Canyon will be, certainly, the biggest single [methane] source of the year," said co-lead study author Stephen Conley of UC Davis and Scientific Aviation. "It's definitely a monster."
Beyond that, he told Inside Climate News, "It's the biggest leak in U.S. history."
As the Los Angeles Times reports, "Conley piloted a single-engine plane rigged with methane and ethane sensors through the plume and analyzed it during 13 different research flights between Nov. 7 and Feb. 13, with the last readings taken just two days after the well was temporarily halted."
The newspaper continues:
With each flight, he would start very low—perhaps a couple hundred feet off the ground—fly through the plume, turn around and go back through at about 100 feet higher. He would do this until he reached the top of the plume, which could take anywhere from about 16 to 35 passes. Adding these slices up would give him the total emissions from the plume at that time.

Even after the first flight, the methane readings alarmed him.

"It was 20 times larger than anything else we'd ever measured—it was just kind of a shock," said Conley, who recalled thinking, "What in the world was this big?"
With the leak's pollution equivalent to annual emissions from half a million cars, the disaster will substantially affect California's ability to meet greenhouse gas emission targets for the year, added Tom Ryerson of the National Oceanic and Atmospheric Association (NOAA). "Our results show how failures of natural gas infrastructure can significantly impact greenhouse gas control efforts," he said.
In a blog post Thursday, Environmental Defense Fund chief scientist Steven Hamburg noted that Conley's results were "much higher than those provided by the gas company."
But that's not surprising, he continued, explaining that "accurately measuring these large sources is difficult using ground-based approaches like those used by the gas company to estimate the size of emissions from the facility."
Significantly, Hamburg wrote, the study comes days after the Environmental Protection Agency (EPA) released draft results of their updated accounting of methane emissions from the nation's oil and gas supply chain that shows that emissions are up 27 percent above the agency's early estimate.
"The more we know about methane emissions, the higher they get," he said. "The new findings show not just the massive scale of the oil and gas industry's methane problem, but also how critical it is to get the science right to both understand this source of a potent climate pollutant and reduce it. We know that cutting methane is one of the fastest, most cost effective ways to curb today's warming, and when combined with critical efforts to reduce carbon dioxide pollution, substantial climate progress can be made."
The Aliso Canyon disaster has prompted calls from members of Congress for the federal Pipeline and Hazardous Materials Safety Administration to create the first federal standards for underground gas storage.
But with more than 300 such facilities across the U.S., the leak "is just the latest and most public example showing that we need to keep natural gas in the ground, not burn it," as Earthworks executive director Jennifer Krill wrote last month.
Indeed, Sierra Club's Michael Brune declared in a January blog post: "As long as we rely on fossil fuels for energy—and much of the methane that's leaking from Aliso Canyon was intended for California's power plants—we will be fighting climate disruption with both hands tied behind our backs."
"Only when we achieve 100 percent clean energy will we truly be able to safeguard our health, our environment, and our climate," he said. "For the unlucky people in the path of the next fossil fuel disaster—and they could be anywhere—that day can't come soon enough."
YOU MIGHT ALSO LIKE
Trade Rules Trump Climate Action: U.S. Blocks India's Ambitious Solar Plans
Why a Rockefeller Donated $400,000 in Exxon Shares to Nonprofits Fighting Climate Denial
Al Gore: 3 Questions We Have to Answer About Climate Change
A coalition of conservation groups and others announced Thursday that a historic number of comments and petitions of support have been submitted to the U.S. Department of the Interior in support of Bears Ears National Monument. Despite the entirely inadequate 15-day comment period ending on May 26, more than 685,000 comments in support of Bears Ears National Monument have been collected.
Keep reading...
Show less
Rink Glacier in western Greenland, with a meltwater lake visible center. NASA/OIB
Scientists have had their eyes on Greenland as its iconic glaciers have begun disappearing due to a warming climate. But, what they didn't expect to see was a whole new type of melting.
Keep reading...
Show less
Mountain View Fire
By Lena Moffitt
An oil tanker in Mead, Colorado exploded, killing one and injuring three on Thursday. Authorities are continuing to investigate the cause of the explosion.
Keep reading...
Show less
Banner created by Alliance for Climate Education
Keep reading...
Show less
Twenty-two GOP senators sent a letter Thursday urging Donald Trump to pull out of the Paris agreement. They argued remaining in the deal could "upend" the administration's ability "to fulfill its goal of rescinding the Clean Power Plan."
Keep reading...
Show less
By Cheryl Johncox
The Federal Energy Regulatory Commission (FERC) rejected on Thursday Energy Transfer Partners' request to resume horizontal directional drilling at two sites for its Rover fracked gas pipeline. This rejection comes after numerous leaks into Ohio's wetlands, and Clean Air and Clean Water act violations. FERC has halted the process at only eight locations of the 32 where drilling is taking place under Ohio's wetlands and streams.
Keep reading...
Show less
By Nadia Prupis
A majority of people in eight countries say they are ready to change their lifestyles if it would prevent climate catastrophe, a survey on global threats released Wednesday found.
Keep reading...
Show less
May. 25, 2017 01:55PM EST
Bill Maher is sick of billionaires' obsession with Mars, more like "Mars-a-Lago," he said.
In a new animation produced by ATTN:, the popular talk show host of Real Time, discusses the perils of our planet, including how "climate change is killing us."
Keep reading...
Show less