Pope or Kochs: Republicans, Who Do You Stand With?
Jun. 30, 2015 10:08AM EST
Politics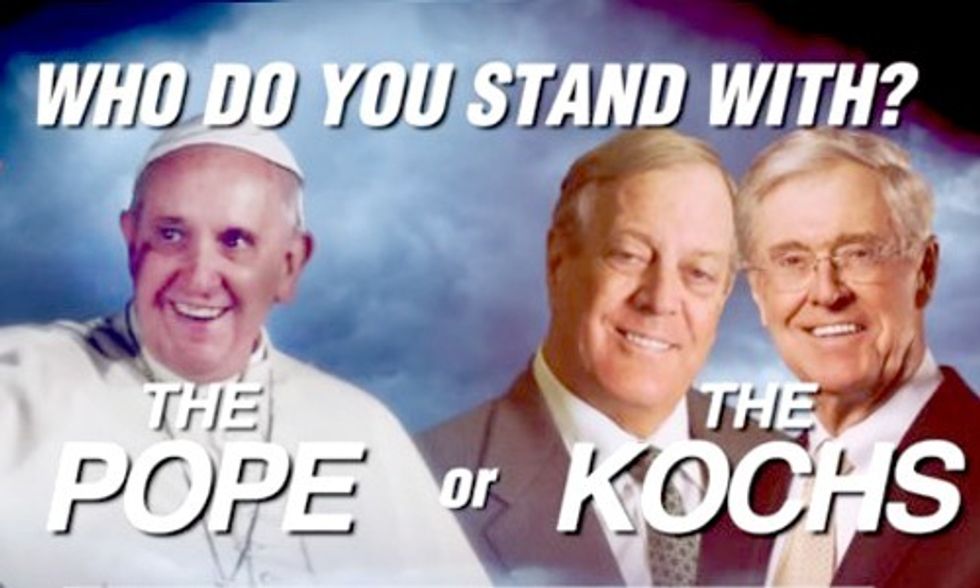 Pope Francis is shaking up the world with his activism on climate change. Fossil fuel billionaires Charles and David Koch have vowed to spend nearly $900 million to put a climate denier in the White House. And Republican candidates for president such as Jeb Bush and Rick Santorum have been telling the Pope to mind his own business. Could there be a connection?
To highlight the contrast and call out the candidates, the progressive advocacy group Americans United for Change has just launched a campaign called Pope or Kochs.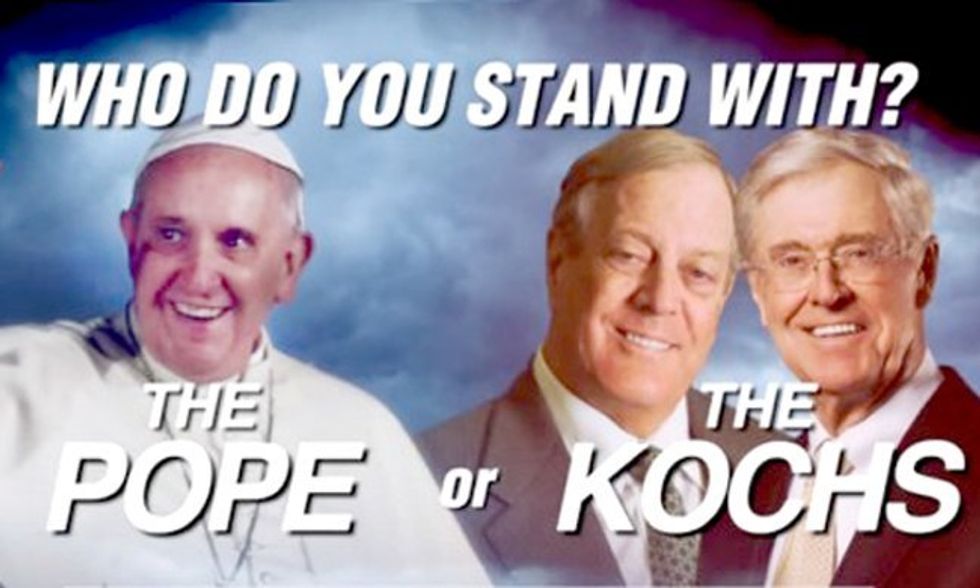 "Climate change is a moral issue," it says. "The Pope's message underscores to people of faith the obligation we have to future generations to address climate change and protect our environment."
But, it adds, "The Kochs are bankrolling the anti-Pope movement. The Kochs sent their stooges at the Heartland Institute to try to change Pope Francis' mind on climate change ... and attack his character when he refused."
The campaign's website provides a hair-raising checklist of the potential presidential candidates the Koch brothers might put their money behind, as well as fellow-travelers like Sen. Jim Inhofe, who has repeatedly called global warming a "hoax," oil industry-funded Texas congressman Joe Barton, who has also told the Pope to butt out of climate issues, and Rush Limbaugh, who called the Pope a Marxist.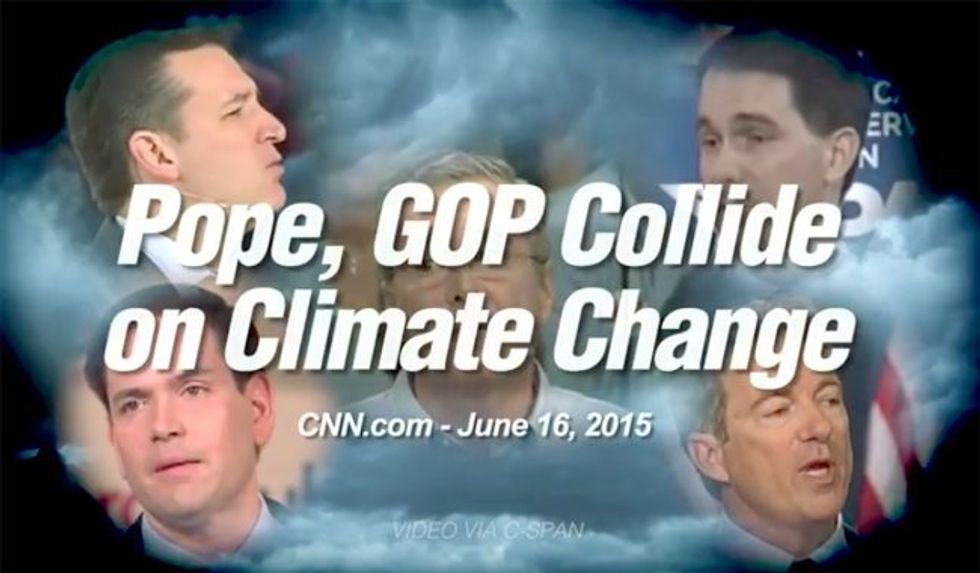 The Pope or Kochs website highlights quotes from candidates Jeb Bush, Marco Rubio, Ted Cruz, Rand Paul, Scott Walker, Rick Santorum, Rick Perry, Mike Huckabee and John Kasich, as they all appear to be auditioning for the Koch money. They include Bush's direct putdown of the Pope's climate activism, in which he said "I don't get economic policy from my bishops or my cardinals or my pope. I think religion ought to be about making us better as people, less about things [that] end up getting into the political realm."
"The promise of $900 million in campaign support from the Koch brothers has led to a race to the bottom between GOP presidential hopefuls over who believes less in climate science, some even going so far as to publicly dis the Pope," said Brad Woodhouse, president of Americans United for Change.
"Buying influence in Washington and funding quack climate studies is all part of Big Oil's profit-protection plan to kill any effort to limit the millions of metric tons of carbon pollution they spew into the air every year. It's why today the GOP's entire environmental policy can be boiled down to 'Whatever the Kochs say.' So far, the moral appeal by the Pope and many of other faith leaders that our political leaders be better stewards of the planet has been met with indifference from those too busy chasing Koch money. What will it take to convince the Grand Oil Party to act: a climate event straight out of the book of Genesis?"
Americans United for Change has created an ad which it is running in the key primary states of Iowa and New Hampshire, calling on GOP candidates to commit to the Pope or the Koch brothers and challenging them to support science on climate change. Watch it here:
"The Republicans eyeing the White House may all sing from the same climate-skeptic hymnal, but the worsening consequences of climate change are not something that have to be taken on faith," said Woodhouse. "It's happening right before our eyes, whether it's rising average temperatures and sea levels, out-of-control forest fires stemming from longer periods of drought, or more frequent and more intense storms and tornadoes. It's no wonder 70 percent of voters want their representatives to stop fiddling as Rome burns."
The Pope or Kochs campaign features the usual options, share with friends on Facebook and Twitter. There's also a button to show your support for the Koch Brothers on climate change. Go click on it and see what happens. Surprise!
YOU MIGHT ALSO LIKE
How Pope Francis's Climate Encyclical Is Disrupting American Politics
David Suzuki: Koch Brothers Continue to Oil the Machine of Climate Change Denial
Jon Stewart Slams GOP for Criticizing Pope's 'Call for Environmental Consciousness'
EcoWatch Daily Newsletter