Pope Francis's Encyclical Could Have Bigger Impact Than the Paris Climate Talks, Says NASA Scientist
Jun. 15, 2015 10:51AM EST
Climate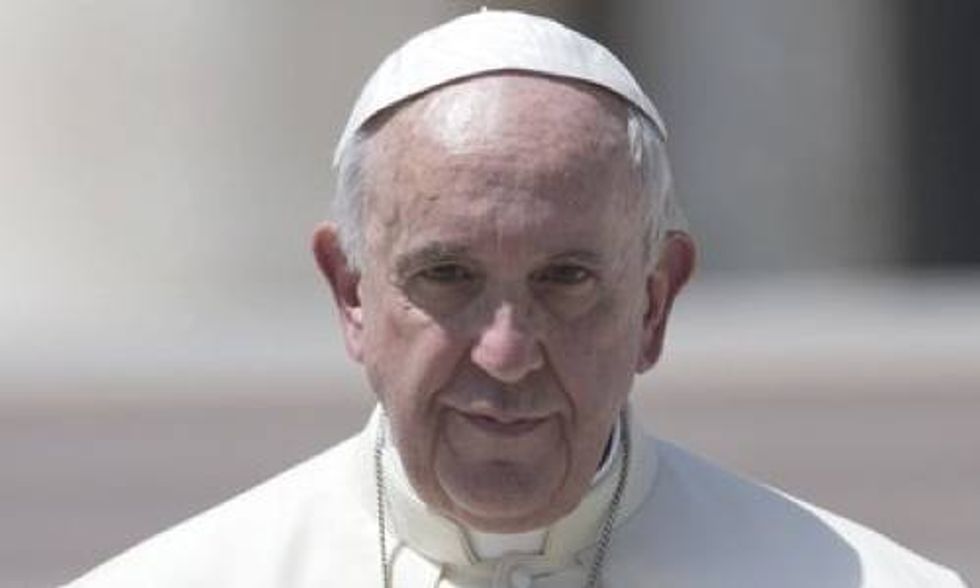 As the world eagerly awaits Pope Francis′s encyclical on climate change this Thursday, some scientists have come out and said that the papal letter could draw a larger impact than the world leaders hammering out emissions negotiations at the UN climate summit in Paris this December.
Scientists say pope may be the key player on climate change: http://t.co/OfnSoaRvP2 (via @usatoday) #ActOnClimate

— Sierra Club (@sierraclub) June 15, 2015
"I'm not a religious person at all," NASA climatologist Gavin Schmidt told USA TODAY, adding that faith-based efforts to shift thinking on climate action are very promising. "The Pope's encyclical is probably going to have a bigger impact than the Paris negotiations."
Even though climate change is considered a secular topic, according to the Associated Press, Pope Francis's message will focus on the moral imperative to fight global warming, since the poor are the most affected by it. And the Pope's message is meant for a global audience, not just Catholics. "This encyclical is aimed at everyone: Let us pray that everyone can receive its message and grow in responsibility toward the common home that God has given us," the Pontiff said Sunday in before a crowd of thousands in St. Peter's Square.
Jeff Kiehl with the National Center for Atmospheric Research told USA TODAY that the Pope's reach could be huge. "The encyclical is going to go out to over 1 billion Catholics—that's a way of getting a message across to a segment of society that the scientific community could never do," he said. "I mean it's just unbelievable."
Business leaders, non-profit organizations, nongovernmental organizations, national governments and citizens all over the world will congregate at the United Nations Framework Convention on Climate Change 21st Conference of the Parties in Paris (COP21) later this year, where these international leaders will (hopefully) sign a strong emissions reductions agreement.
Despite near-universal scientific consensus on the causes of climate change, there have been some very outspoken deniers. Last week, the world of climate denial converged at the Heartland Institute's 10th annual Climate Conference, including snowball-throwing chairman of the Senate Environment Committee, James Inhofe, who received an award from the institute and delivered a keynote address specifically attacking the Paris summit and the Pope as well.
"Everyone is going to ride the Pope now. Isn't that wonderful," said Inhofe sarcastically. "The Pope ought to stay with his job, and we'll stay with ours."
"I am not going to talk about the Pope," he said, immediately after doing so. "Let him run his shop, and we'll run ours."
The sentiment echoed fellow GOP-denier Rick Santorum, a Catholic, who suggested that the Pope should police bedrooms, not climate issues.
"I understand and I sympathize and I support completely the Pope's call for us to do more to create opportunities for people to be able to rise in society, and to care for the poor," Santorum told a radio show host. But … "The church has gotten it wrong a few times on science, and I think that we probably are better off leaving science to the scientists," he said.
Many scientists, on the other hand, are praising Pope Francis for being an effective messenger on how we all should be taking care of our home planet, especially when some politicians are blocking efforts to take positive action.
"As a scientist, I can say that it is possible for us to prevent truly catastrophic, potentially irreversible climate change. But I cannot say as a scientist whether or not we will find the will to do what's necessary," Michael Mann, a climate scientist at Penn State University, told USA TODAY. He added that only a strong public opinion can force policy changes, which is why the encyclical is so important.
"There are a lot of people out there who thus far have been either skeptical or indifferent," Mann said. "I think this [encyclical] will make a difference for them."
Just last week at the 39th United Nations Food and Agriculture Organization, Pope Francis spoke out against multinational corporations for choosing profit over people, and stressed the importance of food security, good nutrition and reducing food waste.
YOU MIGHT ALSO LIKE
Must-See Hilarious Spoof Trailer: 'Pope Francis: The Encyclical'
Watch Sen. Inhofe Throw a Snowball on Senate Floor to Prove Climate Change Is a 'Hoax'
EcoWatch Daily Newsletter
Related Articles from EcoWatch
Recent Stories from EcoWatch