This website uses cookies to ensure you get the best experience while browsing it. By clicking 'Got It' you're accepting these terms.
Pope Francis' Words to Congress: A Rallying Call for Climate Action
Sep. 24, 2015 01:00PM EST
Climate

I find it really interesting how news stories and social media reporting on Pope Francis' visit to the U.S. have responded to his taking a strong stand on climate change. So often, people seem to feel the need to categorize and label one another—by their religion, political stance, gender or profession—as if that should immediately determine the relationship of those people with the natural world.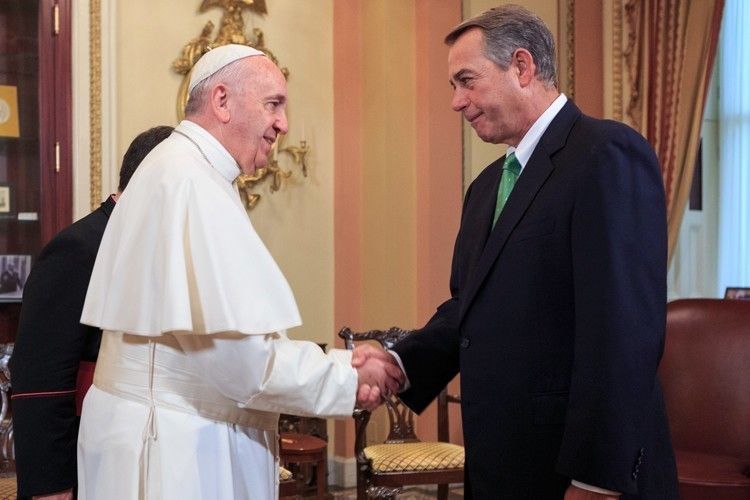 Surely, we all have many elements of our identities? Does being a mom mean I can't be an activist? Or does being an economist mean someone can't speak up for the environment? Definitely not. Faith-based communities are a prime example of people who shouldn't be pigeonholed, which is why Story of Stuff developed several programs to help Christian and Jewish teenagers explore the relationship between their consumption, their faith and the health of the planet.
This culture of labeling and prejudging people has helped make climate change such a politicized issue in the U.S., to the point where our elected representatives are no longer able to act in a way that their moral compass and human compassion would naturally send them. Pope Francis' words to Congress today are a rallying call for everybody to set aside partisan politics, and focus instead on what unites us: we all share the same planet, the responsibility for taking care of it and the duty to care for those less fortunate than ourselves. His repeated emphasis on dialogue is a reminder to us all that the problems facing our common home can only be solved through an open and inclusive approach.
I spent many of the most formative years of my life living and working in some of the first places where climate change became a reality, rather than a political platform or belief system. As the Pope reminded us earlier this summer "the gravest effects of all attacks on the environment are suffered by the poorest."
In Bangladesh and India, where I worked with communities being poisoned by toxic pollution, the rising sea levels and extreme heatwaves now threaten the survival of families who often didn't have very much to begin with. Back home in the U.S. no one understands the devastating effects of human appetite for fossil fuels better than the low income communities being polluted by coal, fracking and oil production, or living in the wake of droughts, wildfires and hurricanes.
One of the main ways we'll achieve climate justice for all of these communities, is to keep fossil fuels in the ground, and use the clean power of the sun, wind and water instead. For those who question whether that's realistic, a new report out this week shows that a 100 percent renewable-powered planet is totally doable, affordable and could create 20 million new jobs.
Equally important is the need for Congress to give President Obama their support for bold action on climate issues, so that he can go to the international climate talks in Paris this fall with a genuine mandate to lead.
I try to begin every day feeling positive about the work we need to do to protect our planet. Today I feel motivated by the Pope's declaration that "now is the time for courageous actions and strategies." This is a challenge to Congress and President Obama to show real courage and move beyond what is politically possible to what is scientifically necessary. And it's a challenge to all of us to overcome the labeling that seeks to divide us, and focus on what we can achieve together.
To connect and collaborate with people in your area on environmental issues, check out Greenwire.
YOU MIGHT ALSO LIKE
Obama, Sanders, Kennedy Praise Pope's Call to Action on Climate Change
Robert F. Kennedy Jr: Pope's Call to Tackle Climate Change 'Is a Moral Imperative'
Leonardo DiCaprio Pledges to Divest From Fossil Fuels as Movement Grows 50-Fold in One Year
96 Cities That Are Quitting Fossil Fuels and Moving Toward 100% Renewable Energy
EcoWatch Daily Newsletter
By Anita Desikan
The Trump administration is routinely undermining your ability — and mine, and everyone else's in this country — to exercise our democratic rights to provide input on the administration's proposed actions through the public comment process. Public comments are just what they sound like: an opportunity for anyone in the public, both individuals and organizations, to submit a comment on a proposed rule that federal agencies are required by law to read and take into account. Public comments can raise the profile of an issue, can help amplify the voices of affected communities, and can show policymakers whether a proposal has broad support or is wildly unpopular.
Alena Gamm / EyeEm / Getty Images
Picture this: a world where chocolate is as rare as gold. No more five-dollar bags of candy on Halloween. No more boxes of truffles on Valentine's day. No more roasting s'mores by the campfire. No more hot chocolate on a cold winter's day.
Who wants to live in a world like that?
Fabian Krause / EyeEm / Getty Images
Water protectors of all persuasions gathered in talking circles at Borderland Ranch in Pe'Sla, the heart of the sacred Black Hills, during the first Sovereign Sisters Gathering. At the center are Cheryl Angel in red and white and on her left, Lyla June. Tracy Barnett
By Tracy L. Barnett
Sources reviewed this article for accuracy.
For Sicangu Lakota water protector Cheryl Angel, Standing Rock helped her define what she stands against: an economy rooted in extraction of resources and exploitation of people and planet. It wasn't until she'd had some distance that the vision of what she stands for came into focus.
Hedges, 2019 © Hugh Hayden. All photos courtesy of Lisson Gallery
By Patrick Rogers
"I'm really into trees," said the sculptor Hugh Hayden. "I'm drawn to plants."
BruceBlock / iStock / Getty Images
Thanks to their high concentration of powerful plant compounds, foods with a natural purple hue offer a wide array of health benefits.