Pope Francis: We Are 'Stewards, Not Masters' of the Earth
Since his election in March 2013, Pope Francis has established a reputation as an outspoken advocate for the environment, warning about the dangers of human actions that drive climate change. He enhanced that reputation this week, speaking to the European Parliament in Strasbourg. There he called for the responsible stewardship of the Earth and its resources, reformed agricultural policies to feed the hungry and more green jobs to address Europe's youth unemployment problem.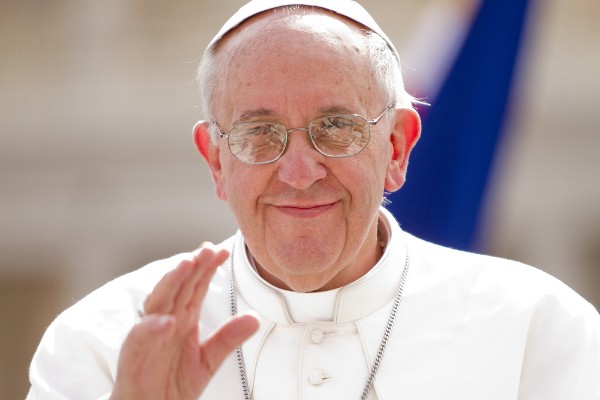 Photo credit: Shutterstock
The Pope told members of the European Union (EU) that it was essential to protect human dignity and human rights. He singled out treatment of the old, the young and immigrations as in need of revision and urged EU members to consider policies that created employment with humane working conditions.
"We encounter certain rather selfish lifestyles, marked by an opulence which is no longer sustainable and frequently indifferent to the world around us, and especially to the poorest of the poor," he said. "To our dismay we see technical and economic questions dominating political debate, to the detriment of genuine concern for human beings. Men and women risk being reduced to mere cogs in a machine that treats them as items of consumption to be exploited."
That tendency toward "consumption," he said, extended to the planet and its resources.
"Our Earth needs constant concern and attention," said the Pope. "Each of us has a personal responsibility to care for creation, this precious gift which God has entrusted to us. This means, on the one hand, that nature is at our disposal, to enjoy and use properly. Yet it also means that we are not its masters. Stewards, but not masters. We need to love and respect nature, but instead we are often guided by the pride of dominating, possessing, manipulating, exploiting; we do not 'preserve' the Earth, we do not respect it, we do not consider it as a freely given gift to look after. Respect for the environment, however, means more than not destroying it; it also means using it for good purposes."
He contrasted poverty and opulence, need and waste, saying that agriculture "provides sustenance and nourishment to our human family. It is intolerable that millions of people around the world are dying of hunger while tons of food are discarded each day from our tables. Respect for nature also calls for recognizing that man himself is a fundamental part of it. Along with an environmental ecology, there is also need of that human ecology which consists in respect for the person, which I have wanted to emphasize in addressing you today."
And he asked that the EU look at how green, renewable energy technologies could provide an economic future for youth in addition to a future for the planet.
"Young people today are asking for a suitable and complete education which can enable them to look to the future with hope instead of disenchantment," he said. "There is so much creative potential in Europe in the various fields of scientific research, some of which have yet to be fully explored. We need only think, for example, of alternative sources of energy, the development of which will assist in the protection of the environment."
YOU MIGHT ALSO LIKE
Pope Francis Calls Destruction of Nature a Modern Sin
Renewable Energy 'Creates More Jobs Than Fossil Fuels'
Climate Change Caucus Shows Youth That Green Jobs Are Good Jobs
Monsanto, the maker of the glyphosate-based herbicide Roundup, filed a motion June 16 in U.S. District Court, Northern District of California to reconsider the chemical's addition to California's Proposition 65 list of agents known to cause cancer.
The agrochemical giant made this move based on a June 14 Reuters investigation of Dr. Aaron Blair, a lead researcher on the World Health Organization's International Agency for Research on Cancer (IARC) committee, that classified glyphosate as a "2A probable human carcinogen" in March 2015.
Keep reading...
Show less
By Avery Friedman
Algae is often considered a nuisance, but for Sweden, the rapidly growing sea plant is now an asset.
As the Scandinavian country works to cut all of its greenhouse gas emissions by 2045, it's using algae to sop up the carbon emissions from cement.
Keep reading...
Show less
Jun. 24, 2017 01:35PM EST
By Itai Vardi
A recent intensification in protests against Williams Partners' planned Atlantic Sunrise pipeline in Pennsylvania prompted a state senator to propose legislation aimed at limiting demonstrations.
Last month, Pennsylvania Sen. Scott Martin (R-Norman) announced his intention to introduce legislation that would pass the costs of law enforcement responding to protests onto the demonstrators. Martin also helped introduce a different bill that would criminalize protests at natural gas facilities.
Keep reading...
Show less
Jun. 24, 2017 01:29PM EST
Black Shogun / iStock
The Federal Energy Regulatory Commission (FERC) released its Final Environmental Impact Statement Friday for the Mountain Valley Pipeline, a controversial 303-mile pipeline that would carry two billion cubic feet of fracked gas per day from West Virginia through Virginia.
Keep reading...
Show less
Jun. 24, 2017 01:46PM EST
Falcon PEV
The so-called "first and last mile" problem is one of the biggest hurdles with public transportation. How do you encourage more people to take Earth-friendlier commutes when their homes are miles away from the train or bus station?
One solution, as this Estonian electric scooter company proposes, is to simply take your commute with you—literally. Tallinn-based Stigo has developed a compact e-scooter that folds to the size of a rolling suitcase in about two seconds.
Keep reading...
Show less
Jun. 24, 2017 05:12PM EST
Connect4Climate
[Editor's note: I'm still in shock after hearing the news that Lucia Grenna passed away in her sleep last week. When we first met in April of 2014 at a Copenhagen hotel, I was immediately taken by here powerful presence. We spent the next couple days participating in a Sustainia climate change event where Lucia presented her audacious plans to connect people to the climate issue. I had the chance to partner with Lucia on several other projects throughout the years and work with her incredible Connect4Climate team. I was always in awe of her ability to "make the impossible possible." Her spirit will live on forever. — Stefanie Spear]
It is with a heavy heart that Connect4Climate announces the passing of its founder and leading light, Lucia Grenna. Lucia passed peacefully in her sleep on June 15, well before her time. We remember her for her leadership and extraordinary ability to motivate people to take on some of the greatest challenges of our time, not least climate change.
Keep reading...
Show less
Jun. 23, 2017 07:29PM EST
Wikimedia Commons
By Stacy Malkan
Neil deGrasse Tyson has inspired millions of people to care about science and imagine themselves as participants in the scientific process. What a hopeful sign it is to see young girls wearing t-shirts emblazoned with the words, "Forget princess, I want to be an astrophysicist."
Keep reading...
Show less
Jun. 23, 2017 01:57PM EST
www.youtube.com
By Andy Rowell
Any day now we will truly witness climate change in action. Within days at worst, maybe weeks at best, scientists predict that a huge section of the Larsen C ice shelf in Antarctica will break off into the ocean, in what is called a major "carving" event.
Keep reading...
Show less
Jun. 23, 2017 02:27PM EST
www.youtube.com
President Trump visited Cedar Rapids, Iowa on June 21 to speak to a large crowd in the U.S. Cellular Center at a political rally organized by his campaign.
As Trevor Noah noted during The Daily Show episode last night (starts at 2:25), the real reason Trump has these rallies is to "get back in front of his loyal crowds and feed of their energy." Noah believes that "Trump supporters are so on board with their dude he can say anything and they'll come along for the ride."
Keep reading...
Show less