This website uses cookies to ensure you get the best experience while browsing it. By clicking 'Got It' you're accepting these terms.
Pope Francis to Host Major Summit on Climate Change
Apr. 16, 2015 08:42AM EST
The Vatican announced Tuesday that it will host a major conference on climate change on April 28, featuring some of the world's leading climate scientists and an opening address by U.N. Secretary-General Ban Ki-moon. The conference, Protect the Earth, Dignify Humanity: The Moral Dimensions of Climate Change and Sustainable Development, will also feature Jeffrey Sachs, a prominent American economist and director of the Earth Institute at Columbia University.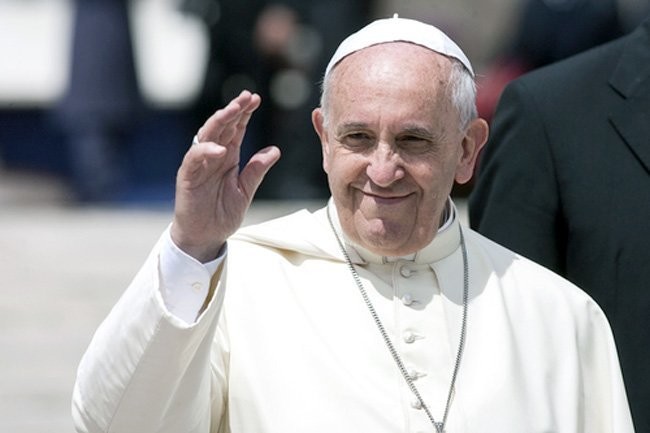 Pope Francis, an outspoken advocate on environmental issues, will host a summit on climate change on April 28. giulio napolitano / Shutterstock.com
The summit hopes to "help build a global movement across all religions for sustainable development and climate change throughout 2015 and beyond,"  and to highlight "the intrinsic connection between respect for the environment and respect for people—especially the poor, the excluded, victims of human trafficking and modern slavery, children and future generations," says the Vatican.
The one-day summit will also include participants from major world religions and aims to "elevate the debate on the moral dimensions of protecting the environment in advance of the papal encyclical," the Vatican says. The Pope's much-anticipated encyclical on the environment is scheduled for release this summer. Cardinal Peter Turkson of Ghana, a top Vatican official who is leading the drafting process of Francis' encyclical on the environment, will also speak at the conference.
This event is just the latest in what many are calling Pope Francis's "green agenda." He has become an outspoken advocate on environmental issues, saying acting on climate change is "essential to faith"  and calling the destruction of nature a modern sin. He has vowed to only increase pressure on world leaders after his disappointment with the Lima climate talks. He is hoping that his encyclical will influence the climate talks in Paris at the end of the year.
He has also made plans to address Congress during his visit to America in September. It will be interesting to see what Pope Francis, who is wildly popular among both Catholic and non-Catholic Americans, has to say to one of the most powerful governing bodies on Earth about the issue of climate change.
YOU MIGHT ALSO LIKE
Majority of Catholics Are Worried About Climate Change and Support Immediate Action
Al Gore Teams Up With Tea Party to Fight for Rooftop Solar
6 Year Old Gets President Obama's Attention With This Climate Change Video
Three scissor-tailed flycatcher fledglings in a mesquite tree in Texas. Texas Eagle / CC BY-NC 2.0
By Gary Paul Nabhan
President Trump has declared a national emergency to fund a wall along our nation's southern border. The border wall issue has bitterly divided people across the U.S., becoming a vivid symbol of political deadlock.
PeopleImages / E+ / Getty Images
By Daniel Ross
Hurricane Florence, which battered the U.S. East Coast last September, left a trail of ruin and destruction estimated to cost between $17 billion and $22 billion. Some of the damage was all too visible—smashed homes and livelihoods. But other damage was less so, like the long-term environmental impacts in North Carolina from hog waste that spilled out over large open-air lagoons saturated in the rains.
Hog waste can contain potentially dangerous pathogens, pharmaceuticals and chemicals. According to the state's Department of Environmental Quality, as of early October nearly 100 such lagoons were damaged, breached or were very close to being so, the effluent from which can seep into waterways and drinking water supplies.
This picture taken on May 21, 2018 shows discarded climbing equipment and rubbish scattered around Camp 4 of Mount Everest. Decades of commercial mountaineering have turned Mount Everest into the world's highest rubbish dump as an increasing number of big-spending climbers pay little attention to the ugly footprint they leave behind. DOMA SHERPA / AFP / Getty Images
China has closed its Everest base camp to tourists because of a buildup of trash on the world's tallest mountain.
Researchers tested the eggs of Arctic northern fulmers like these in Nunavut, Canada.
Fiona Paton / Flickr
By Madison Dapcevich
Plastics have been recorded in every corner of the world, from the remote icy waters of Antarctica to the bellies of deep-sea fishes. Now, preliminary findings presented at this year's American Association for the Advancement of Science (AAAS) annual meeting in Washington, DC suggest that bird eggs from the high Arctic—one of the most remote wildernesses on the planet—show evidence of contamination from chemicals used in plastics.