Pope Francis to Hold First-Ever Gathering of Mayors at Vatican to Rev Up Fight Against Climate Change
Jul. 16, 2015 01:06PM EST
Climate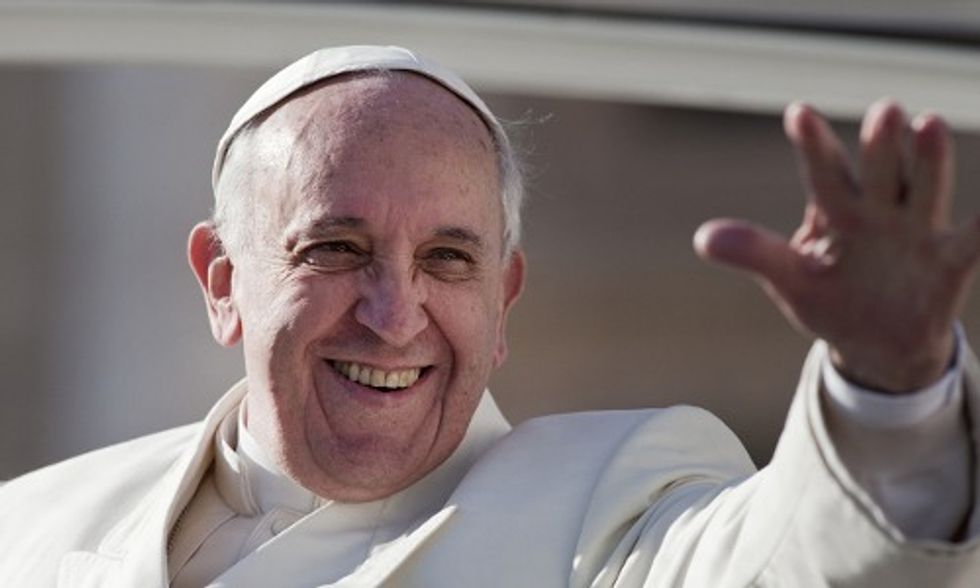 Pope Francis is certainly putting his muscle where his mouth is when it comes to climate change. Just a month after his groundbreaking Encyclical on the topic, the Vatican will host a workshop called "Modern Slavery and Climate Change: The Commitment of Cities," followed by a symposium on "Prosperity, People and Planet: Achieving Sustainable Development in Our Cities."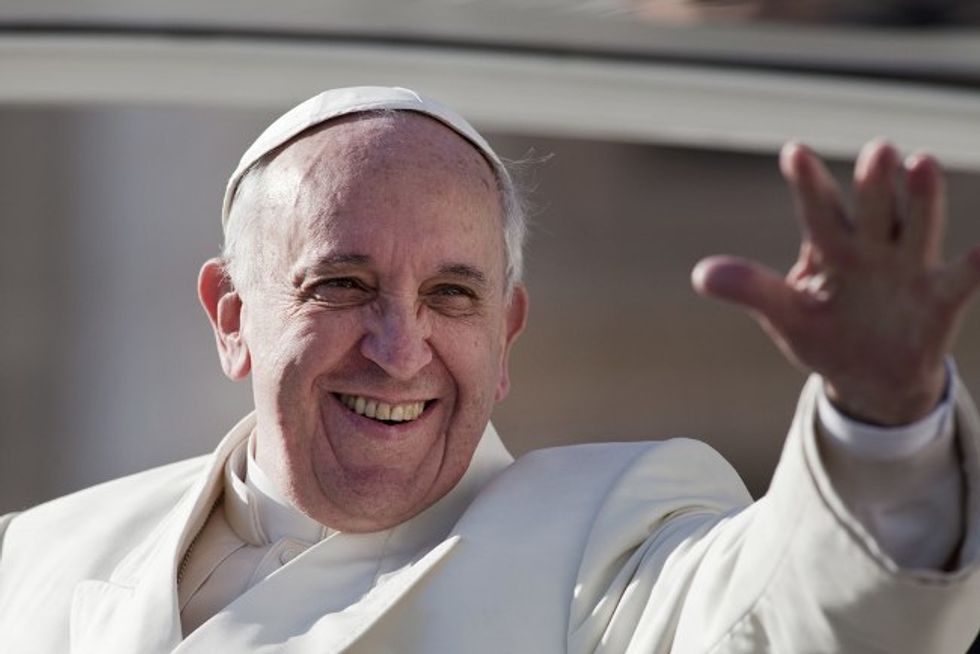 Photo credit: Shutterstock
He has invited mayors from around the world to the gathering, taking place next Tuesday and Wednesday. It's the first time an international group of mayors has gathered at the Vatican and the fact that they're doing so to address the impacts of climate change on the poor shows what a high priority the issue is for Pope Francis. About 60 mayors are scheduled to attend from every corner of the globe, from big cities like Mexico City and New York, and small cities like Soroti, Uganda, with a population of about 40,000. The Pope is expected to address the gathering.
"I am deeply thankful that Pope Francis is tackling issues of such grave importance not only to my city of Minneapolis but to the world," said Mayor Betsy Hodges. "I look forward to learning how Minneapolis can join hands in global efforts around climate change and ending the factors that contribute to 21st century trade in human beings, and to share the successes we that we as a city have achieved."
Seattle Mayor Ed Murray said, "Seattle is an innovative leader in sustainability and carbon reduction, but too often the benefits of our progress are not equitably shared. Our most at-risk communities, low-income families and communities of color are disproportionally impacted by climate change. Seattle is committed to changing this through our Equity and Environment Initiative to ensure strong social justice outcomes in our environmental policy. I'm humbled to have the opportunity to share this experience with global leaders as we heed the Pope's call for action."
At a press conference in the Vatican yesterday to talk about the upcoming event, Bishop Marcelo Sánchez Sorondo, the chancellor of the Pontifical Academy of Social Sciences which is hosting it, explained that climate change and modern slavery are "interconnected emergencies." "Although the poor and the excluded have the least effect on climate change, they are the most exposed to the terrible threat posed by human-induced climate disruption," he said.
Bishop Sanchez referred to the Pope's words in the recent Encyclical, "The climate is a common good, belonging to all and meant for all. At the global level, it is a complex system linked to many of the essential conditions for human life," adding, "As the Pontifical Academy of Sciences has shown in several studies, available as free downloads on our website www.pas.va, this warming has been accompanied by a constant rise in the sea level. Moreover, it's difficult not to link it to extreme weather events such as prolonged drought, heat waves and destructive storms, which are becoming more and more frequent. Humanity, therefore, is called to recognize the need for changes of lifestyle, production and consumption in order to combat this warming or at least the human causes which produce or aggravate it."
He went on to explain the importance of mayors in making these changes.
"Following the Encyclical, our commitment is to make the whole of society aware of these phenomena and of the human responsibilities of these crises and to react firmly, as a new moral imperative for all of humanity in favor of the common good," he said. "In this fundamental moral context, cities and their mayors play a key role. Currently, most of humanity is concentrated in formal and informal urban settlements, and this trend is set to increase. Although the poor and the excluded have the least effect on climate change and often live on the outskirts of the city, they are the most exposed to the terrible threat posed by human-induced climate disruption."
"We intend for the mayors to commit to promoting the empowerment of the poor and of those who live in vulnerable conditions in our cities and in our urban settlements, reducing their exposure to  extreme weather events caused by radical environmental, economic and social instabilities, which create fertile ground for forced migration and human trafficking," said Sanchez. "In short, we would like our cities and urban settlements to become more socially inclusive, safe, resilient and ecologically integrated."
Some of the U.S. mayors who are committed to attending include those from San Francisco, Seattle, Boulder, New Orleans, San Jose, Boston, Minneapolis and Birmingham, Alabama, as well as California Gov. Jerry Brown, who said, "This unprecedented gathering of global leaders is a wake-up call to face up to the common threats of climate change and human exploitation."
New York Mayor Bill DiBlasio is among those who will address the conference.
"Pope Francis has been one of the world's most powerful voices on fighting income inequality, and Mayor de Blasio shares the pope's belief that addressing climate change is essential to that fight," said City Hall spokeswoman Monica Klein.
DiBlasio announced Friday he'd like the city to be 100 percent powered by renewables and put out a Request for Information (RFI) asking for clean energy ideas to move the city in that direction.
"This is a call to the marketplace: the biggest energy customer you'll find is ready to put our money where our mouth is when it comes to renewable power," said DiBlasio. "Our administration has made an unprecedented commitment to dramatically reducing our environmental footprint, becoming the largest city in the world to commit to 80x50. Now, by leveraging our energy purchasing power, we aim to catalyze new capacity, chart a path to powering 100 percent of city government from renewables and make clear why New York City remains a global leader in the fight against climate change."
Mayors are also coming from Oslo, Paris, Berlin, Vancouver, Rome, Florence, Naples, Rio de Janeiro, Sao Paulo, Bogota, Stockholm, Madrid, Algiers, Tehran, Kochi and Kingston in Jamaica. They're traveling from Nigeria, Gabon, South Africa, Botswana, Senegal and Mozambique.
The mayors planning to attend expressed excitement about the importance of this event and what it could accomplish.
"I am very much looking forward to discuss sustainable development of our cities to reduce global climate change and, by arranging this symposium, the Vatican is contributing to finding the viable long-term solutions we all work towards," said Oslo Mayor Stian Berger Røsland. "When we say humans must, and can, reduce our climate gas emissions, people do not envision a good public transport system or responsible building legislation. But when cities emit 70 percent of the world's CO2, clearly, we do have game-changing tools."
"Boulder is honored to join in discussion with Pope Francis and this group of global cities that have shown leadership through their actions to address the climate crisis," said Mayor Matthew Appelbaum. "The City of Boulder has long prioritized environmental stewardship and sustainability. Boulder and all local governments have essential roles in developing and implementing policies and technical solutions to mitigate, and adapt to, climate change, and working together to find innovative and responsible environmental actions that can be adopted globally."
"Here in Jamaica we are constantly reminded of our contribution to and the effects of human-induced climate change as we experience hotter days and nights, less rainfall and longer periods of drought," said Kingston Mayor Dr. Angela Brown Burke. "And even as global and economic development are top of the agenda, we are mindful of our symbiotic relationship with the environment—the oxygen that is produced by plants is vital to our continued existence and plants cannot survive without the carbon dioxide we exhale. I am grateful that we have been afforded the opportunity to participate in these meetings where we can explore and share ideas on how we can live up to our God-given mandate as ordained custodians of the Earth."
YOU MIGHT ALSO LIKE
Pope Francis' Encyclical Urges Swift Action on Climate Change Ahead of Paris Climate Talks
Pope Francis: Unbridled Capitalism Is 'Dung of the Devil'
EcoWatch Daily Newsletter
Recent Stories from EcoWatch